Manage Community profiles and settings
Who can use this feature
Only you can manage your Community profile and settings.
Manage your Community profile and other Community settings, including profile connections, primary email, and notifications.
Access your Community settings in the Community tab of your account settings:
Open the account switcher in the top-right corner of the page and select Settings
In the settings modal, select the Community tab.
Manage profile
Open Figma in the file browser.
Click your profile picture in the top-right to open the account menu.
Select Community profile to open your profile in the file browser.
Manage extra information on your profile:
Profile picture: This can be different than your internal profile picture. Click on your profile picture to upload a new image. Image dimensions must be at least 500 x 500 px.
Cover artwork: Hover over the cover photo and click to upload cover artwork.
Bio: Add a brief description of up to 160 characters.
Location: Click to add or update the location of the creator, team, or organization.
Websites: Click to add or update the website. This can be a link to business website or support page. There are dedicated fields for Twitter and Instagram.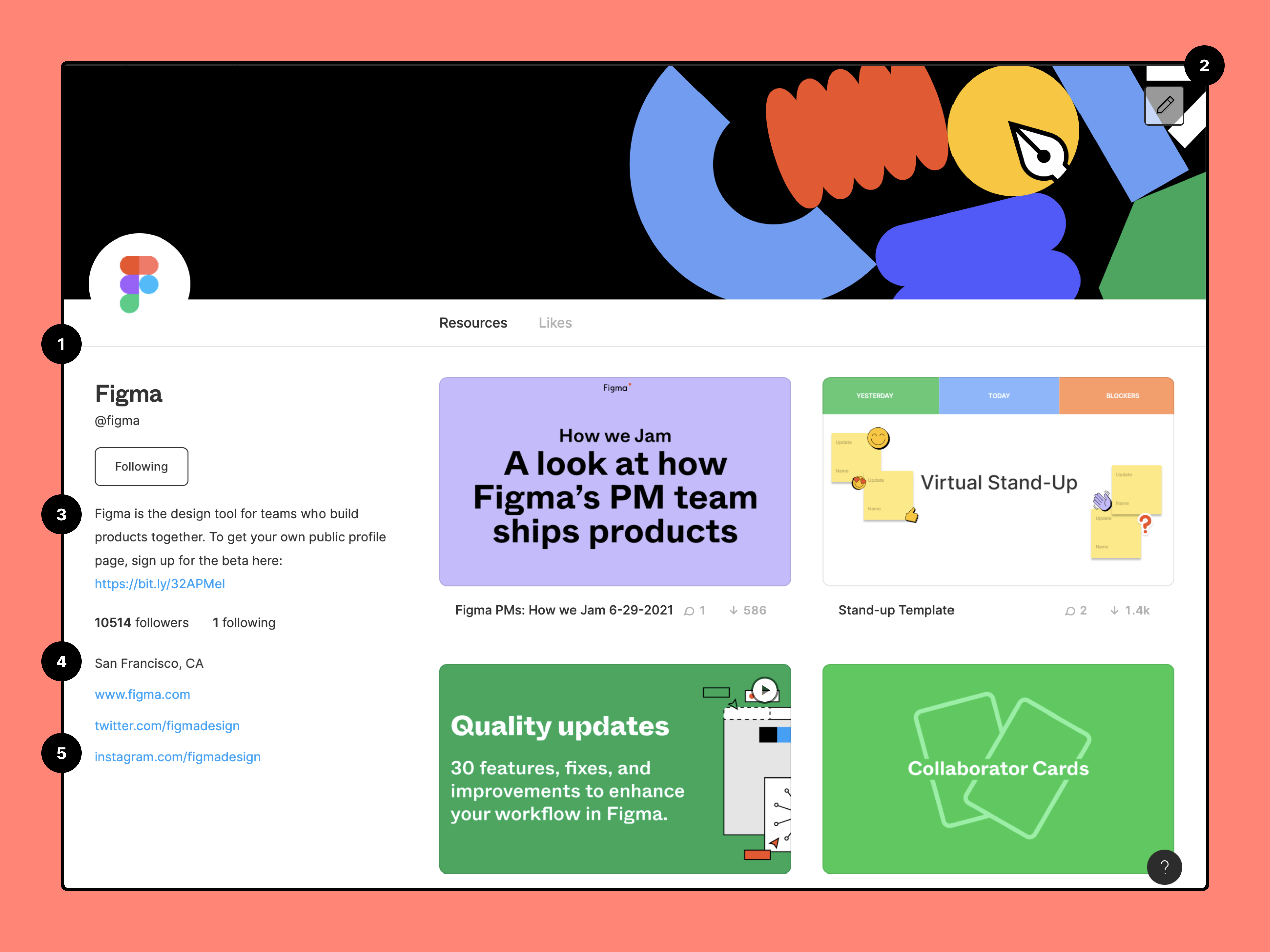 Your profile will show any files and plugins you've been listed as a creator or contributor on. Choose which files and plugins appear on the profile:
Manage profile connections
Connect your Community profiles to interact with the Community from a single profile.
Merge existing Community profiles under separate Figma accounts
Publish content to a single profile across different Figma accounts
Follow, like, and comment without having to switch between profiles
Add and remove profile connections →
Manage primary email
Choose the primary email for your Community profile. Figma will use this email address for:
Any Community notifications
Your display name and profile picture
You can update this setting when you leave a team or organization. This make sure your Community profile and notifications are linked to an account you have ownership of.
To set an email address as your primary email, you need to add the associated Figma account as a Profile connection ↑
Open the account switcher in the top-right corner and select Settings > Community.
Under the Primary email setting, click to open the primary email menu.
Select the email address you want to use as your primary email.
Manage Community notifications
Figma will send you in-app notifications for activity related to the Community. You can choose whether to also receive the following email notifications:
Comments left on your files and plugins
Replies to your comments (including on other creator's files)
A weekly summary of Community engagement (with your files, plugins, and profile)
Scroll down to the Community notifications section:
Check the box for any email notifications you'd like to receive.
Uncheck the box for any email notification you don't want to receive.
Learn more about notifications →
Delete Community profile
Delete your profile to remove your public Community profile. This won't delete your Figma account or affect your internal profile.
Deleting a profile will:
Unpublish any files or plugins you have published. You can still access files and plugins within your account.
Remove you as a creator from files and plugins you contributed to. This won't unpublish those files or plugins you've contributed to.
Make your @handle available to other member of the Community.
Open the account switcher in the top-right corner and select Settings > Community.
Scroll down to the Profile section and click Delete public profile.