Add, manage or renew annual subscriptions
Before you start
Who can use this feature
Only team owners or admins can add annual seats or manage billing for a team.
On the Professional plan, you can choose from a monthly or annual subscription. Team admins can add, manage, or renew their annual subscription from the same setting in Figma.
Depending on the team's subscription, the Add annual seats setting allows team admins to:
Switch from a monthly subscription to an annual subscription.
Consolidate your billing and Add any extra seats to your annual subscription.
Update your annual subscription and purchase editors for the following billing period.
Find the Add annual seats setting in the team's settings:
In the file browser, select the team in the sidebar.
Select the Settings tab at the top of the page.
In Plan and billing section, click Add annual seats.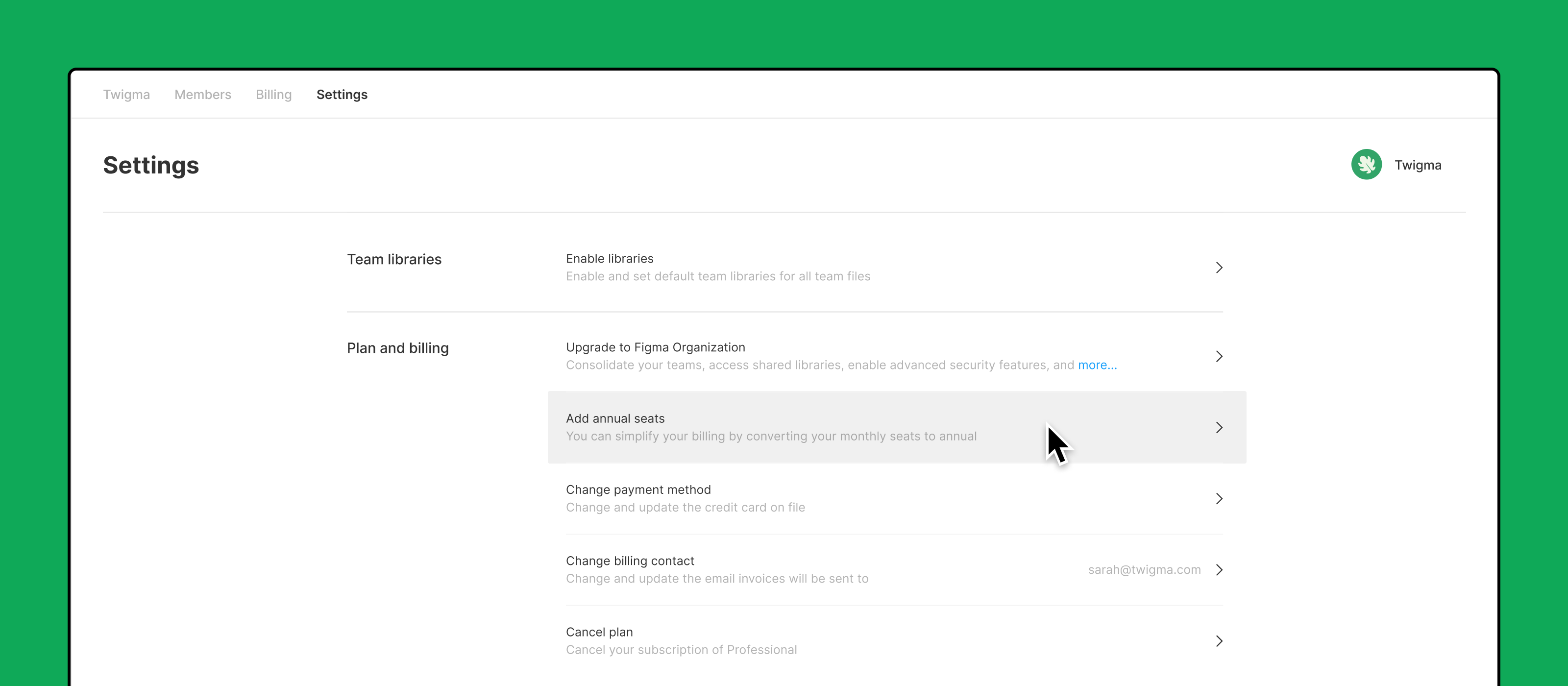 A

Add an

annual subscription

If you are on a monthly plan, Figma will bill you for your plan every month. Figma bases your plan price on the number of editors currently on your Professional team.

To reduce admin, you can switch to an annual subscription. This allows you to pay for an entire year of Figma upfront.

Note: When you switch to an annual subscription, Figma will charge you for your annual subscription on your next monthly billing date.

Select the Add annual seats option.
View the current Number of editors included and the expected Subscription cost.
Every Editor in your team takes up "Seat". If you plan on adding more collaborators to your team, you can Add more seats to your annual plan.
Enter the number in the field provided. Click outside of the field to apply. You can still add extra editors to your subscription throughout the billing period.
Click the Accept terms and upgrade button to complete the process. Figma will charge you for the annual subscription at your next monthly billing date

B

Add monthly editors to your annual subscription

Your annual subscription covers the number of editors you had when you signed up for your plan. Teams often change in size and make up throughout a subscription period.

When you add new editors to your team on an annual subscription, Figma will charge you a separate monthly subscription for those editors. You'll have both an annual subscription, and a monthly subscription for any extra editors—we call this "co-terming".

To simplify your account administration, you can convert your monthly seats to an annual subscription. Figma will charge you a pro-rated fee, which covers those editor seats for the rest of your annual billing period.

Select the Add annual seats option.
Figma will show you a breakdown of the expected pro-rated fee for the remaining months of your annual subscription.
Click Convert to add those seats to your annual subscription. Figma will charge the pro-rated fee at the end of your current monthly billing period.

Note: This is a manual process. You need to repeat this process every time you want to add extra editors to your annual subscription.

C

Renew annual subscription

On an annual subscription, Figma will send any billing contacts a reminder 30 days before the renewal date. You can use the renewal process to:

Purchase extra editor seats for your next year of Figma
Remove any editors or members who don't need access
Cancel your subscription to prevent it from renewing

Select the Add annual seats option.
Figma will show you the total Number of editors included and the total Subscription cost.
Add more seats to your annual plan if you plan on adding or removing collaborators. Each editor in your team occupies a "seat".
Enter the updated number in the field. Click outside of the field to apply.
Click the Accept terms and upgrade button to complete the process.
Figma will update the number of editors included in your annual plan. You won't be charged until your actual annual billing date.

Caution: If you don't make any changes to your plan, your annual subscription will auto-renew. You will need to cancel your subscription for the Professional plan to prevent your annual subscription from renewing. Learn how to cancel your team plan →