Explore team and organization plans
Anyone can sign up for a Figma account. Your account allows you access to everything in Figma, including your workspace, Figma design and FigJam files, and the Figma Community.
Terminology
Definitions for the terminology we're using in this article:
Account: Your account is how you access Figma. You can register an account with an email address and password, or via one of our Single Sign On methods (SSO). You can manage any global settings in your account, as well as any teams you're a member of. An account can only be associated with one email at a time.
Teams: Teams give you an environment to create files and projects. You can use teams to collaborate with others, or to structure and organize your own work.
Organizations: Organizations are for growing or established businesses that need to share resources across teams.
Plan: You will select a plan when you create a team or organization. Your plan lets us know how much to charge you each month. Figma currently has three team plans (Starter, Education, and Professional) and two organization plans (Organization and Enterprise).
Subscription: Your subscription is how you pay for Figma. You will only need a subscription if you are signed up for one of Figma's paid plans (Professional, Organization, and Enterprise). Subscriptions auto-renew on a monthly or annual schedule, and you can cancel at any time.
Billing: We use the term billing explain the general process of collecting and managing payments for a subscription. In your account, the Billing tab is where you can view and manage your subscription and invoices. You'll also see billing in settings, like billing details, billing date, or billing contact.
Note: All invoices in Figma are in $USD. Invoices are currently only payable in $USD. References to totals and balances in the product and any documentation are in $USD.
Team plans
Teams give you access to a dedicated environment where you can create files and projects. You can use teams to collaborate with others, or to structure and organize your own work. You can create or join multiple teams from a single Figma account.
Figma manages the subscriptions for each team separately. There are three different plans available: Starter ↓, Education ↓, and Professional ↓.
The best team for you will depend on your context, and what features or functionality you need. You can upgrade existing teams to access extra features.
Starter plan
When you first sign up for an account, Figma will create a free team on the Starter plan for you. This allows you to explore Figma's functionality and experience collaborative features.
We don't impose any limitations around the kind of work you can create on the Starter plan. You can use the Starter plan for personal or business purposes.
Create teams on the Starter plan to:
Create FigJam and Figma design files
Organize your files into projects
Work on personal projects or share files with a small group of collaborators
Get a feel for working and collaborating in Figma
We changed the Starter plan on April 21, 2021. If you already have Starter teams and want to see the impact of these changes, you can learn more about the changes → Figma won't remove editors from existing files in your draft space. Anyone who already had edit access before April 21, 2021 can continue to edit those files.
Features
You can invite unlimited viewers and editors to files on the Starter plan. There are some limitations around how many files you can create and what features you can access.
Limits in drafts If you only have teams on the free Starter plan, it's not possible to invite editors to files in your drafts. To invite editors to a file in your drafts, you'll need to move the file to a team.
If you have at least one team on the paid Professional plan, the editor limit on drafts won't apply to you. You can still create unlimited Figma design and FigJam files in your drafts and invite as many viewers as you'd like.
Subscription
Teams on the Starter plan are free, you don't need a subscription to create one. If you've reached the limits of a Starter plan, or want to access more Figma features, you can upgrade your team to the Professional plan.
Professional plan
The Professional plan is great for:
Creating and sharing style and component libraries within a team
Teams with a handful of designers or contributors
Teams looking to organize work in multiple projects
Features
Professional teams remove the limitations of the Starter plan and give you access to more Figma features:
Subscription
Figma calculates subscriptions based on how many editors seats your team has on both Figma design and FigJam. Figma doesn't include anyone with a viewer or viewer-restricted role in your team's subscription.
Figma will bill the entire team together as a single payment. FigJam and Figma design have separate pricing, but you'll be billed for both on the same invoice.
Due to volume, we cannot process contracts, forms or purchase orders for Professional teams. You can only pay for your Figma subscription by credit card (via Stripe).
Billing on the Professional plan →
Caution: You'll only have access to paid features on teams you have upgraded to the Professional plan. If you are an editor on one team on the Professional plan, this doesn't give you access to paid features in your other teams.
When you upgrade to a Professional team, your subscription is tied to that specific team, not to your Figma account as a whole. This allows you to have other free and paid teams in your account.
Education plan
Students and educators can get access to all the functionality of a Professional team, for free. This allows students and educators in any structured learning environment to collaborate.
You need to verify your education status for teams on the free Education plan.
Designed for anyone in a classroom or structured learning environment
Both students and educators can apply
Also applies to institutions dedicated to learning, skill-development, and/or research
Free access to Figma design and FigJam files
Editors must verify their email address and education status before they can collaborate. It's not possible to have a mix of paid Professional and free Education members in a team.
Members of Education teams are also eligible to join Figma's Education Community groups. Visit figma.com/education to learn more.
Verify your Education status →
Organization plans
Organizations go beyond the team setup we described above. Instead of individual team plans, an organization plan applies to a person's entire account.
Organization plans have features designed for businesses at scale. You can create as many teams as you need within an organization, and control access to teams and resources.
Organization subscriptions
Unlike team plans, Figma bills organization as a whole. This allows members and guests to contribute to multiple teams, while making sure you only pay for each person once.
Organization plans are billed on an annual subscription. Subscriptions are based on the total number of Figma design and FigJam editors the organization needs.
Admins can define how many seats they want to purchase at the annual renewal. They can then buy any extra seats via the quarterly true-up process.
Billing on organization plans →
Note: Figma doesn't offer discounts for organization plans. This includes charities, not-for-profits, or organizations with research or education initiatives.
Organization plan
The Organization plan is great for:
Companies that want to share libraries and resources across multiple teams
Companies that need more administration and access controls
In addition to the features available on the Professional plan, the Organization plan also has: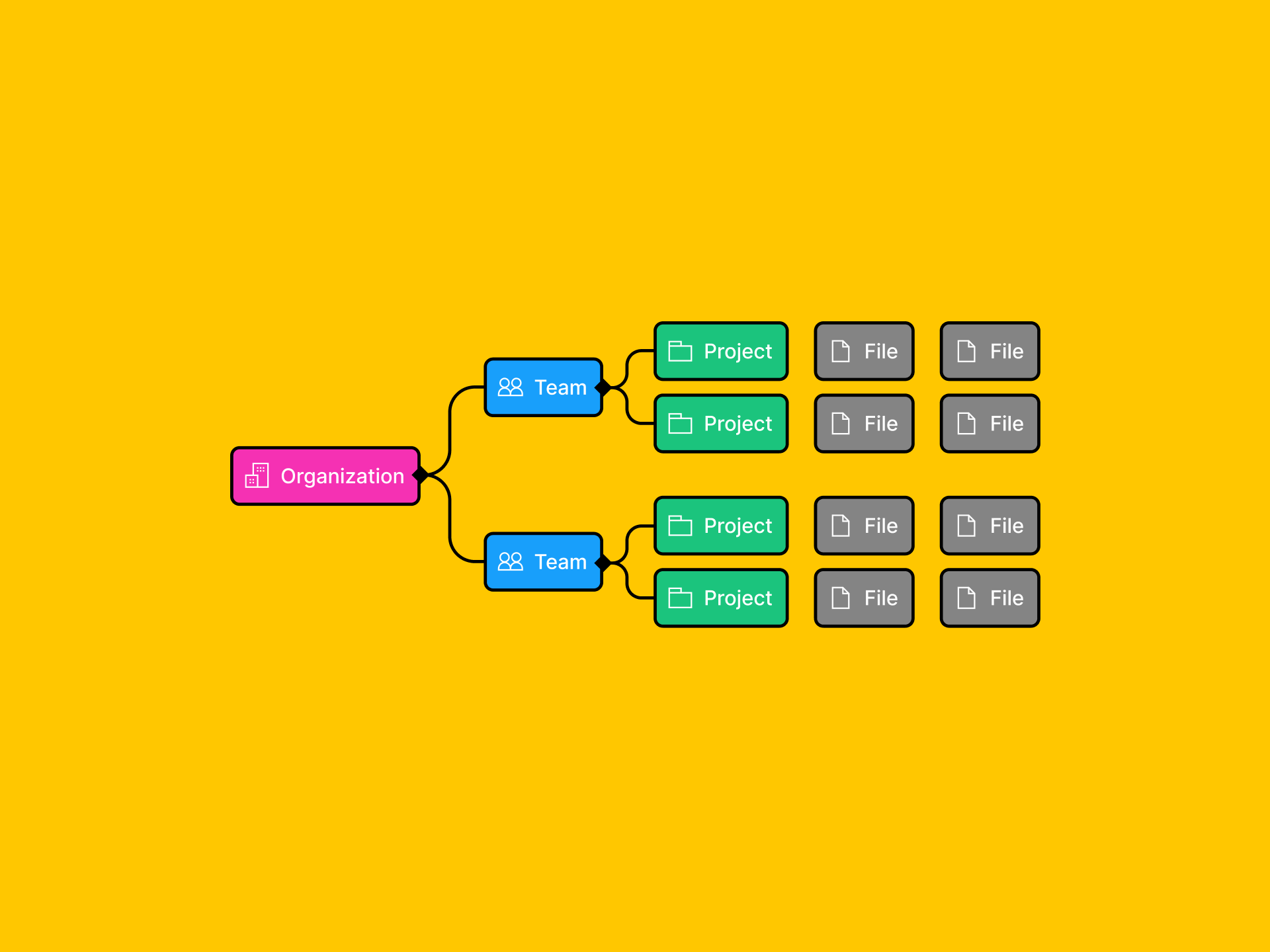 Enterprise plan
The Enterprise plan is great for:
Companies with multiple brands, products, or business entities
Companies that operate in different locales
Companies that need advanced access controls around guests
In addition to Organization plan features, the Enterprise plan has: