Add insights with UserTesting
UserTesting is a comprehensive research solution that helps companies embed customer insights into their digital products and experiences.
Embedding a UserTesting clip, highlight reel, or session video in FigJam allows you to bring customer feedback into your whiteboard sessions and provide insights to you and your teammates.
You can use UserTesting to:
Access a global network of contributors who can test any experience or join live interview sessions
Get feedback on prototypes and designs from UserTesting's contributor network, customers or sourcing partners
Record experiences with automatic transcription, machine learning analysis, aggregate visualizations and collaboration tools
Build out an insights repository and establish a broad point-of-view backed up by real customers and mixed methodologies research.
Try out the UserTesting integration with this FigJam template ->
Copy link from UserTesting
Open the UserTesting clip, highlight reel or session video which you'd like to embed.
Click the overflow menu to open the share modal. 
Click Copy link at the bottom of the share modal. 
Learn more about setting security permissions when sharing UserTesting links ->
Embed UserTesting in FigJam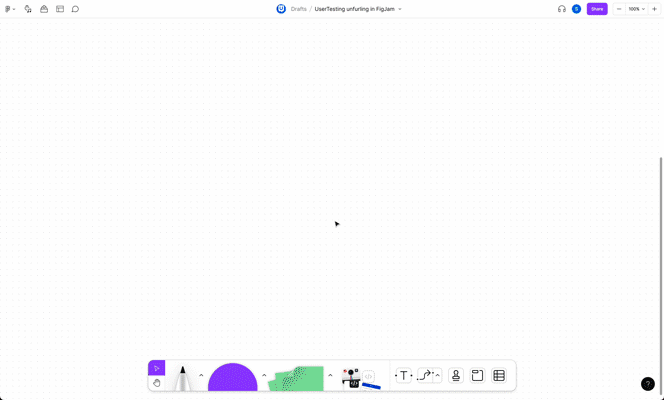 Open a new or existing FigJam file. 
Paste the UserTesting URL where you'd like to embed your clip, highlight reel or video. 
Note: While you can have multiple UserTesting embeds in a FigJam file, only one can be live at any given time. This is a global FigJam setting that applies to any embed to ensure FigJam continues to run smoothly.