🚧 Jambot is currently in open beta. We'll continue to add more functionality and polish the experience during this time. Find out what's coming next →
Jambot is a FigJam widget that brings the power of ChatGPT's AI to your boards.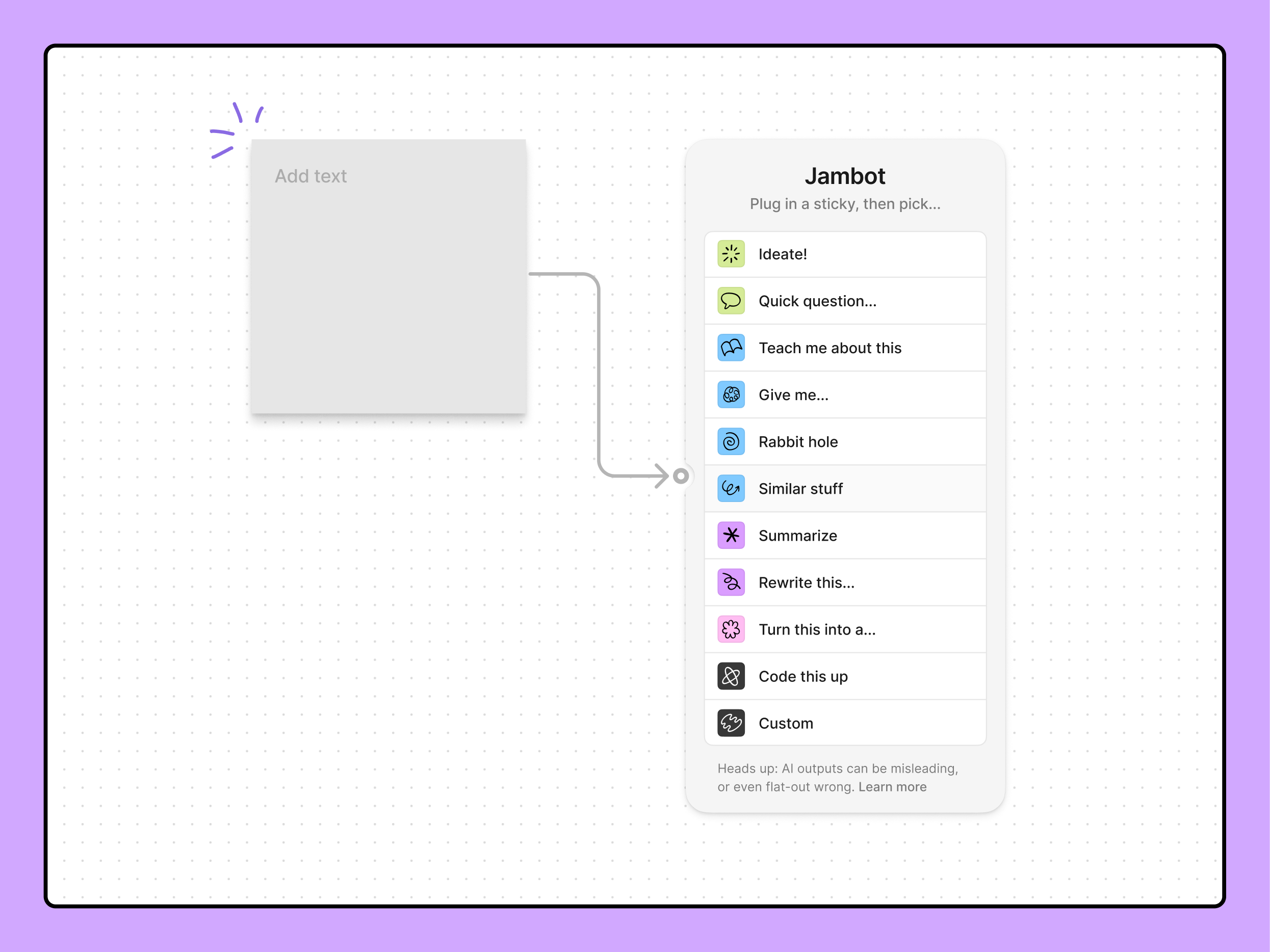 Use Jambot to:
Brainstorm ways to kick off your team meeting
Summarize sticky notes on your board to help wrap up a meeting
Create visual mindmaps with AI
Reframe text for a specific audience, tone, or format
Learn something new by asking the widget a question or to expand on a topic

Generate code from a description or prompt
Learn about the risk of using AI tools →
Run Jambot
To find and run the Jambot widget:
Hover over the pile of recently used icons in the toolbar, then click More.
From the Widgets tab, search Jambot.
Click or drag to add the widget to the board.
Add text to the input sticky.
Select a function.
Use existing stickies as input:
Add the Jambot widget to the board.
Select existing stickies or sections.
Use the keyboard shortcuts X or ⇧ ShiftL to create an elbow connector, and L for a straight line.
Drag a line from the selected stickies or section to the Jambot widget.
Select a function.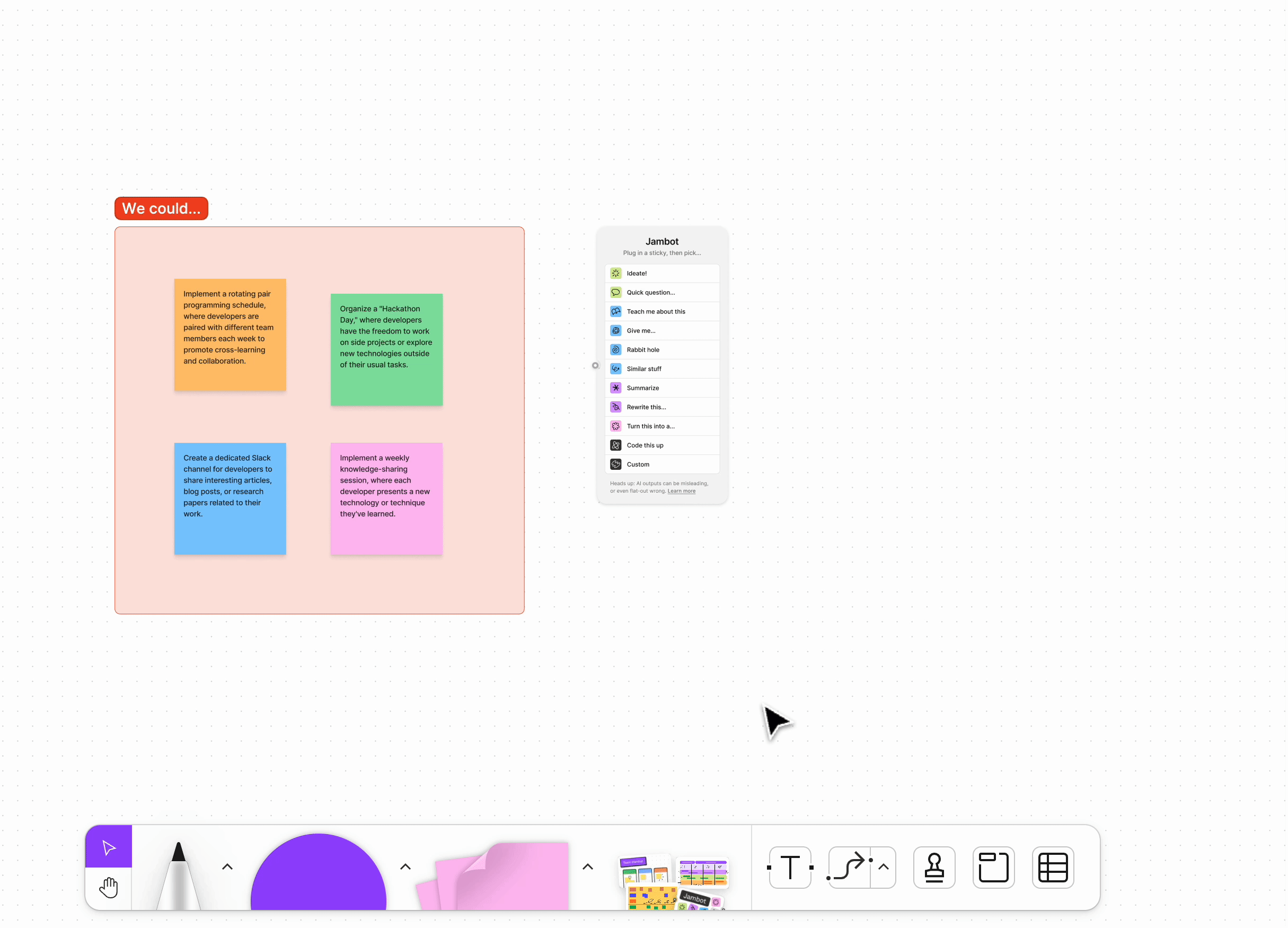 Note
Figma may limit the usage of beta features, including capping feature use due to high demand.
Jambot functions
| Function | Use | Prompt |
| --- | --- | --- |
| Ideate! | Generates and produces ideas related to the input | "Icebreaker questions for our weekly team sync." |
| Quick question | Lets you ask Jambot a question about the text in a sticky | "What can I cook with [sticky text]?" |
| Teach me about this | Asks Jambot to explain what is in the sticky | "Impressionism", "Design systems" |
| Give me… | Provides people, examples, ideas, statistic, and facts about the text in a sticky | "US Women's National Soccer Team", "Punk rock" |
| Rabbit hole | Lets you dig deeper into a certain topic | "Flamenco" will offer you information on The history of Flamenco or Regional variations of Flamenco music |
| Similar stuff | Shows you related topics to branch out to and open new areas to explore | "Cacio e Pepe" will show you explanations of similar recipes like Aglio e olio |
| Summarize | Convert selected stickies into a consolidated format or bullet point summary | [Selection of stickies with action items] |
| Rewrite this | Asks Jambot to reframe text for a different audience, tone, or style | "Thanks for your input, but I will be moving forward with the team's existing plan" as a polite but assertive Slack message |
| Turn this into a… | Will rewrite a selected text into a joke, song, or poem | "Variables in Figma" as a poem |
| Code this up | Asks Jambot to generate code to implement what's describe in a sticky | "12 column CSS flex box grid" |
| Custom | Lets you write your own prompt | "Write me a song about the Black-Crowned Night Herons of Lake Merritt." |