Change Figma's language using Google Chrome
As Figma and FigJam run in the browser, Google's Chrome browser can translate some of the interface to another language. Machine translation is an imperfect process, so some text may be translated incorrectly, or not translated at all. Learn more on the Google Chrome Help site →
Translate using Chrome
Chrome's translation feature is only supported in Google Chrome browser, it is not available in other browsers or when using the Figma desktop app.
You can only access the translation setting from specific regions of the page - namely the toolbar. This is because Figma overrides the browser's right-click behavior in other areas to provide its own menus.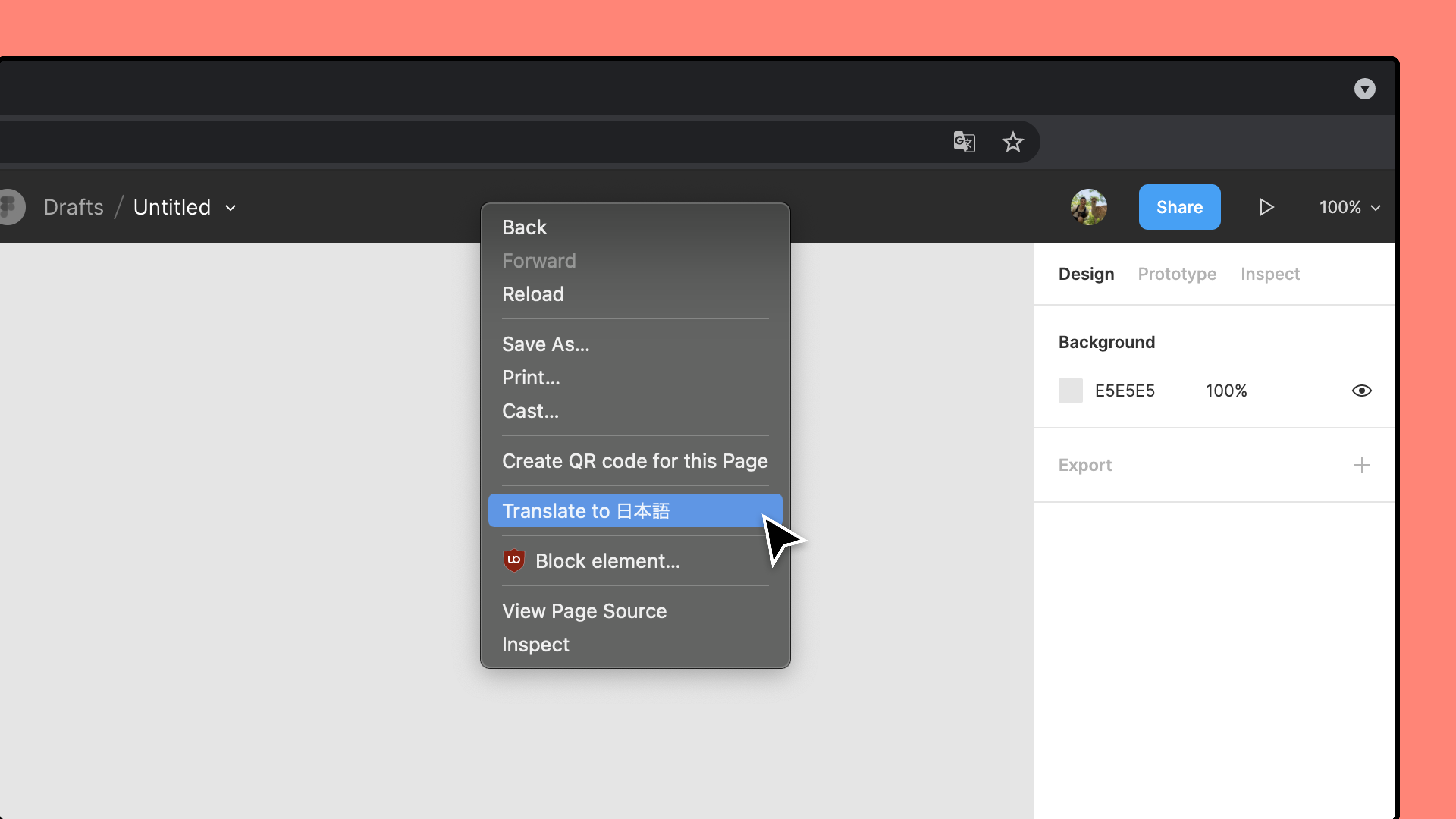 To translate the Figma interface into another language:
Right-click on the toolbar and select Translate to [language]. The language shown may vary.
If the language displayed is not the desired language, click the translate icon on the right side of the address bar to expand it.
Click the triple dot menu and select Choose another language...
Select your language from the list.
Click the Translate button to confirm your choice and translate the page.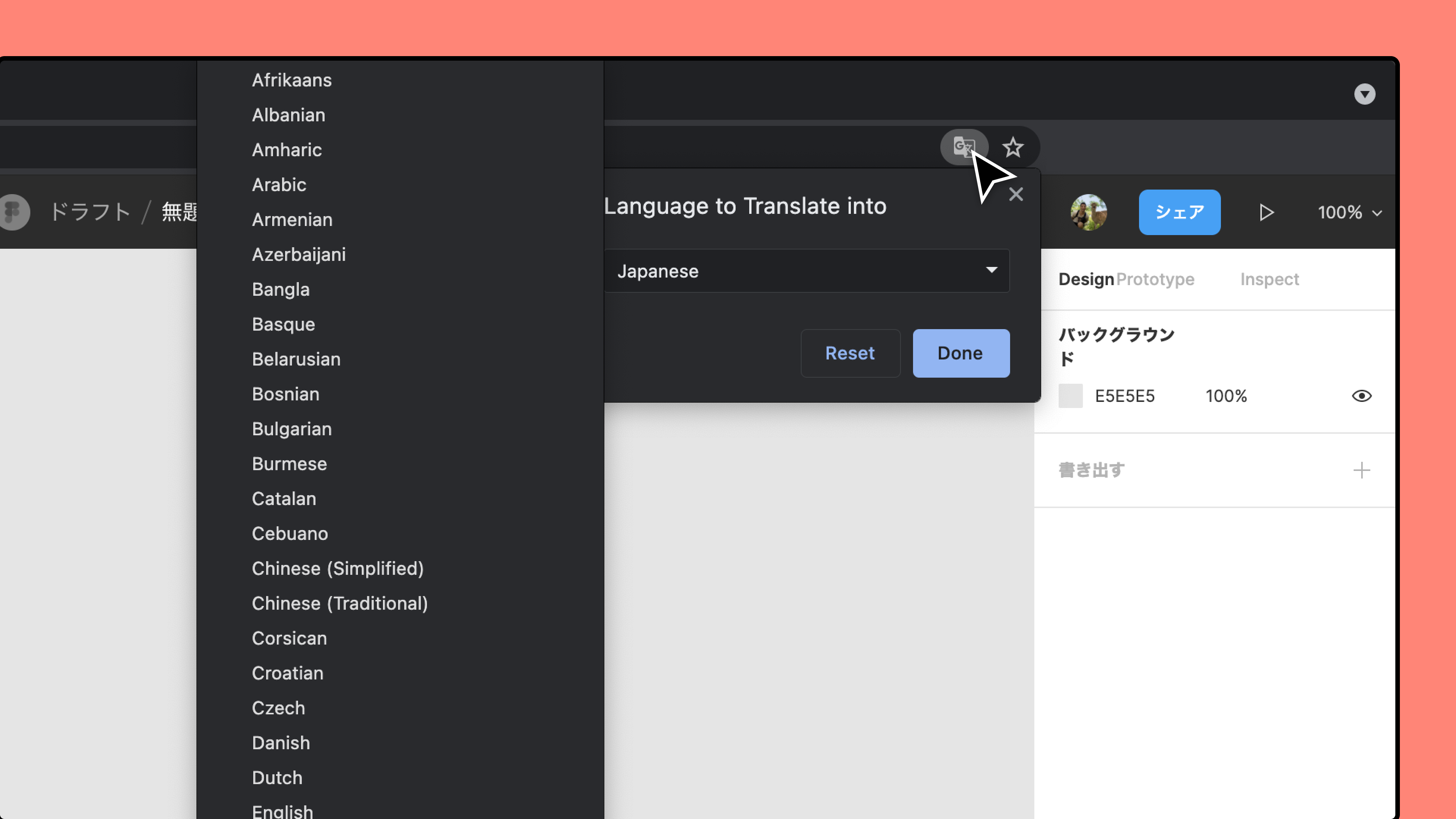 Note: Chrome won't translate the entire page at once. You may notice a delay when translating new elements, like when you open or expand a menu.
Supported languages
Google Chrome supports translating pages into the following languages:
Afrikaans
Albanian
Amharic
Arabic
Armenian
Azerbaijani
Basque
Belarusian
Bengali
Bosnian
Bulgarian
Catalan
Cebuano
Chinese (Simplified and Traditional) Learn to add text in Chinese →
Corsican
Croatian
Czech
Danish
Dutch
English (officially supported language)
Esperanto
Estonian
Finnish
French
Frisian
Galician
Georgian
German
Greek
Gujarati
Haitian
Creole
Hausa
Hawaiian
Hebrew
Hindi
Hmong
Hungarian
Icelandic
Igbo
Indonesian
Irish
Italian
Japanese Learn to add text in Japanese →
Javanese
Kannada
Kazakh
Khmer
Kinyarwanda
Kurdish
Kyrgyz
Lao
Latin
Latvian
Lithuanian
Luxembourgish
Macedonian
Malagasy
Malay
Malayalam
Maltese
Maori
Marathi
Mongolian
Myanmar (Burmese)
Nepali
Norwegian
Nyanja (Chichewa)
Odia (Oriya)
Pashto
Persian
Polish
Portuguese (Portugal, Brazil)
Punjabi
Romanian
Russian
Samoan
Scots
Gaelic
Serbian
Sesotho
Shona
Sindhi
Sinhala (Sinhalese)
Slovak
Slovenian
Somali
Spanish
Sundanese
Swahili
Swedish
Tagalog (Filipino)
Tajik
Tamil
Tatar
Telugu
Thai
Turkish
Turkmen
Ukrainian
Urdu
Uyghur
Uzbek
Vietnamese
Welsh
Xhosa
Yiddish
Yoruba
Zulu