Figma design and FigJam files are designed for sharing and collaboration. Whether you're giving a talk or presentation, running a class or tutorial, or brainstorming with your team.
In this article, we'll explore some of the current limitations when collaborating with large groups in FigJam and Figma design files.
Figma design files: currently support up to 500 active participants. This includes up to 100 editors at any one time.
FigJam files: currently support up to 50 active participants at a time. This includes both viewers and editors.
Editors and viewers
Before we jump into these limitations, we want to clarify what we mean when we say editor and viewer.
A viewer is someone who can only view or comment on a file or prototype. Viewers can explore files and pages, select layers and inspect properties, view prototypes, observe other collaborators, and add comments, emotes, or cursor chats.
An editor is someone who can edit or modify files and their contents. They can do everything that viewers can do, as well as make changes to any layers or objects and their properties and position.
You can join a file as an editor if:
Link sharing is set to can edit
You have can edit access to the team or project where the file lives
You were invited to the file with can edit permissions
You have an editor role on Figma design or FigJam (Professional and Organization only)
File limits
There are three limits when working in files in multiplayer: total number of cursors, editors, and total participants. These limits mostly apply to Figma design files, but you'll see the maximum participants limits in FigJam too.
When the file reaches any of those limits, Figma will adjust the multiplayer experience to improve performance and maintain collaboration.
Note: We're actively working on increasing these limits! Please let us know if you reach these limits during your multiplayer sessions. If you can, include the context and impact this had on your work.
Cursors
Applies to Figma design files
To improve performance, Figma will only show up to 100 multiplayer cursors to other users in a file at any one time (you'll always be able to see your own cursor). Figma will prioritize the cursors of any editors over viewers.
Figma will always show the cursors of anyone being observed by other participants. These cursors won't contribute to the 100 cursor limit.
If you join any time after this limit is reached, Figma will notify you that your cursor is hidden to other participants. You'll still be able to see your own cursor in the file.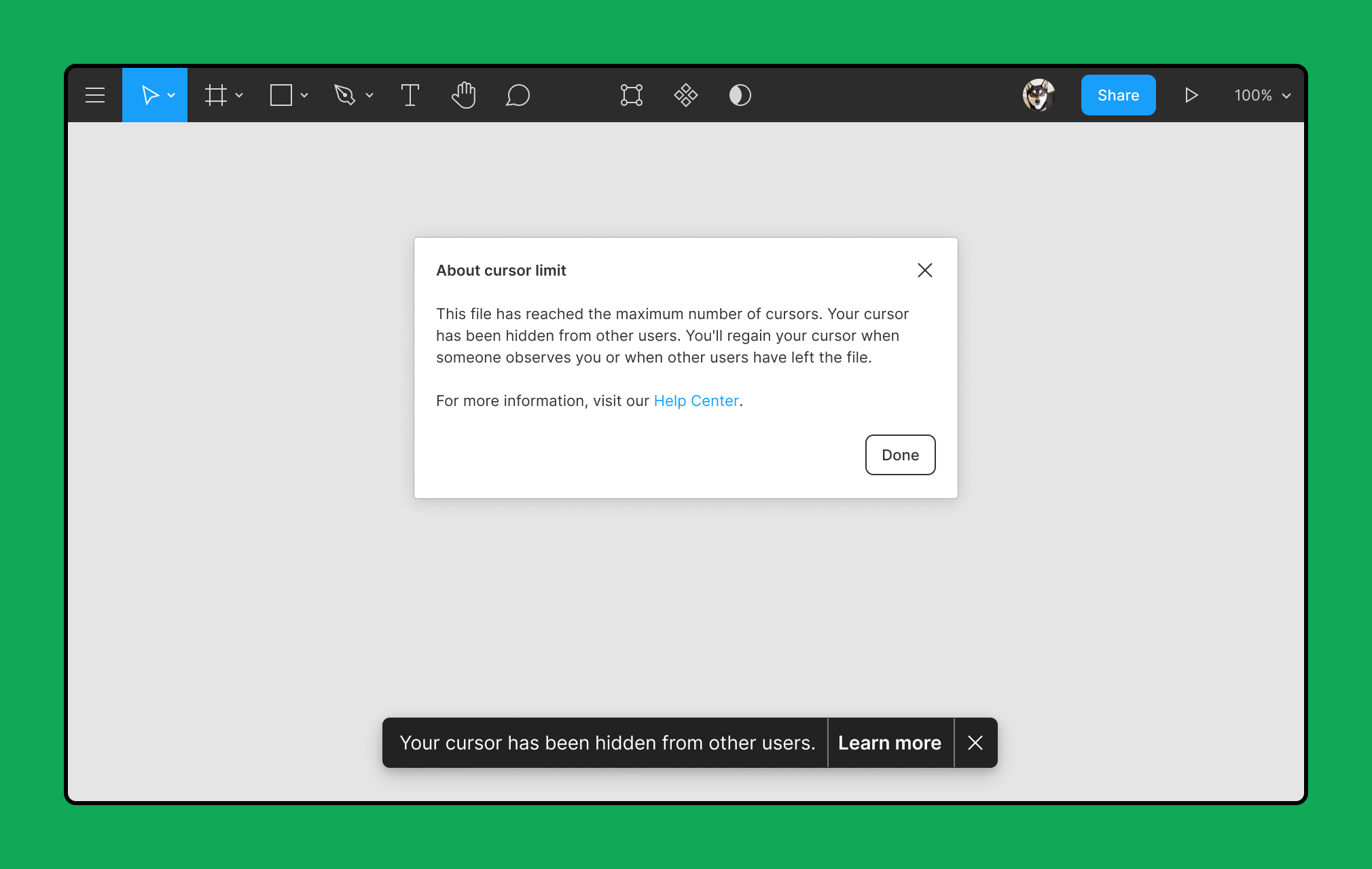 Tip! If people observe you in a file, your cursor will be shown to everyone whether you're a viewer or editor.
Editors
Applies to Figma design files
Anyone that joins a file as an editor is included in the editor count. Once the editor limit is reached in a file, anyone who joins the file will be given view-only access.
If you join after this limit is reached, Figma will show an alert to confirm you've been converted to view-only access. Click Done to dismiss the window.
If you have edit access to the file, this limitation only applies to the current multiplayer session. You'll be able to edit again once existing editors leave the file.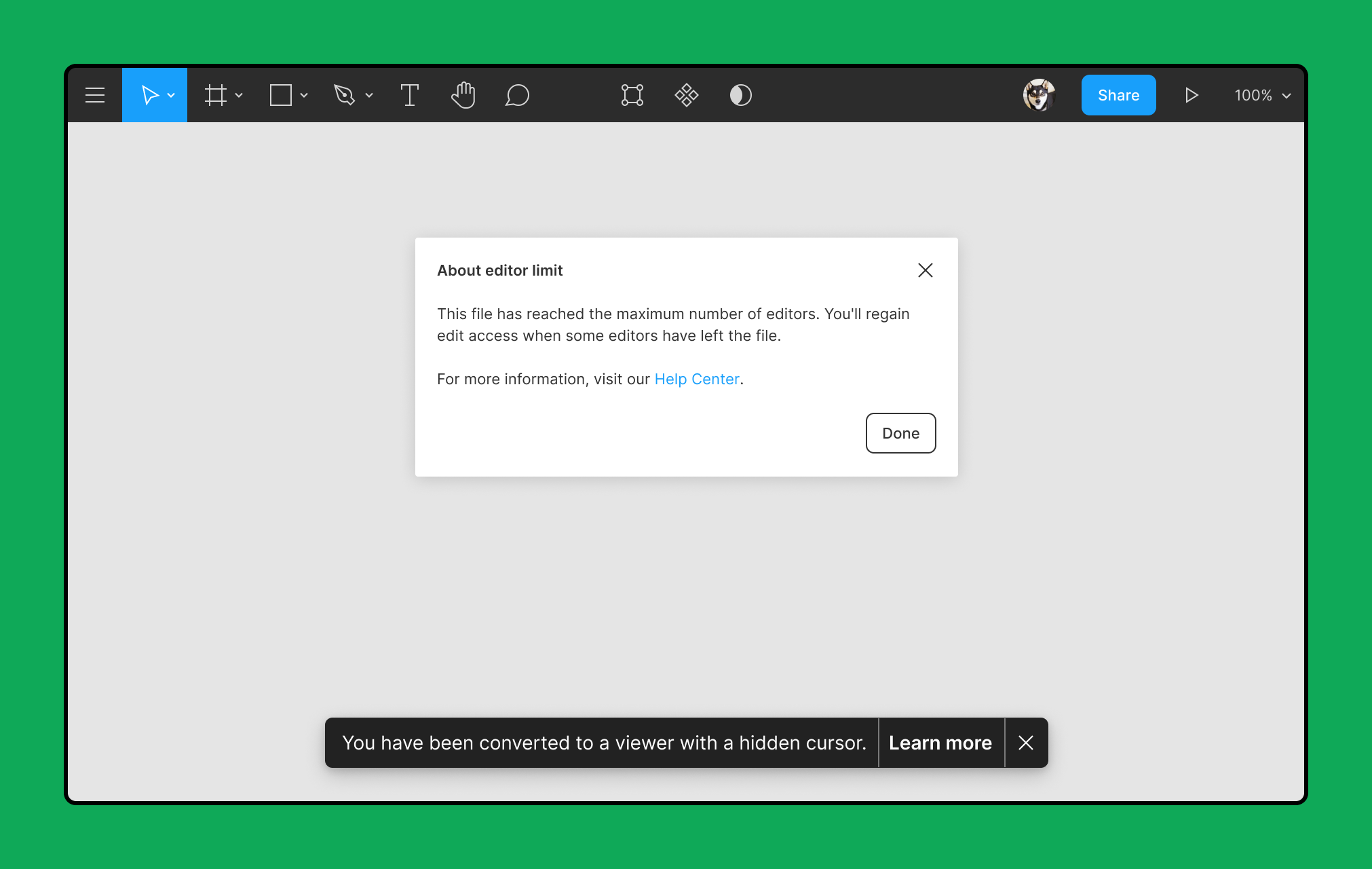 Viewers can still take the following actions:
Participants
Applies to both Figma design and FigJam files
Once the file reaches the maximum number of participants, anyone that joins the file will only get access to a static version of the file. It won't be possible to view any multiplayer actions, including other participants' cursors or any changes being made to the file.
If you join the file after this limit is reached, Figma will let you know that you have view-only access and any multiplayer cursors are hidden. Click Open view-only to open the view-only version of the file.
When participants start leaving the file, you can try refreshing the page to get access to it.