Generate boards and diagrams with FigJam AI
Before you start
Available on any team or plan
Anyone with can edit access to a FigJam file can generate boards and diagrams using AI.
Check out the Guide to FigJam →
🚧 FigJam AI is currently in open beta. We'll continue to add more functionality and polish the experience during this time. Find out what's coming next →
With FigJam AI, you can save time preparing and building boards for any team exercise or meeting.
Use text prompts to generate:
Boards for meetings and team exercises
Diagrams and flow charts
Visual timelines and Gantt charts
Plans for team projects
Generate a board or diagram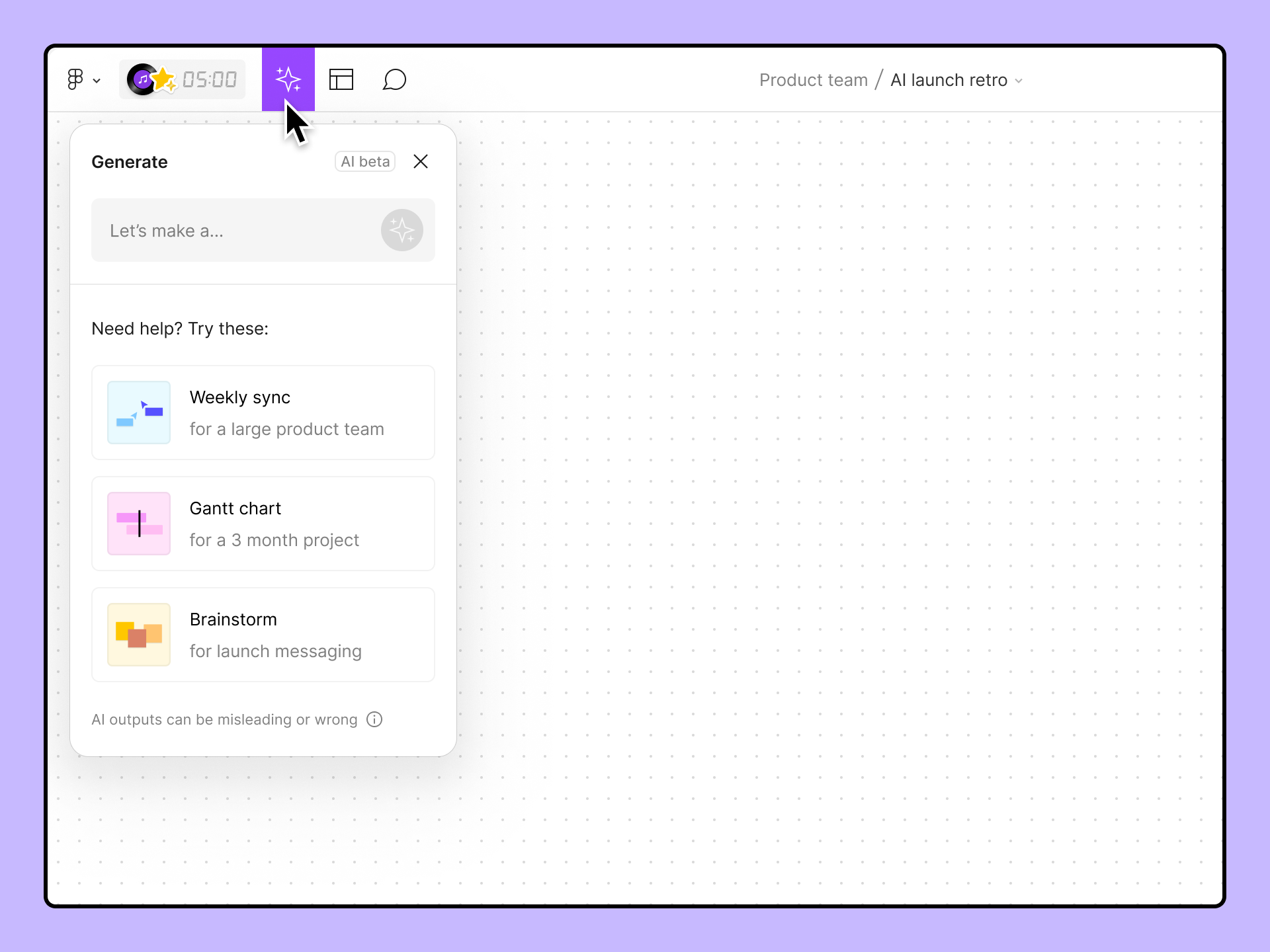 To generate a board:
Click in the top toolbar.
Select a suggested template or click the Let's make a… field.
Enter your own prompt or click a prompt suggestion.
Click Generate and watch the magic happen.
At this point, FigJam will generate your board or diagram. Adjust your prompt and click Generate to create a new visual.
Prompting tips
FigJam AI is like magic. Like any magic trick, it can take some practice and guidance to make it work for you and your audience. Below are some details you can include in your prompt to get the best results:
FigJam boards
Add your agenda as a bulleted list along with details about what you need for each topic
Outline the goals of the upcoming meeting you are facilitating
Add any context about your attendees including how many participants and their roles
Example:
Let's say you need to quickly whip up a meeting board for a last-minute launch retrospective session. We'll click the Let's make a... field and select Team retrospective from the suggested templates, then provide the following context:
A team retrospective with sections for what went well, kudos, what could have gone better, what we should keep doing.
We can then add Next steps ↖︎ from the suggested sections.
Example:
You want to start hosting your 1:1s in a FigJam file to better visualize your work and keep all meeting discussions in one central file. We'll click Let's make a... and select 1:1 from the suggested templates, then provide the following context:
A 1:1 with my lead where we discuss current projects, upcoming projects, things i need help with, and personal updates.
We can then add An agenda ↖︎ and A calendar ↖︎
Diagrams
Diagrams provide a useful visual reference for things like processes, workflows, or structures. Diagrams are a part of your board and can be generated using FigJam AI.
Currently, FigJam AI can create flow charts, Gantt charts, and org charts. Similar to meeting boards, the more detail you provide, the more custom your generated diagram will be.
Example:
Generate a flow chart for things like:
Uploading a file to AWS
New customers downloading a mobile app
Onboarding a new employee
Example:
Generate a Gantt chart with:
A 3 month timeline
5 projects
Project milestones
Once your team has added all sorts of great ideas and feedback to the board, you can use FigJam AI to sort and summarize sticky notes →