Before you start you should know
FigJam is a whiteboard collaboration tool you and your team can use to brainstorm and organize ideas. You don't need to have any prior knowledge of design tools to get jamming.
FigJam files are lightweight, inclusive environments where anyone can take part. Think of them as digital whiteboards where you and your team discover and explore ideas.
Brainstorm and explore ideas
Create decision trees, diagrams, and mind maps
Run critiques or feedback sessions on designs
Collect ideas, note feedback, and organize research
Plan and run meetings, tutorials, or other interactive sessions
Create FigJam files
FigJam files are a specific type of file in Figma. You can access them alongside your regular design files in your teams, projects, and drafts.
Create a new FigJam file from any file creation point in the file browser.
Left sidebar
Open Figma in the file browser.
Click next to your drafts or a team project in the sidebar.
Select FigJam file.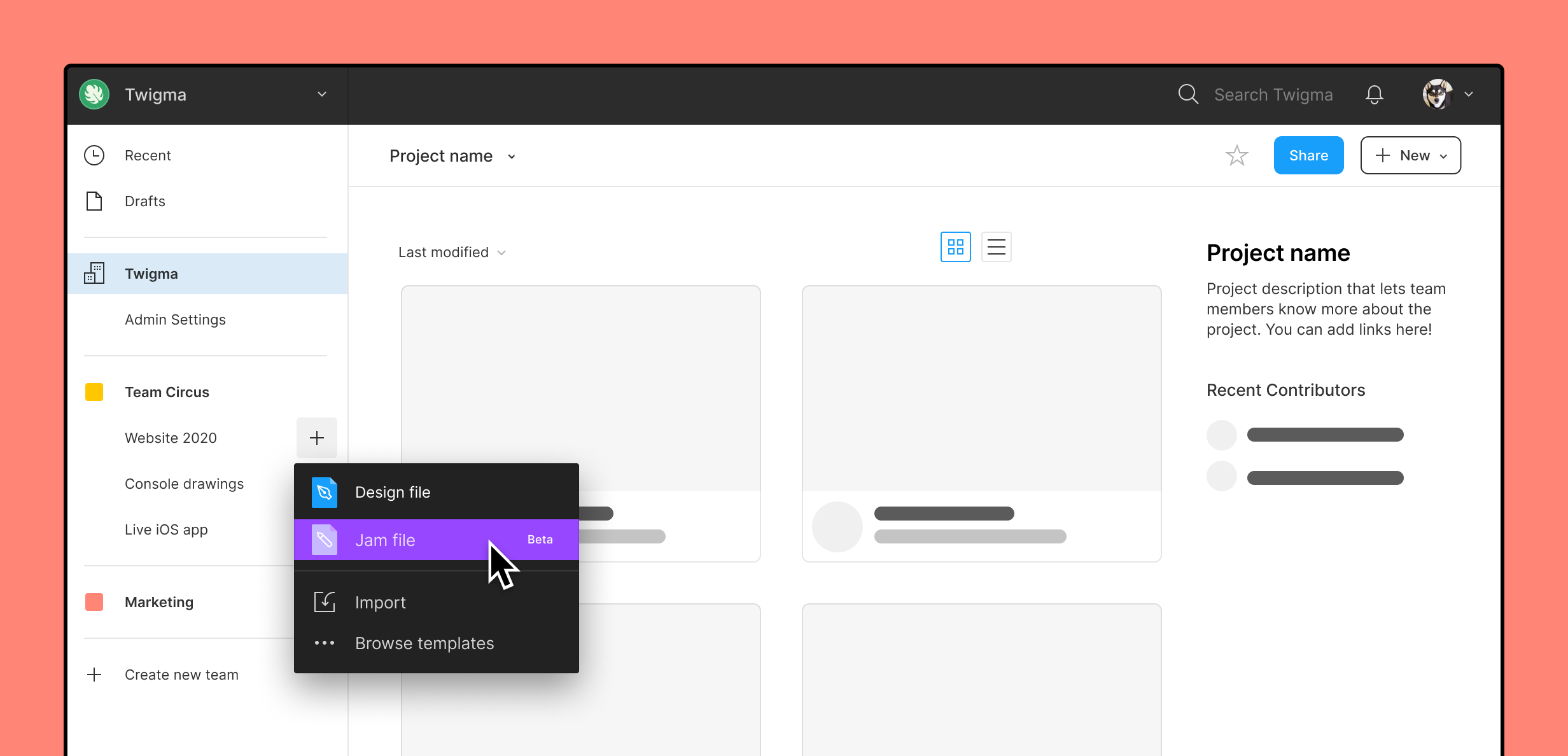 File browser
Open the folder or project in the file browser.
Click New at the top of the page and select FigJam file.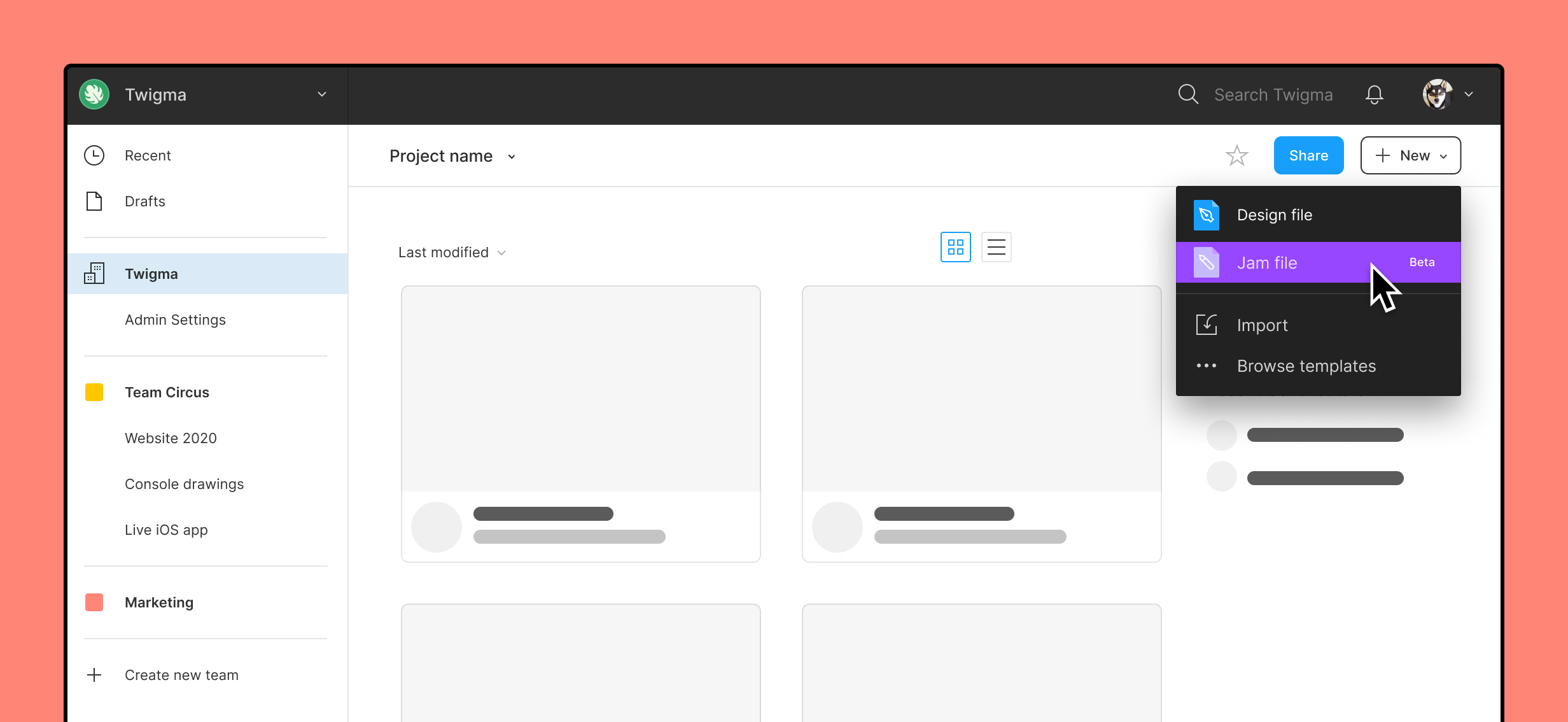 Link
Type figma.com/jam in the address bar or visit https://figma.com/jam
Access FigJam-specific file templates to get you started.
Got a great template you want to share with others?
You can publish FigJam files to share them with the Community. Publish files to Community →
Explore FigJam files
Board
Unlike design files, FigJam files don't have multiple pages or canvases. Instead, you have one infinite board to explore your ideas.
All boards you create have a white background and a dotted grid. It's not possible to customize the background of a board.
A

Find settings and perform actions from the menu

Open the file menu to perform a range of actions. Some actions will only available when you have one or more objects selected.

B

Use the creation tools in the toolbar

Access FigJam-specific tools: marker, stickies, shapes, text, images, and connectors.

C

Access collaborative tools

Click to access the collaborative tools from the navigation bar:

Emote E
Stamp E
Cursor chat /
Comments C

Quickly switch between emoting and stamping

Press E to toggle between the emote and stamp wheel.

D

View and invite collaborators

View the avatars of anyone currently active in the file. Click someone's avatar to observe their actions in the file.

Click Share to open the share modal for that file. Invite collaborators, copy a link to the file, or update the file's link sharing settings.

E

Adjust your view settings

Control the zoom level
Toggle dot grid
Toggle snap to grid
Toggle multiplayer cursors
FigJam or Figma design?
You can identify FigJam files in the file browser by the on the file card.
Colors
To keep things simple, we've curated a selection of colors especially for FigJam:
Red
Yellow
Green
Blue
Violet
Brown
Charcoal
White
You can apply colors to text, shapes, connectors, and stickies. To improve contrast, you'll see less saturated versions of these colors on objects that support text, like shapes and stickies.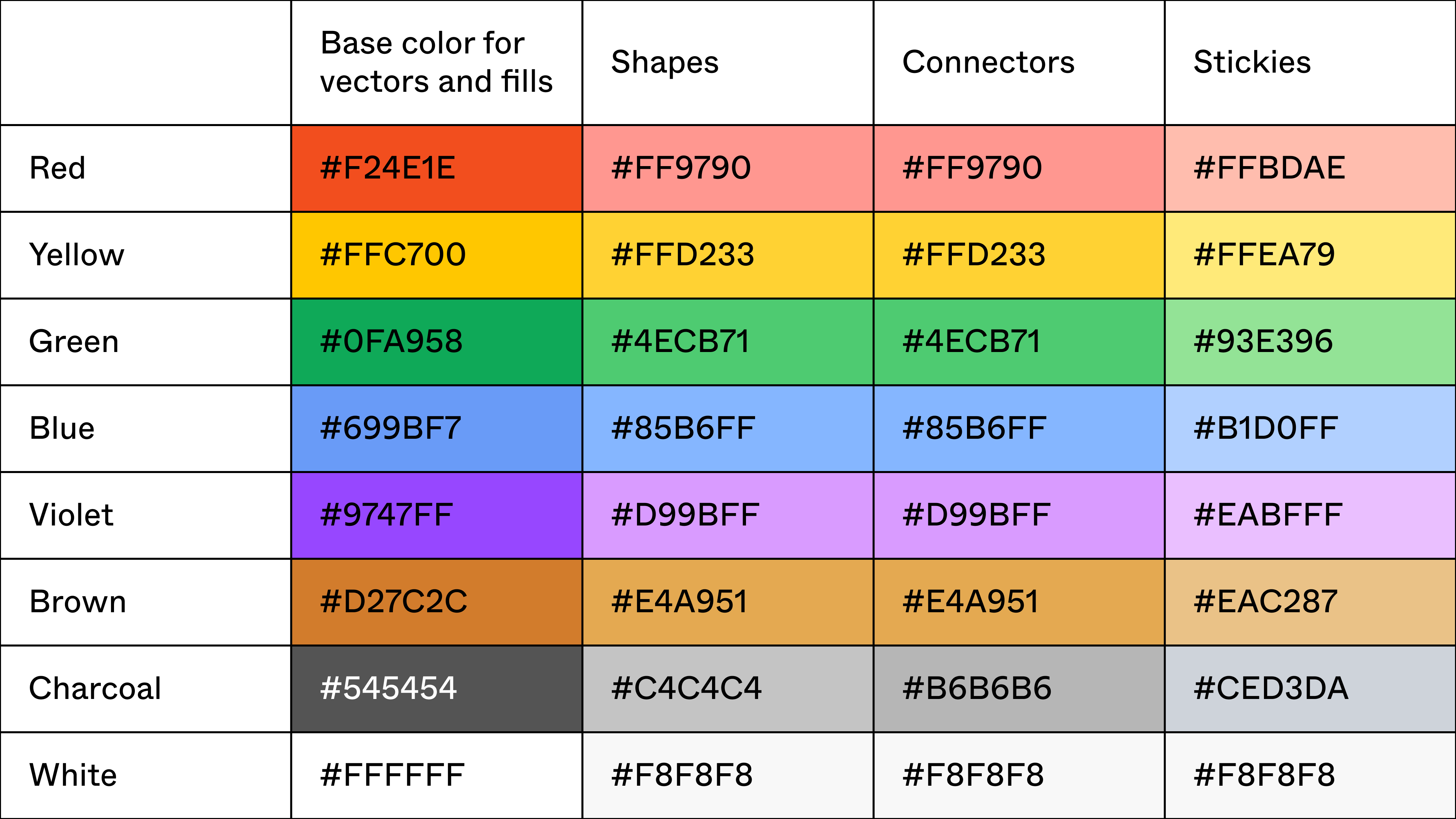 Toolbar
With FigJam files there's less focus on precision and polish, and more focus on joyful exploration and collaboration.
A

Navigation

Pan, zoom, and move around FigJam files like you would in a design file:

B

Marker

Use the marker tool to draw freehand lines and expressive shapes. It's a fun way to add doodles to the board, call attention to something important, or make abstract connections.

Switch between thin and thick versions to make your mark(er). Figma will apply some smoothing to any lines you create with the marker.

C

Shapes

A curated selection of shapes gives you the tools to build detailed flows and diagrams. Add text to shapes to capture ideas and use connectors to connect them.

There are eight shapes you can access in FigJam files:

Ellipse (otherwise known as a circle)
Square
Rounded rectangle
Diamond
Triangle
Downward-pointing triangle
Right-facing parallelogram
Left-facing parallelogram

D

Stickies

Stickies are the virtual equivalent to the sticky notes we all know and love.

Capture your thoughts in stickies and move them around the board to organize your ideas. Unlike their paper counterparts, they grow vertically giving you more space to explore your ideas.

Figma will add your name to any stickies you create, so you can easily keep track of who said what.

Access stickies from the toolbar or the S shortcut in FigJam files.

E

Text

Text is a crucial element while brainstorming and communicating information to others.

Use the text tool to create titles and headings, add blocks of body text, or quickly jot down ideas.

Add links to text to reference other FigJam or Figma files, direct collaborators to product documentation, or link to external websites.

F

Connectors and lines

Lines in FigJam let you create paths between shapes and stickies, illustrate order, or annotate something on your board.

Use the connector tool to draw straight lines or elbow connectors between objects.

Every line can be customized with its own color, text, end points, and stroke weight.

G

Libraries

The library tool gives you access to bold, fun, and expressive sticker sets, created especially for FigJam.

You can also enable your regular team libraries in FigJam and bring components into your explorations. Libraries are one of the ways you can work across FigJam and Figma design files.

H

Stamps and emotes

The stamp and emote wheels allow you to quickly add your feedback to files. Toggle between stamp and emote mode on the fly.

Select to access short-lived emotes and express your reactions in the moment.

Select to add your stamp of approval or other more permanent sentiments to the board.

I

Images

Use images to build a mood board or add some fun to your brainstorming sessions.

Select the image tool in the toolbar or use the ⌘ Command Shift K shortcut to to place images on the board.
Collaborative
Access collaborative tools via the menu in the toolbar:
Emotes and stamps
Anyone on the file can add emotes, including people with view-only access.
Only people with edit access to the file can add stamps to boards.
Emotes are temporary expressions that are great for live multiplayer experiences. They're energetic reactions that you share with others who are currently active in a file.
Stamps are permanent stickers that you can add to the board. They're great for both live and async collaboration when you want to show your support or impressions.
Cursor chat
Cursor chat allows you to type live, temporary messages to others in your FigJam file. This is great for quick communication and interactions.
In cursor chat mode, start typing and other collaborators in your file will see what you're typing as you're typing it. There's no action to confirm or send your message. Your cursor displays the message for five seconds after you've finished typing.
Select cursor chat from the emote wheel.
Anyone on the file can connect via cursor chat, including people with view-only access.
Comment
Comments are a great addition to collaboration in FigJam - they work like comments in Figma design files and prototypes.
Select comments in the collaborator menu, or press the C key to enter commenting mode.
Use comments to give feedback, ask questions, or leave notes throughout the board. You can @mention collaborators, as well as add emoji to your messages.
Keyboard shortcuts
View Figjam keyboard shortcuts in the shortcuts panel:
Click in the bottom-right.
Select Keyboard shortcuts.
Select headings to view related shortcuts.