Stay in the loop with notifications
Before you start
Who can use this feature
Notifications help keep you in loop with what's happening in your Figma account. Figma will send notifications for the following activities:
Permissions
Invites to a file, project or team
You're made an editor on a file, project, or team
You're made an admin of a team
Comments
New comments or replies on a file you're contributing to
Any time someone @mentions you in a file
Community
Likes or installs of your plugin(s)
Likes or installs of your widget(s)
Likes or duplicates of your Community file(s)
Replies to your comments on a creator's files, plugins, or widgets
Branching
Organization plans only
You're added as a reviewer to a branch
A reviewer approved your branch
A reviewer requested changes to your branch
Another review was requested
The branch was merged
The branch was archived
View notifications
View your notifications in Figma from the file browser. Figma will show you any notifications next to the account menu on the right side of the navigation bar.
If you have a new notification, Figma will display a red dot over the bell: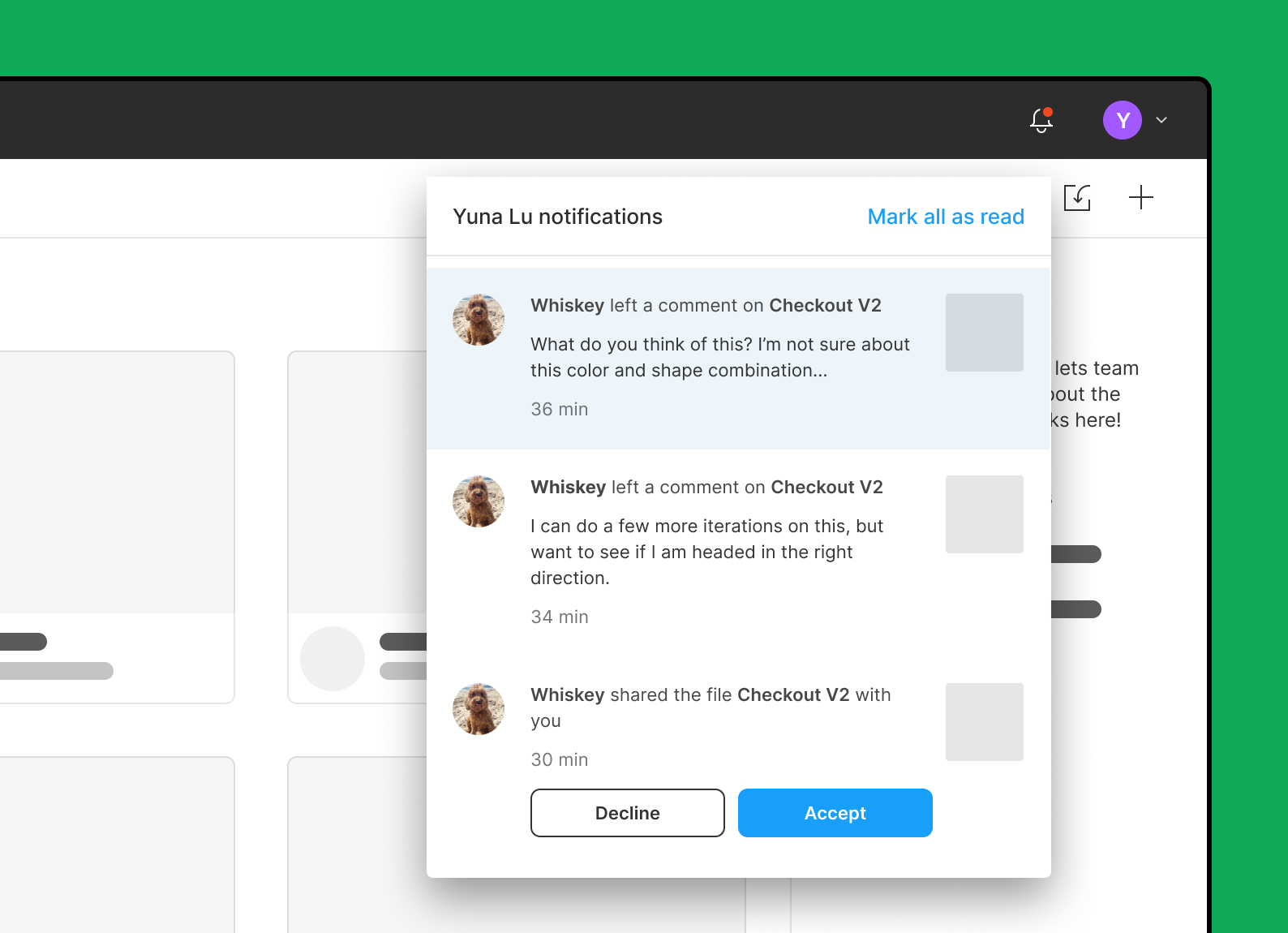 From the notifications modal, you can view a list of your last 50 notifications. You can also:
Accept or Decline invitations to files, projects, or teams.
Click on the notification to open the relevant file or resource
Click the Mark all as read link to clear any unread notifications
Note: It's not possible to disable these types of notifications. We have designed these notifications to be unobtrusive, so you can check these on your own terms.
Email notifications
You can determine if you would like to receive notifications for new comments. This will alert you via email to any comments collaborators have made on your files.
Enable or disable email notifications from your account settings:
From the file browser, click your profile picture in the top-right to open the account menu.
Select Settings from the options.
Select the Account tab and scroll down to the Notifications section.
To turn email notifications on, check the box next to Comments from other users.
To turn email notifications off, uncheck the box next to Comments from other users.
You will continue to receive emails for any @mentions, even if you have disabled them.
Tip! You can also enable or disable comment notifications by file. Check out our Give Feedback with Comments article for more information.
Slack notifications
Connect Slack to your Figma Account using our Slack integration. This lets you receive notifications in Slack when a team member comments on a file or thread you're active on. Learn how to manage Figma notifications in Slack →