You have access to a range of fonts in Figma design files. This includes default fonts provided by Figma, fonts installed on your computer or device, and shared fonts if you're part of a Figma organization.
When you're in a Figma design file, Figma checks to see if you have access to the fonts being used in that file. If any text is using a font that you don't have access to, missing font warnings will appear in the file.
View missing fonts
A missing font icon appears in the toolbar of a Figma design file if there's a font being used that you don't have access to. If you select a text layer with a missing font, the missing font icon will also appear next to the font name in the right sidebar.
You can see which fonts are missing and select any affected layers from the Missing fonts modal. To open the Missing fonts modal, click in the toolbar.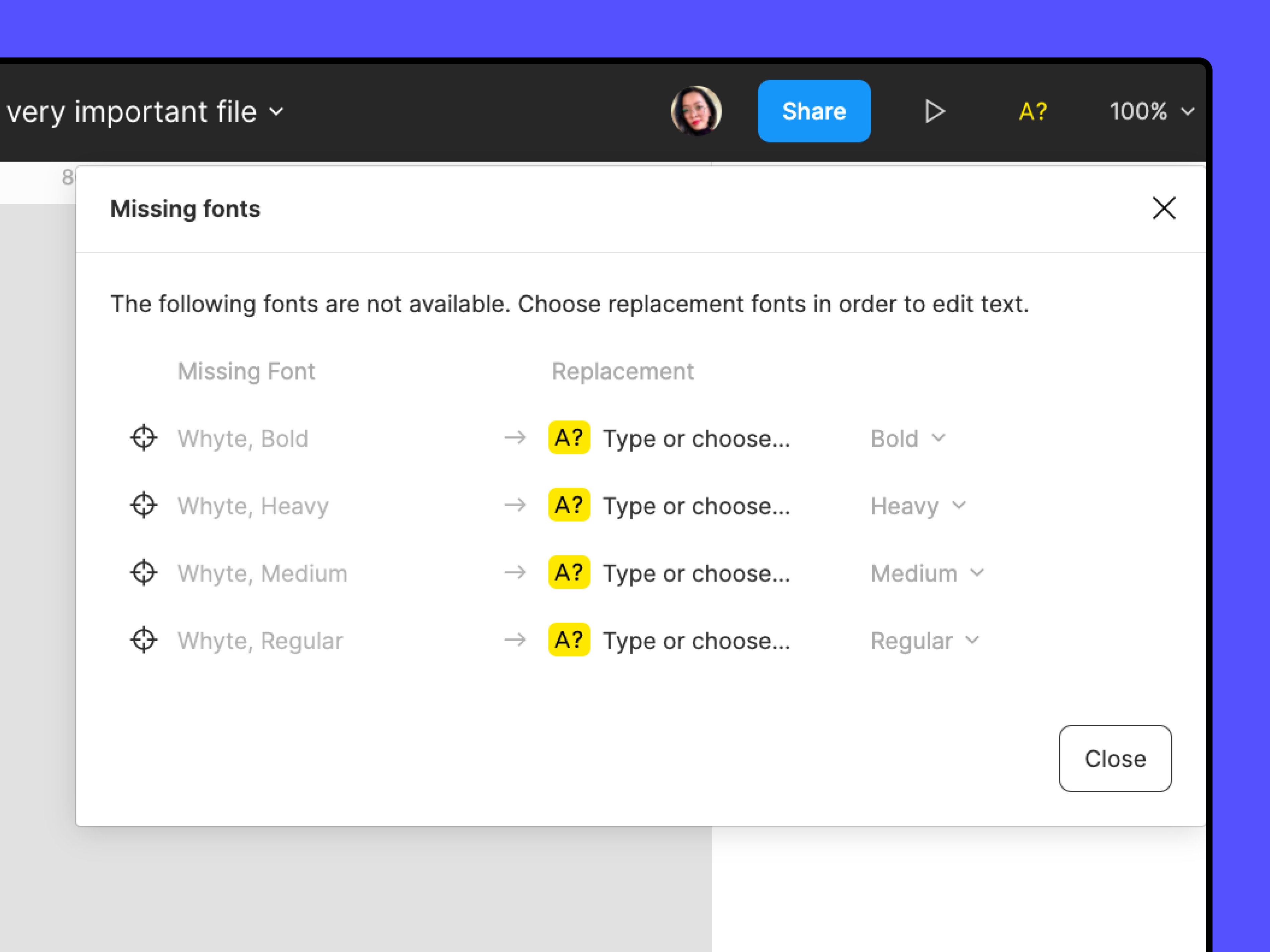 To select affected text layers, click in the Missing fonts modal: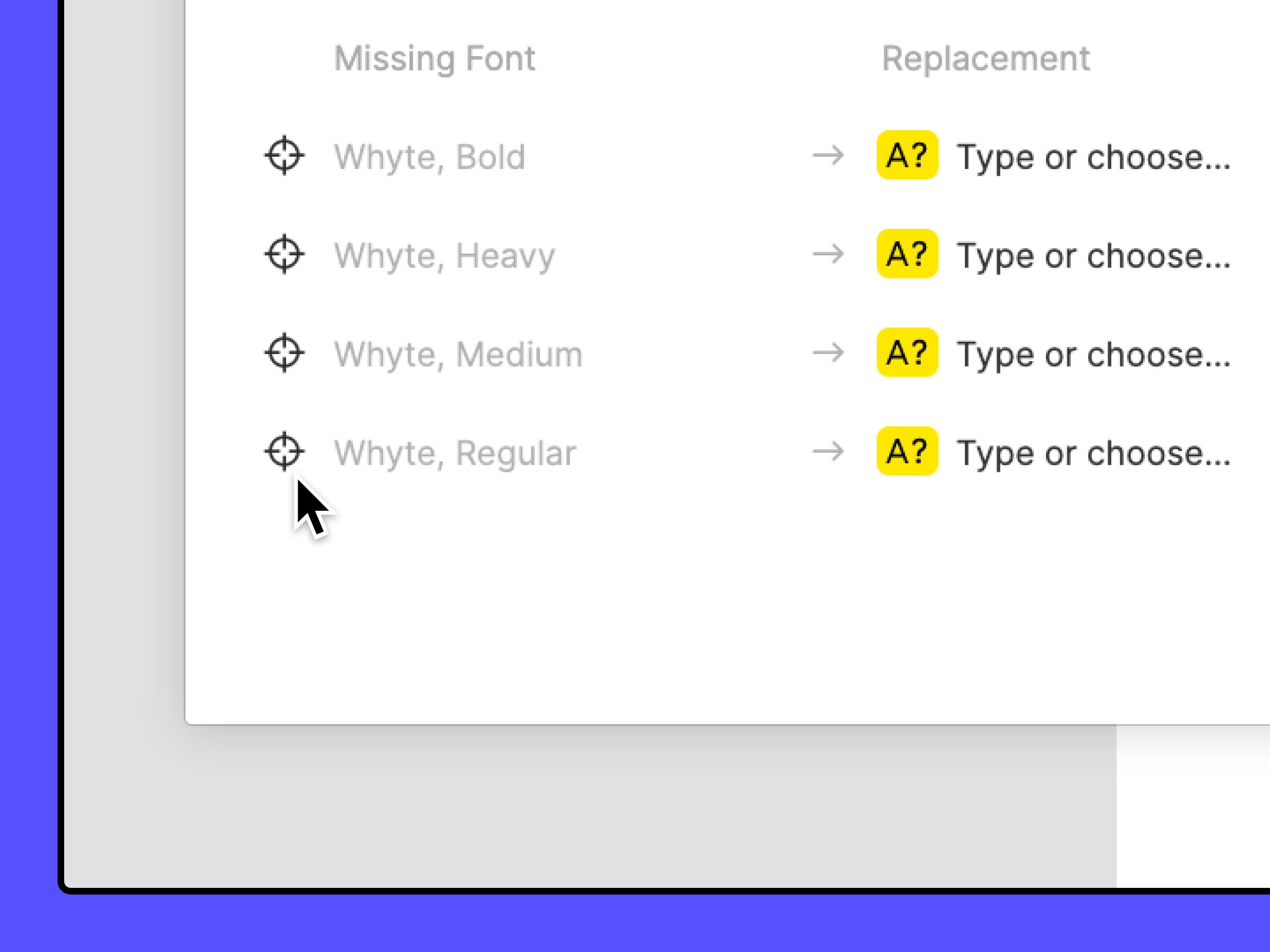 Fix missing fonts
There are a few causes for missing fonts:
Missing installed fonts: collaborators are using a local font, which you don't have installed.
Conflicting versions: collaborators are using a different (older or newer) version of the font.
Missing font styles: Either the style was missing from a download, or you are using a different version of the font which doesn't include that weight or style.
To edit an affected text layer, you'll need to fix the missing font. There are two ways to fix this:
Note: You can access Adobe Fonts if you activate Adobe Fonts on your computer (opens third-party documentation).
You need to be signed in to Creative Cloud and have opened the application within the last 30 days to access these fonts.
Adobe Fonts supports devices running macOS or Windows 10. If you aren't seeing these fonts, make sure you're running the latest version of Windows.
Install missing fonts
If you've installed a font on your computer, it should be an available in Figma. You need to use Figma's desktop app or install the Font Service if you're using the browser app.
Install font
To allow Figma to access a font from your computer, you need to add or install the font on your device.
Quit and restart Figma
If you've recently installed the Font Helper or a new font, you won't see those changes in Figma immediately. Quit and restart the desktop app or refresh the browser app you're using to access Figma.
Make sure the Figma font service is installed and working (browser only)
You need to install the Figma font service to use your local fonts in Figma's browser app. To confirm it's working:
Go to the Fonts section in your account settings to see if the font service is installed on your current device.

Make sure either the Figma Daemon, Figma Font Helper, or Font Service is running on your computer's activity monitor.
Select another font
The missing fonts modal allows you to quickly update affected text layers. You can use this approach to select an alternative font to use in your files. Updating the font applies to everyone in the file, not just you.
Note: Updating the font applies to all collaborators, including those with access to the original font.You may want to save a version of the file before you do, in case you need to reverse those changes.
Click in the top-right corner of the toolbar.
View a list of fonts and styles that are missing or unavailable in this file:
Use the dropdown fields below Replacement to update the family and style for each missing font. Figma will only show you fonts available to you.
Click Replace fonts to complete the process. All text objects in the file will be updated to the new fonts.