Use shortcuts and quick actions
When you're getting into a state of flow, the line between tool and designer blurs, giving you the freedom to explore the problems you're trying to solve. To save you from any unnecessary clicking and scrolling, we've put some handy keyboard shortcuts and quick actions at your fingertips.
Note: It's currently not possible to create custom keyboard shortcuts or quick actions. This is something to consider if you have applications with conflicting shortcuts. For example: a shortcut to open your password manager.
Keyboard shortcuts
You have access to a range of keyboard shortcuts in Figma design and FigJam files.
View shortcuts panel
Open the keyboard shortcuts panel to view a selection of shortcuts. You can see which shortcuts you've already used, or discover new ways to speed up your workflow.
There are two ways to open the shortcuts panel:
Click in the bottom-right and select Keyboard shortcuts
Use the keyboard shortcut:

Mac:⌃ ControlShift?
Windows:CtrlShift?
Figma will open the shortcuts panel along the bottom of your screen. Use the tabs at the top of the panel to explore shortcuts related to each set of actions. To view your current keyboard layout or select another one, select the Layout tab.
You can continue to use in Figma while viewing the keyboard shortcuts panel. Try out a new shortcut and watch the panel update.
Click to close the panel.
Shortcuts you've already used are shown in blue, shortcuts you haven't are shown in white.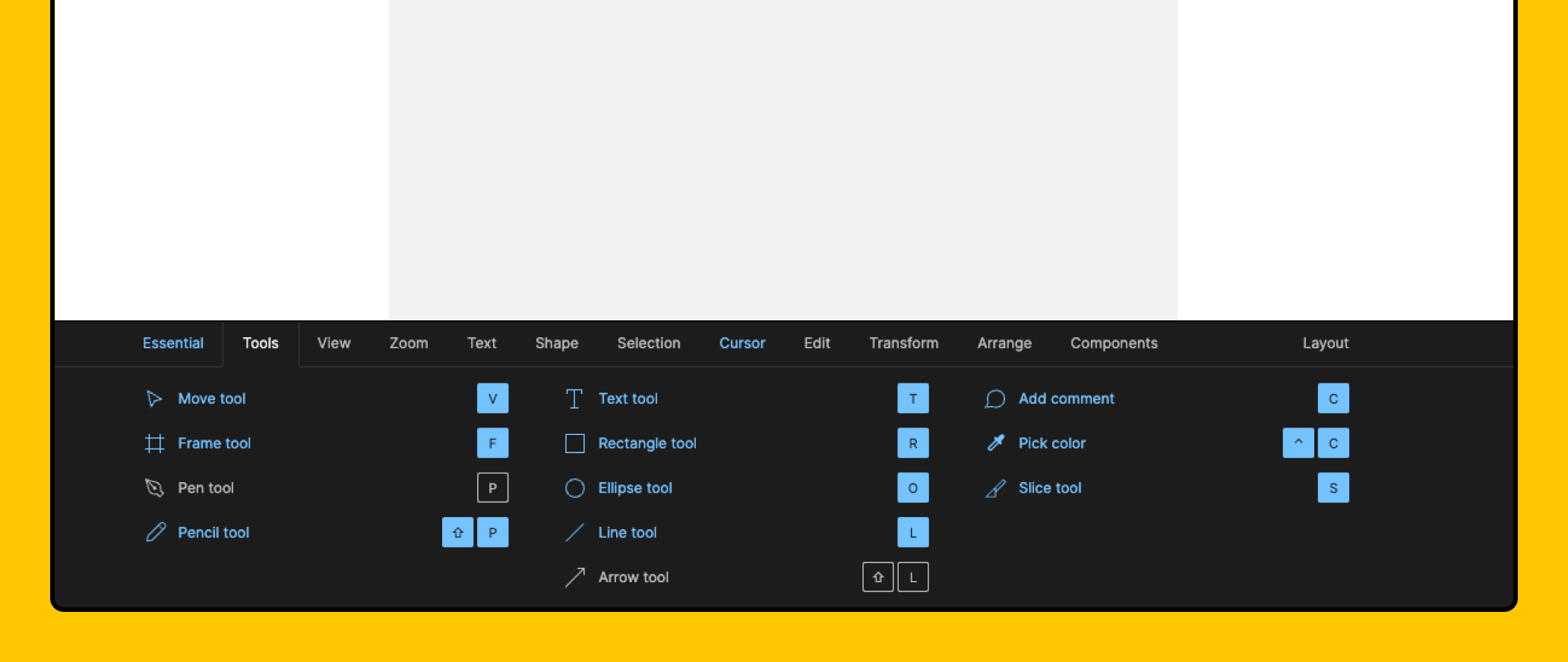 Shortcuts you've already used are shown in purple, shortcuts you haven't are shown in white.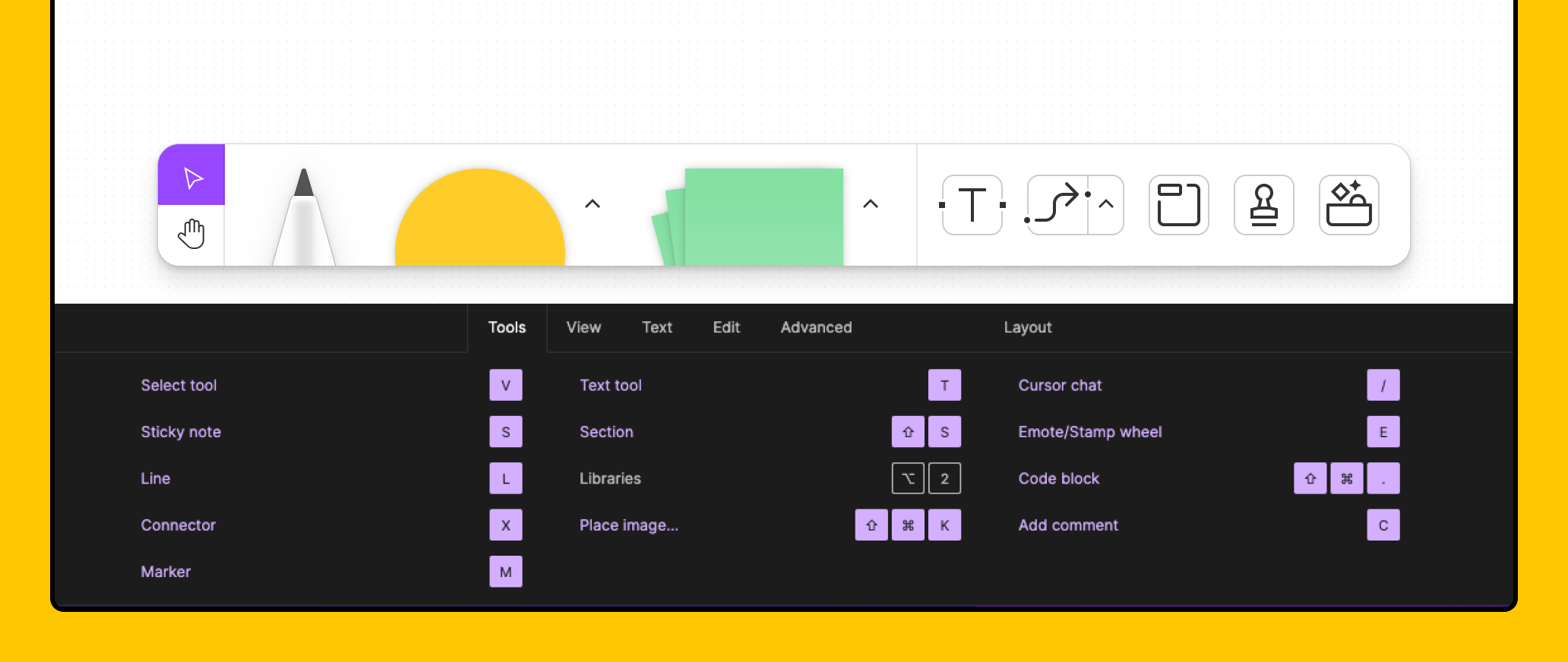 Note: Figma shows shortcuts based on your device. On some devices you'll see a key's symbol instead of the full name. Hover over the symbol to see the full expression.
Quick actions
Quick actions allow you to update settings and perform actions, using just your keyboard. This includes actions and settings that don't have keyboard shortcuts.
Here are a few examples of useful quick actions:
Run installed plugins
View and adjust nudge settings
Copy, save, or export a selection
Add/show comments in a file
Zoom to the next frame
Toggle settings like grids, rulers, and multiplayer cursors
Access items in the menu like the Help Center and Keyboard shortcut list
You can use actions in Figma design and FigJam files. Quick actions aren't available in the file browser or Community.
Note: It's not possible to open the share modal or access presentation view using quick actions.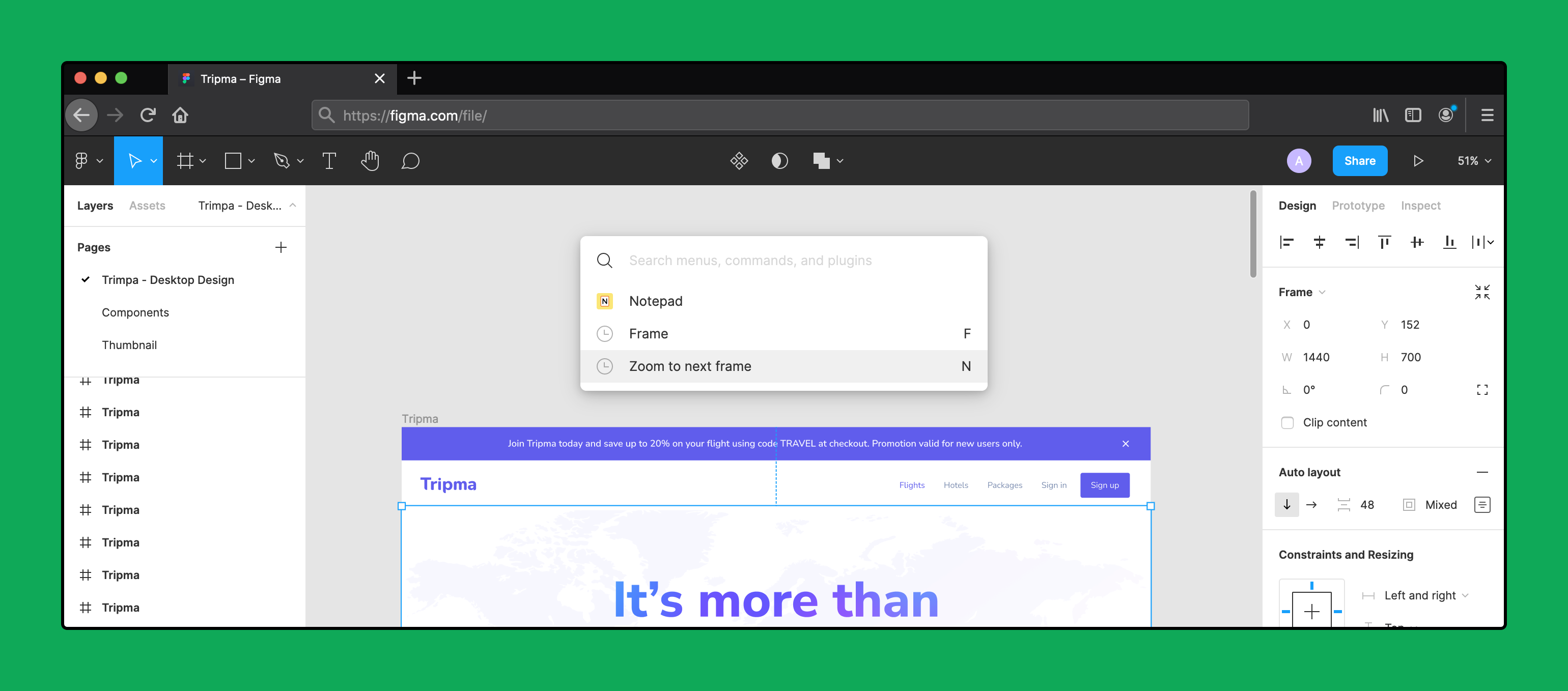 Use quick actions
To access the quick actions bar:
Use the keyboard shortcut to access the quick action bar:


Mac: ⌘ Command / or ⌘ Command P
Windows: Control + / or Control + P

Type your search in the field. Figma will show results that match your term as soon as you start typing.
Navigate results by pressing ↑ or ↓ on your keyboard.
Press Return or Enter to perform the action.
Recent quick actions
When you open quick actions, you'll see the last three actions you performed during that session. Recent actions reset when you close the tab or leave the file.