Figma Community copyright and licensing
Before you start
Who can use this feature
Creative Commons
Figma gives any files creators publish to the Figma Community an Attribution 4.0 International (CC BY 4.0) license. This isn't a public domain license.
This means that Community members can share and adapt the content of any files shared in the Community. Files can be shared and adapted for any purpose, including commercial purposes.
Share: copy and redistribute the material in any medium or format.
Adapt: remix, transform, and build upon the material.
Under CC BY 4.0, Community members need to give credit to the original creator. View the full details of the CC BY 4.0 license: https://creativecommons.org/licenses/by/4.0/legalcode
Learn more in our Figma Community Guidelines →
Creators and contributors
Figma allows you to choose who is listed as a creator of a file, plugin, or widget as part of the publishing process. This is a great way to recognize other people who have contributed to the file, plugin's, or widget's development.
To qualify as a creator on a plugin or widget, the contributor must have an existing Figma Community profile.
To qualify as a creator on a file, the contributor must meet both the following criteria:

Have an existing Figma Community profile.
Have an explicit Can view or Can edit role on the original file. If someone only has access to the file via their team-level permissions, you will need to invite them to the file.
Figma will send anyone you add a creator a notification, which gives the option to accept or decline the request. Figma shows accepted creators on the resource page and will include the file, plugin, or widget on each creator's Community profile.
File remixes
To help with attribution, Figma tracks every time a member of the Community duplicates a file. This allows us to trace duplicated files back to the original creator.
Remixes are files that have been published to the Community that originally came from another Community file.
When you remix a file Figma will:
Add an attribution to the file page to show the original file and creator
Add this file to the Remixes section of the original file page.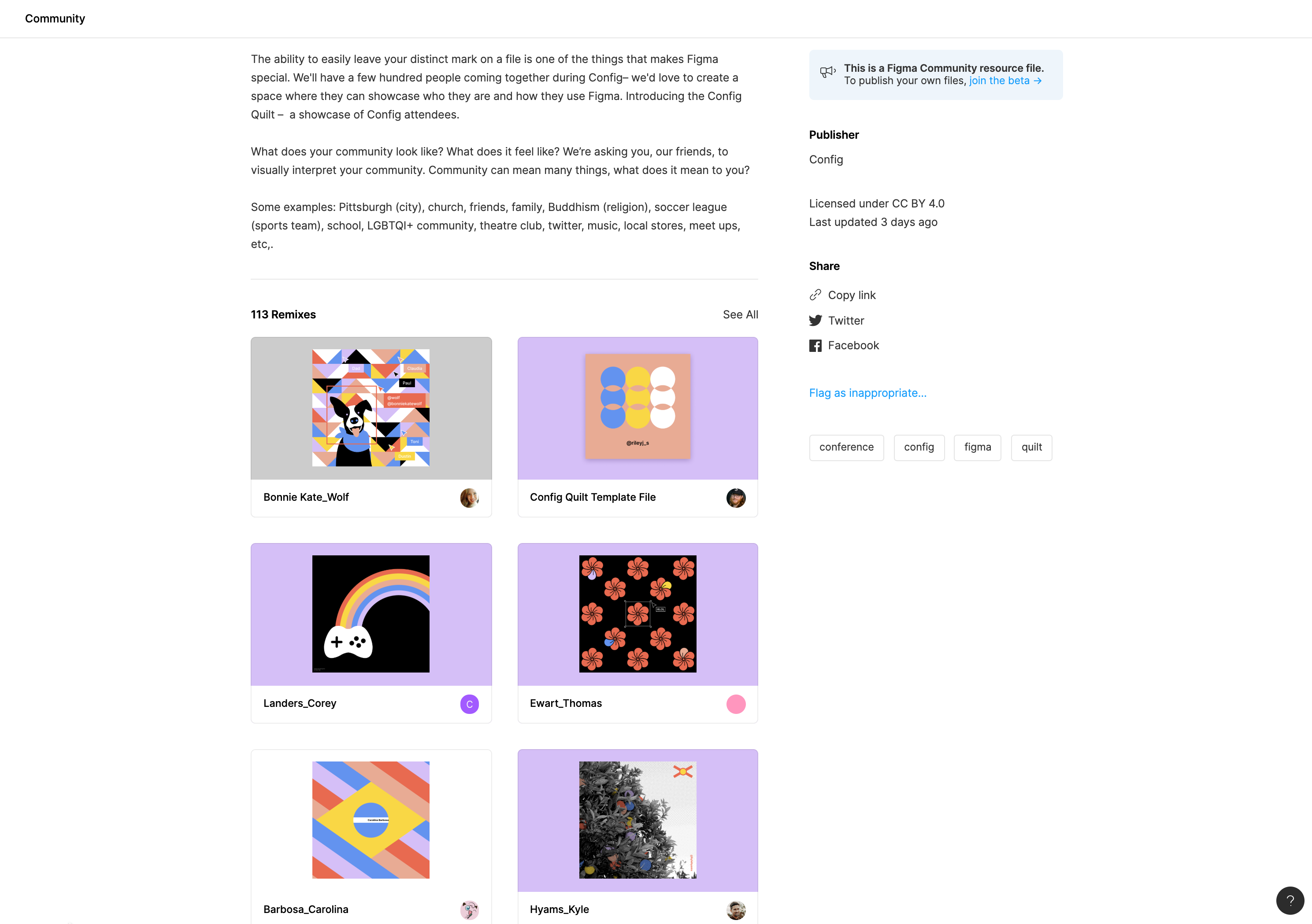 Note: Figma only tracks immediate connections between files. This includes attributions to the parent file on a remixed file, and any direct remixes on the original file page.
Report a violation
Outside of published remixes, Figma isn't able to track files to ensure appropriate attribution.
If you do notice that someone is not meeting these requirements, please get in touch and let us know! Contact us directly via email at content-reviews@figma.com.