Run voting sessions in FigJam
Hold a vote in FigJam to narrow down a board full of ideas and reach decisions faster. Each participant's choices are hidden while they vote, then the responses and final tally are revealed to all when the voting session ends.
Use voting to:
See which ideas people like most to make fast decisions
Solicit genuine feedback without the gaze of others
Make sure the whole team is heard
When voting in FigJam:
You can create a prompt and set how many votes each participant can cast
Participants can only see how their collaborators voted once the voting session is ended
You can view results as a team and how each participant voted
The permissions table below shows a list of file locations and team types. Icons indicate if a file in that location can ✓ or can't ✕ have a voting session.
| | | | | | |
| --- | --- | --- | --- | --- | --- |
| File location | Starter | Education | Professional | Organization | Enterprise |
| In drafts | ✕ | ✕ | ✕ | ✓ | ✓ |
| In a team | ✕ | ✓ | ✓ | ✓ | ✓ |
Start a voting session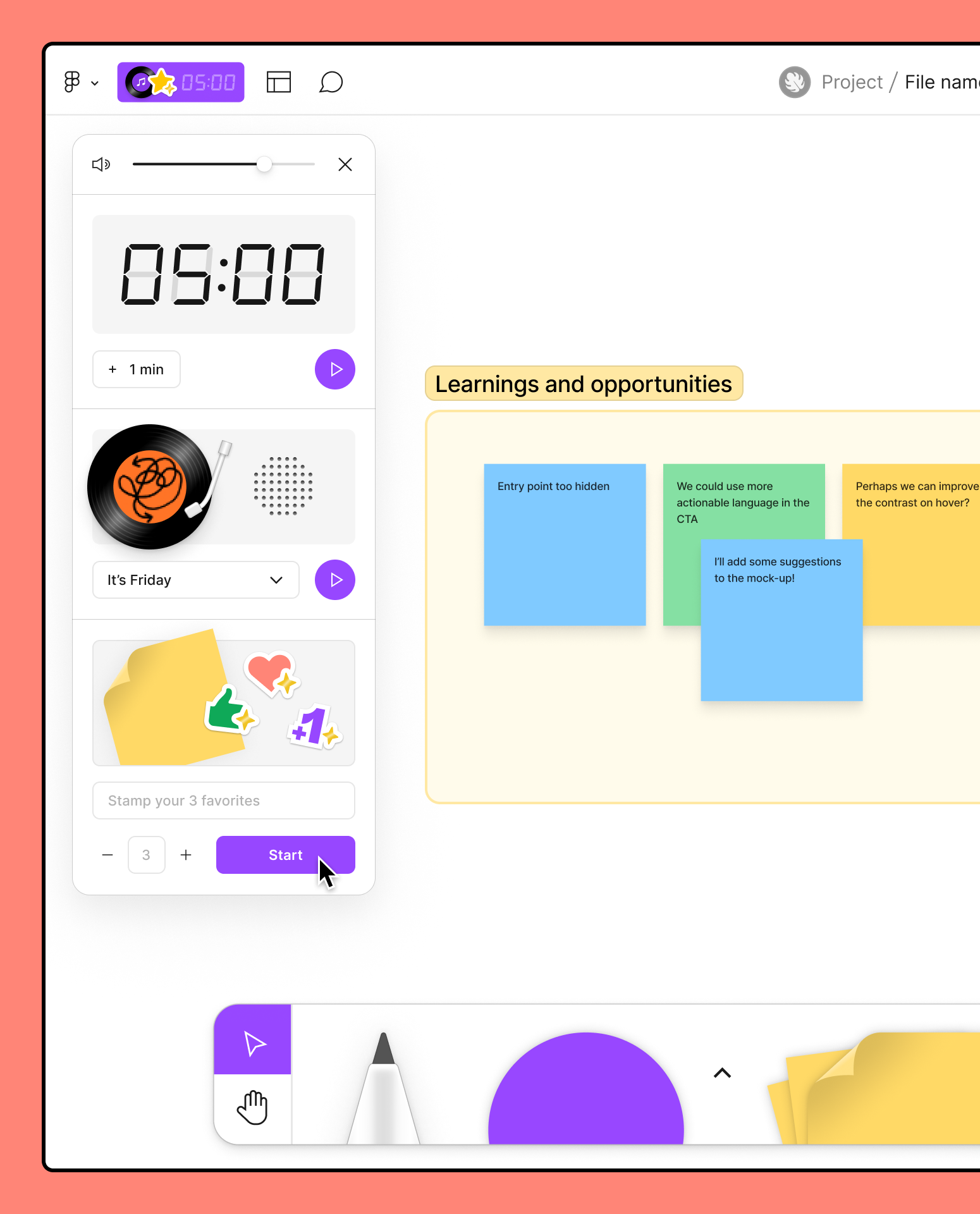 You can create multiple voting prompts in a single file, and run them one at a time. This means you can separate a board into different sections and create a voting session for each section. Voting sessions can be started in files that are part of a paid team, and anyone with access to edit the file, including guests in an Open session, can cast a vote.
To start a voting session:
Click the Timer, voting, and music icon in the top toolbar.
Enter a prompt for the voting. For example, "Pick your 3 favorite ideas."
Use the + / - icons to set how many votes each participant can cast.
Click Start.
At this point, anyone in the file can cast their vote using the stamp tool. Participants can see their own votes to help keep track of their picks, while their collaborator's votes are kept hidden until the session ends.
Note
During a voting session, multiplayer cursors in the file are hidden so votes aren't revealed until voting has ended.
Cast votes
When a voting session starts, collaborators in the file are invited to join and given the option to Ignore the invite. Anyone who ignored the invite can click the Timer, voting, and music icon to join an active voting session and cast their vote.
During a voting session, the Stamp tool is activated by default. You can:
Use any stamp to cast your vote
Vote on stickies, shapes, text, images, code blocks, and components from a Figma design file
Vote the amount set by the session
End voting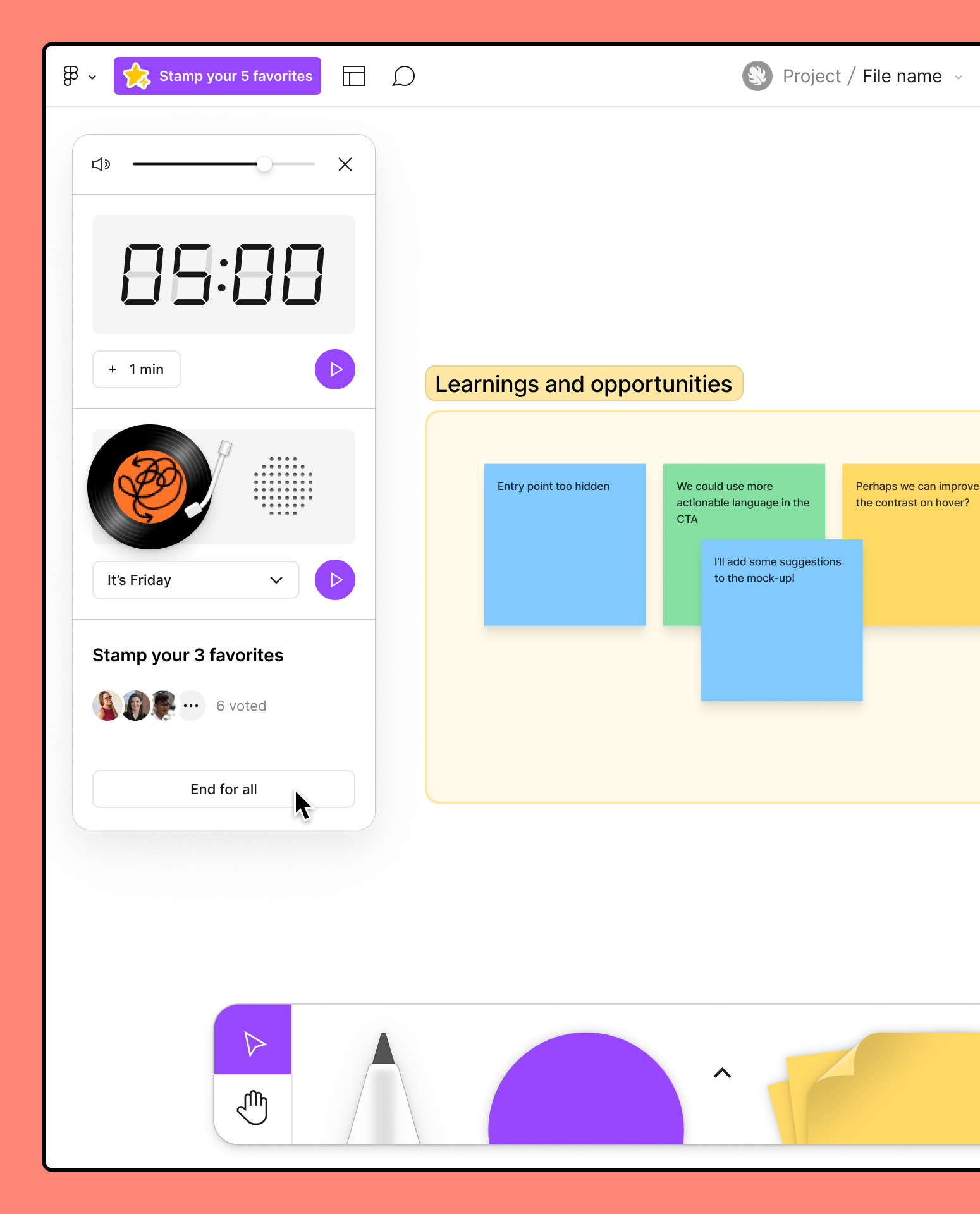 Voting sessions can be ended at any time. Anyone in the file can end the session. You can set a timer to keep the meeting on track, but still have to manually end the session.
To end a voting session:
Click the Timer, voting, and music icon in the top toolbar.
Click End for everyone and confirm.
Once a participant has cast the allowed amount of votes, they can click I'm done in the stamp wheel to exit voting mode.
View results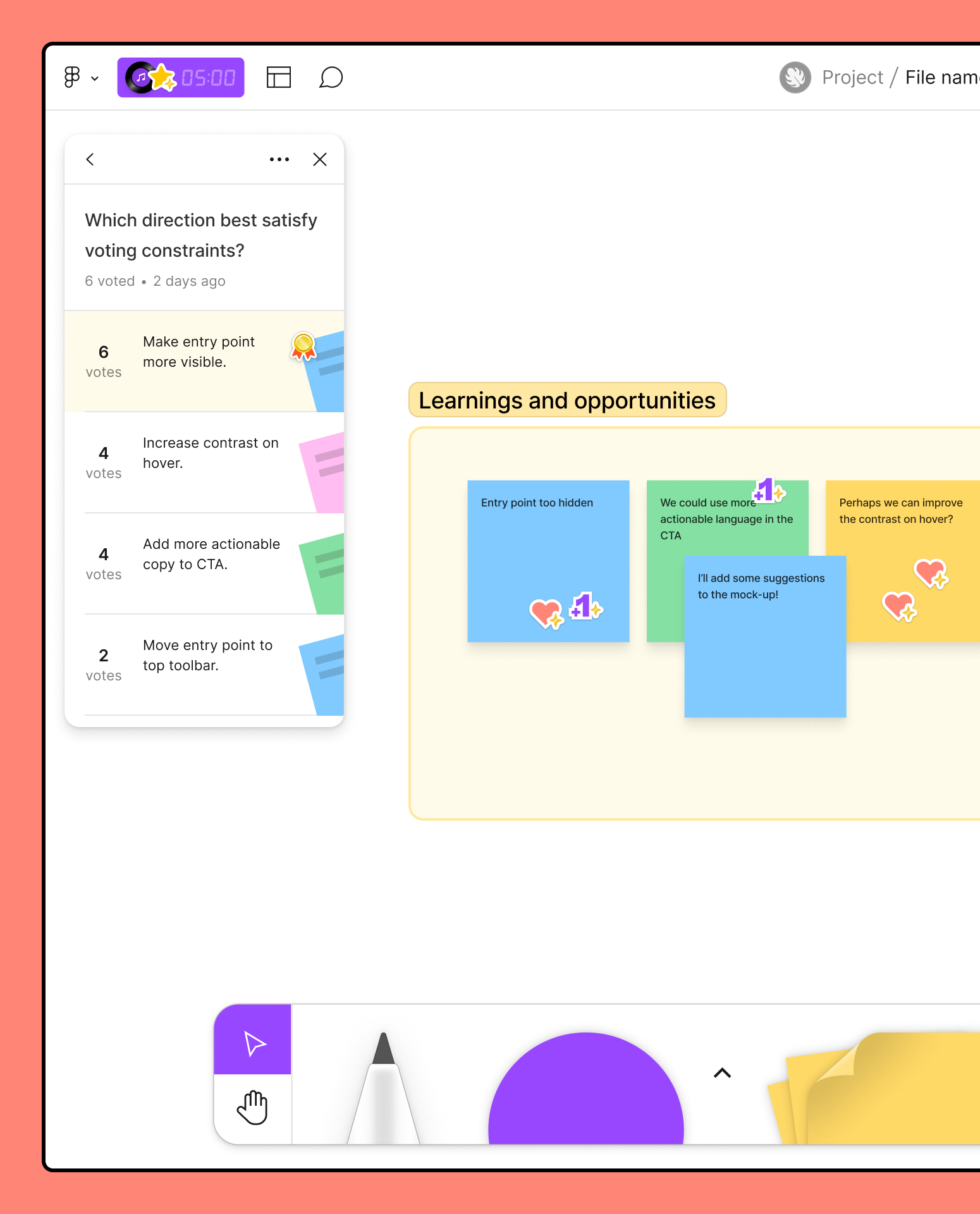 When a session ends, results are immediately shown so you can review them as a team. Once you're done viewing results, you can either delete them or leave them saved in the file for future reference.
To view results from past voting sessions:
Click the Timer, voting, and music icon in the top toolbar.
Select the Results tab.
Select a session from the list.
Click to delete results for a voting session.