Create text and links in FigJam
Before you start you should know
Anyone with can edit access can create and edit text in FigJam files.
FigJam is Figma's new digital whiteboarding tool.
Text is a crucial element for jotting down ideas while brainstorming and communicating information to others.
Links can be used to cross-reference other FigJam or Figma files, direct collaborators to product documentation, or link to external websites.
In this article, we'll take you through how to create and modify text and link objects in FigJam.
Create a text object
Click in the toolbar or press T to add text to the board.
Text objects are used to add text on top of other objects or directly to the board.
Single click
Single click creates a text box that resizes horizontally as you type, also known as point text. Drag the sides of a text box to adjust its width.
Select the text tool or press T .
Click anywhere on the board to create a text box.
Click and drag
Use click and drag to create a text box that wraps any horizontal overflow text to the next line. This is also known as area text. The object has a fixed width and grows vertically as you add more text.
Click and hold anywhere the board.
Drag your cursor to create a text layer with specific dimensions.
Tip
Double-click the bounding box of an area text to convert it to point text.
Text properties
Many objects in FigJam contain text, including text objects, shapes, sticky notes, and connectors. When you select text or enter text edit mode, a toolbar appears with options to change its properties.
Each kind of object has a specific number properties you can modify.
Typeface
Change the font of your text to match the mood and style of your FigJam board.
Select the text object, or highlight the specific piece of text you'd like to update.
Click the dropdown in the toolbar and select a font:

Simple
Bookish
Technical
Scribbled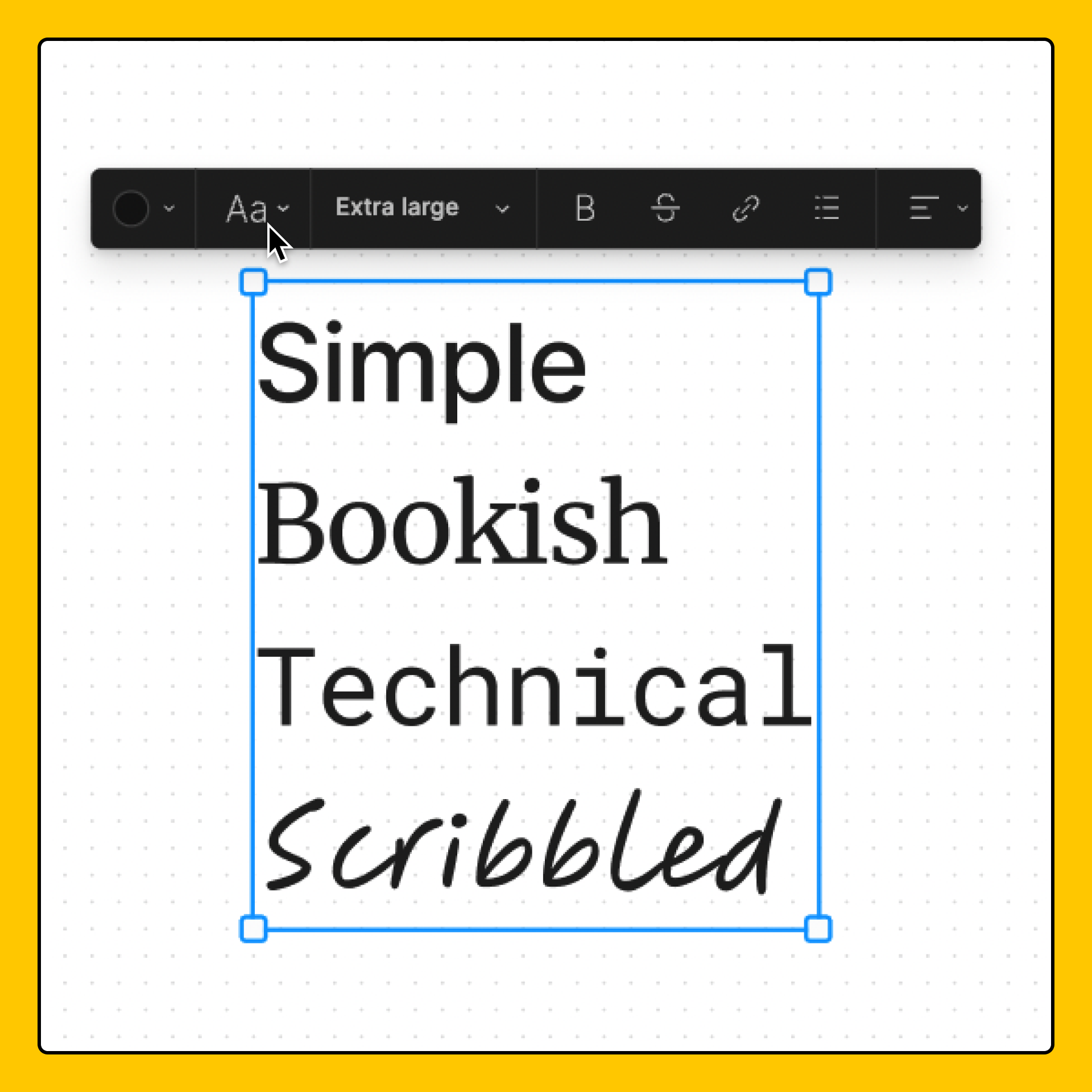 Note: The Bookish and Technical fonts are not available in Japanese.
Bold
Apply the bold property to any text you want to stand out.
Click in the text toolbar, or use the keyboard shortcut:
Mac: ⌘ Command B
Windows: Control B
Strikethrough
Apply the strikethrough property on any text you want to cross out. This is great for crossing off tasks in a to-do list or ideas you decided to not pursue, but want to keep a record of.
Click in the toolbar, or use the keyboard shortcut:
Mac: ⌘ Command ⇧ Shift X
Windows: Control Shift X
Lists
Lists are great for note-taking, task lists, ideating, or writing step-by-step instructions while keeping your content clean and organized.
Bulleted list
Click in the toolbar, or use the keyboard shortcut.
Mac: ⌘ Command ⇧ Shift 8
Windows: Control Shift 8
You can also create a bulleted list on a new line by typing * Space or - Space.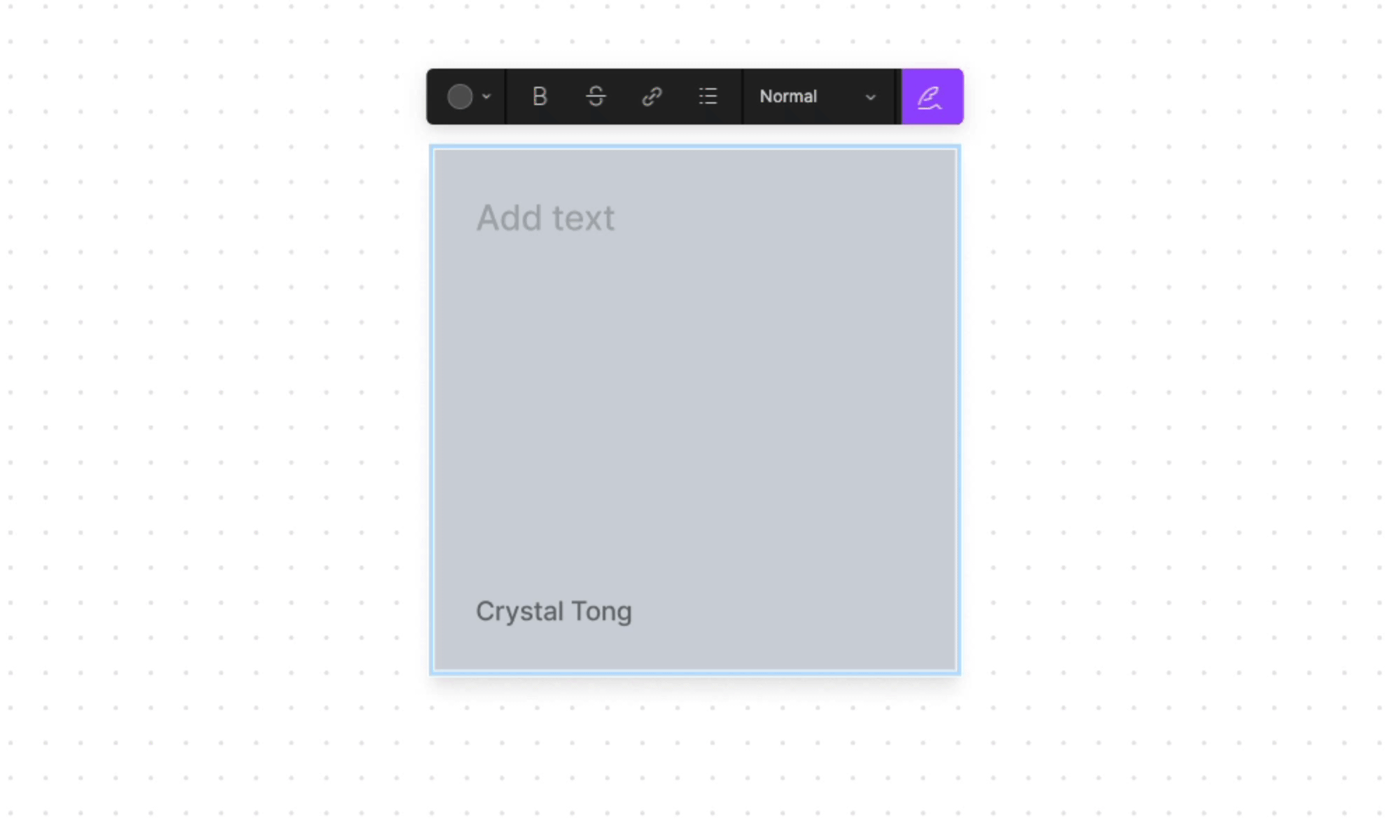 Numbered List
Use the keyboard shortcut:
Mac: ⌘ Command ⇧ Shift 7
Windows: Control Shift 7
You can also create a numbered list on a new line by typing 1 . Space. If a numbered list already exists directly above your new line, try using the next number in the sequence instead.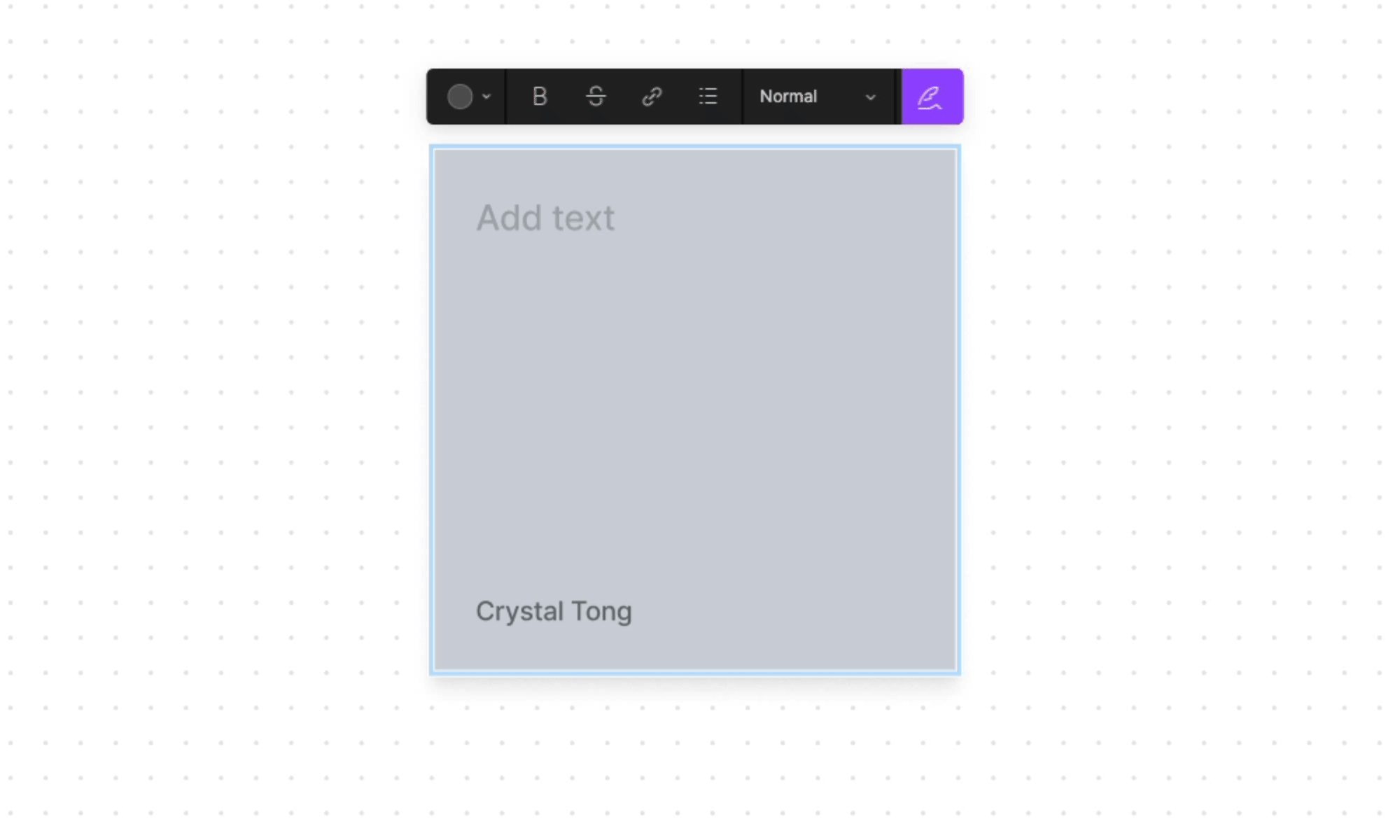 Increase and decrease indent
To increase or decrease the indent of a list item, use these keyboard shortcuts:
Increase indent: Tab
Decrease indent: Shift tab
Text size
There are five size presets:
Small (16px)
Medium (24px)
Large (40px)
Extra large (64px)
Huge (96px)
Custom size
By default, text is set to Small for all text objects. You can change the size of all the text or a selected portion.
To use a preset text size:
Select the line or portion of text you want to resize.
Click the size dropdown menu in the toolbar to change text size.
Pick a size for the selected text or enter a custom size in the field.
Text objects created with the tool can be given a custom size. To resize a text object:
Select the text object you want to resize.
Click and drag a corner of the text object.
Text objects can be resized in increments of 8 pixels, and will display as Teensy, Custom, or Ginormous in the size dropdown of the toolbar.
Markdown
Use Markdown to format any text. FigJam supports the following Markdown syntax:
Element
Markdown Syntax
Heading

h2 (#)

H2 (##)

H3 (###)

H4 (####)

Bold

**bold text**

Italic

*italicized text*

Blockquote

> blockquote

Ordered list

1. First item

2. Second item

3. Third item

Unordered list

- First item

- Second item

- Third item
Curated colors
Change the color of your text to increase visibility, make it stand out, or group similar ideas. Choose from any of the eight curated colors in the color dropdown of the toolbar.
Learn more about colors in FigJam →
Alignment
Select an object or a specific string of text.
Click the alignment icon in the toolbar and choose:

Text align left

Mac: ⌥ Option ⌘ Command L
Windows: Alt Control L

Text align center

Mac: ⌥ Option ⌘ Command T
Windows: Alt Control T

Text align right

Mac: ⌥ Option ⌘ Command R
Windows: Alt Control R
Add links to text
Add clickable links to text to reference Figma files, FigJam files, documentation, or external websites.
Select an object or a specific string of text.
Click , or use the keyboard shortcut:

Mac: ⌘ Command K
Windows: Control K

Enter or paste the URL from your clipboard.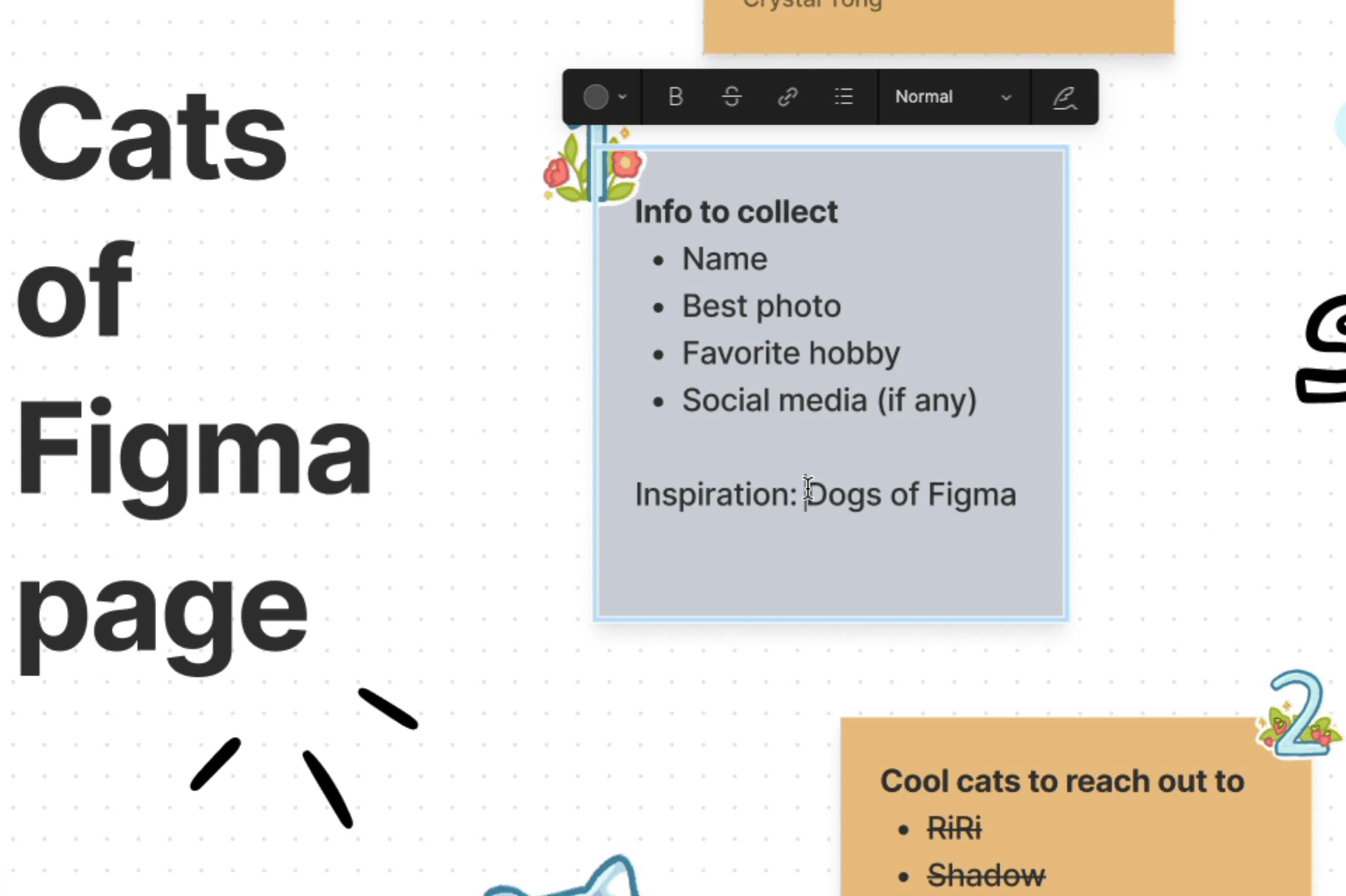 Tip
If you already have the URL copied to your clipboard, select the text and press ⌘ Command V / Control V to insert your link.
Tip
If you need a reminder of keyboard shortcuts, open your file's menu > Help and account > Keyboard Shortcuts. A tray will appear at the bottom of your window where you can explore different shortcuts.
Add emoji to text
Add emoji to your text objects, stickies, and shapes by typing : followed by the emoji code. If you don't know the name of an emoji, you can search by entering keywords like :heart or :plus.
Spell check
Spell check helps you review and correct spelling errors. Spell check identifies errors while you are in text edit mode and only for the text layer you currently have active.
The following default languages are available to use for spell check:
Figma desktop app: Any language supported on your operating system
Figma web app: English (US, CA, UK) and Russian
Note
Installing the Figma font installer allows you to access any language supported on your operating system in the Figma web app. If you have the Figma desktop app installed, the Figma font installer is installed automatically.
There are some differences depending on the operating system you are using:
On Mac: Figma auto-detects and uses your system's preferred language for spell check
On Windows: If you don't see the language you want to use, you may need to install a language pack. Language packs for Windows →
Spell check is enabled by default for most users. Spell check is only disabled if you do not have the Figma font installer installed and your browser's preferred language is something other than English or Russian. Since the Figma web app cannot pull in the additional languages supported on your operating system without the Figma font installer, spell check is disabled to prevent it from flagging all text in a file as incorrect.
Note
Spell check preferences set in the web app are not applied to the desktop app or vice versa. If you switch between the two apps, you must configure your spell check preferences again.
Enable or disable spell check
Click on the menu.
Go to Text > Spell check.
Click Check spelling to enable or disable spell check.
Change preferred spell check language
Click on the menu.
Go to Text > Spell check.
Select from the list of available languages.
Add words to your personal dictionary
You can add words to your dictionary to prevent them from being flagged by spell check. Your dictionary applies to all files you can edit. For example, if you add a word to your dictionary in a Figma design file, spell check will recognize that spelling in your other Figma design or FigJam files. Once a word has been added to your dictionary, it cannot be removed.
Highlight the word you want to add to your dictionary.
Right-click and select Add to dictionary.