Mention people in FigJam text objects
Who can use this feature
Available on any team or plan.
Anyone with can edit access in a FigJam file can mention people.
Anyone with can view access in a FigJam file can view mentions of them.
Check out the Guide to FigJam →
Let teammates know where you need their attention or assign tasks by tagging people in stickies and text. Those mentioned are notified according to their notification preferences.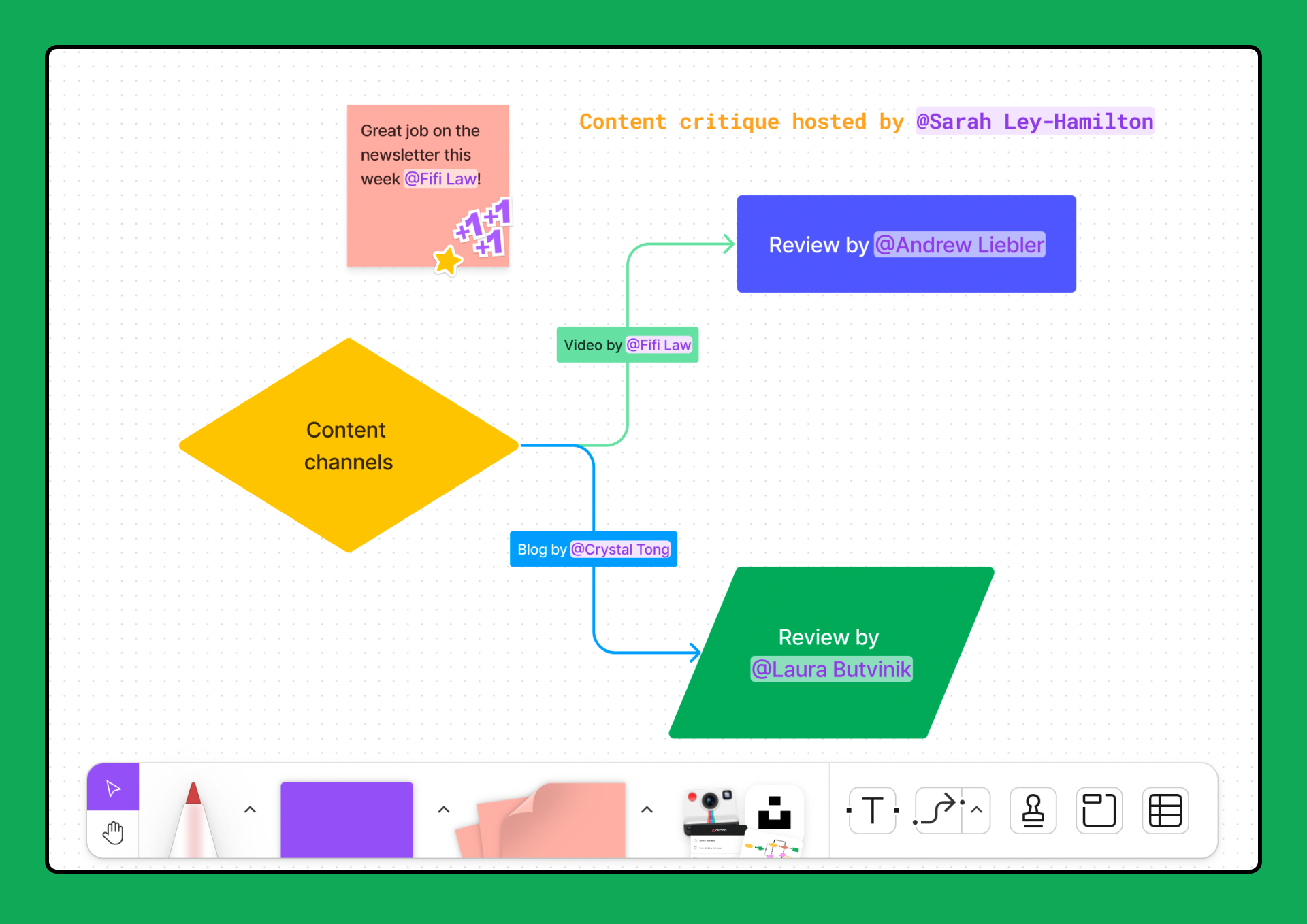 You can tag someone in:
Because others can't reply to mentions in text objects, consider these tags a more lightweight or casual alternative to starting a full conversation using comments.
Learn more about comments in FigJam →
Add a mention
When editing a text field:
Press the @ key and start typing the person's name or email. Figma will suggest collaborators based on your history.
Click on the person's name in the list. If the person you tag isn't in the file, they'll be invited to view the file or request access.
Figma sends an email to the person you tagged with a preview of the FigJam board and the text they were mentioned in. If they have in-app notifications enabled, they'll also receive a notification in Figma.
View text you've been tagged in
To view mentions in a file:
Press C or click Comment to enter comment mode.
Mentions are listed in the right sidebar. Select a mention to be taken to it.
Tip
You can see all mentions from Notifications in your file browser.
Manage mention notifications
You can manage @mention notifications for a particular file. This includes mentions in both text objects and comments. To do so:
Press C or click Comment to enter comment mode.
In the right sidebar, click Settings.
Select whether you want to be notified of Everything, Just mentions and replies, or Nothing.
Note: Notifications for replies only applies to comments in FigJam.