Use audio to chat with your team
Before you Start
Who can use this feature
Anyone with can view or can edit access to a FigJam or Figma file.
Use audio to have live conversations with other collaborators directly in your Figma and FigJam files.
Audio is great for:
Spontaneous conversations and collaboration
Quickly explaining an idea
Presenting ideas for feedback
Casual chats and group working sessions
Getting on the same page with another collaborator
Combine audio with other expressive features like:
Compatibilities and requirements
Audio is available on Figma's desktop app and the browser. It's currently not available on mobile devices or in presentation view.
Make sure you're using a browser supported by Figma or the latest version of the Figma desktop app.
Learn more about closed captions in audio →
Setup audio
Grant microphone permission
Give Figma access to your microphone:
Open a Figma or FigJam file.
Click
The app or browser will ask you for permission to use your microphone or input device.
Allow access.
Once you've granted permissions and joined a conversation, a tab indicator will appear in your file tab to confirm your microphone is in use.
Choose microphone and speaker device
Figma uses your computer's default microphone settings. To change your microphone device:
Click in your audio controls.

Use the dropdown fields under Microphone to select your preferred device.
Tip
Use your computer's system preferences to test your microphone and speaker levels.
To change a speaker device (Chrome & desktop app only):
Click in your audio controls.
Use the dropdown fields under Microphone and Speakers to select your preferred devices. Your setting will be saved automatically.
Note
For non-Chrome browser users, change your speaker, or output, device in your computer's system preferences.
Use audio
Audio controls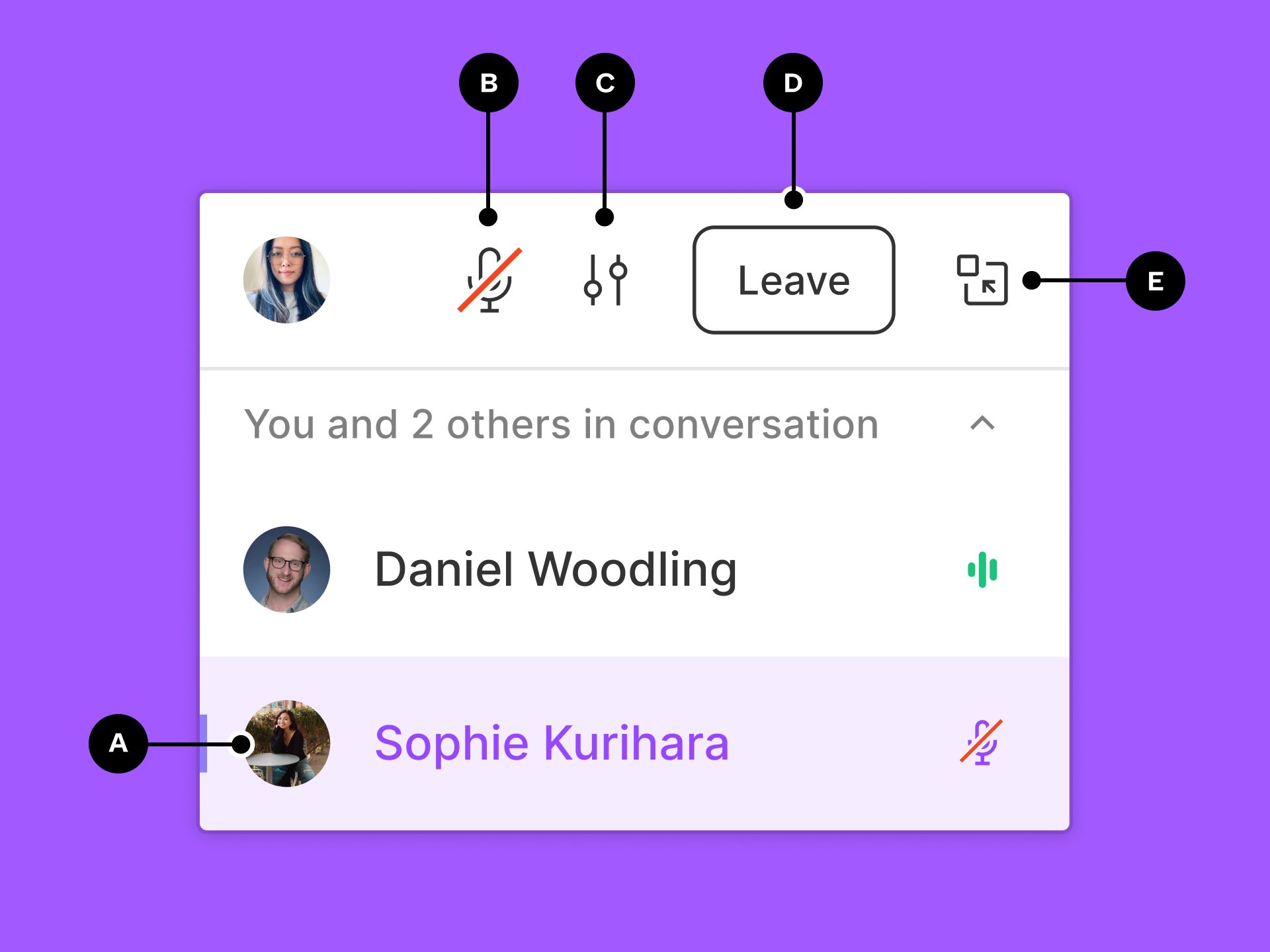 Audio controls appear when you join a conversation. Use audio controls to:
A Click on an avatar to observe a collaborator

B Mute/unmute your microphone

C Access additional settings and change your microphone and speaker sources

D Leave the call

E Minimize audio controls to hide it from view. The mute/unmute button and participant list will merge into the toolbar. To reopen audio controls, click in the toolbar.
Start and join conversations
Each file can hold a single conversation at any given time, allowing for fewer interruptions if you need to switch between pages.
To start or join a conversation, click in the toolbar. A conversation is active when a green outline appears around the and avatars.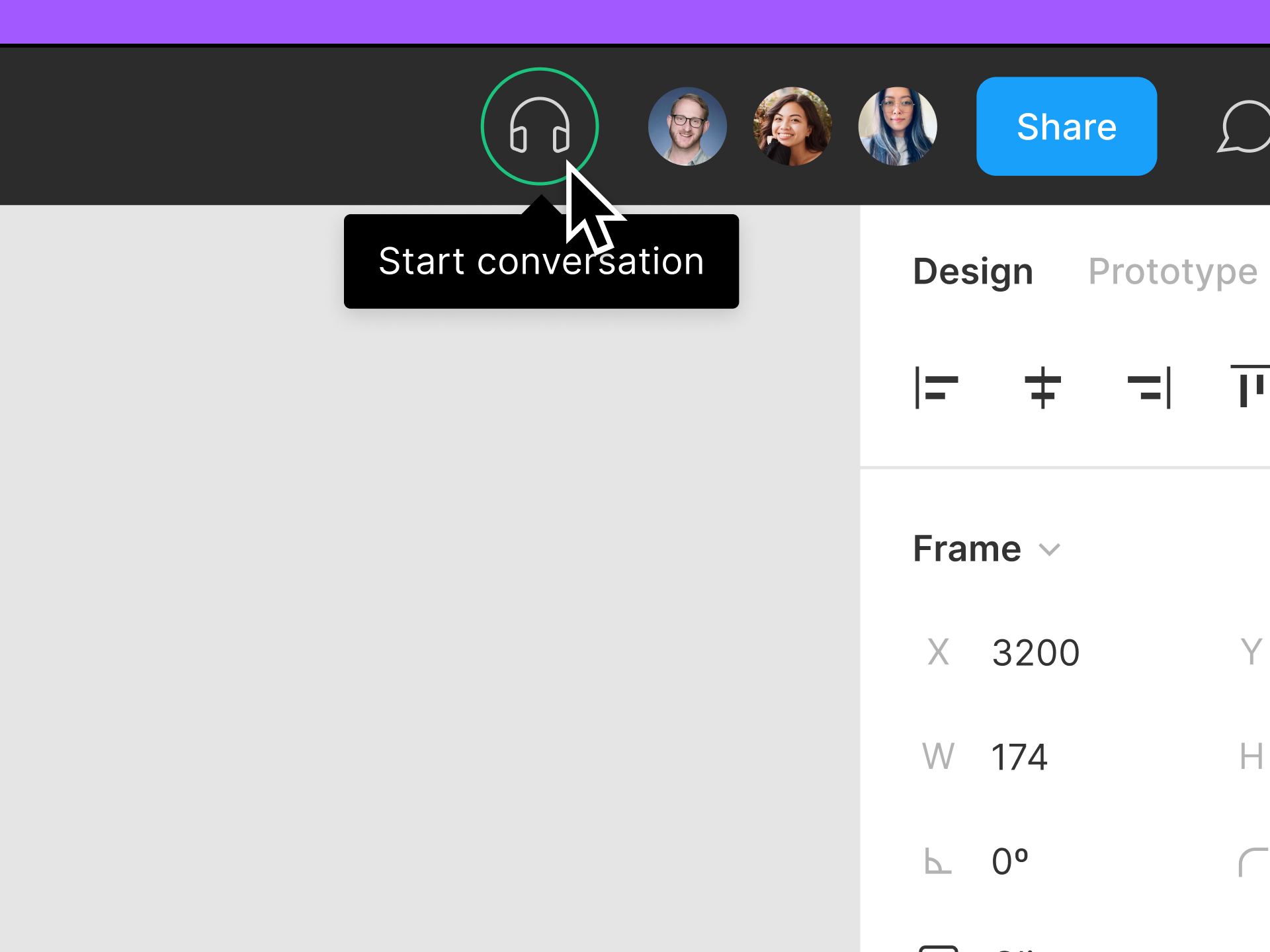 To join an active conversation, click Join.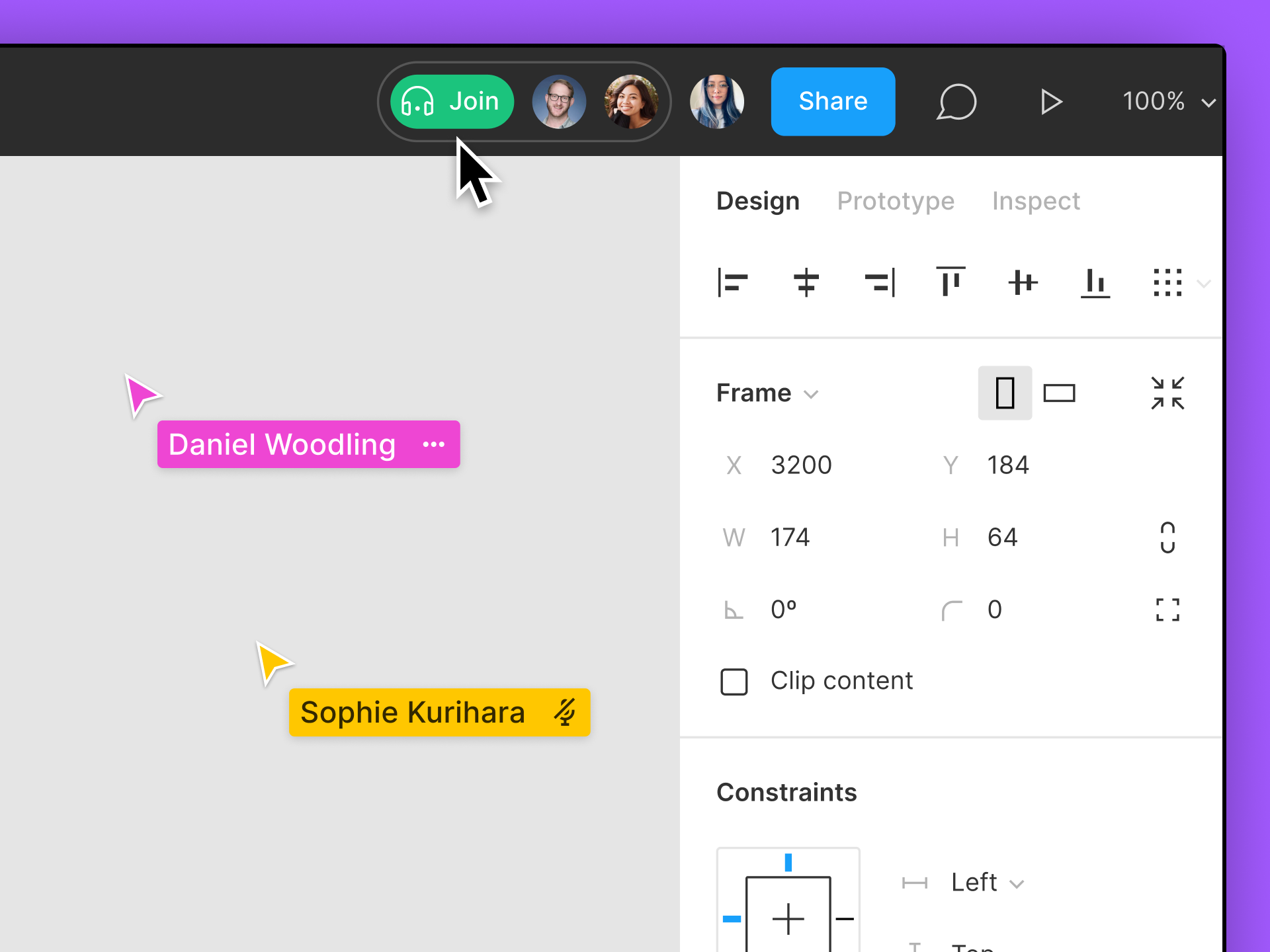 Figma will confirm that you've successfully started or joined a conversation with a green "Connected" label in your audio controls.
Leave and end conversations
To leave a conversation, click Leave in your audio controls or close your file tab tab.
If you haven't spoken in a while, a modal will appear asking if you're still there. If there is no response, your audio connection will end.
The conversation ends once the last person leaves.
Mute and unmute your microphone
You can mute or unmute your microphone in your audio controls or in the toolbar.
Click to mute your microphone so that participants cannot hear you.
Click to unmute your microphone and allow participants to hear you.
When someone is talking, their avatar bubbles up to the toolbar and their cursor creates an audio pulse depending on the volume of the sound coming into their input device.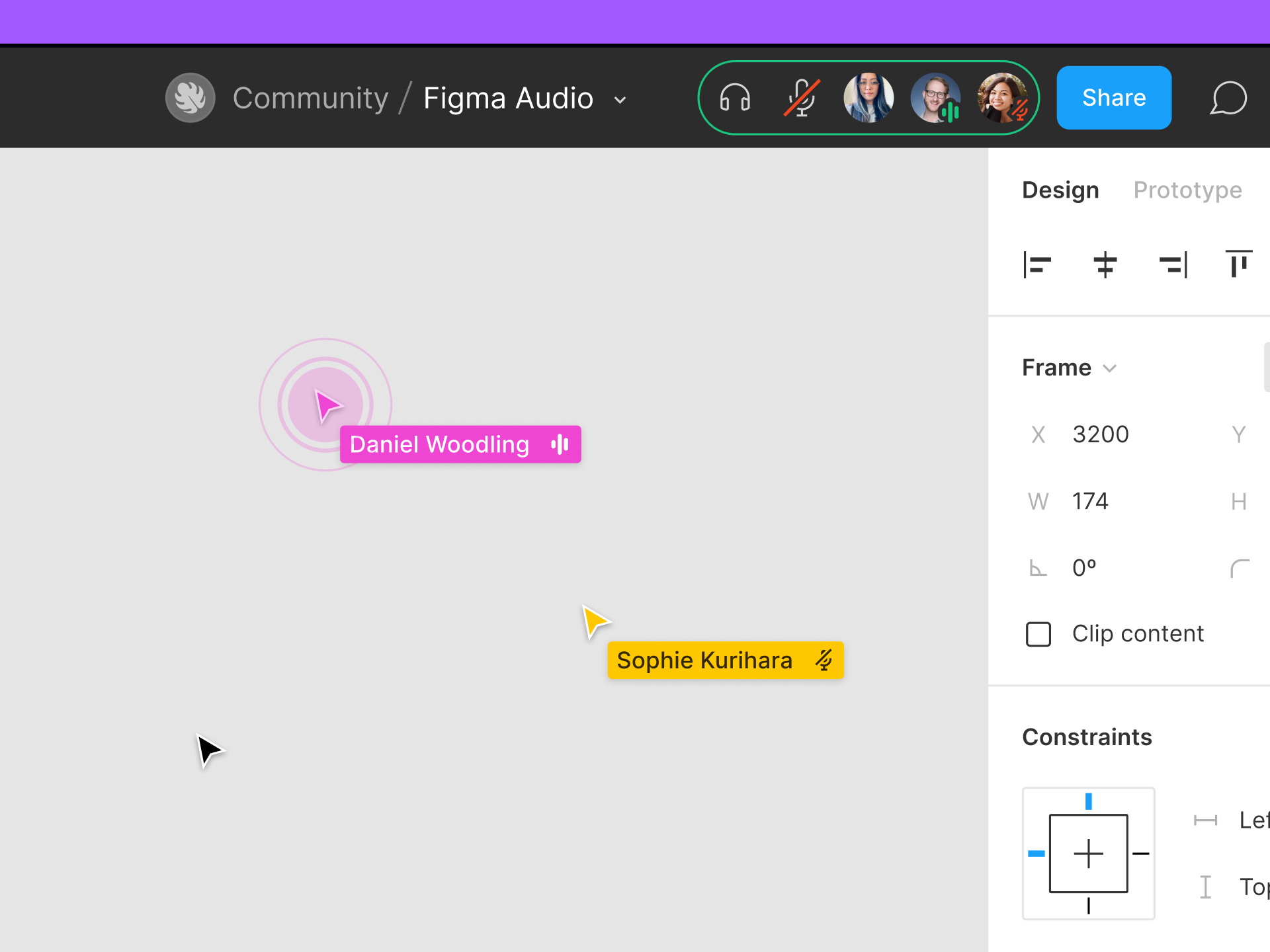 Remove a participant's access
Anyone with access to a file can use audio. To remove someone from an audio conversation or restrict someone's ability to join one, you can do so by removing their file permissions.
Learn more about adjusting file permissions →
Troubleshooting and accessibility
Share your feedback
Got feedback? We'd love to hear from you! If you have feedback on how the audio feature can be improved, let us know. You can also click in your audio controls and then Share your feedback.
If you're experiencing a bug, please submit a bug report to our support team.
Tip
Organizations have the option to disable audio. To disable audio, have your organization admin reach out to our support team to request this.