Set prototype device and starting frame
Before you start
Who can use this feature
Anyone with can edit access to the file can adjust the presentation view settings.
Users can preview and interact with prototypes in Presentation view. You can choose how Figma presents the prototype using the prototype settings.
Prototype settings
Access and adjust your prototype settings in the Prototype panel of the right sidebar by clearing your selection in the canvas.
Select a Device and Model
Preview your prototype
Select Background color
Set the prototype's Starting Frame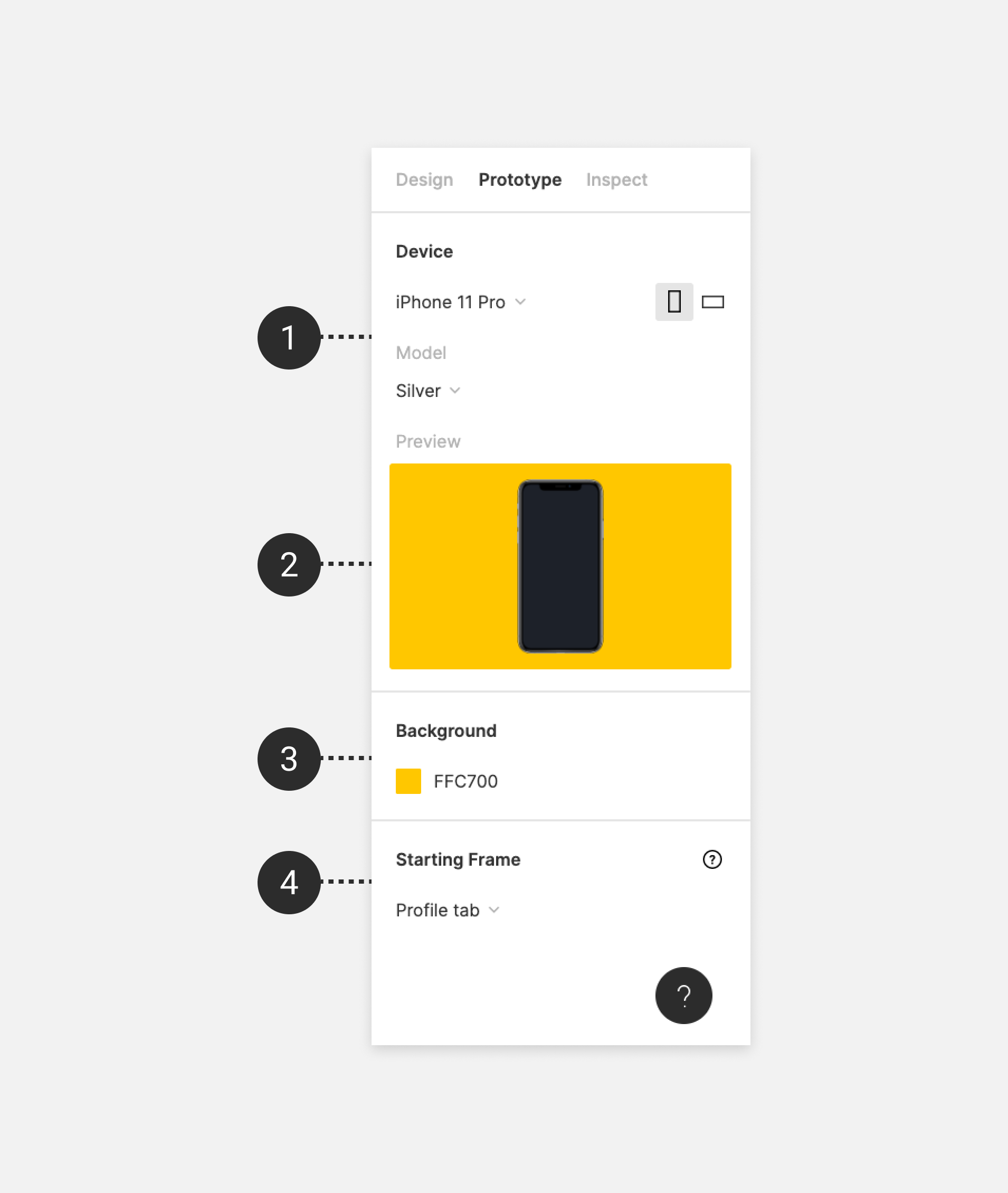 Tip! You can also access these setting by clicking the Show Prototype Settings button when editing a connection.
Device
Use Device settings to control how your prototype looks in Presentation view.
Device
Figma has a number of popular device presets. The dimensions of your prototype frames will define what options are available.
Frame preset: If you used a frame preset, Figma will select a device that matches that preset. You can select another device if desired. For example: if you used the iPhone 11 Pro Max preset, Figma will select the iPhone as the device too.
Custom Size (Fit) will automatically scale the design, so that it fits within the screen you are viewing the Prototype on.
Presentation Size (Full) will display the Prototype to a size that allows it to be displayed on the screen, in its entirety.
Orientation
Control the orientation of the device in Presentation view. Choose from:
Note: It's not possible to switch between orientations within a prototype. This is something to bear in mind if you have frames in your prototype across both orientations.
Model
Some devices offer variations on model. For example: the iPhone 11 Pro Max comes in four different colors. You can choose which color-way you would like to use.
Use the Modal field to select
Depending on the device you selected, you can specify a certain Model.
Preview
View a Preview of how the device will look in Presentation view.
Background color
Set the Background color of the prototyping screen. You'll see this color behind your selected device.
Set this to a neutral color, or customize this with a brand color for extra polish.
Starting frame
If your file has any prototype connections between frames, Figma will only display frames with connections in Presentation view.
If there are no prototyping connections, Figma orders frames as they are in the canvas, by row (left to right) then column (top to bottom).
By default, Figma uses the first connection you create as the Starting Frame. You can change this to another frame in a few ways:
Prototype settings: Update the Starting Frame from the prototyping settings in the right sidebar.
Canvas: Click and hold the blue icon next to the current starting frame. Drag the icon to the new starting frame. This must be a top-level frame, a frame that isn't nested within another layer or frame.
Note: If you enter Presentation view with nothing selected, your prototype will start from the set starting frame. If you select another frame in the Editor before presenting, your prototype will start on the selected frame. If you select another frame after presenting it won't impact what you see in presentation view.