Publish files to the Community
Who can use this feature
Available on any team or plan
Applies to both Figma design and FigJam files
You must have can edit access to the file to publish the file to the Community
Community files are design files creators have shared with the Community. Create files for wireframes, UI kits, asset libraries, FigJam templates, and design systems. Or share educational resources, interactive tutorials, and tools to use across the design process.
Anyone with can edit access to the file can publish it. This includes when the file was originally published, as well as any later updates. Approved creators can publish files as paid and sell them directly from the Community. Learn more about selling resources on Community →
When you publish a file, Figma will add a snapshot of that file to the Community. Anyone who duplicates the file gets a new copy, without any updates, version history or comments from the original file.
You can continue to make changes to the file once it's published, then publish any updates to your Community file. Designers and other creators can duplicate the updated version to get access to those changes.
Content restrictions in published files
To ensure that the Community continues to be the best place to find Figma resources, we ask that you avoid the following when publishing files to the Community:
Including links to purchase the file through a third-party payment site (such as Gumroad, PayPal, Lemon Squeezy), marketplaces (such as Creative Market, Canva, Etsy), or a checkout page on your personal website
Including a call to action that prompts users to contact you to purchase the file outside Figma's payment platform (such as email or message me to buy this file)
Including links to spam websites
Structuring it in a way that makes it appear to be useable content when it is just a static image
Files that contain this content will not be available on Community until the content is removed. Learn more about delisted paid resources →
About publishing paid files
If you're an approved creator, you can publish your files as paid and sell them directly from the Community. Learn more about selling on Community →
When publishing a paid file, keep in mind:
Users can preview a paid file's contents before they purchase it:

Figma Design files: Only the first page is accessible to users until they purchase the file 

We strongly recommend that you structure your file in a way that uses the first page as a preview and includes the rest of the paid content on other pages. Any content included on the first page of a paid file will be accessible to all users.

FigJam files: We will generate a preview of your file that will display on its Community page. Users can't duplicate a paid FigJam file until they purchase it

The creator who first publishes the file will be the designated payee. Once the designated payee is set, it cannot be changed.
After a file has been published as paid, it cannot be converted to free at a later date.
Paid files cannot be unpublished but can be delisted. Learn more about delisted paid resources →
Organization admins can publish paid files from an organization using their personal profiles if they are approved to sell and if publishing to personal profiles is enabled for the organization.
Paid files are reviewed by our content team before becoming available on Community.
Publish files
You can publish both FigJam files and Figma design files. You can only publish files when you have them open in the editor, not from the file browser.
Note: If you are in an organization, there are restrictions around who can publish organization resources. Learn more about Community publishing permissions →
Files published from within an organization cannot be transferred outside of the organization.
Anyone with can edit access to the file can publish the file and any updates. This includes collaborators with edit access to the team or project.
Click the Share button in the toolbar.
Select the Publish to Community tab at the top of the modal.
Click Publish to open the publishing modal.
Every file will have its own page in the Figma Community. This allows other members of the Community to browse, search, and find your file.
You'll need to provide some information about your file, which Figma will display on the file page:
Images:

Add up to 10 images of your file. These will be added to a media carousel on the file's Community page. The recommended dimensions for images are 1920 x 1080, with a safe area of 1800 x 1080. Click

Set as thumbnail

to select which image will be used as the main preview for your file. You can use the 

Community file cover frame preset

to create a frame of the correct size.

Name:

Choose a name for your file. You can give the file a different name than the original file.

Category:

Choose a category for your file to help users find your resource on Community.

Description:

Write a description for your file to give users directions for how to use the file or credit other contributors.

Tags: Add up to 12 keywords to classify your file. Figma supports alphanumeric characters (a-z and 1-9), but no special characters or punctuation. Tags can be up to 25 characters long.
Preview
Choose to preview your file as a file or a prototype. Members can still access the entire file, including any prototypes, when they duplicate it.
Choose to Preview as:

File:

Members can view, pan, and zoom around your file. Members can preview other pages in your file using the page selector.

Prototype:

Members can click on hotspots to interact with the prototype, use the arrows to navigate between screens, or restart the prototype.

Set the scale of the preview, choose from Fit, Fill, or 100%. Learn more about scale →
Pricing (Paid files only)
If you are approved to sell on the Community and have activated your Stripe account, you can enable the Pricing toggle to configure a price for the file. Keep in mind:
Files can be sold using one-time payments with a minimum price of $2.00
Prices are in USD and must be whole numbers
You may change the price at any time
Note: The pricing settings are disabled if you attempt to publish a paid file using a team or organization profile.
By publishing a paid file, you agree to the Creator Agreement.
Creators
Figma allows you to choose who is listed as a file's creators. This is a great way to recognize other contributions to the file. To qualify as a creator they will need to meet both the following criteria:
An explicit can view or can edit role on the original file
An existing Community profile
When you add someone to a Community file as a creator, Figma will send them a notification which they can accept or decline.
Every contributor that accepts the request is listed as a creator on the file. Figma will also display that file on the Community profile of any creators. Use the Creator field to add any contributors.
If you're an admin of a team or organization, you will have two fields available for Creators. The first field allows you to select the team or organization profile you want to publish to.
The second field allows you to find and select individual contributors. Type a person's name or profile handle to search for their profile, and click to select.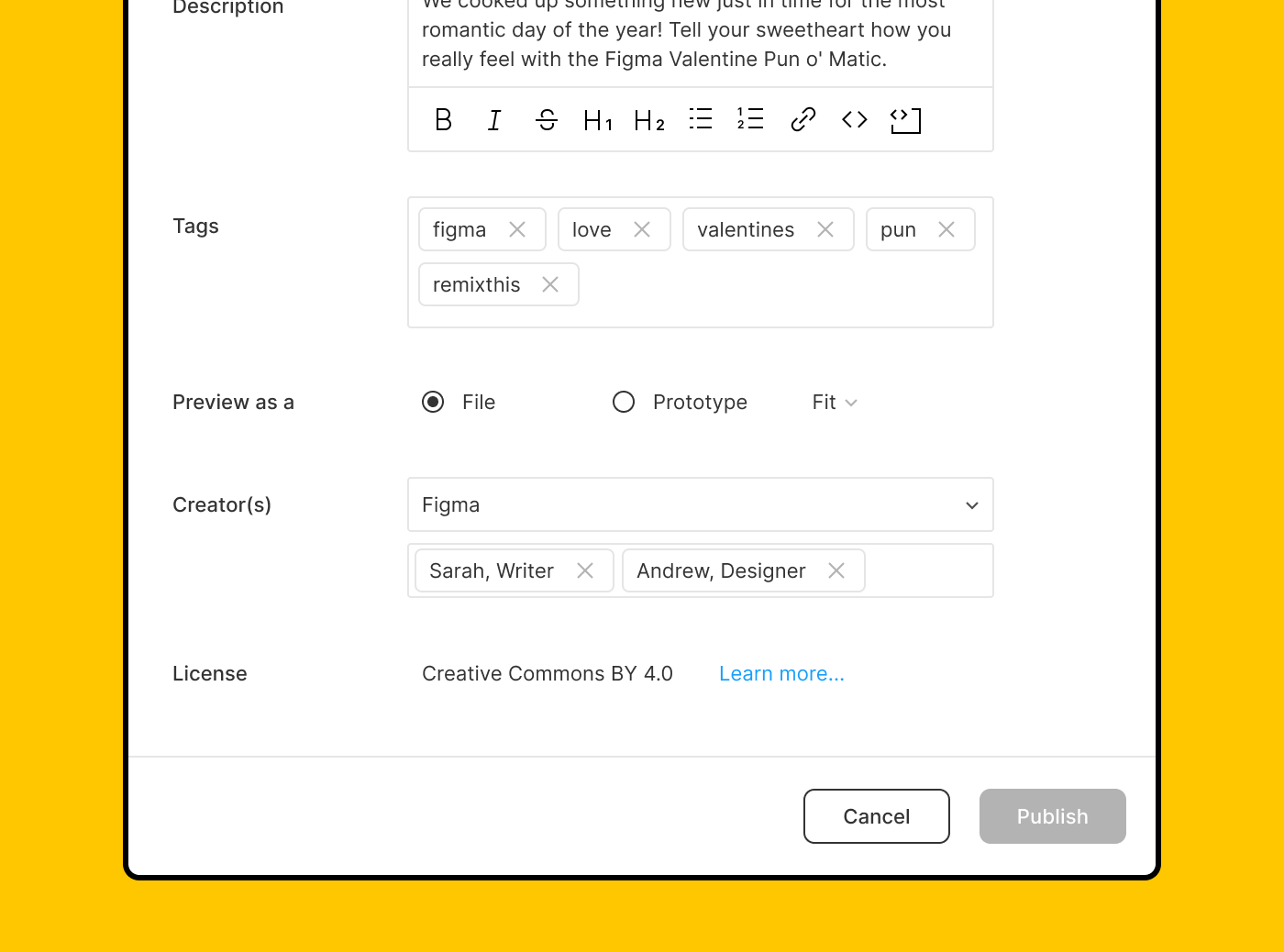 Publish settings
Choose whether fellow Figma Community members can comment on your files, plugins, and widgets. Comments in the Community are turned on by default, but you can turn off community comments at any time.
Check or uncheck Allow comments from Community members.
If commenting is on, you can click More options and check or uncheck Let people pin comments to specific spots in my design to allow pinned comments.

Click

Publish

(free files)

or

Submit for review

(paid files).
Figma will send everyone you listed as a creator a notification. This gives them the option to accept or decline the request. Every creator that accepts the request will be listed on the resource page. 
Publish file updates
Anyone with edit access to the file can continue to make changes to the original file. They will need to publish those changes to the Community to see them reflected in the Community file.
Figma will treat this as a new version of the file and won't update any existing duplicates of the file. Community members will need to duplicate the updated version to access those changes.
Figma will maintain your file statistics likes and duplicates, across file versions.
Publish an update
Publish updates the same way you originally published the file. This includes changes to the file's details, like description, tags, and any creators.
Open the file in the editor.
Click the Share button in the toolbar.
Select the Publish to Community tab at the top of the modal.
Click Publish update to open the publishing modal.
Add or update the title, description, tags, and publish as settings (optional).
To remove a creator, click the next to their name. To add a creator, type a person's name or profile handle to search for their profile, and click to select.
Click Publish to confirm.