Monitor member and guest activity
Before you start
Who can use this feature
Only organization admins can view member and guest activity.
Activity logs provide a record of how members and guests of your organization are using and interacting with files and shared resources.
See who is accessing, copying and sharing files.
Track changes made to teams.
Track changes made to team, project and file permissions.
View actions taken by specific members.
Monitor changes to organization-level settings (made by organization admins).
Identify and prevent misuse of any organization resources.
View activity logs
Organization admins are able to access activity logs in the Activity tab of the organization's Admin settings.
From the file browser, select Admin settings under the Organization's name in the sidebar.
Click the Activity header at the top of the screen to open the activity log.
Use the fields to filter results by your desired criteria. Choose from:


Member: Enter a person's email address to view their activity.
Date: Enter a start and end date to see results for a specific date range.
Events: use the dropdown provided to select a specific type of event. Learn more about what Figma tracks ↓
Team: Select a team to view activity within that specific team.
Tip! Admins can also view recent activity for a specific member or guest in the Members tab. If they click to see more activity, Figma will open the Activity tab with that person's email address already populated.
Export activity logs
You can export a copy of your activity logs, which includes all the data in your activity logs. This is great if you want to back up this information or dig further into events.
When you request a CSV export, Figma will ignore any filters you've applied and export your entire activity log for the selected date range.
Enter a start and end date to see results for a specific date range.
Click Request CSV in the top-right corner of the screen.
Figma will download a CSV to your designated downloads folder.
There are a few different dates we reference in the CSV file:
Last active: The date and time the user was last active in Figma. This is not specific to edit actions and includes activity in the file browser.
Last edit: The date and time the user last took an edit action on a Figma file in the organization space. This includes files in a user's drafts.
Last seen: The date and time the user last visited a Figma link.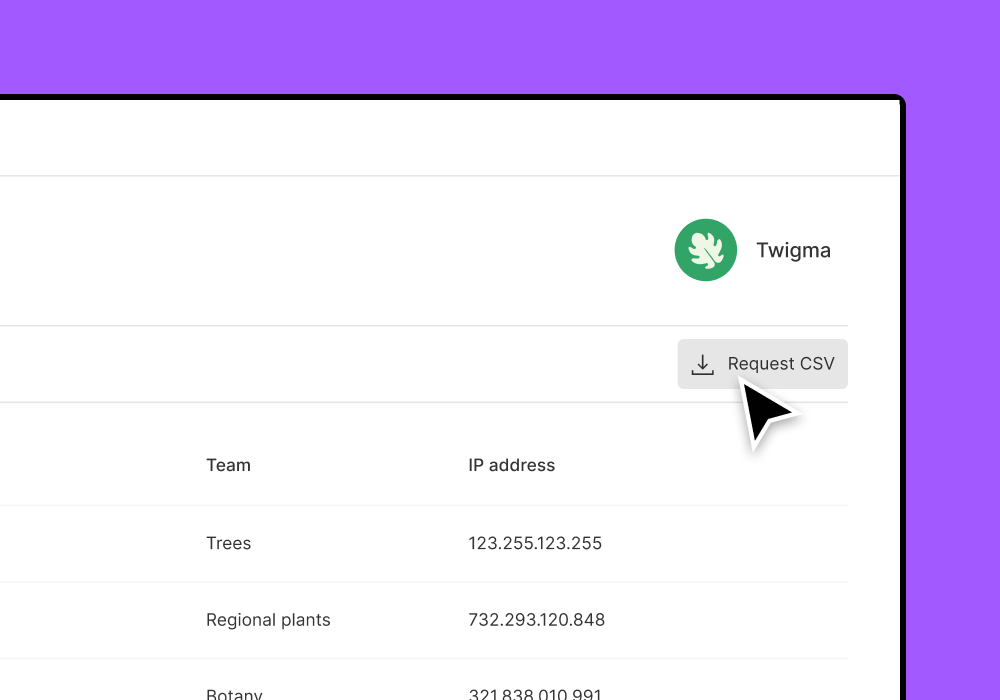 Activity log events
Figma will record the following information, for every event that is added to the Activity Log. Figma records and logs events for a maximum of 365 days.
Date and time the event occurred. All times are shown in Coordinated Universal Time (UTC).
IP address of the related user
User's actor Id. For example: John Appleseed or Figma Support
Members
Members signed in or signed out
Note: Figma doesn't record any log in activities for guests of the organization. Figma also doesn't track when a member closes a browser window or exits Figma without logging out.
Files
Created a file
Duplicated a file
Exported a file
File link access changed
Viewer permissions changed
File membership changed
Moved a file
Permanently deleted a file
Restored a file
Renamed a file
Saved a file
Trashed a file
Viewed a file
Viewed a prototype
Branches
Created a branch
Merged a branch
Updated a branch
Archived a a branch
Unarchived a branch
Deleted a branch
Projects
Created a project
Deleted a project
Project membership changed
Moved a project
Renamed a project
Change the team access of a project
Teams
Created a team
Deleted a team
Restored a team
Team membership changed
Renamed a tea
Changed the org access of a team
Organizations
Org merged
Org membership changed
Org role changed

A user's role was changed
A user requested access
An organization admin approved a request
An organization admin rejected a request

Exported the members list
Community
File published, updated, or deleted
Plugin published, updated, or deleted
Private plugins Organizations
Plugin published
Plugin updated
Plugin deleted
Plugin management
Plugin approve list setting changed
Approve list plugins changed
Install plugins org-wide
Audio
User joined audio call