When you and your team have finished a jam session in FigJam, we understand why you'd want to save it and show the world what you made. FigJam lets you export your entire board as an image or your sticky notes and tables to CSV files.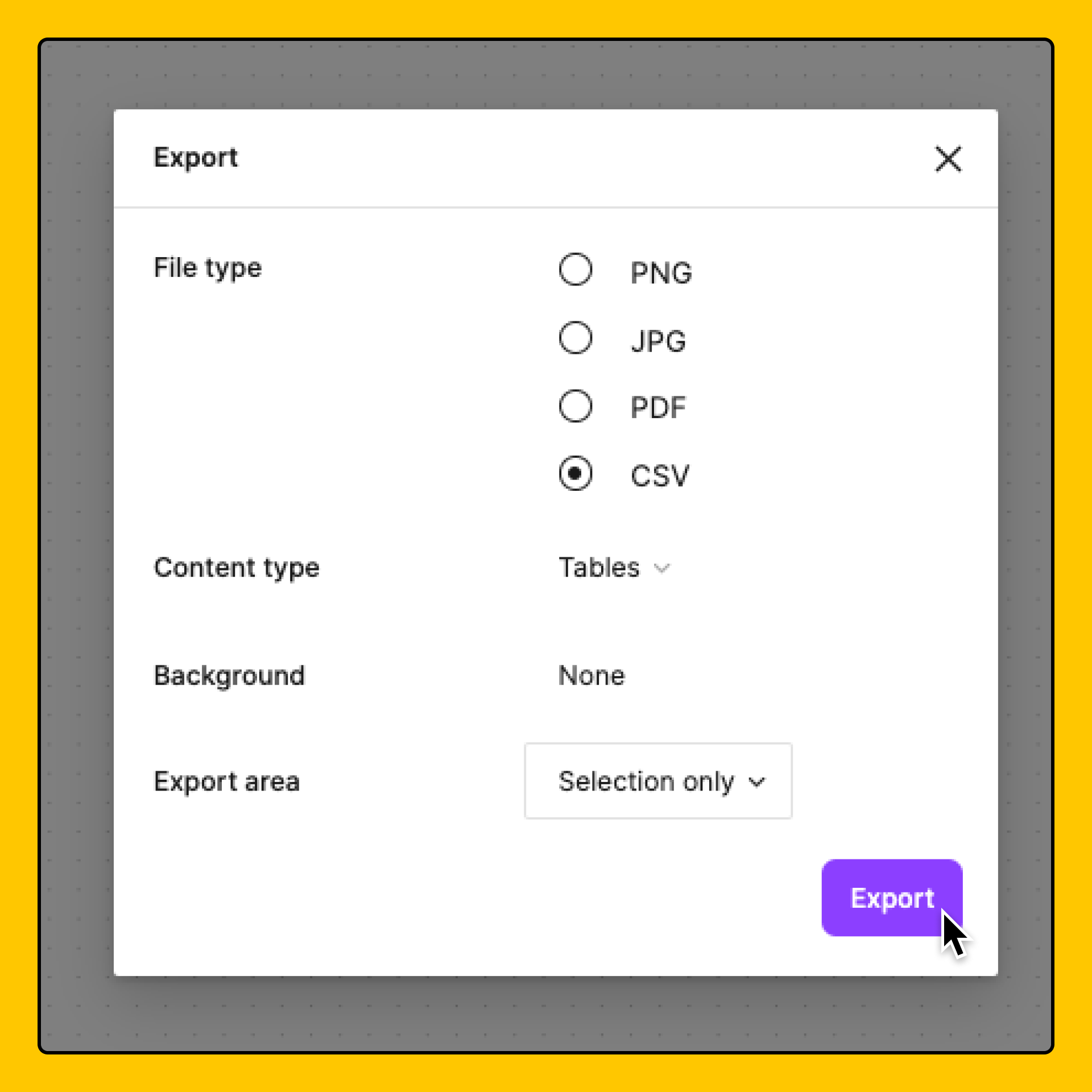 Export as CSV
You can export FigJam tables or sticky notes to a CSV file.
Select the content you want to export. (If exporting a table, you can select an entire table, or select specific cells, rows, or columns.)
Open up the export settings using one of the below options:

Right-click and select Export selection.
Press CommandShiftE (Mac) or Ctrl+Shift+E (Windows).

Fill out the export modal details, choosing whether you are exporting Stickies or Tables.
Click Export.
Note: Each sticky note translates to a cell in a CSV file. The CSV file contains one column for the Content of a sticky and a Created by column to show who created the sticky.

Stickies must have the option turned on for the author's name to be included in the Created by column of the CSV file. Learn how to add your name to a sticky note →
Export entire file
You can export an entire FigJam board as an image.
Click in the top toolbar.
Go to File > Export as.
Select a file type. If exporting as PNG or JPG, select a Background style.
Click Export.
Export selection
If you only need to save a portion of your board, you can export a selection. This is useful if you want to break up your board into separate files, focus on one section of the board, or save a diagram created in FigJam.
Select the items on the board you want to export.
Right-click your selection, click Export selection.
Select a file type. If exporting as PNG or JPG, select a Background style.
Click Export.
Image background options
Depending on the file type, your exported image can have a solid, transparent, or grid background.
| | | | |
| --- | --- | --- | --- |
| Format | Transparent | Solid | Grid |
| PNG | ✓ | ✓ | ✓ |
| JPG | ✕ | ✓ | ✓ |
| PDF | ✕ | ✓ | ✕ |