Before you start you should know
Speed up your workflow and save time setting up a FigJam board with templates for brainstorms, meetings, diagramming, and more.
Templates add pre-created content to a new or existing file, giving your team guidance and starting points they can build on. For example, the Daily standup template adds pre-created columns to your board so your team can add their tasks and goals as stickies. The Prioritization matrix template adds designated spaces for brainstorming and a matrix for determining feasibility and priority for ideas in a project.
Use templates in FigJam to:
You can browse templates created by Figma from the file browser or the templates picker in a file. FigJam templates by other creators can also be found and duplicated in the Figma Community.
Use FigJam templates
File browser
There are a couple of ways to create a file using templates from the file browser.
Create a new FigJam file:
Click New FigJam file or type figjam.new in your browser's address bar.
From the templates picker, browse or search templates.
Hover over a template and click Insert template.
The template you selected will be added to the board in the new file.
FigJam file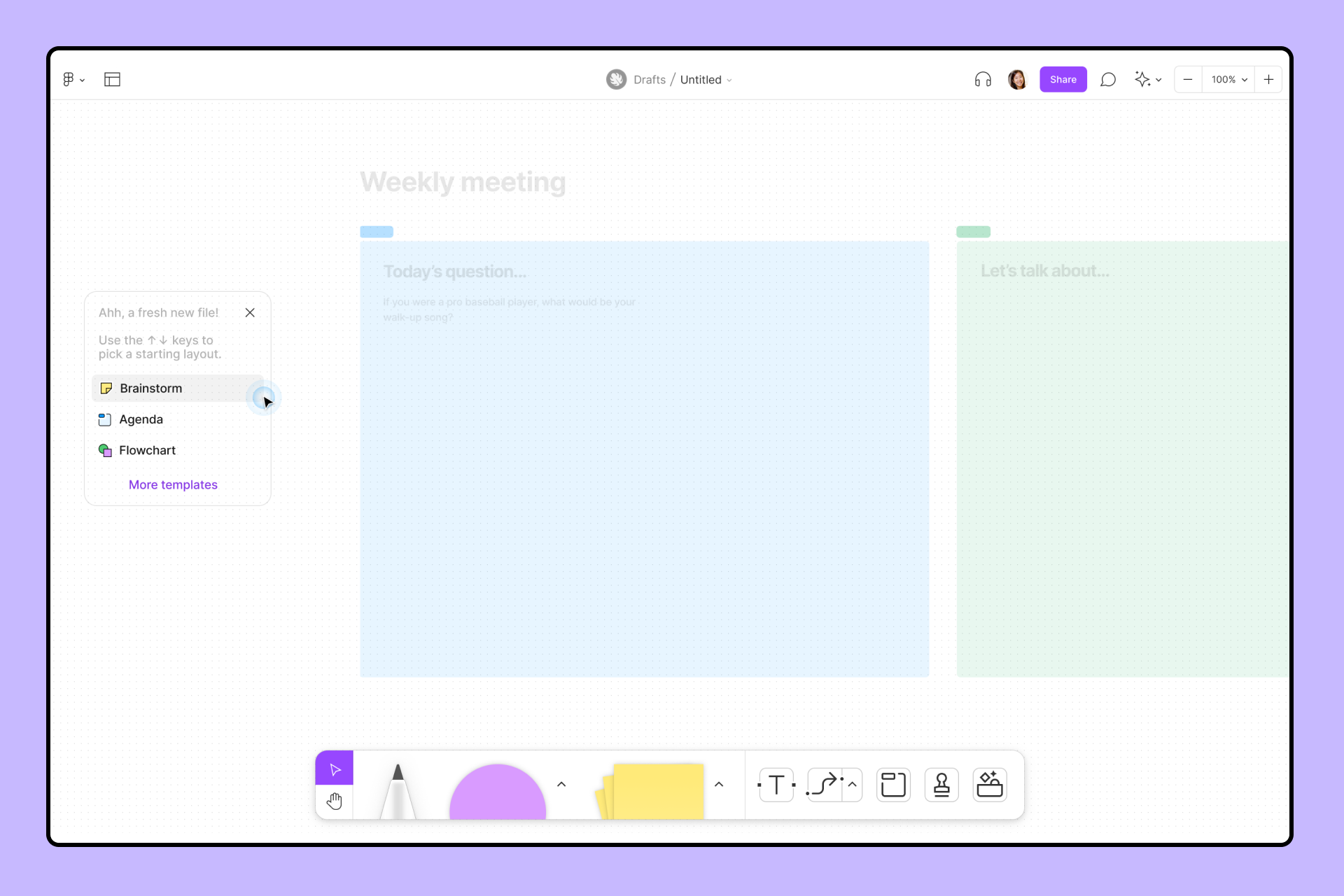 You can add a template created by Figma to an existing FigJam board a few different ways:
Placeholder controls
When you create a new FigJam file, you'll see a few default templates to help you get started. You can navigate through the default options using the keys, or by clicking an option in the menu.
Select one of the default templates or click More templates.
Search or browse templates in the templates modal.
Hover over a template thumbnail and click Add template.
Menu
Click in the menu.
Search or browse templates in the templates modal.
Hover over a template thumbnail and click Add template.
Bottom toolbar
Click in the bottom toolbar.
Search or browse Templates.
Click Insert template.
You can select and move the template around the board.
Don't see what you're looking for?
Click Browse more in the Community at the bottom of the picker to view templates by other creators.
Figma Community
Browse templates by members of the Figma Community you can use with your team. To use a template, duplicate the file. Once duplicated, you can work directly in the duplicated file or copy and paste its contents to an existing FigJam file.
Click Duplicate from the file's details page to add a copy to your drafts folder.
Learn more about duplicating Figma Community files →
Create a template
Members of the Figma Community can publish their FigJam files for others to use as templates. FigJam files in the community are automatically added to the FigJam category of the community, but are not included in the template picker in a file or the file browser.
Learn more about publishing files to the Figma Community →
Turn off templates
You can turn off the option to see the template picker when you create a new file at any time.
Click in the upper left corner.
Navigate to Preferences.
Turn off Show templates for new files.