Duplicate Community files
Who can use this feature
You need a Figma account to duplicate Community files.
Community files are FigJam or Figma design files that creators have shared with the Community. Files can contain libraries and UI, tools and processes, or other educational resources.
Every file has a resource page where you can view file information and preview the file or prototype. Interact with these previews like you would any regular embed.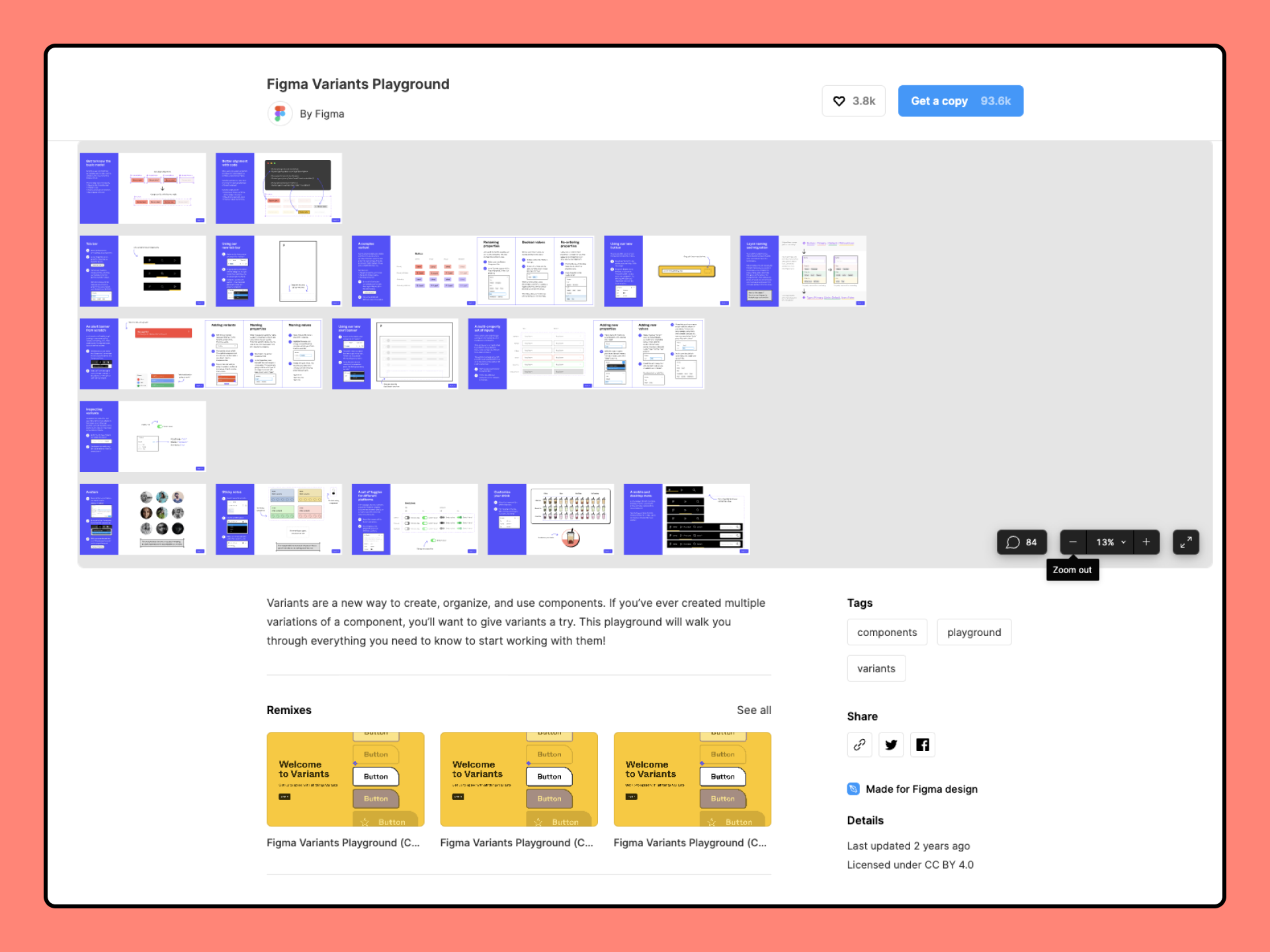 Find files
Browse the Community on desktop or mobile to explore Community files. From your account menu, select Community or visit figma.com/community.
Search for files by keyword or category, explore popular resources, or find files from creators you follow. Select Files + templates to filter your results to Community files. Guide to the Figma Community →
Duplicate files
Duplicate a file to add a copy of it to your drafts folder. This duplicate is an entirely new file, so you won't be able to access any version history, comments, or permissions from the original file.
Changes made to the original file are not reflected in duplicated files. You must duplicate the updated file to view any changes.
You can't duplicate Community files when browsing Community as a team or organization admin. Make sure you're browsing on your own profile before trying to duplicate a file.
Click

Get a copy

.
Select the account and workspace you want to add the file to.


Note: You cannot publish files to an individual profile from an organization workspace. If you plan on remixing the file, make sure to duplicate the file to your External teams workspace or a personal account. Who can publish Community resources →

A copy of the file is added to your drafts. Every file you duplicate from the Community will have (Community) appended to the file name.
To remove the file, delete it from your drafts.
Like, comment, or share
Show your support for creators by liking, commenting on, or sharing a file.
Click the heart to like a file and add it to the Likes tab of your Community profile. Other Community members can see your likes when they view your profile.
Add comments to provide encouragement, ask for feedback on your work, and build meaningful relationships with other creators. Comments in Community →
Copy the file link and send it to others or share the file on Twitter or Facebook using the social buttons.
Remix Community files
Figma encourages sharing and iterating on Community files. If you've duplicated a Community file and made it your own, you can also publish this file to the Community. Figma considers these files a remixes. When you publish a remix, Figma will:
Add an attribution to the file page to show the original file and creators
Add this file to the Remixes section of the original file page
Create a remix page when there are more than three remixes of a file
If there are more than three remixes of a file, select See all to view all remixes on a dedicated page. If you do not want remixes to display on a Community file you've shared, click Hide section.
Report file
Anyone can report files or comments considered offensive, harassment, or are in direct violation of the Figma Community Guidelines. Click Flag as inappropriate to report the file.