Apply paints with the color picker
Before you start
Who can use this feature
You will need can edit access to the file to use the color picker.
The color picker allows you to apply paints to text layers, strokes and other vector objects.
Use the color picker to apply solid fills, gradients, or images. You can also control the hue, saturation, or opacity of a color, as well as apply blend modes.
Open the color picker
You'll need to apply a fill or stroke to a layer before you can access the color picker. Once applied, you can access the color picker in the right sidebar.
If all layers in your selection have the same fill or stroke color, you can view and update the color in the Fill or Stroke section.
If the layers in your selection have different colors applied, you can view and update colors from the Selection colors section.
In the right sidebar, you can view a swatch of the current color, the hexcode value, and the opacity. To open the color picker, click on the color swatch.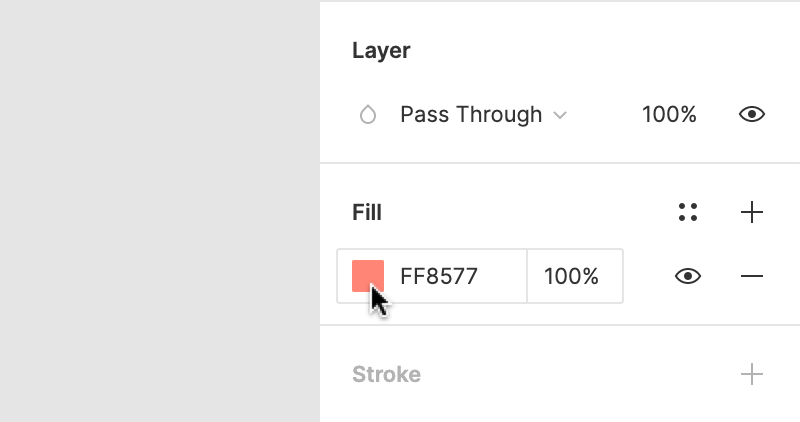 Use the color picker
Use the color picker to apply the following paint properties and settings: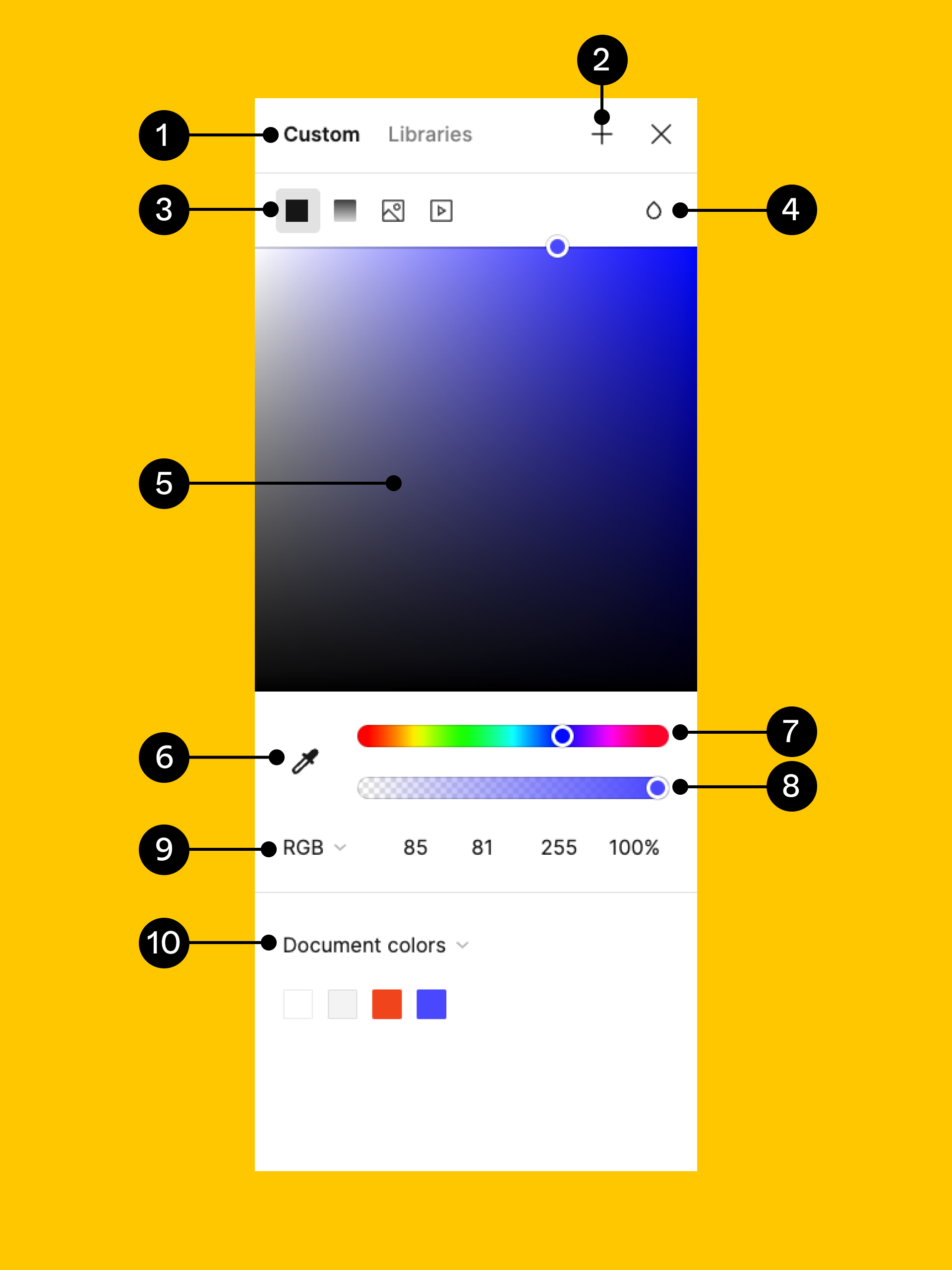 Create a custom color, or browse color styles and variables from your libraries.
Learn more about applying colors from libraries →
Click to add a new local color variable.
Learn more about variables →
Choose from solid, gradient, image, or video fill type.
Learn more about paint fill types →
Preview and apply a blend mode to the current layer.
Learn more about blend modes →
Use the color palette in the body of the modal to select a color:
Select any color from an image or layer in the canvas.
Learn more about the eyedropper tool ↓
Adjust the hue using the slider below the palette. Click and drag left or right to adjust.
Adjust the opacity of the color using the second slider.
View and adjust the color notation across different color models. Use the dropdown menu to choose between RGB, HEX, CSS, HSL, or HSB. 
Learn more about color models in Figma →


Tip: To quickly adjust the values in RGB, HSL, or HSB fields, use your trackpad or mouse to scrub their values up or down. Hold down Option (Mac) or Alt (Windows), then click and drag your cursor to the left to decrease the value or to the right to increase it.

View and select colors from local colors, local styles, or enabled libraries.
Use the eyedropper tool
The eyedropper tool allows you to select and sample colors from any object or image in a file. Use the eyedropper to identify colors and apply them to your layers.
Select the object you'd like to edit.
Use the i keyboard shortcut to open the eyedropper tool.
Hover over the color in the canvas you'd like to sample. The magnifier window will show you both the color and hex code of the sampled pixel.
Click to apply the sampled color to the selected object: