Everyone in an organization has an account type. A person's account type determines what they can access within the organization.
This includes organization-wide resources, like teams, libraries, plugins, and widgets. It also includes features and functionality, like branching, library analytics, and shared fonts.
There are two main account types we'll explore in this article: members and guests.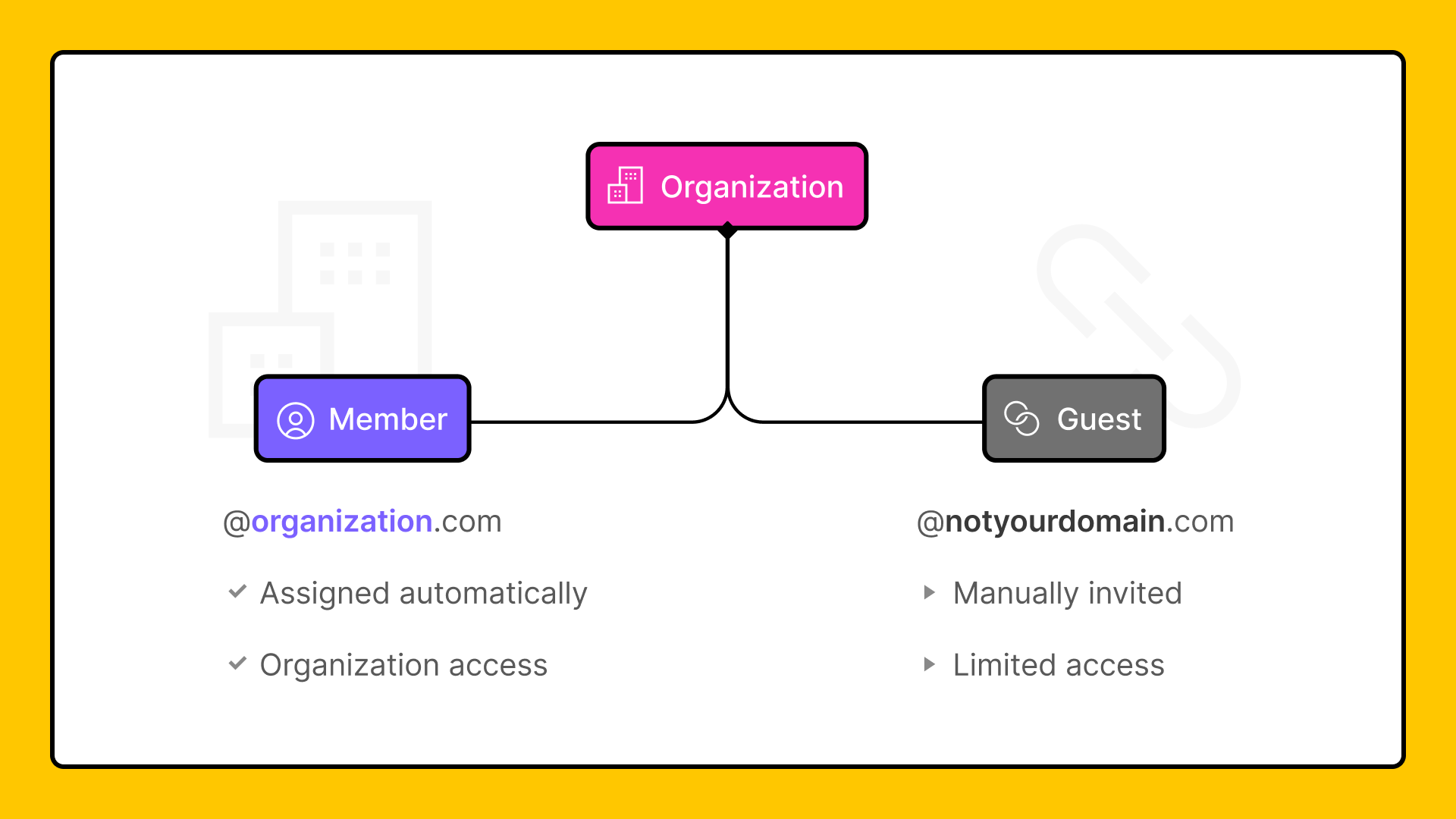 Note: Another type of account in Figma is an admin. Admins are members with extra administrative rights within the team or organization. Admins in Figma →
Members
Members are people in the organization that have an email address that matches any of the organization's domains.
Twigma has the twigma.com and dev.twigma.com domains registered to their organization. Anyone that joins the organization with a Twigma email address, for example: name@twigma.com or name@dev.twigma.com, is a member.
Members can access teams, libraries, and other resources shared within the organization.
View and explore open and closed organization teams
Join open teams or request to join closed teams
View activity for other members and guests
Access styles and components from organization-wide libraries
View library analytics (for libraries they can access)
Access shared fonts in organization files
Use private plugins in organization files
A member's Figma design and FigJam roles, and their permissions on individual teams, impact how they can interact with those resources.
There are a few ways to add members to the organization:
Add them to the organization itself
Invite them to a specific team, project, or file
Import members with existing Figma accounts using domain capture
Provision and authenticate users via SAML SSO
Guests
Guest refers to anyone in the organization that doesn't have a company email. They are external users with email addresses that don't match any of the organization's domains. They could be contractors, agencies, clients, or external collaborators.
Twigma has the twigma.com domain registered to their organization. They work with an agency called DsgnSystm who they invite to a specific team in the organization. Collaborators from the agency have dsgnsystm.com emails, not twigma.com emails, so they are guests. They can't access any teams or resources outside the team they're invited to.
Guests have limited access to the organization. They can only access the resources you invite them to. They can't browse organization teams or access shared resources like fonts, plugins, or library analytics.
Set permissions when inviting guests to a team, file, or project. Like members, they can have different permissions on each resource. Guests also have either a viewer, viewer-restricted, or editor role on each product.
On the Enterprise plan, organization admins can set default roles for anyone joining the organization. Default roles apply to both members and guests.
Caution: It's not possible to make a guest into a member. People need to have a email address that matches an organization domain to be a member.
| Action | Guests | Members |
| --- | --- | --- |
| Log in using SAML SSO | ✕ | ✓ |
| Access teams, projects, or files they have been invited to | ✓ | ✓ |
| Invite other members and guests to resources (if guest access is permitted) | ✓ | ✓ |
| Join FigJam open sessions | ✓ | ✓ |
| Access FigJam or Figma design files via link sharing | Files set to Anyone with a link only | Files set to either Anyone with link, Anyone at organization, or Anyone at organization with link |
| View other members and guests | ✕ | Can search for members and guests in the organization |
| View all organization teams | ✕ | ✓ |
| Join or request to join organization teams | ✕ | ✓ |
| Create new teams in the organization | ✕ | ✓ |
| Use organization-wide libraries | If invited to source file | ✓ |
| Use an organization's private plugins | ✕ | ✓ |
| Use organization shared fonts | ✕ | ✓ |
| View library analytics (for files they can access) | ✕ | ✓ |
| Be a team admin of an organization team | ✕ | ✓ |
| Publish to Community as organization | ✕ | ✕ |
| Become an organization admin | ✕ | ✓ |