Before you start
Who can use this feature
Anyone with a Figma account can create files in their drafts.
Only people with can edit access to a team can create files in that team.
Files are what we call documents in Figma, they're where most of the design and collaboration process takes place. They provide the canvas for you to:
Brainstorm ideas with collaborators
Create wireframes to map out your ideas
Arrange text, shape, and image layers to create designs
Create and present slick slides and presentations
Build flows between designs and make animated prototypes
Files allows you to create multiple pages within a given file, each with its own canvas. This allows you to explore ideas and iterate on designs and prototypes, while keeping all your designs in one easily accessible place.
You can create files in your private drafts, or within teams of which you're a member.
Create drafts
Everyone with a Figma account will have their own drafts file space. You can think of your drafts like a sketchbook or notebook, a place where you can explore early ideas and experiment with different concepts.
Drafts are private to you, only people that you specifically invite to your files will have access to any files in this space. There are no limits on how many files you can create in your drafts.
There are a few ways to create a new file in your drafts.
1

Visit the link

Type figma.com/new in the address bar or visit https://figma.com/new.

2

Left sidebar icon

In the file browser, click the icon next to Drafts in the left sidebar.

3

Drafts folder

Open your drafts in the file browser.
Click the in the top-right corner of the menu bar at the top of the file browser.
Note: There is no way to organize files in your drafts into folders or collections. If you're looking for a way to organize your work, we recommend creating a team. Teams allow you to create projects within your team workspace, these work like folders to group your files in whatever way suits you.
Create files in a team
If you have can edit access to a team, you can create new files inside the team's workspace. This will allow other members of the team to find and view them.
To create a file in the team, you will need to choose which project the file will live in. If you change your mind at any point, you can move files between projects and teams.
Click on the team name in the left sidebar to open the team workspace and select a project. To add this to a favorited projected, you can open the project straight from the left sidebar.
Click the icon in the top-right corner of the toolbar.
Select a file template
When you create a new file, Figma will give you the option to create a new file from an existing template. You will only have this option when you create a file from the file browser, not the new file link.
It's not currently possible to create or set your own custom templates.
Use the modal to choose a file template:

Blank canvas
Blank canvas with a mobile frame preset
Bank canvas with a desktop frame preset
Popular files from the Community

Tip! Click the arrow next to the current device to choose another mobile or desktop preset.

You can also change the file's location from the modal:

Click the next to Create file in setting.
Hover over a team to view the projects in the team.
Click to select which project to create the file in.

Click Create file to create a new file using your desired template. Click Cancel to return to the file browser without creating a new file.
Tip! Figma will show you this window for every new file you create. Uncheck the box next to Show this next time to turn off the new file template picker.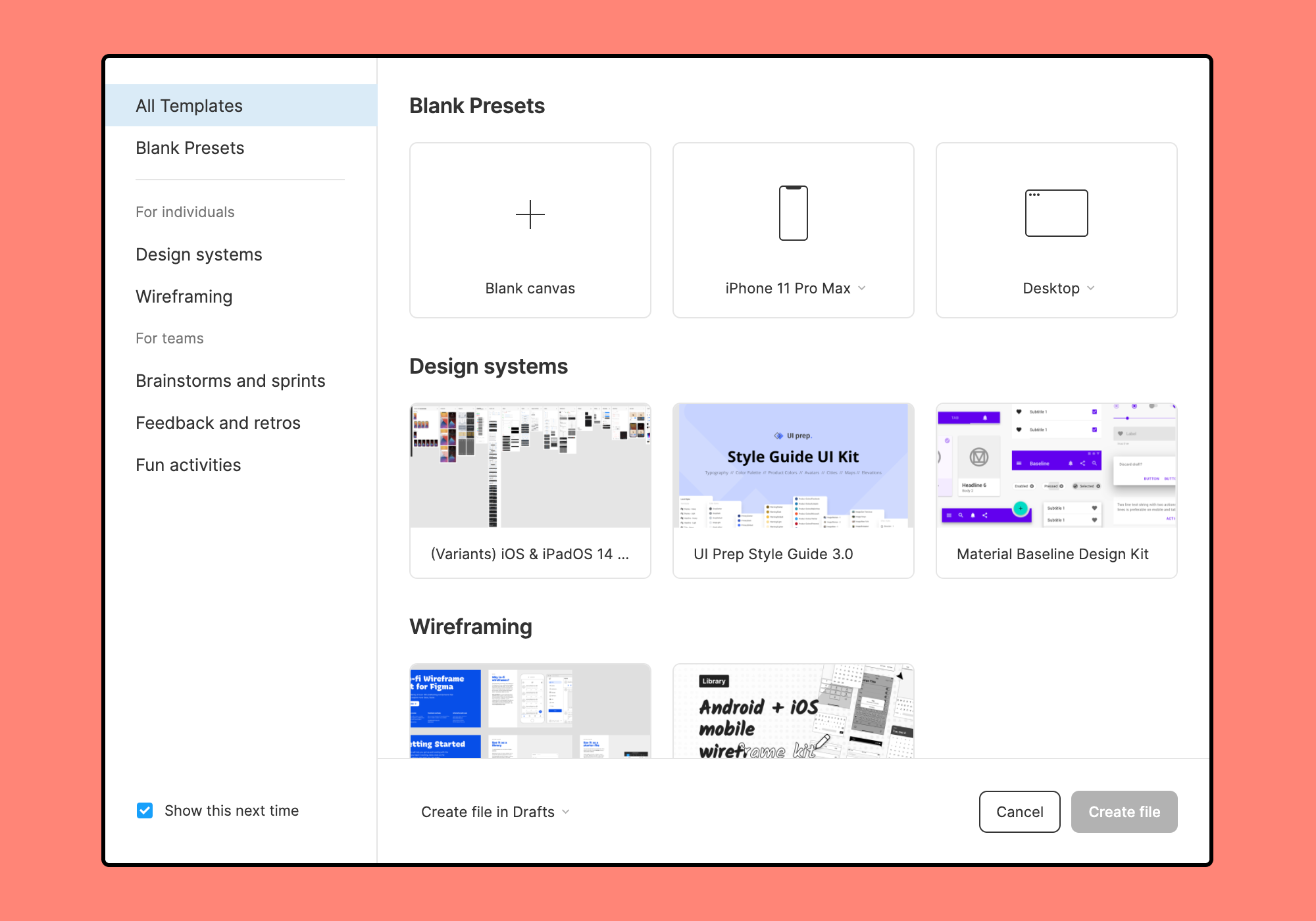 Note: Organization admins can turn off the template picker for their organization.
Disable this setting from the file browser by heading to Admin settings > Settings > Other and toggling the New file template picker setting off: