Before you start
Who can use this feature
Any team member can access the team page.
Teams are shared workspaces where you can create resources, and collaborate on files and projects.
Invite your co-workers and co-conspirators to your team to make the most of the collaborative design process in Figma. Or, use teams to structure and organize your own work
Create teams
You can create and join multiple teams within your Figma account. You'll need to select a team type as part of the creation process.
There are three different types of teams available. The best team for you will depend on your context, and what features or functionality you need.
Starter teams (Free)
Education teams (Free)
Professional teams (Paid)
There are limitations to how many team members you can collaborate with on free teams. You can upgrade at any time to add more editors to your team and access extra features. Learn more about Figma's teams and plans →
Create a team
Create and access teams from the file browser in your Figma account
Click the Create new team button in the left sidebar, or visit this link: https://www.figma.com/files/create-team
Give your team a name and click Create team.
Figma will give you the option to invite collaborators to your team. Enter your team member's email addresses, separated by a comma, to invite them to your team.
Click Skip for now if you want to invite collaborators later.
Click Continue to move to the next step.
Select a plan for your team. Choose from: Starter, Professional, or Education.
Join teams
The only way to join a team is to have someone invite you to the team. You'll need to have a Figma account to accept an invitation and join the team. Learn how to create a Figma account →
Accept an invitation
If someone has invited you to a team with Can edit access, you'll need to accept an invitation before you can edit any team files. There are a few ways to accept an invitation.
From the invitation email: Click the Accept button to open Figma and accept the invitiation.
From inside Figma: Click the to view any open invitations. Click Accept to join the team.
Access teams
You'll need to register and verify your email address when you create an account with Figma. You can then find any teams you join using this email address in the file browser of your account.
Figma will list all teams you are a member of in the left sidebar. Click on a team name to open the team workspace.
Projects and purpose
The team workspace is divided into two main sections: your team files and projects, and some information about your team.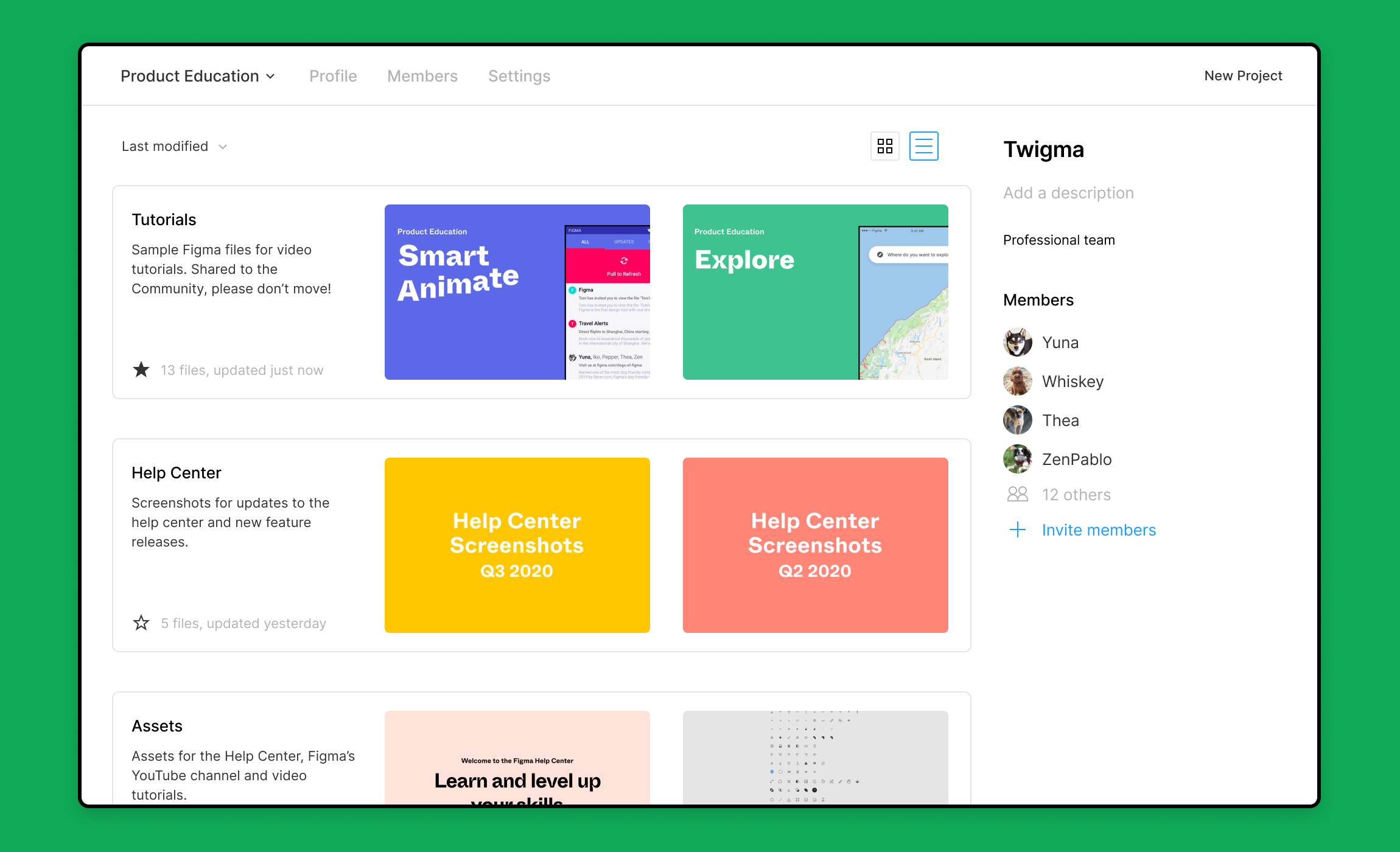 Files and projects
In the main body of the team page, you can browse the files and projects in that team. Figma will show you a preview of any recently edited files and projects.
Click on the project name to view all files in the project page
View a description of the project.
Add and remove projects from your favorites.
See the number of files within the project.
Click on a file preview to open that file.
Learn more about projects in Figma →
Team information
On the right side of the team page, you can view some information about your team. your team name and icon, and a short description of your team.
View the team name and icon.
See a description of the team.
View a list of members in your team. Figma will show the most active members first.
Members
The Members tab gives you a list of everyone who has a role in this team. Figma will show you their name, avatar, and email address.
You can control how collaborators interact with your team with permissions. There are two main permission levels in a team: Can view and Can edit. Learn more about permissions in a team →
Any member can invite other members to the team. People can only invite other members at a permission level equal to =, or less than <, their own permission level.
Anyone with Can edit access can invite others with Can view or Can edit access.
Anyone with Can view access can only invite others with Can view access.
Team Admins can manage aspects of the team, including team members and permissions. Learn how to manage team members and permissions →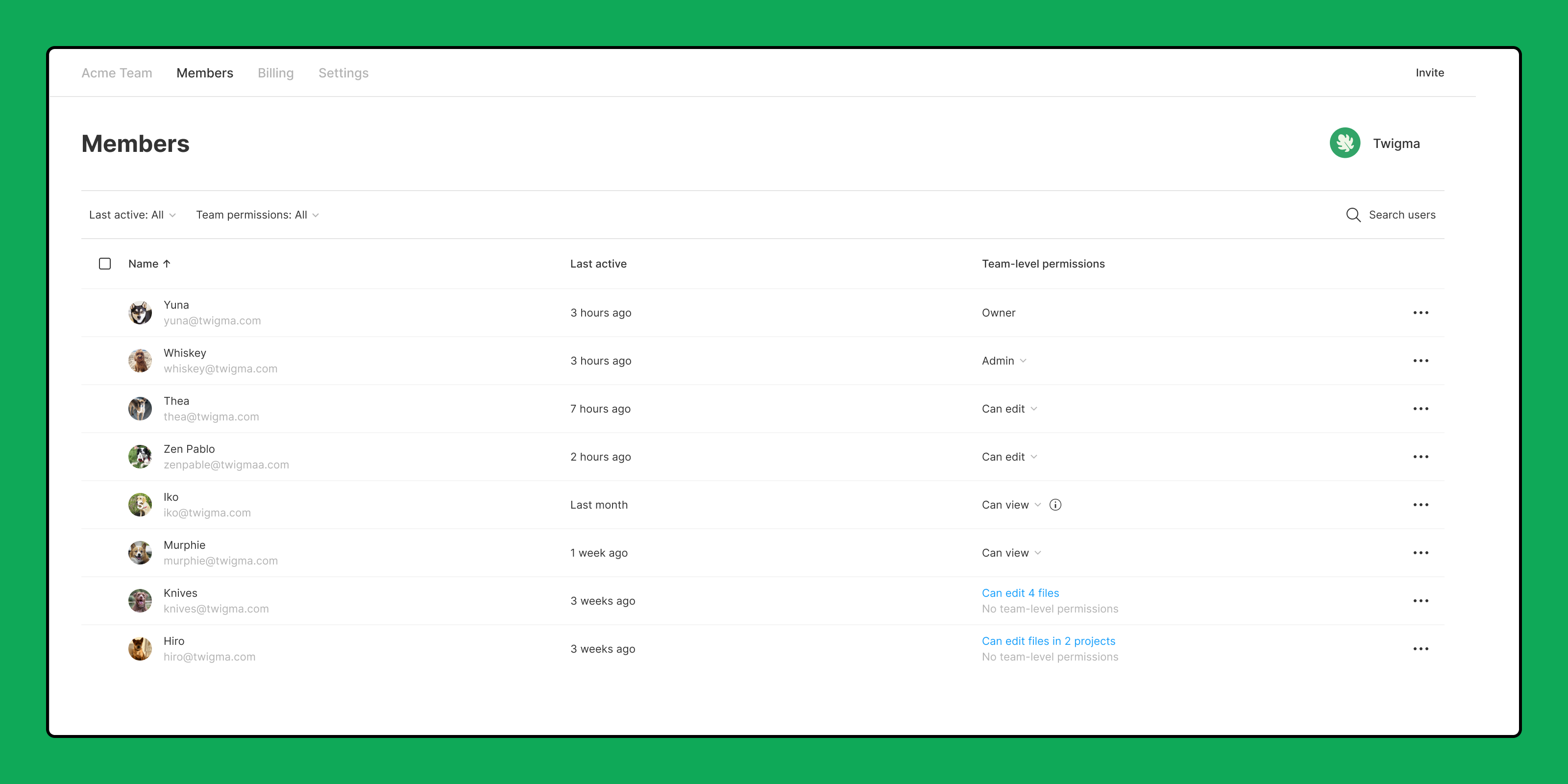 Leave teams
If you no longer need to be a part of a team, you can leave it. When you leave a team, you will non longer have access to any files and projects. ransfer ownership of any projects or files you created in that team to the current owner of the team.
There are a few entry points to leave a team:

Right-click on the team name in the sidebar and select Leave team.
From the team page, click the next to the team name and select Leave team.

Figma will prompt you to confirm. A member of the team can invite you back to the team, if needed. Click Leave team to confirm.