Jira Software is a project and issue tracking tool for agile teams. Use Jira Software to plan, track, and manage releases for digital products:
Create projects using Kanban boards, Scrum boards, or roadmaps.
Plan sprints, prioritize and distribute tasks across your software team.
Access reports with real-time, actionable insights into how your team is performing.
Connect Jira Software to other Atlassian tools.
You can connect Figma to Jira Software. This allows you to add design files and prototypes to issues or epics in your Scrum or Kanban boards.
Install the Figma app
Before you can embed files and prototypes in Jira Software, you will need to add the Figma app to your Jira account.
You can do this from anywhere inside your Jira account.
In the main menu, go to Apps > Manage your apps.

Click Find new apps in the left sidebar and search for the Figma app.

Click on the Figma app in the results, then click Get app in the top-right corner of the app listing.

Click Get app to add the Figma app to your account.
Add a file or prototype to Jira
You can embed any file or prototype, regardless of the file's link sharing settings. Collaborators can interact with Figma Live Embeds based on:
In Figma
You can only embed one Figma file or prototype in each Jira issue.
Open the file you want to embed in Jira.
To link to a specific frame in the Figma file, select the frame you'd like to embed.
Click the Share button in the toolbar.
Check the box to Link to selected frame (Optional)
Update your Link Sharing permissions to determine who can view and interact with the file embed.
Click Copy link.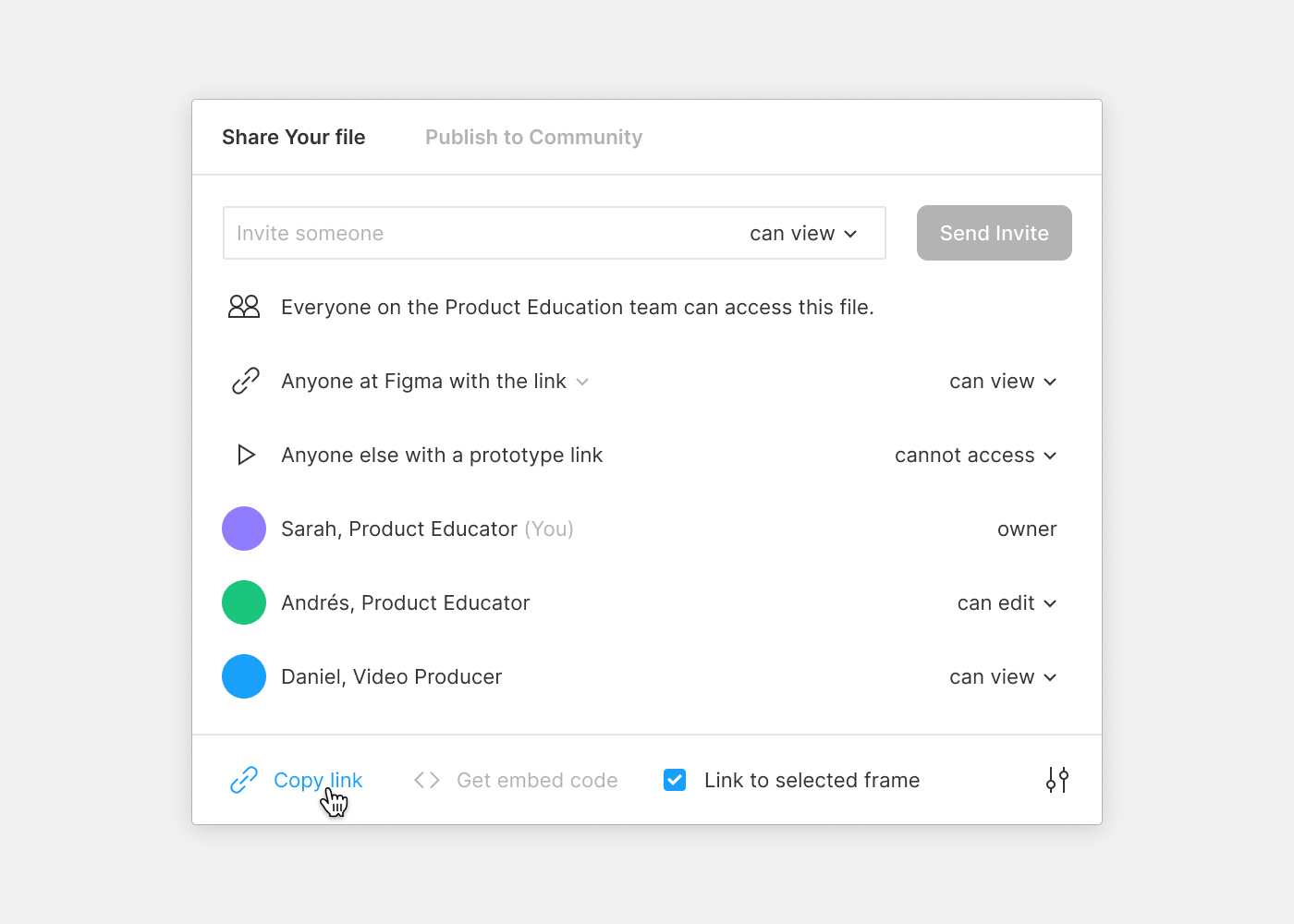 In Jira Software
With the Figma app installed your Jira issues will now have a Design section. This is where you can add and view Figma Live Embeds.
Open the Jira issue you want to add an embed to.
If the Designs section isn't shown, click the three dots under the title and select Designs:
Paste the URL in the field and click Add design:
You can now view the file or prototype in Jira.
Remove Figma from Jira
You can remove a single embed, or uninstall the Figma app to remove the app and all Figma embeds.
Remove an embed
If you want to delete a specific file or prototype, you can remove it from the issue in Jira.
Open the issue you want to remove the embed from.
Click Remove design next to the embed:

Jira will remove that embed from the issue.
Remove the Figma Power-Up
If you want to disconnect your Figma account from Jira, you can uninstall the Figma app. This will also remove any file or prototype embeds from your board.
Open the board in Jira.
Click Apps in the menu bar and select Manage your apps.
Click on the arrow next to the Figma application to expand.
Click the Uninstall button: