View and join organization teams
Who can use this feature
Members can view open and closed organization teams. Guests can only view teams to which they are invited.
Organization teams are designated spaces for projects and files. Teams can have their own members, team admins, default libraries, and custom fonts within the organization.
Members can create as many teams in an organization as they need. They can also join multiple teams, making it possible to create cross-functional teams and share resources across them.
On the Enterprise plan, you may also have access to workspaces. Workspaces are groups of teams, people, and resources within an organization. They add another layer of structure within large organizations.
There are different ways to structure your teams:
Create teams around your company's hierarchy
Build inter-disciplinary teams for product verticals
Collect resources and explore company-wide projects and initiatives
Create workspaces for separate departments, products, or brands
📖 Best practices: Team, project, and file structure →
Note: Anyone with an email address that matches an organization domain is a member. Anyone without an email that doesn't match an organization's domain is a guest. Members and guests →
Access organization teams
Teams in an organization have three access levels: open, closed, and secret.
Open: members can join open teams without requiring approval. Everyone who joins an open team gets can view permissions by default.
Closed: Members must request to join closed teams. They can request either can view or can edit access as part of this process.
Secret: Secret teams are hidden from members. To join a secret team, members must be invited by an existing member.
View organization teams
Organization members can browse all open and closed teams in the organization. If you're inviting guests from outside the organization, they can only view and access the teams you share with them.
To view organization teams, you need to make sure you are in the organization. View the current organization or account in the navigation bar. Click to switch to another organization. Switch between accounts →
Select Organization name in the sidebar.
View all open and closed teams
Join open teams ↓
Request to join closed teams ↓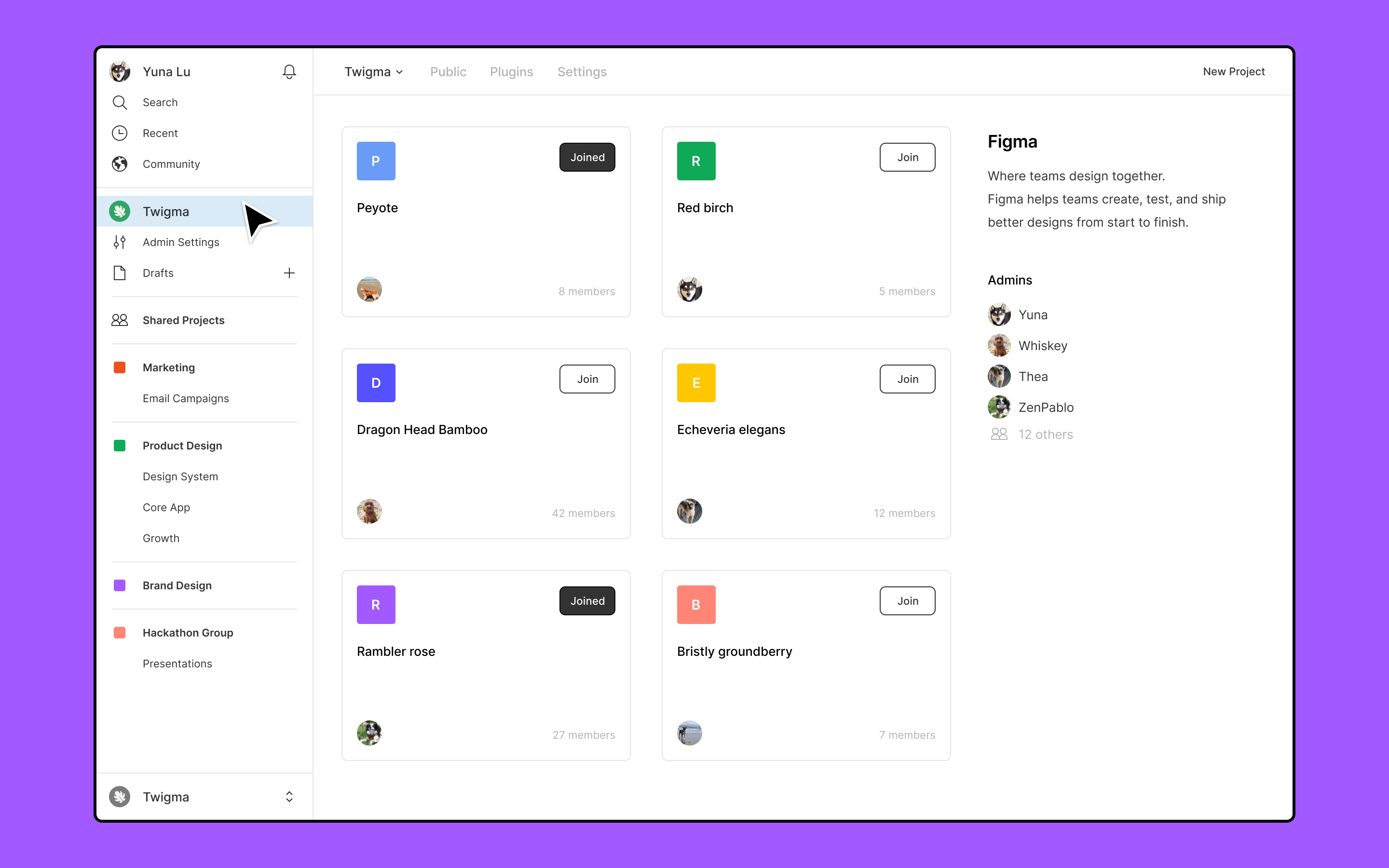 Tip! Organization admins can also view a list of open and closed teams in the Admin settings. Admins can join, request to join, or leave teams they are a member from the Teams page.
Join teams
Join an organization team add the team to your sidebar. You can only access those teams when you are in the organization.
Join open teams
Request to join closed teams
Invite-only secret teams
Note: Team permissions in an organization are the same as team permissions in teams on the Professional, Education, or Starter plan. Team permissions →
Join open teams
Every member can search, view, and join open teams. Join open teams without requiring an invitation from an existing member.
By default, you join open teams with can view permissions. To edit team files, you can request edit access to a file or ask another team member to give you can edit access.
You can also join an open team if someone invites you to the team. You'll need to accept the invite from the email or notification.
Note: A team admin, or someone with can edit access to the team, can give other members can edit access. To actually edit files, members and guests need to have an editor role on that product. Roles in Figma →
Request to join closed teams
Any member can search for and find closed teams, but they can't view any files or projects within them.
Members can request to join closed teams with can view or can edit access. A team admin needs to approve any requests, before they can join the team.
Existing members can invite other collaborators to the team. They can only invite collaborators at their permission level or lower. For example: a viewer can only invite a viewer, but an editor can invite a viewer or editor.
Click the Request to join button on the team card.
Use the to choose can view or can edit access.
Add any notes or information to give the team admin some context (optional).
Click Request access.
Figma will send a notification to every admin on that team, which they can approve or reject. You can only access the team once an admin has approved your request.
If you don't need access to team anymore, or want to change the permission level, click Cancel request next to the team.
Caution: If you request to join a team with can edit access, you may not be able to edit files in that team. Your Figma design or FigJam role determines if you can edit files. Request an editor upgrade →
Invite-only secret teams
Secret teams are hidden from members of the organization, so organization members can't browse or join these teams.
To get access to a secret team, an existing member needs to invite you. Only people with can edit access and admins can invite members or guests to secret teams.