There are a number of factors that may cause issues with loading files. If you're unable to open or load files there are a few things we recommend.
Note: Every browser has its own active memory limit. This can differ across devices but the general understanding is there's an active memory limit of 2GB across all tabs for a browser.
If you're working with large files and libraries in Figma you may run into these limits. To continue to use affected files, you will need to reduce your memory usage. Learn how to reduce memory usage →
404 page
If you open a file link and land on a 404 page, there are two common explanations:
You no longer have access to the file
The file has been deleted
We recommend the following:
Confirm you're logged in on the correct account
Confirm you've accepted the invitation to view or edit the file under the correct account
Check your deleted files to see if you can locate the file there
Reach out to the file owner to see if they have removed your access
Restart Figma
Here are some quicks actions you can take to improve performance:
Close any Figma tabs not being used.
Browser: Force-quit and open Figma in a new browser window.
Desktop App: Force-quit the Figma Desktop app and restart it.
Check the Console Log
The Developer Console Log gives us access to a list of actions the browser has performed. If there are any error messages that appear during the process, they will show in red here.
Open the Developer Tools using the Keyboard shortcut. This works in both the Figma Desktop App and Figma Web App.
Mac: Command Option I
Windows: Ctrl Shift I
If there are any errors there, we'll need to see a copy of the Console Log. Learn more about exporting the Console log in our [Use Chrome Developer Tools](You can open the Developer Tools using the Keyboard shortcut. This works in both the Figma Desktop and Figma Web apps. Mac: Command Option I Windows: Ctrl Shift I You can also open by Console log by heading to Help in the menu bar and selecting Toggle Developer Tools:) article.
Share files with Figma Support
As part of the troubleshooting process, we may need to access the affected File.
If you are comfortable with sharing the File temporarily, you can update your link sharing settings. This will allow members of the Figma support team to see what's happening.
To help diagnose the issue, we may ask you the following:
Does this happen on both the Figma desktop app and Figma browser app?
Does the problem persist in an incognito or private browsing tab?
Do you have a reliable internet connection?
Are you experiencing this issue with a single file all files?
To update link sharing:
Open Figma in the File Browser.
Right-click on the File and select Share from the options.
Update the link sharing settings to Anyone with the link.
Update the permissions to can view.
Click Copy link to copy the File URL to your clipboard.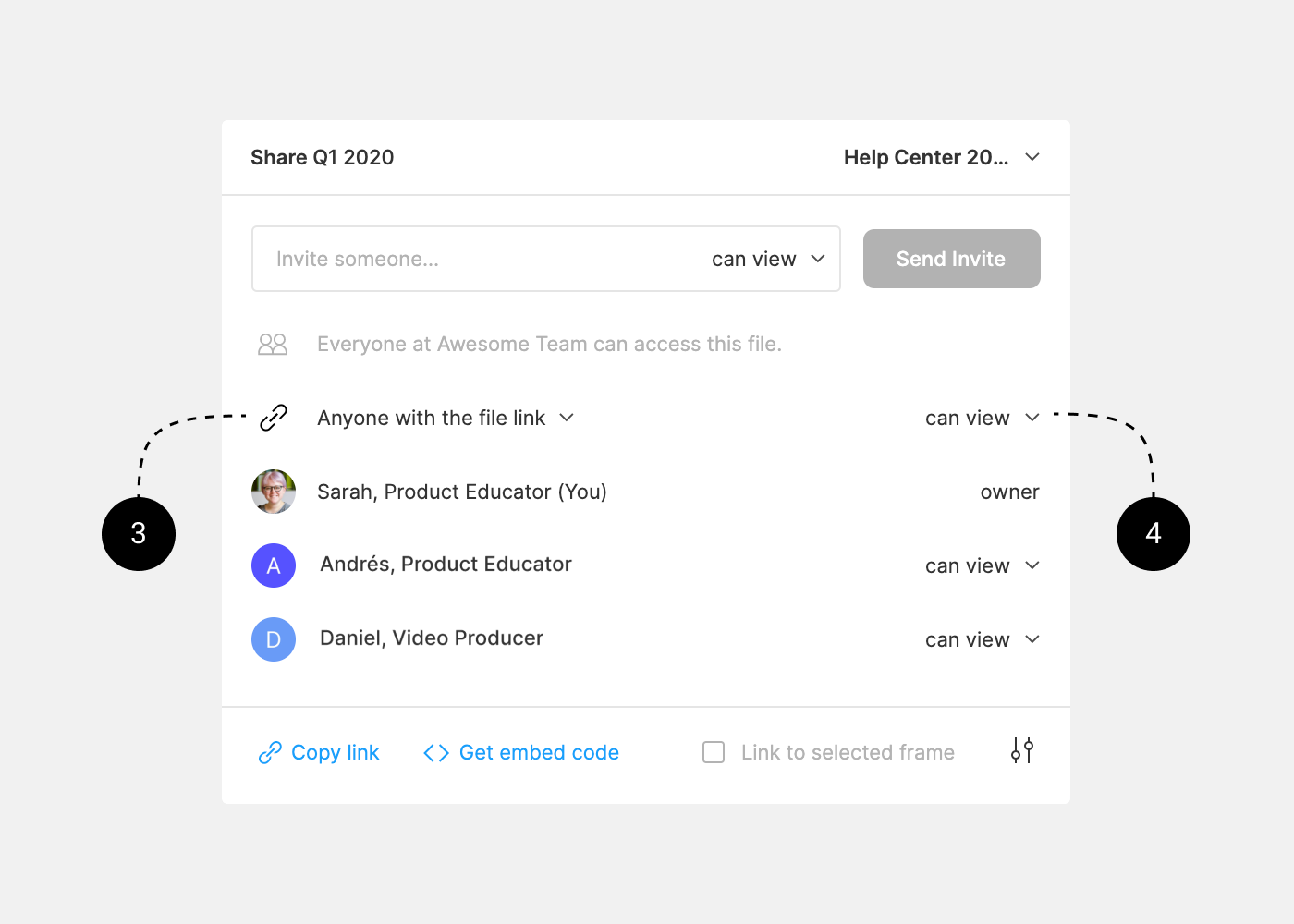 Note: If you would prefer not to share your File publicly, you can temporarily invite a member of the Figma support team to the File. They will give you specific instructions for how to do this when you contact them.