There are a number of factors that may cause issues with loading files. If you're unable to open or load files there are a few things we recommend.
404 page
If you open a file link and get a 404 page, the two most common explanations for this are:
You don't have access to the file
The file has been deleted
We recommend the following:
Confirm you're logged in on the correct account
Confirm you've accepted the invitation to view or edit the file under the correct account
Check your deleted files to see if you can locate the file there
Reach out to the file owner to see if they have removed your access
Memory limit alert
Every browser has its own active memory limit. This can differ across devices but the general understanding is there's an active memory limit of 2GB for each tab in a browser.
If you're working with large files and libraries in Figma you may run into these limits. If your file is using upwards of 75% of the browser's memory, you may not be able to open or edit the file.
To continue to use affected files, you will need to reduce your memory usage. This can involve splitting up large files, removing hidden layers, or reducing large assets. Reduce memory usage →
Restart Figma
If you're not getting a 404 message or a memory alert, there are some actions you can take to improve performance:
Close any Figma tabs you're not using.
Browser: Quit your browser application, then open Figma in a new browser window.
Desktop App: Force-quit the Figma desktop app, then restart it.
Check the Console log
The Console log in Chrome's developer tools records any actions the browser has performed. If any of these actions fail, they will show as red in the Console log.
If there are any errors there, you can share a copy of the Console log with Figma's Support team. This information can help the Support team find and diagnose any error messages.
Open the Developer tools in the browser or desktop app using the shortcut:
Mac: Command Option I
Windows: Ctrl Shift I
Use Chrome's developer tools →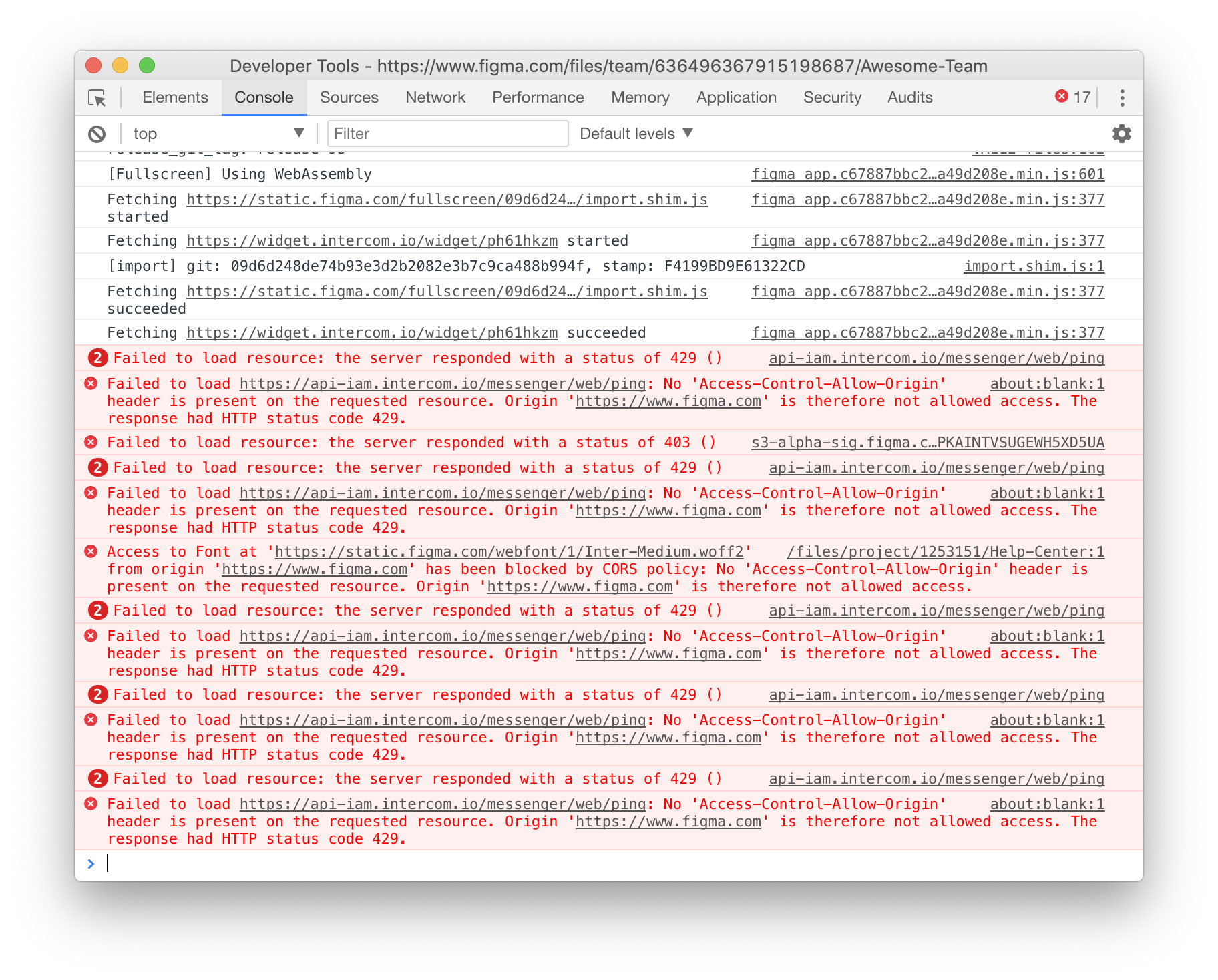 Submit a bug report
If you are continuing to run into issues opening a file, please reach out to Figma's Support team. They will be able to help you troubleshoot and identify underlying issues.
The Support team may ask you further questions about your setup to help identify where the issue might be occurring.
If the issue is happening in a specific file, the Support team will need a link to the file to troubleshoot further. You'll can attach a URL to your Figma file when you submit a bug report.
The Support team doesn't automatically have access to your account or the content your files. If you're comfortable sharing the file publicly, you can update your link sharing settings.
If you would prefer not to share your file publicly, you can temporarily invite a representative of the Support team to the file. They will give you specific instructions for how to do this when you contact them.
If you have checked the console log and have identified errors there, please include an export of the console log in your bug report.