Manage your billing on the Professional plan
Before you start
Who can use this feature
Only team Admins can manage the team's billing.
Teams give you access to a dedicated workspace where you can create files and projects. You will need to select a plan for every team you create. Your plan lets Figma how much to charge you for your team.
Plans are set at a team-level, not at account-level, Figma manages subscription for each team separately. It's possible to have multiple teams that you pay for separately, or a combination of free and paid teams.
Figma currently has two paid plans: the Professional plan and the Organization plan. In this article, we'll cover the billing process for Professional teams. Learn more about billing on the Organization plan →
Professional team billing
In this section, we'll cover how billing works in a Professional team. This includes available subscription options, a description of the renewal process, and information on how Figma determines your billing.
Monthly vs annual subscriptions
Figma supports both monthly and annuals subscriptions for Professional teams. Your renewal date will be the same day every month/year, on the date you signed up for the Professional plan.
For example: If you upgrade to a Professional plan on April 12th, your monthly renewal would be the 12th of every month, and your annual renewal would be April 12th of the following year.
You can switch from a monthly plan to an annual subscription at any time. Figma will cancel your monthly subscription and bill you for the next 12 months of Figma on your next renewal date. Learn how to switch to an annual plan →
Note: Once you are on an annual subscription, it's not possible to switch back to monthly billing without cancelling your subscription. If you have any questions, reach out to the Figma support team. Click the in your Figma account, select Get help, and follow the prompts.
Editor seats
Figma bases your subscription on how many editors you need. Editors are members of your team with Can edit access to the team, or a specific file or project in your team.
Every editor translates to a "seat" in your subscription.
For monthly subscriptions: Figma will use the total editor count on your payment date to decide the number of seats.
For annual subscriptions:, Figma will use the total editor count by default. You can also choose to purchase extra seats. This allows you to pre-pay for any extra editors you're planning to add to your team.
Add editors
You can still add more editors to your team, whether you are on a monthly or annual subscription.
If you add new editors to your team your monthly or annual billing will increase. This includes anyone you upgrade from Can view access, or that you grant admin access.
Note: If you are replacing an existing editor, and the total number of editors won't change, you won't have to pay for any extra seats.
On a monthly subscription: Figma will include new editors in your next month's subscription. Team admins can view details of the team's next invoice in the team's Billing tab.
On an annual subscription: Figma will charge you for any new editors you add on a monthly basis. This means you will have both an annual subscription, and a monthly subscription for any extra editors. We refer to this as "co-terming".
Tip! To simplify your account administration, you can convert your monthly seats to an annual subscription. Figma will charge you a pro-rated fee, which covers those Editor seats for the rest of your annual billing period.
This is a manual process, which you would need to repeat each time you want to add extra Editors to your subscription. Learn how to convert monthly seats →
Renewal
Team admins can view their Renewal date on the Billing tab of their team.
Monthly subscriptions are continuous, you can update your team member's permissions at any time during the month. Figma will charge you for an editors in your on your monthly billing date.
On an annual subscription, Figma will send the billing contacts a reminder 30 days before the renewal date. This will allow you to remove members, purchase extra editor seats in advance, or choose not to renew your subscription.
Note: You will need to cancel your subscription to prevent a monthly subscription from rolling over. You'll be able to access any Professional team features for the remainder of your billing period.
View your billing details
Team admins can find their team's billing details and invoice history in the Billing tab of their team page.
Note: Team admins can manage which members are included in their billing in the Members tab, as well as update their plan and billing details in the Settings tab. Guide to team management →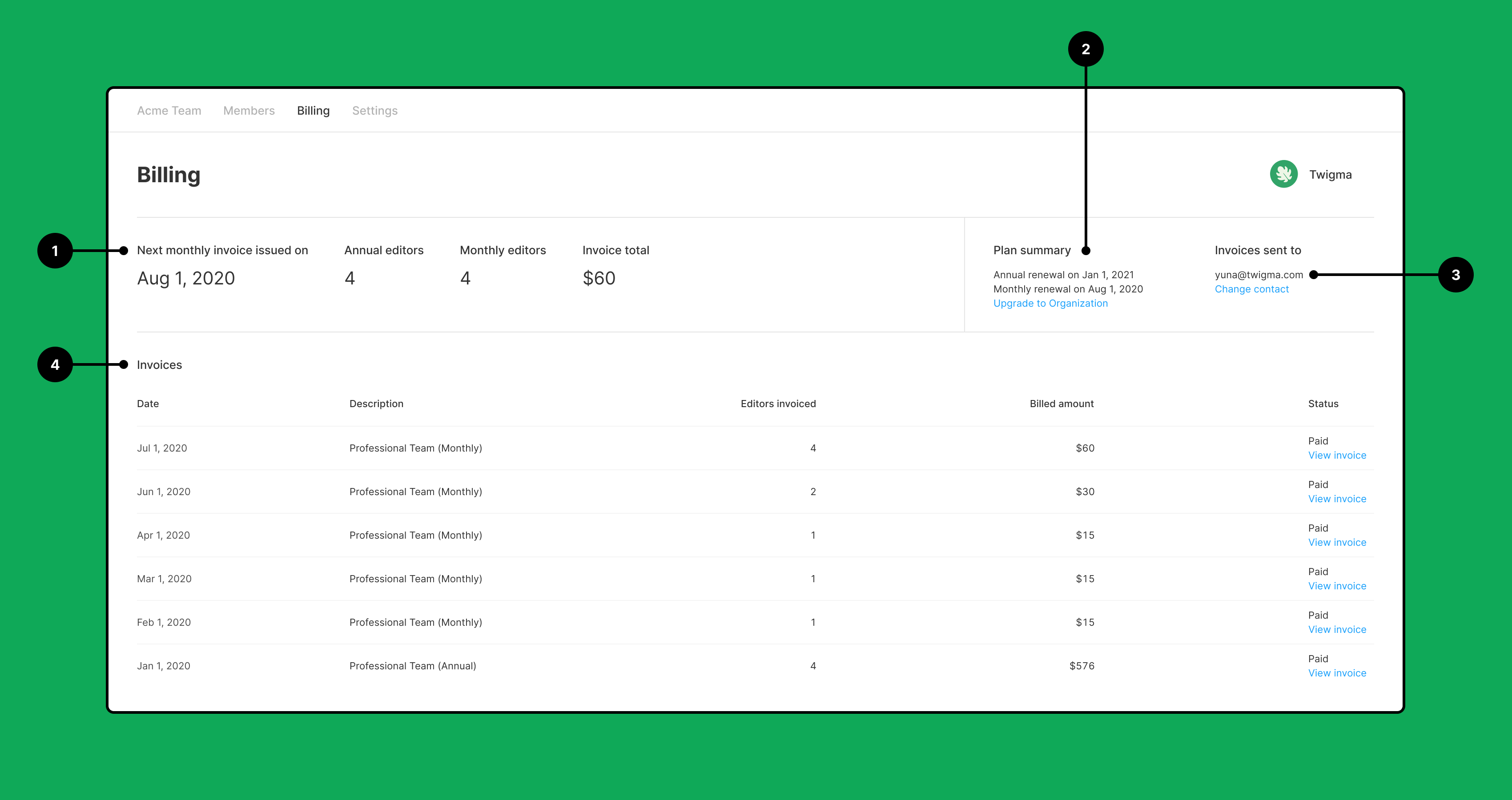 See an overview of your invoice for the current billing period, this includes:

Next invoice added on: The date of the next monthly or annual invoice for the team. You will be sent a reminder three days before this date to confirm your editor seats for the billing period.
Annual editors: (Annual subscription holders only) How many editors you currently have on your annual subscription. If you currently have less editors than editor seats, you'll see how many annual editor seats you are currently using.
Monthly editors: How many editors you have on a monthly subscription.
Invoice total: The expected total of your next invoice. Invoices are currently only payable in $USD. References to totals and balances in the product, and any documentation, are always in $USD.

Note: If you have cancelled your subscription, or are currently in a grace period, you won't see a date for Next invoice added on. Figma will show Canceled or Special here instead.

View a summary of your plan. You'll also see the option to upgrade your team a Figma Organization →

Annual renewal: the date your annual subscription will renew. Figma will remind you 14 days before your annual subscription. Learn how to renew an annual subscription →
Monthly renewal: the date your monthly subscription will renew.

Note: You will have both an annual renewal and monthly renewal if you've added extra editors on top of your annual subscription. Learn more about co-terming ↑

See what email address is currently receiving billing reminders and notifications in the Invoice to field. Click Change contact to update the billing contact. Learn how to update your billing contact →

View the invoice history for that team in descending order. The most recent invoice, usually the current invoice, is at the top.
View and download invoices
Note: If you delete your team or Figma account, you won't be able to access these invoices in Figma. If you need copies of your invoices, please reach out to the Figma support team on support@figma.com for assistance.
Figma won't include a copy of your invoices in your billing emails. We recommend saving a copy of these invoices for accounting purposes.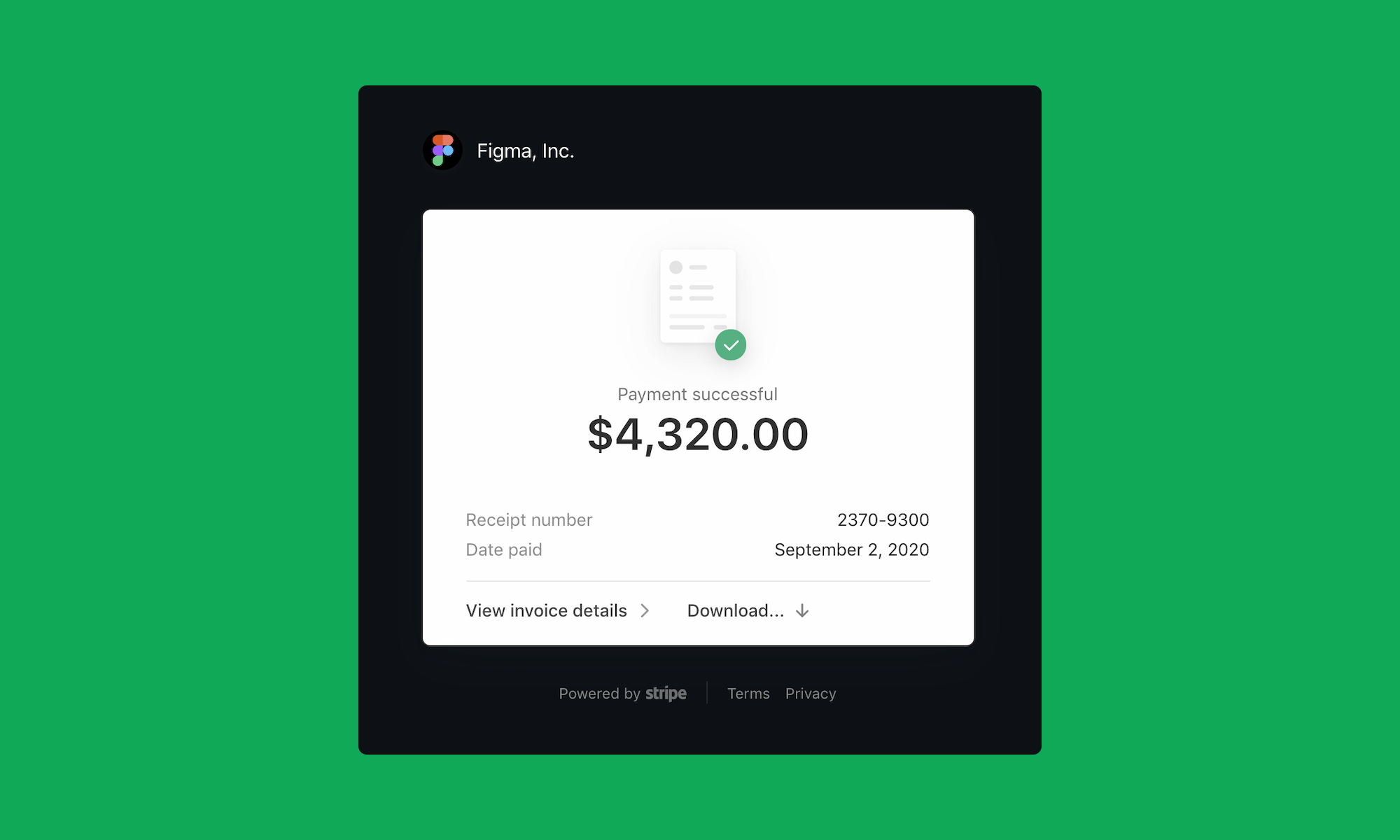 Open the team in the file browser.
Click the Billing tab at the top of the page.
Find the invoice you want to download in the list. The most recent invoice is at the top.
Click the View invoice link to open the invoice in Stripe.
Click the View invoice details > to view a detailed invoice.
Click Download... ↓ to save a copy of the invoice.
Custom invoice settings Some businesses may want to customize their team's invoices. This could be to add a Trading Name, Company, Address or Tax ID.
If you need more information to appear on your invoices, please contact the Figma support team. We'll do our best to accommodate your request. Make sure to include in your message the information you want on the invoice!
Click the help icon and select Get Help. Or, send an email at support@figma.com.
Manage your subscription
Manage new editors
Figma bases your subscription on how many editors you need. This includes:
Members of your team with can edit access to the entire team.
External collaborators who have can edit access to a specific file or project in the team.
Anyone on the team with admin permissions.
Update a team member's permissions to add or remove them from the team's billing.
Upgrade them to an editor to allow them to edit team files, and include in the team's billing.
Downgrade to a viewer to exclude them from the team's billing.
Learn how to manage team members and permissions →
Manage failed payments
Every now and then a subscription payment may fail. If a payment for your Figma subscription fails, Figma will attempt the payment again the next business day. During this time you'll still be able to access your account as normal.
If your payment fails 3 times, Figma will temporarily restrict your account. During this time you'll only be able to view your files and projects, not edit them.
To unlock your account, you will need to make a successful payment. To force another payment attempt, you can update your payment information.
Once you've made a successful payment, Figma will restore edit access to your account.
Tip! The most common causes are insufficient funds or expired credit cards.