Manage team and organization profiles
Who can use this feature
Only a team admin can manage a team's Community profile.
Only an organization admin can manage an organization's Community profile.
If you are an admin of a team or organization with a Community profile, you can access the Community under that team or organization's profile. This lets you:
Preview or update the Community profile
Manage files and plugins published to the profile
Install or uninstall plugins for everyone in your organization (Organizations only)
Browse as admin
From the file browser, click Explore Community in the left sidebar.
In the navigation bar, click Browse Community using... Figma will show you a list of profiles available under your current account.
Select the profile you want to browse as - admin profiles have a badge next to them!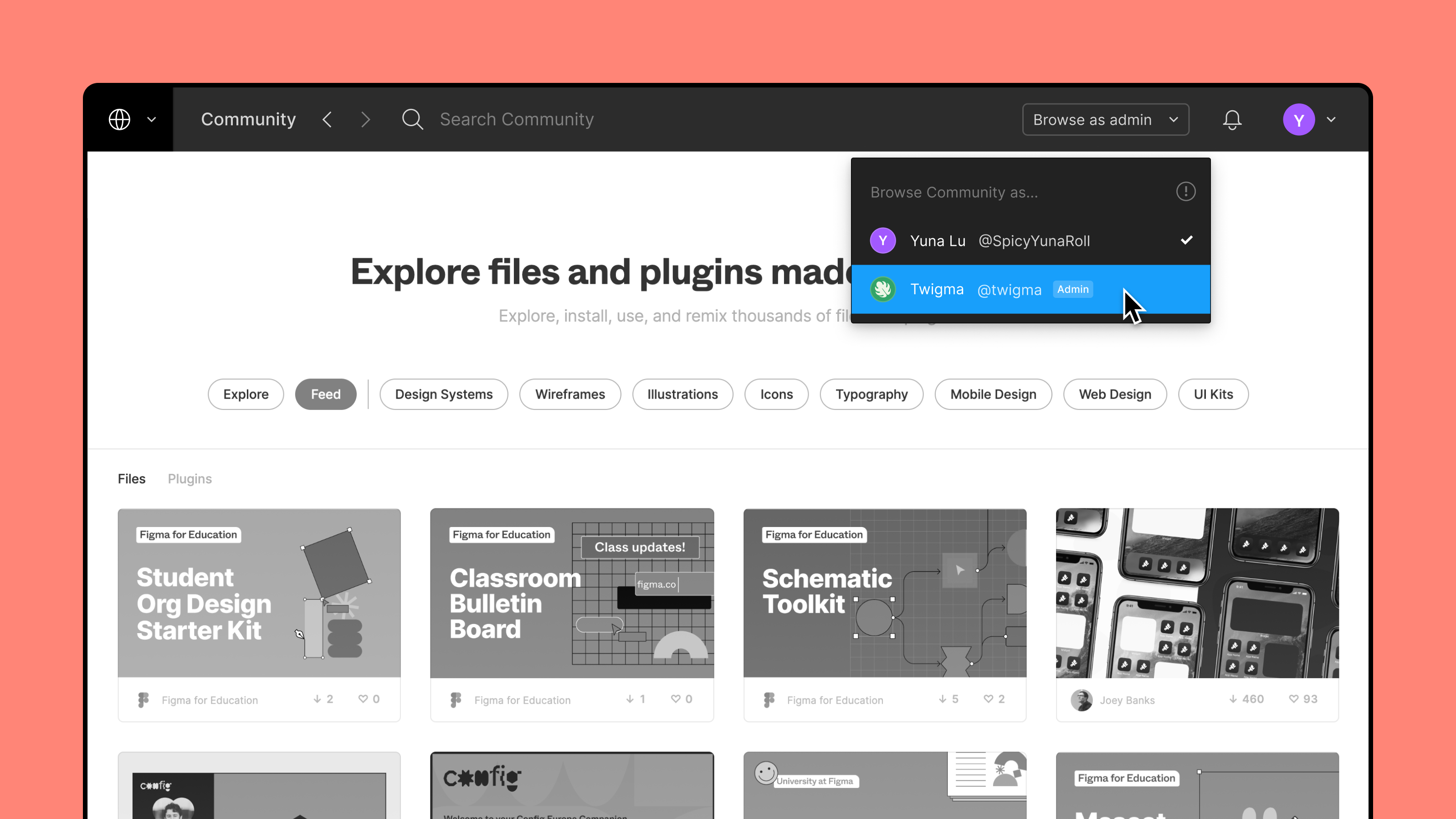 When browsing the Community as an admin, you'll see a blue banner letting you know which profile you're currently browsing under.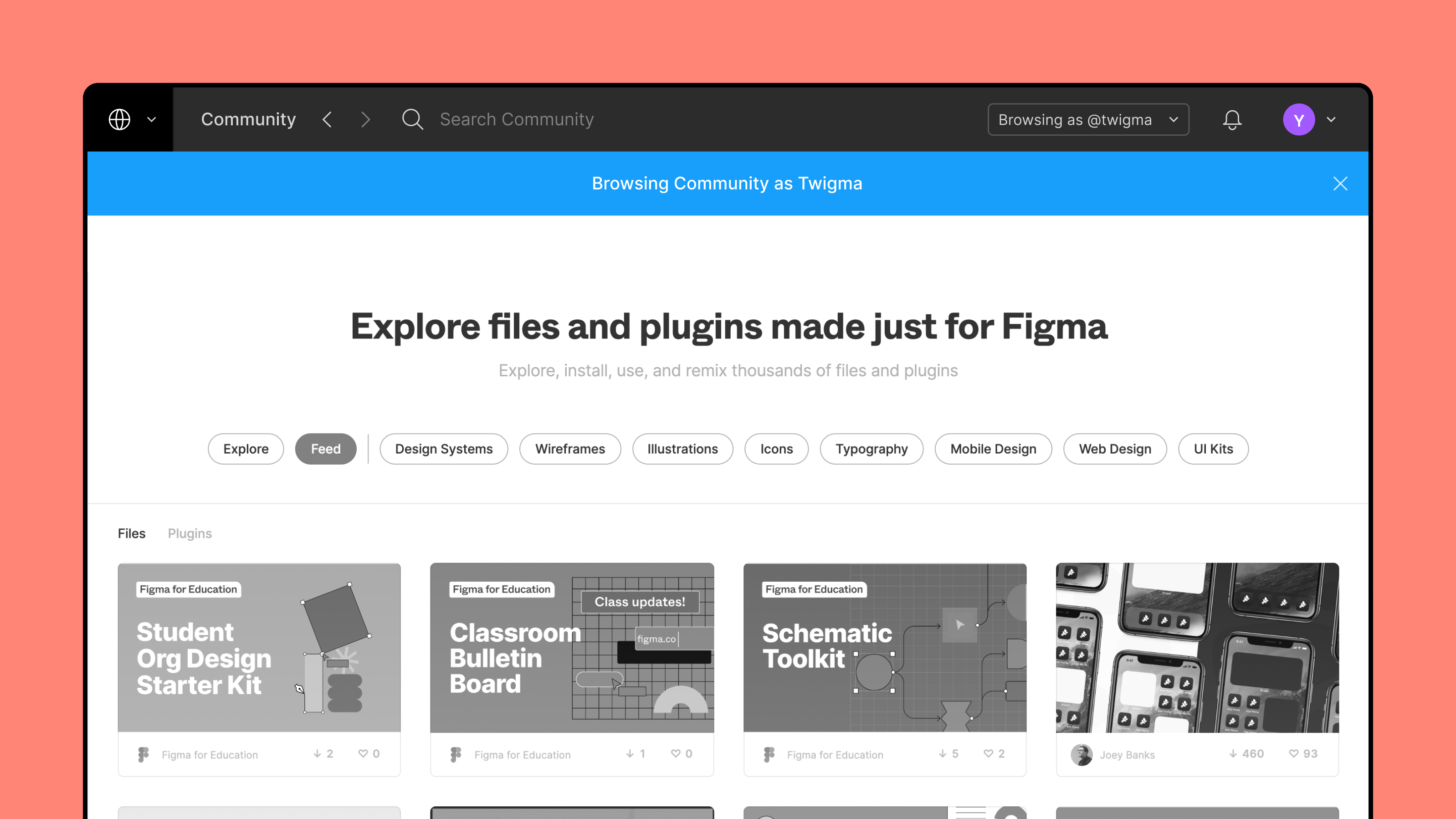 Admin actions
Some actions in the Community are only available on specific profile types. This is something to take into account when browsing as an admin.
Update a Community profile for a team or organization
From the file browser, select a team.
Click the dropdown menu next to the team name and select View settings.
Choose a setting to update under Community profile.
Tip: You can take a look at the team's profile page by heading to figma.com/@yourteamprofile-handle.
From the file browser, click Browse.
Click the organization's profile handle under Public community profile. The link will look like this: figma.com/@organizationhandle
Update profile
Admins can add or update information on the team or organization's profile:
Profile picture: This can be different than your internal profile picture. Click on your profile picture to upload a new image. Image dimensions must be at least 500 x 500 px.
Cover artwork: Hover over the cover photo and click to upload cover artwork.
Bio: Add a brief description of up to 160 characters.
Location: Click to add or update the location of the creator, team, or organization.
Websites: Click to add or update the website. This can be a link to business website or support page. There are dedicated fields for Twitter and Instagram.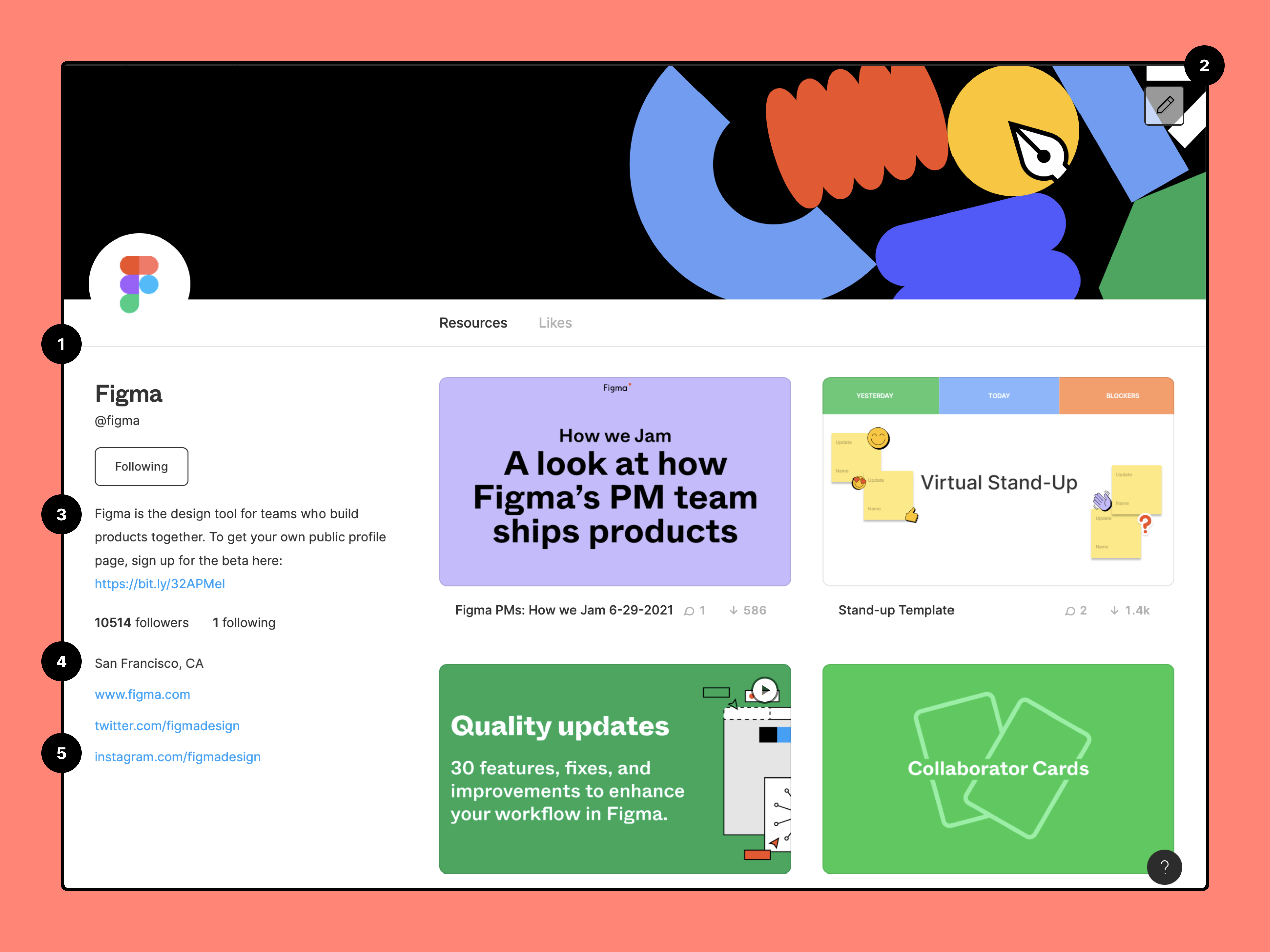 Manage resources
Community profiles show any files and plugins published to that profile. This includes any external resources the team or organization is listed as a creator on.
Team or organization admins can choose which files appear on the profile. Only the original plugin publisher can manage any team or organization plugins.
Install or uninstall plugins
Organization admins can install plugins for the entire organization. You need to be browsing the Community as an organization admin to manage organization-wide plugins. Install or uninstall plugins for organizations →