Launch workspaces in your organization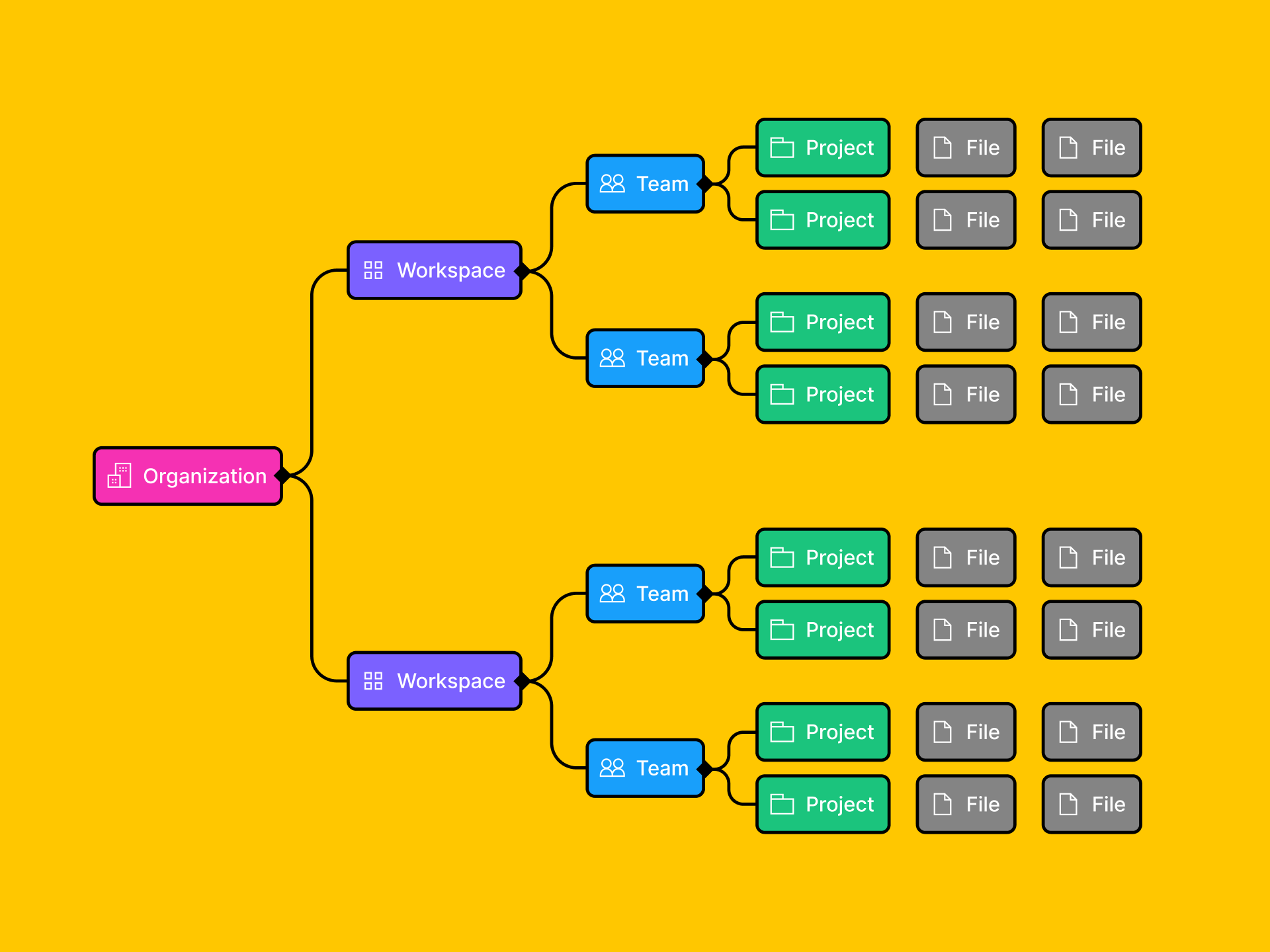 Workspaces are collections of teams, people, and resources within a Figma organization. They help companies with many business units, sub-brands, or design systems add structure to their Figma organization.
Prepare to launch workspaces at your company
As an organization admin, you play a key part in setting up your organization for success. Here's how to effectively launch and manage workspaces for your organization:
Warning: As soon as you create your first workspace, Figma will look different to everyone in your organization. We strongly recommend following these steps before enabling workspaces in your organization.
1. Plan a workspace structure
We recommend creating workspaces according to existing structures at your company. For example:
Business units
Sub-brands
Product areas
Regions
Here are some suggestions for planning your workspaces:
We recommend creating at least two workspaces. You can create as many workspaces as you need, although most companies use less than 20. 
Give workspaces simple, intuitive names.
Make sure each workspace has a unique name.
Caution: There are some cases where adding workspaces to your Figma organization isn't necessary. For example, you might not need workspaces if your organization has less than 10 teams. If you're unsure whether workspaces are a good fit, reach out to your Figma sales contact.
2. Identify workspace admins
Workspace admins help organization admins manage people and resources in Figma. We recommend identifying at least one workspace admin for each workspace you create.
Workspace admins can manage teams, members, and guests in their workspace. We recommend choosing people who understand the activities and tasks of the people and teams they manage. They could be a team or line manager, department head, or anyone with insight into what people work on.
Learn more about the differences between organization and workspace admins →
3. Decide how to assign teams to workspaces
When you create a workspace, we recommend assigning teams to it.
Assigning teams to workspaces lets you group related work together. This makes it easy for people to find their work in Figma.
If you don't add teams to a workspace, people will see an empty workspace in their sidebar. Any unassigned teams will go into a section called Other teams. People will have to sift through all the unassigned teams to find the ones that are relevant to them.
When you assign teams to workspaces, you can also choose default teams. People automatically join default teams when they are assigned to a workspace. This makes it easy to get started with the right content.
Tip: You can ask your Figma sales contact for a list of your teams as a CSV file.
4. Decide how to assign users to workspaces (optional)
Each member or guest gets assigned to one workspace. You can assign people to workspaces manually, or let people assign themselves by enabling the workspace selector.
Assigning people to a workspace is an optional administrative step. It lets organization admins delegate user management responsibilities to workspace admins. It also helps larger companies understand how licenses are distributed throughout their Figma organization.
Assigning people to a workspace won't affect their membership to any teams they've already joined. They'll still be able to browse, join, or request to join teams in other workspaces in your organization.
5. Communicate the changes to your organization
It's very important to let your organization know in advance how their experience using Figma will change.
Here's a customizable message for letting your users know what to expect:
To everyone using Figma,
Starting [date], you will notice a few changes in Figma.
To make content and projects easier to find, we've started to organize Figma into workspaces. Workspaces are a new way of grouping teams within Figma and we're using them to represent [sub-brands, departments, product areas, etc.] within our organization.
How does this impact you? Starting [date], you'll see the following changes:
Browse teams by workspace: When you click on [company name] in the file browser, you can see the workspaces in our organization and the teams in those workspaces.
Access workspaces in the sidebar: Teams you have joined will be grouped by workspace in the sidebar.
Filter search results by workspace: You can filter search results by one or more workspaces to narrow down your search results.
Browse libraries by workspace: You can see libraries grouped by workspace when accessing the library modal.
You'll still be a member of any teams you've joined and you can still browse and join or request to join any open or closed team across the organization. You'll just see them grouped by workspace going forward.
We hope that these changes help you navigate our ever-growing Figma space and find important work faster. If you have any questions or feedback about this change, let us know or reach out to support@figma.com.
6. Create and set up workspaces
It's time! You're officially ready to launch workspaces for your organization. 🎉