Request an editor upgrade
Everyone who interacts with an organization has both a Figma design role and FigJam role. Roles determine the highest level of access you can have on those file types. It also determines if you're included in the organization's billing.
There are some actions you can only do with a paid editor role. If you have a viewer-restricted role and try any of those actions, you need to request an upgrade.
If you're not sure what FigJam and Figma design roles you have, you can view them in your account settings ↓.
Note: Requesting a role upgrade doesn't give you edit access to the entire organization. You can only edit teams, files, or projects you have can edit access to.
Request an upgrade
The request upgrade modal allows you to request a role upgrade for either Figma design or FigJam. There are a few places you can start this process from.
Account settings
Open Figma in the organization workspace.
Click your avatar in the navigation bar and select Settings.
Scroll down to the Organizations section to view the organization's you're a part of. You'll see the organization name, if you're a member or guest, and your Figma design and FigJam roles.
Click Request upgrade next to the relevant organization and role. Request upgrades for Figma design or FigJam separately.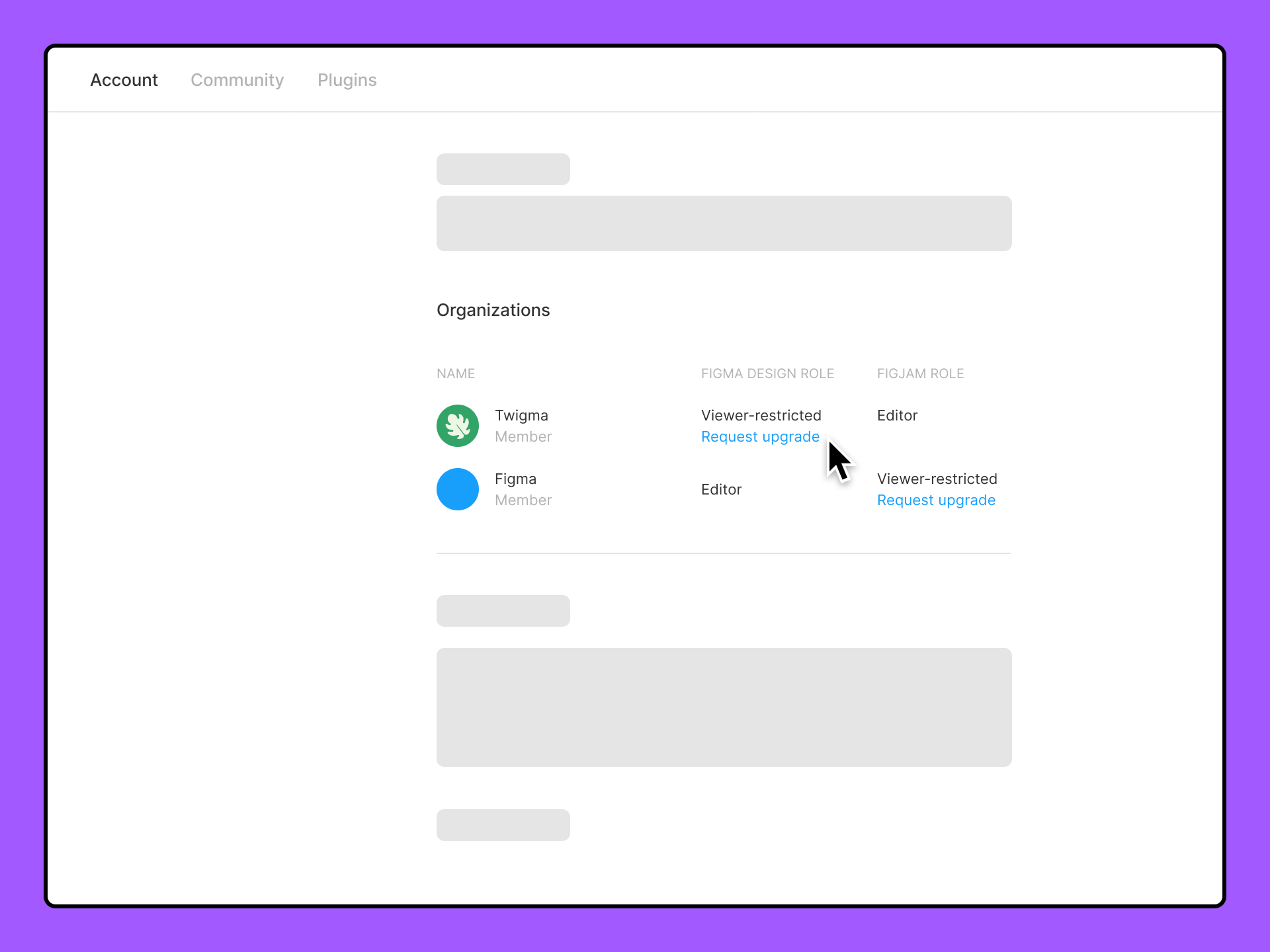 Figma or FigJam file
Your upgrade request only applies to the file type you're requesting from. For example: if you request an upgrade from a FigJam role, the upgrade only applies to your FigJam role.
Open the Figma design or FigJam file.
Click Edit file in the toolbar to start the request process.
If you already have edit access to the file, this sends an upgrade request. If you don't have edit access to the file, Figma sends an upgrade request first. If approved, Figma will then send a request to edit to the file owner.
Other locations
You'll see the request access modal when you try to:
On the Enterprise plan, your request will be sent to the workspace admins of your current workspace.
On the Organization plan, you can select which organization admins to send your request to.
Select admins
Select which organization admin(s) you want to send the request to. You can also add a reason for your request. We recommend selecting people who know or understand your access needs.
Use the checkboxes to select admin(s) to send your request to. Check Select all to send the request to all admins.
Add a message to explain why you're requesting the upgrade (optional).
Click the Request upgrade button. Figma notifies the selected admin(s) who can then approve or deny your request.
Contact an admin
If you don't agree with an admin's decision, we recommend reaching out to your manager or an admin. The email of the admin who declined your request is included in your the notification.