Request upgrades in an organization
Before you start
Who can use this feature
Everyone who interacts with an organization has an account type and a role. In this article, we are focusing on making changes to a member or guest's role.
Figma will prompt a viewer-restricted member or guest to request an upgrade if they attempt an upgrade action.
Note: It's possible for a member to have edit permissions on a team, but still have a viewer role in the organization. Figma will only include them in the organization's billing once they take an edit action on a file. This includes the Edit file action mentioned above.
Request upgrades
If you have a viewer-restricted role, you can request an upgrade. Submit an upgrade request via your account settings, or from any restricted access message.
If you're not sure what role you have, you can view your current role and account type in your account settings.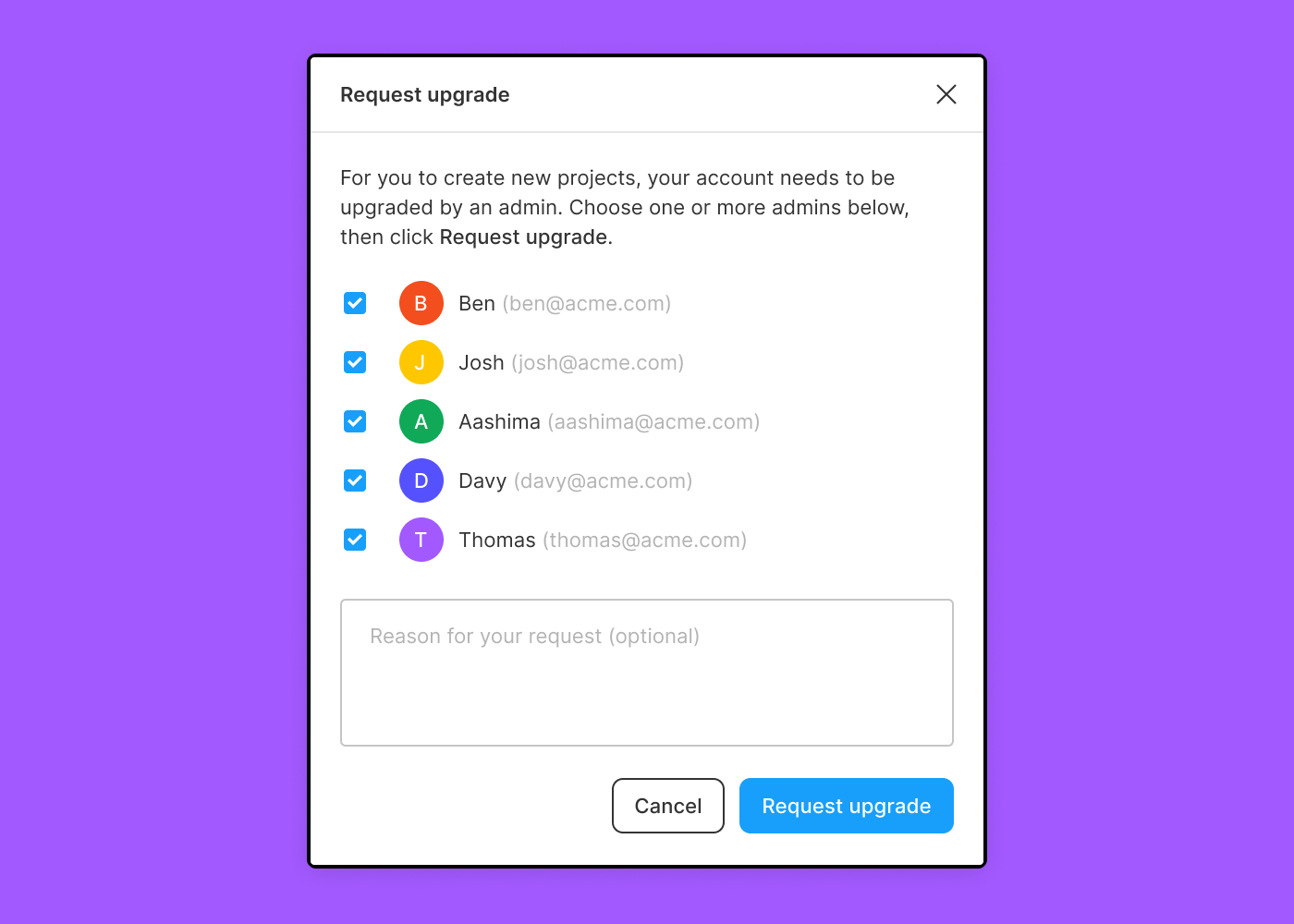 Note: This won't give you edit access to every team or resource in the organization. You will only be able to edit teams, files, or projects you have can edit permissions on.
From the file browser, click on your account/name and select Settings.
In the Organizations section, view the name of the organization, your role, and your account type.
Click the Request upgrade link next to your role to open the Request upgrade modal:
Use the checkboxes to select which admin(s) you'd like to send your requests to:
Add a message to explain why you are requesting the upgrade. Click the Request upgrade button.
Figma will send an email to the admin(s) you selected.
Contact an organization admin
If you don't agree with an admin's decision, we recommend reaching out to your manager or an organization admin.
Figma will include the email address of the admin who declined your request in the notification. You can also a list of Admins in your organization from your organization page in the file browser.