Publish a plugin to the Community
Before you start
Who can use this feature
When you're ready to share your plugin you can submit your plugin to the Figma Community. This allows other Figma users to install and run your plugin(s).
Publish your plugin
You'll need to have done the following before you can publish your plugin:
Note: You'll need to have two-factor on your Figma account to publish plugins to the Community. This includes publishing updates. You won't need to use two-factor authentication if you sign into Figma via a third-party (SAML SSO or Google SSO).
Prepare to publish
Every plugin will have its own page in the Figma Community. This allows other members of the Community to browse, search, and find your plugin.
You'll need to provide some information about your plugin, which Figma will display on your plugin page. We recommend getting this set up before you start the publishing process.
Choose a name for your plugin. This can be something descriptive or a little creative. Users can search for your plugin using this name, but you also have tags to add relevant keywords.
Create an icon to represent your plugin in the Community. Figma will use this icon to identify your plugin in the Community and in the Editor. The recommended dimensions are 128 x 128.
Create some cover art for the top of your plugin page. The recommended dimensions are 1920 x 960 (safe area: 1600 x 960).
Write a description of your plugin. Use this field to explain what the plugin does, how to use it, and a sales pitch. If your plugin requires a subscription, we recommended mentioning this first. You can format your description using some basic text formatting.
Add up to 12 keywords or tags to classify your File. We support alphanumeric characters (a-z and 1-9), but no special characters or punctuation. Max 25 characters per tag.
As a plugin creator, it's your responsibility to provide support for your plugins. You'll need to provide an email address, website, or help center for your support contact.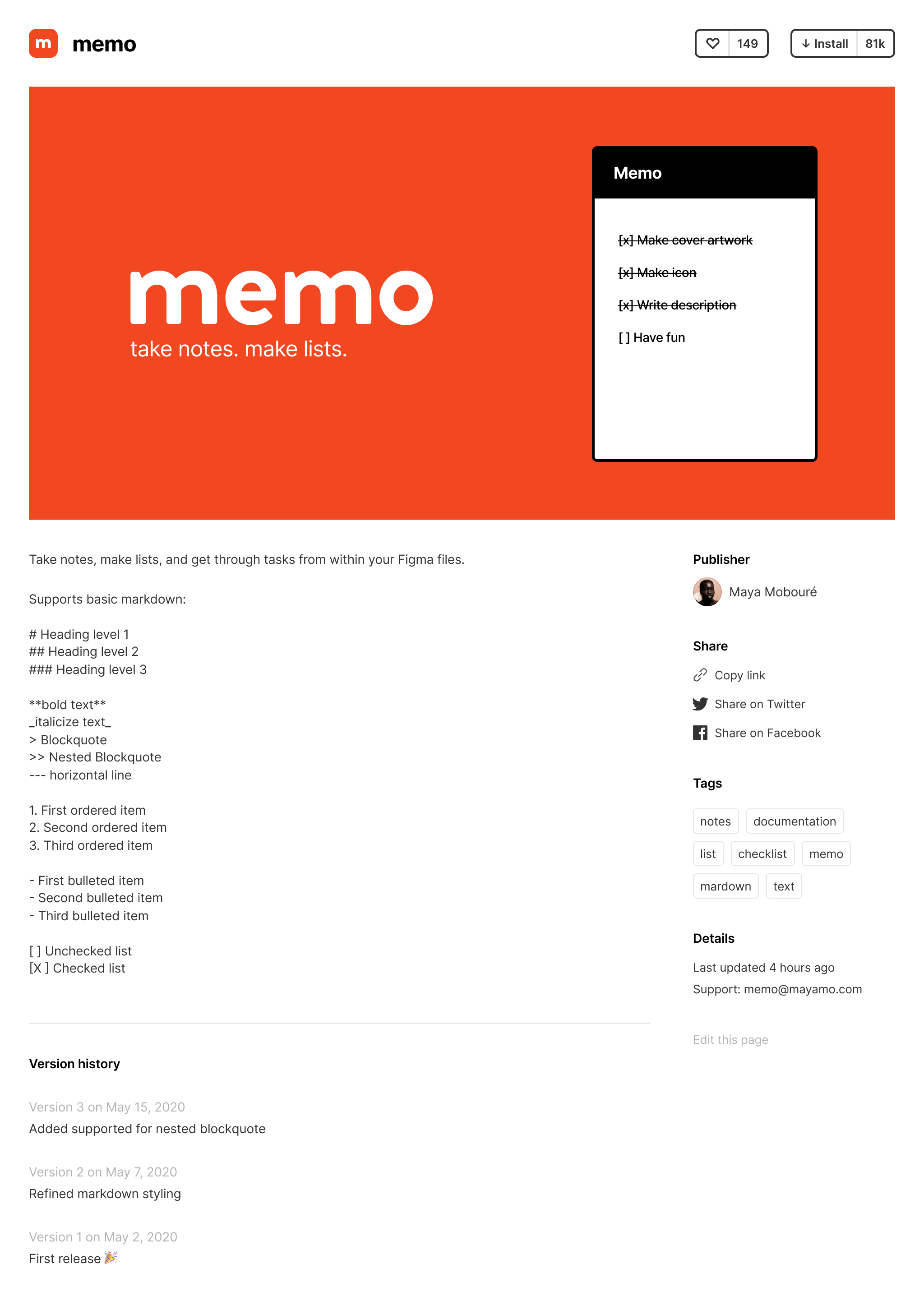 Monetization: You cannot display advertisements to users within design files, or as part of a plugin's UI. However, there are no restrictions around creating websites or profiles for your plugin.
There isn't currently a way to monetize plugins in Figma Community itself. If you require a paid subscription, you can direct users to a third party site from your plugin description.
Submit your plugin
When you're ready to share your plugin with the Figma Community, you can submit it for review. You can only submit plugins from the Figma Desktop app.
Open the Figma Desktop app.
Click on your name in the File Browser to open your account.
Select the Plugins tab to view the plugins you have In Development.
Click on the plugin you'd like to publish and select Publish from the options.
Upload your Icon and Cover Art.
Update the plugin's Name if needed.
Add a Description of the plugin to set your plugin apart. Figma supports the following formatting:

Bold
Italic
Strikethrough
Header 1
Header 2
Bulleted list
Numbered list
Add hyperlink
Inline code
Code block

Add any tags and a support contact.
Who you can publish as will depend on your permissions and if you're a member of a team or Organization. If applicable, choose the Author and where to Publish to. (Learn more below)
Click Review to submit your plugin.
Before Figma lists a plugin in the Figma Community, it needs to go through our review process. Figma doesn't review private plugins. Read our Review Guidelines.
Figma will move your plugin to the Published section, with an In review badge.
Tip! Submitted for review, but noticed a mistake? You can still push updates to your plugin during the review process. Learn more about publishing updates and providing support in our Maintain and support your plugin article.
Choose author
If you are an Admin of a team, or an Organization Admin, you may be able to publish to more than one profile. Learn more in our Who can publish Files and Plugins? article.
You can choose which profile you want to publish to via the Author field. If you aren't a member of an Organization, or a Team Admin, this will be your name in Figma.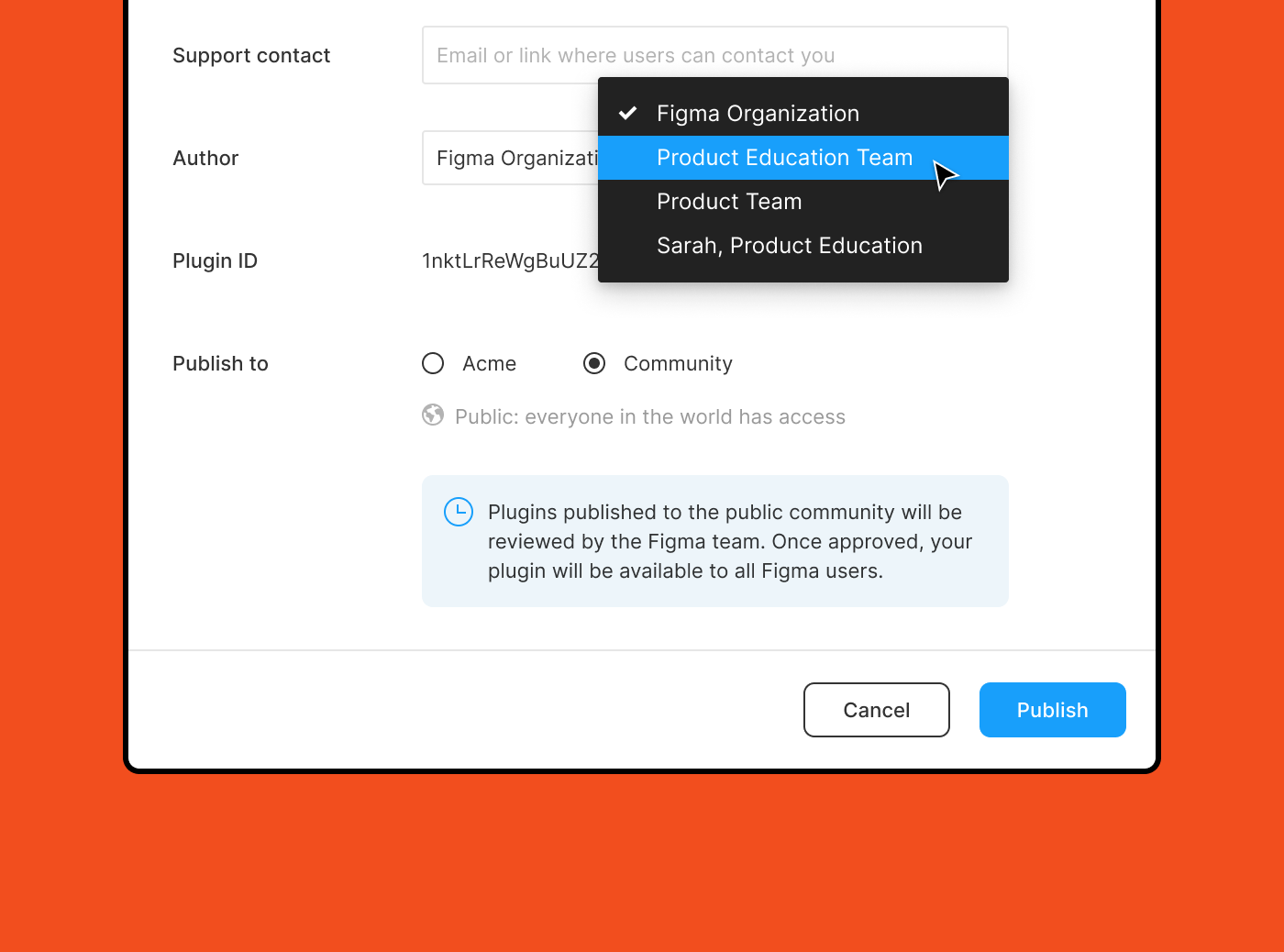 Publish to Organization or Community
If you're a member of a Figma Organization, you can also choose to publish a plugin privately. This allows other members of your Organization to use your plugin.
Select Organization to publish privately to your Organization
Select Community to publish publicly to the Figma Community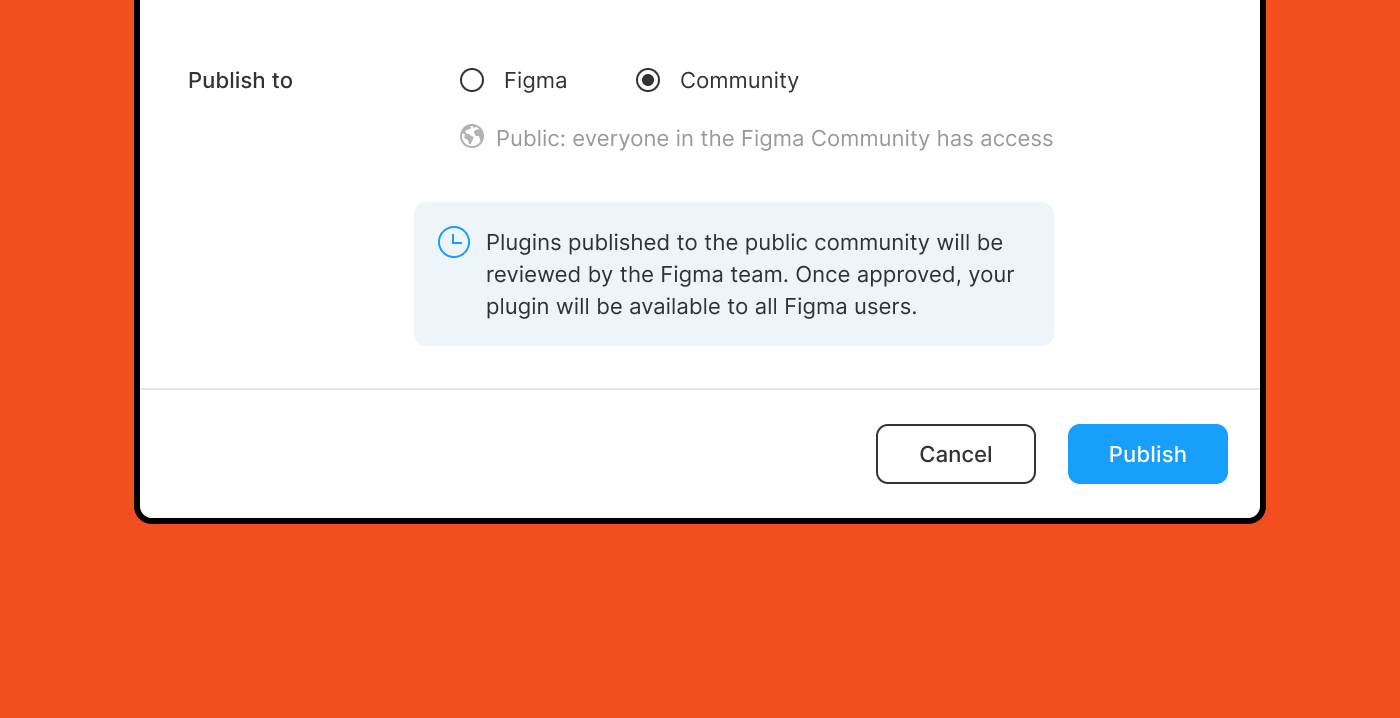 Plugin reviews
Figma will contact you via your Figma account email to notify you of our decision. Our goal is to reach a decision within 5-10 business days.
Figma will add a Published badge next to your plugin once it has been approved. If Figma rejects your plugin, you may submit again after addressing any feedback.
Warning! Any attempts to exploit the Plugins API will result in immediate removal. We will also ban you from publishing future plugins to the community.
This includes but is not limited to: Providing false information, plagiarism, deceitful manipulation of user files, and theft of data.
Share your Plugin
Figma lists published Plugins in the Figma Community. This allows other Figma users to find and install the plugins you've created.
You can share a link to a specific plugin's listing, or to your publisher profile, if you have more than one plugin. You can find the plugin URL in the Share section of your plugin listing.
Plugin URLs follow these formats:
Plugin listing: https://www.figma.com/community/plugin/identifier/name
User profile: https://www.figma.com/community/user