Upgrade to the Organization plan
Who can use this feature
Supported on Starter, Education and Professional Figma plans can upgrade to a Figma Organization.
Only team admins or owners can upgrade Professional teams.
Any editor can upgrade Starter teams.
Figma only supports credit card payments for automatic upgrades. Paypal, ACH, or wire transfers are not supported.
The Organization plan has everything you need to scale your design with confidence. Upgrade to access to all the Figma features you know and love, as well as more features and access controls. See what's included and compare plans →
There are two main ways to upgrade to the Organization plan:
A

Upgrade in Figma

Upgrade to the Organization plan in your Figma account.

You need to be an admin of any teams you want to include in the organization to include them in the upgrade.
You can only pay for this type of organization via credit card. Billing on the Organization plan →
Your organization won't include domain capture. Domain capture makes sure everyone with a company email is added to the organization.
If you are already part of an organization with domain capture, you can't use this process to upgrade external teams or add them to the organization.

B

Figma Sales team

The Figma Sales team can guide you through the process of upgrading to the Organization plan.

Your dedicated representative will provide advice on everything from procurement to best practices. They can set up trials or training sessions, help with security or legal reviews, and assist with any onboarding operations.

You'll also have access to other features:

Greater control over which teams to upgrade
Add other domains or enable domain capture
Payment via invoice, ACH, or wire transfer
Add or remove teams from an existing organization
Customize other aspects of your organization, like other domains
In this article, we only cover the process of upgrading in Figma. To speak to the Figma Sales team, visit the Figma Organization page and click Contact Sales.
Upgrade plan
Important information: Upon upgrade, Figma will move your existing teams into a dedicated organization workspace. During this time, you won't be able to access your existing teams or the organization workspace.
This process usually takes a couple of minutes, but can take longer for teams with hundreds of members or a large amount of resources. We recommend you set aside an hour for this task and choose a time which will cause minimal disruption to your team(s).
Upgrade an existing Professional, Education, or Starter team to the Organization plan.
If any of the teams included in the upgrade have existing Professional subscriptions, Figma will automatically refund the remainder of the subscription(s). This applies to both monthly or annual subscriptions.
The pro-rated amount will be refunded, as a separate payment, to the credit card originally registered to the Professional team. This can take around 5 to 10 days to show up on your statement.
To upgrade teams to the Organization plan, you need:
A Figma account registered under a verified company email. This is an email address registered to a company domain, like name@figma.com.
An admin or owner role on any teams you want to upgrade
A valid credit card
Select teams to upgrade
In the file browser, click on the team you'd like to upgrade.
Go to the Billing tab.
Under Plan summary, click the Upgrade to organization link.
Select Choose Organization from the plan options.
First, you'll need to tell us which teams you want to include in your organization. Figma only lists teams you're currently an owner or admin of.
View the team name and icon.
View the total number of current editors for each team.
Click on a team to view the editors and viewers that will be included in the new organization.
Check the box to include the team in the migration.
Missing a team? We recommend exiting the upgrade process and checking that you are an Admin of that team. You will be able to create new teams or upgrade other teams once you have set up the organization.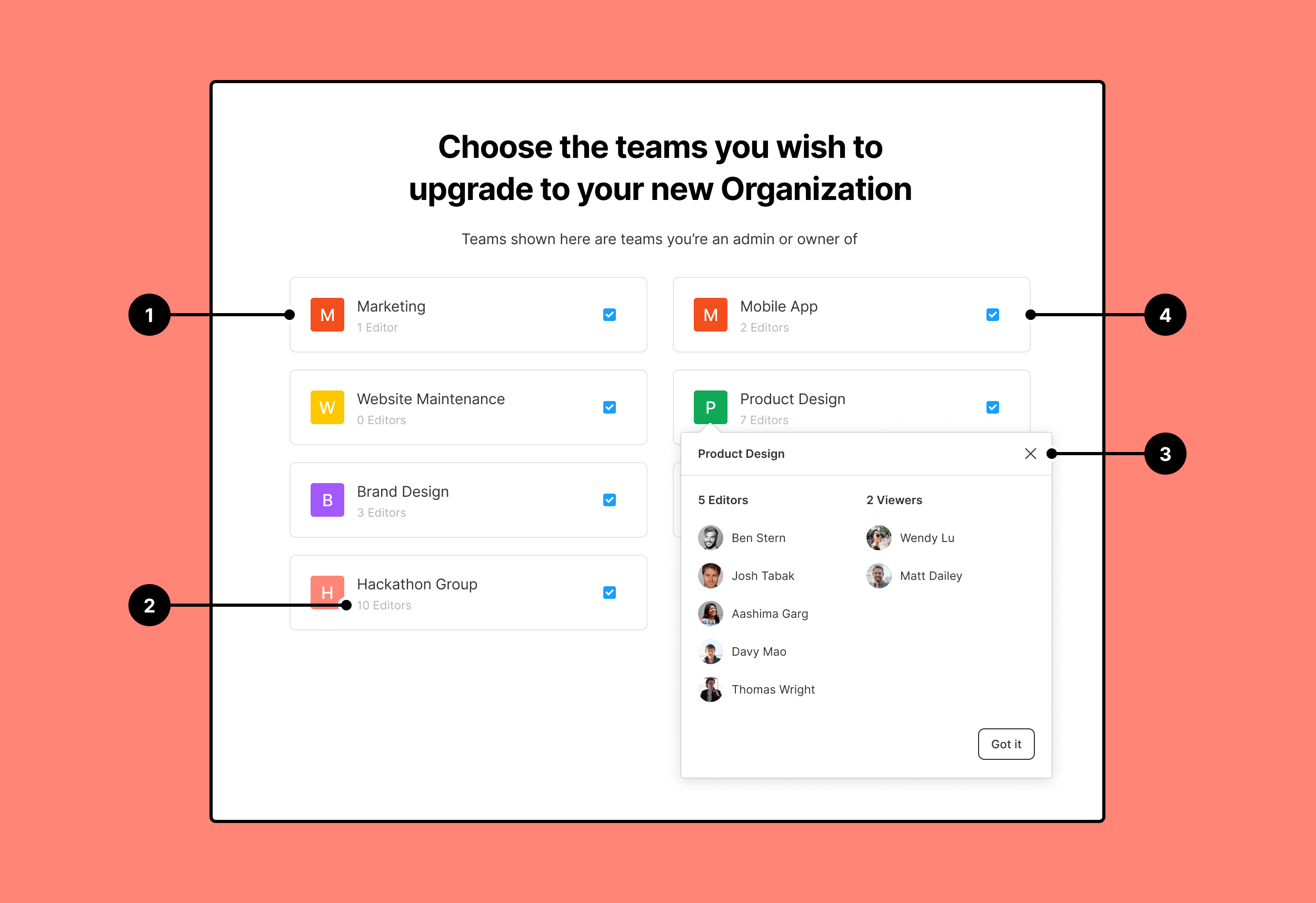 View members and guests
Figma lists all team members that will be included in the new organization. You can access this list throughout the checkout process.
View a list of editors (paid) and viewers (free). Learn about account types →
People with emails that doesn't match the company's domain have a guest badge.
Hover over a member to see teams of which they're a member.
Use the button to add extra editor seats to your organization. This is handy if you plan on upgrading existing members, or want to add editors outside of these teams.
View the domain Figma will register for your organization. Figma bases this on the domain of your current email address.
View the total number of editors that Figma will include in your organization's annual subscription. You can add new editors to your organization throughout your billing cycle. Figma accounts for new Editors via a quarterly true-up process.
View the expected Subtotal of your organization's annual subscription.
Click Next: Organization details to proceed.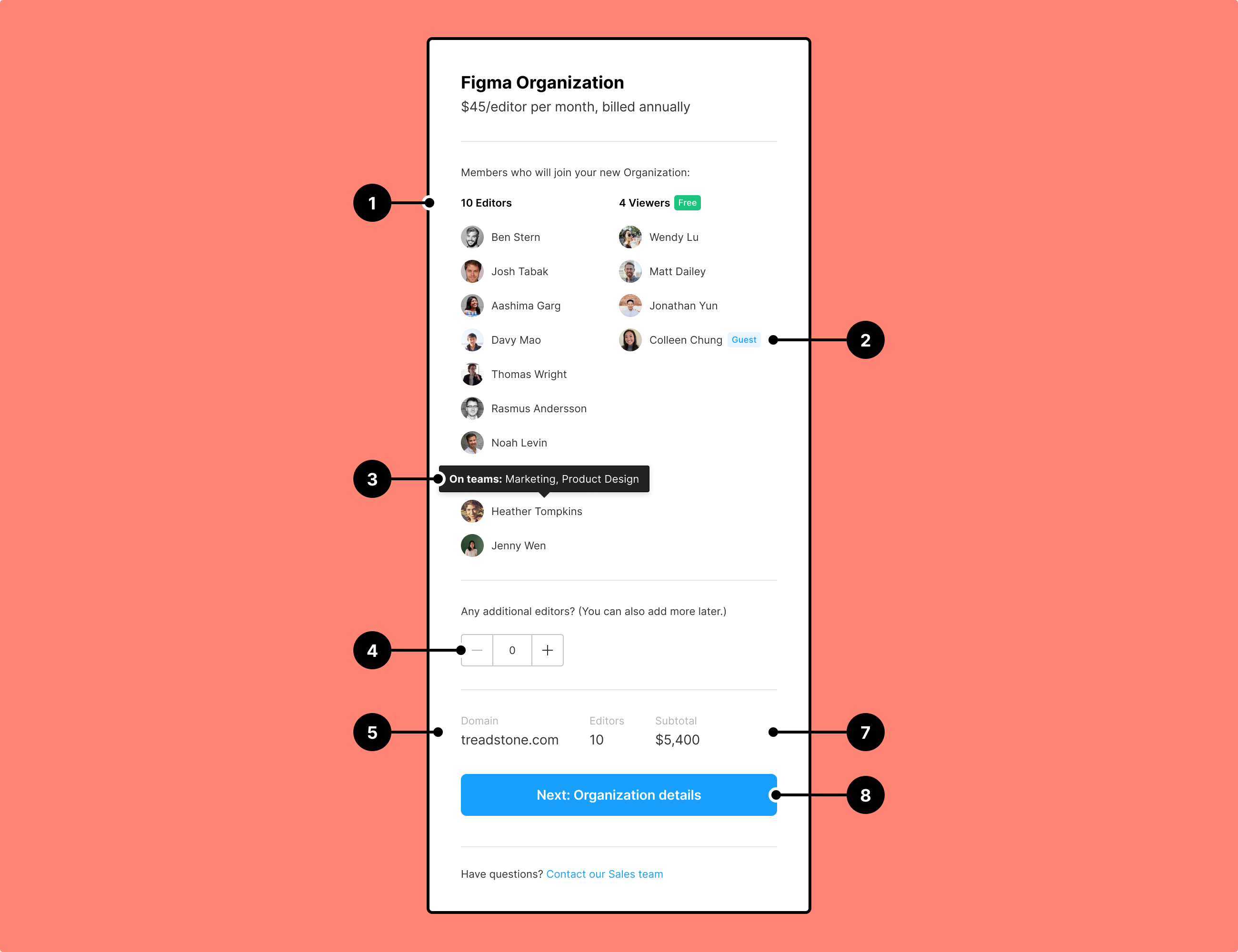 Confirm organization details
Confirm some basic information about your new organization.
Enter or update Your Full Name. Figma will make you an organization admin as part of the migration process.
Confirm or update your email address. This must be a company email. For example: an address not registered to a gmail.com or hotmail.com domain.
Enter the Legal company name.
Choose a Company display name, if this is different than your trading name. This is the name Figma will use in the product.
Click the Next: Payment button to proceed.
Enter credit card details
We only support payment via credit card through the upgrade process. Payments via Paypal, ACH, or wire transfers are not supported.
Enter your payment details into the fields provided

Card number, Expiry date, and CVV
Street Address, App/Suite/etc
Country
City, State, and Zipcode

Click Next: Review to proceed.
Note: There isn't currently a way to update your credit card for an organization in Figma. Reach out to the Figma support team for help updating your credit card details.
Review details
Review everything that will be included in your organization.
At the top of the page, view a summary of your organization:

Company name
Company display name
Domains
Teams
Editors

View an explanation of the quarterly true-up process. You'll see the date of your next quarterly true-up.
View your order details:

The date of your next Annual renewal
Total Editors: Use the icon to add extra Editor seats to your organization.
Subtotal
Sales tax (if applicable)
Total due today

Review the Software Service Agreement and Renewal and cancellation terms. Click I agree to accept and activate the purchase button.
Click Complete purchase to start the migration process.
Figma will move your existing teams into a dedicated organization workspace. During this time, you won't be able to access your existing teams or the organization workspace. This process usually takes a couple of minutes, but can take longer for teams with hundreds of members.
Click Go to Figma to get started with your organization. Explore your organization workspace →