Figma has a number of features under development that are available to users in beta. In this article, find out which beta features are available, what they are, their beta types, and how to access each one.
Beta types refer to the level of access. These include:
Open beta: All Figma users can join the beta
Closed beta: Only users who receive an invite can join the beta
Limited beta: The beta is available to all Figma users, but is limited to a certain number of beta users
Note: Beta features can change during the beta period. You may experience bugs or performance issues during this time.
Accessible prototypes
open beta
Accessible prototypes in Figma are currently in open beta.
This beta version allows you to navigate through content using a screen reader. To use accessibility mode in a prototype, you'll first need to install a supported screen reader.
If you experience any issues while using the accessibility mode beta, please fill out this feedback form.
Learn how to use accessible prototypes in Figma ->
Component properties, select features
open beta
Component properties are the changeable aspects of a component. You can define which parts of a component others can change, like whether you can swap an instance or hide certain layers.
Component properties is available to everyone, however a few features are currently in open beta:
Preferred instances: Increase guidance on how to use a component by curating a list of suggested instances for instance swapping.
Expose nested instances: View and edit component properties in nested instances directly from the top-level component. Save time by removing the need to double-click through nested layers.
Simplified instances: Declutter the layers panel and right sidebar by hiding unnecessary layers and attributes. Focuses attention only on layers with component properties.
To access component properties features currently in beta:
Select a main component and component property.
Click in the Properties section of the right sidebar.
Toggle on Try new authoring features.
You can also go to your account settings to toggle the beta feature on and off.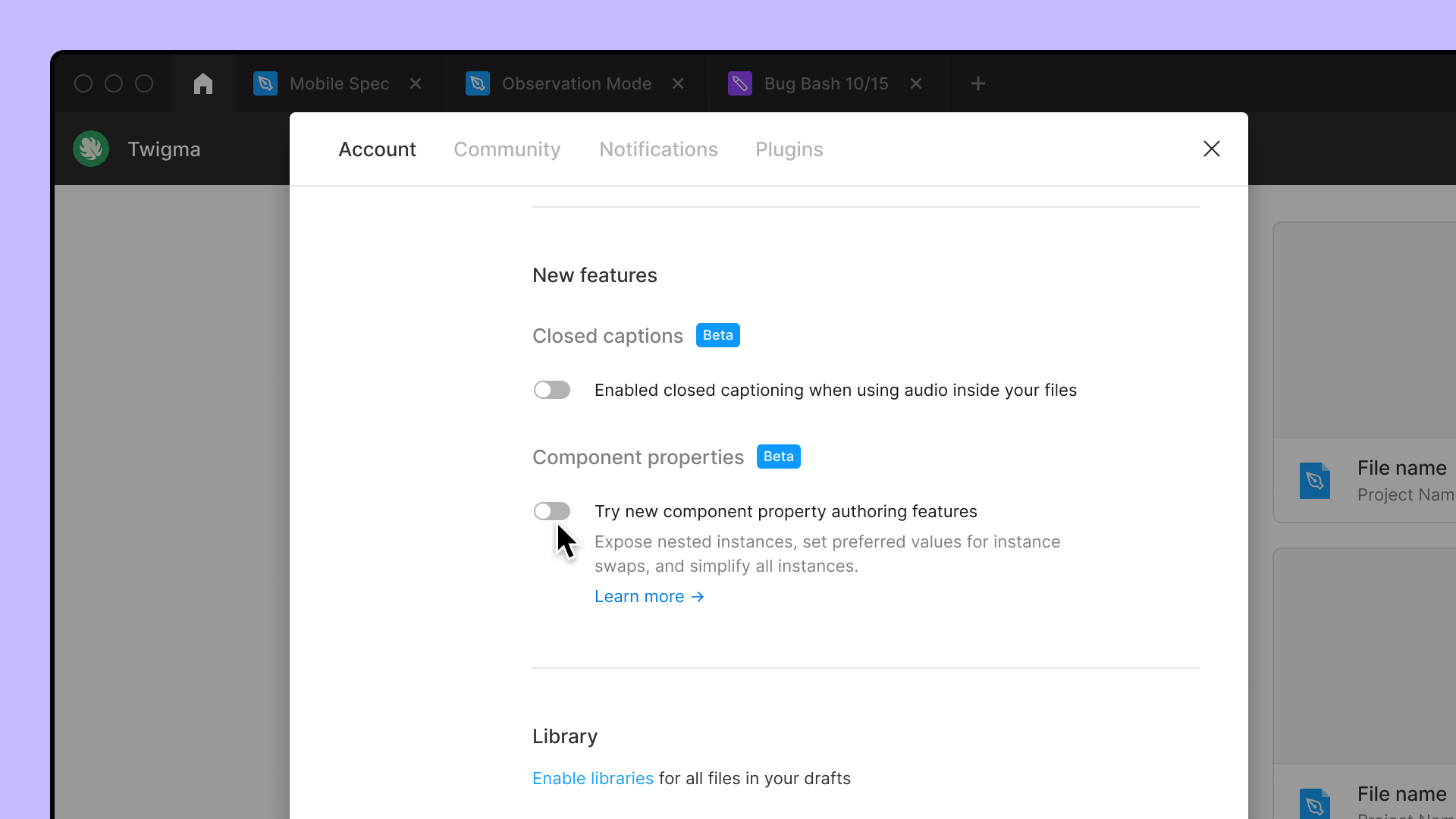 Got feedback on this open beta? We'd love to hear from you! Fill out the component properties feedback form →
Desktop app
open beta
Figma has a beta version of the desktop app available.
By using the beta version of the app, you're helping Figma test bug fixes and performance improvements, before we release them to the general public. The beta version does not give you access to features Figma hasn't released yet.
You can install and use the Figma desktop app and the beta version at the same time. Both versions of the desktop app will offer the same core features and functionality.
Learn how to download the beta version of the desktop app →