Before you start
Who can use this feature
You need a Figma account to install plugins or duplicate Community files.
You will need a Community profile to follow profiles, like files and plugins, or add comments.
The Figma Community is a space where creators can publish design files and plugins. This allows anyone to follow, share, and support fellow creators. View Figma Community Guidelines →
Discover and explore files, plugins, and creators in the Community. Access the Community in a few ways:
A

File browser

Open the file browser.
Select Explore the Community in the sidebar.

B

Workspace switcher

Open the file browser.
Open the workspace switcher in the top-left corner.
Select Community from the options.

C

URL

Access the Community by visiting figma.com/community

You can browse the Community from desktop or mobile, even if you're not logged in to Figma. If you're logged in you can install plugins and duplicate files on your mobile.
Explore the Community
There are a few ways to navigate the Community: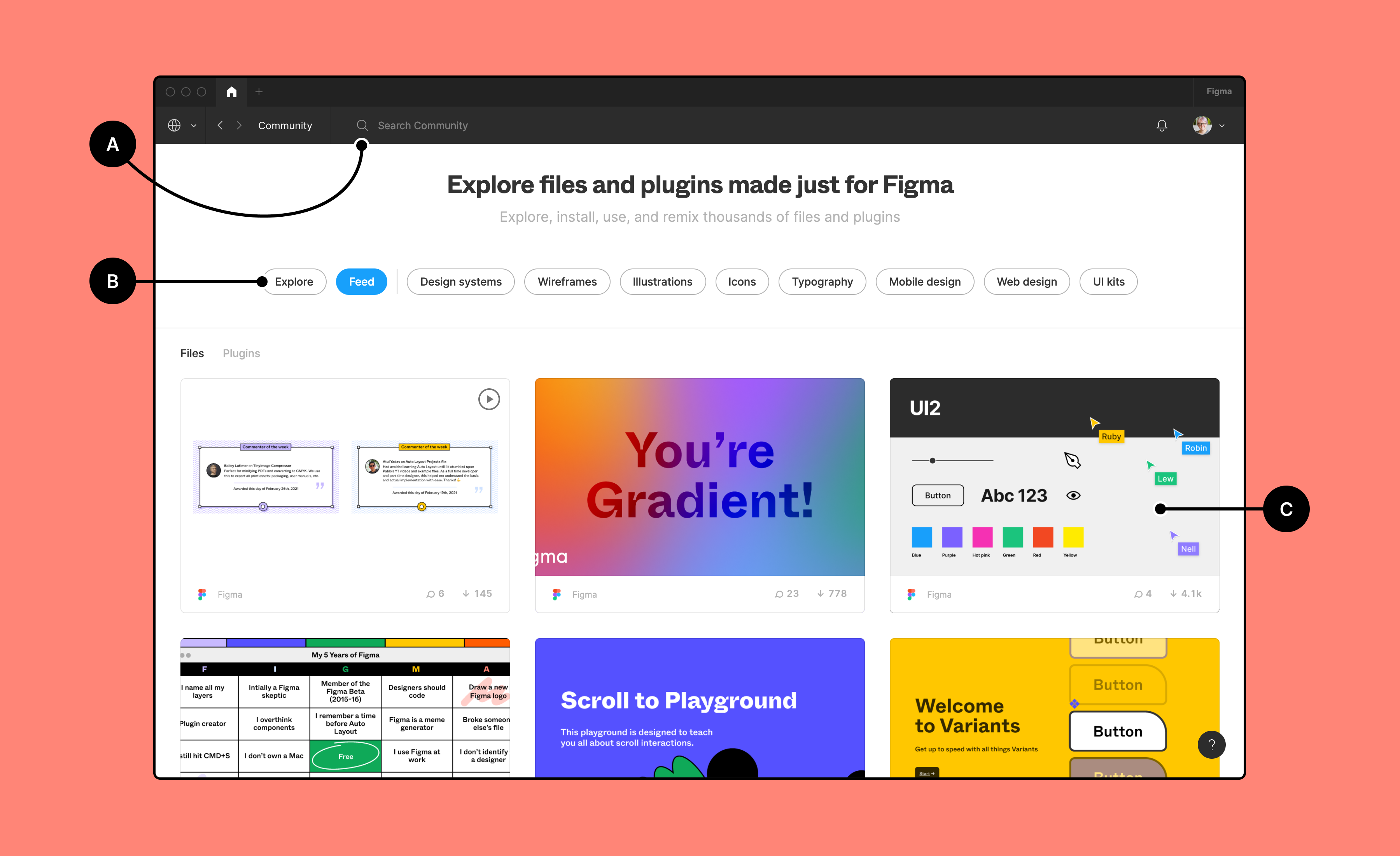 Note: If you're using the Figma desktop app, you can move between pages in the Community using the and buttons at the top of the window.
Click to open the workspace switcher and switch to another workspace or account.
A

Search

Search for files, plugins, and creators by name Figma, profile handle @figma, or tag wireframes. Press Enter to search.

Click Files, Plugins or Creators to view results for each resource. The count next to each heading lets you know how many results there are for each resource.

Sort results by trending or recent.

B

Explore

Click Feed to view resources from creators you follow (default). Click Explore to browse popular resources in the Community.

Click on a featured category to explore related resources. Choose from design systems, wireframes, illustrations, icons, typography, mobile design, web design, and UI kits.

C

View
Profiles
Community profiles showcase contributions to the Figma Community. Every profile has a unique profile handle: @figma. The profile handle also forms the URL for that profile: https://figma.com/@figma.
Creators can personalize their profile with a picture and cover art. They can also add a bio, location, and a link to their website.
You'll need a Community profile to like resources, or follow individuals, teams, or organizations.
Create profiles for individuals, teams, or organizations
Share your profile link to with others so they can see your contributions
Search for profiles by name or handle
Click on a profile picture to view their Community profile
View any files and plugins creators have published
Create a Community profile for an individual →
Create a Community profile for a team →
Create a Community profile for an Organization →
Follows, likes, and comments
You will need to have a Community profile to follow creators and like resources.
Follow creators to stay in the loop. View any files or plugins from creators you follow in your For you feed.
Like files and plugins to show your support. View a member's likes - including your own - on their Community profile. Learn more about follows and likes →
Engage with others members of the Community with comments. Use comments to provide encouragement, ask for feedback on your work, and build meaningful relationships with other creators. Learn more about comments in Community →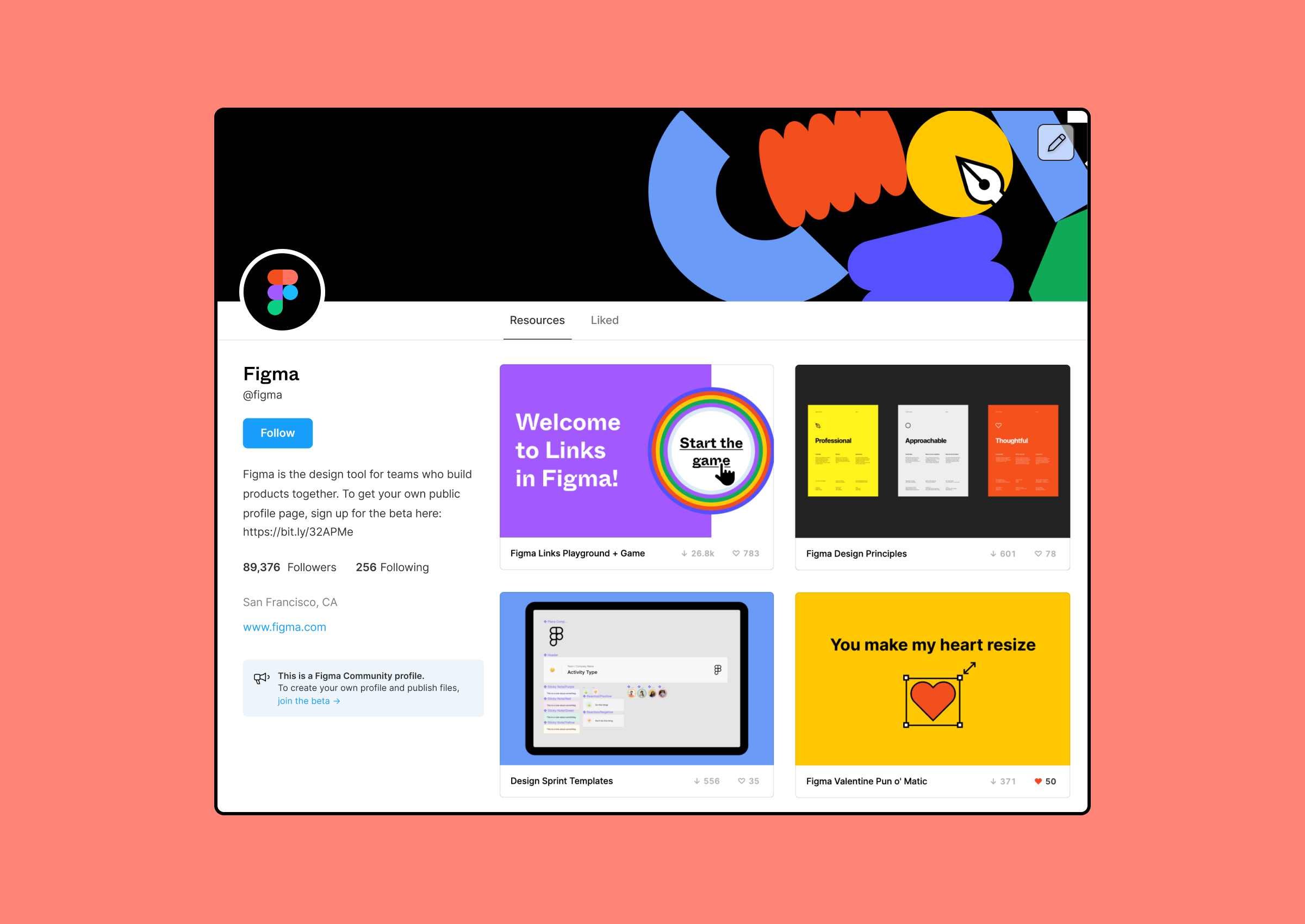 Community files
Publishing files and remixes to the Figma Community is currently in beta. Only members of the Figma Community beta can publish files.
Community files are snapshots of design files that creators have shared with the Community. Anyone with a Figma account can duplicate, inspect, and remix Community files.
Community files aren't live versions of the file. Community members that duplicate the file won't be able to access any comments or version history from the original file.
Community files have an Attribution 4.0 International (CC BY 4.0) license. You are free to share and adapt these files, but you must give credit. Learn more about copyright and licensing in the Figma Community →
File pages
Every Community file has a page where you can view relevant information about the file, such as name, creator, description, and tags.
Publishers can choose to preview files or prototypes on their listing. You can interact with the file or prototype as you would any regular embed. If the file is a remix, or another member has remixed the file, you'll see a preview of the remixes too.
Like and duplicate Community files →
Remixes
Figma encourages sharing and iterating on Community files. If you've duplicated a Community file and made it your own, you can also publish this file to the Community.
Figma considers these files a remixes. Figma tracks every remix for better feedback loops and easier attribution. When you publish a remix, Figma will:
Add an attribution to the file page to show the original file and creator(s).
Add this file to the remixes section of the original file page.
Create a remix page when there are more than three remixes of a file.
Tip! If there are more than three remixes of a file, click See all to view all remixes on a dedicated page. Or, click Hide remixes to hide them from the file page.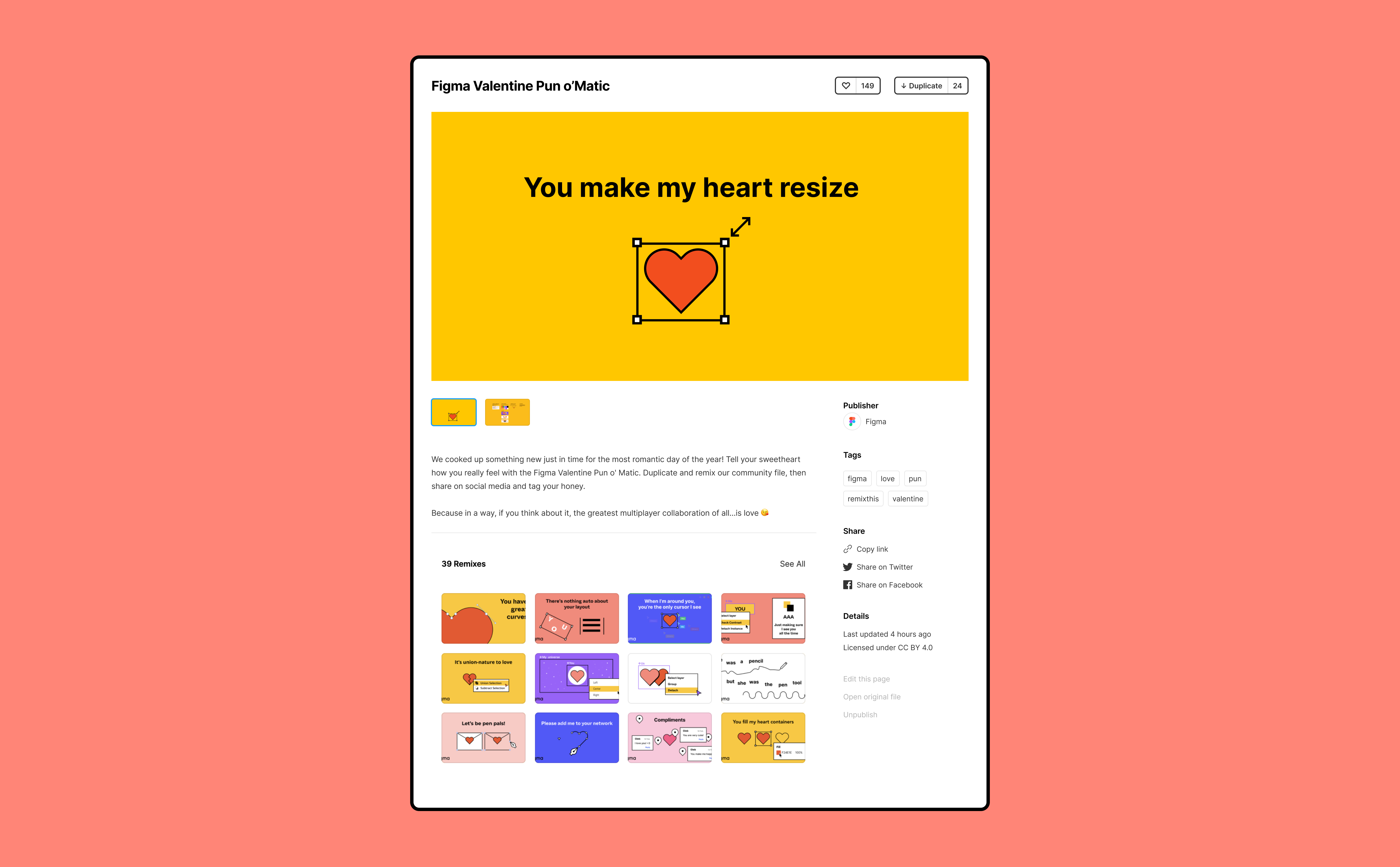 Plugins
Plugins are third-party scripts or applications that extend the functionality of an application. In Figma, plugins run in the Editor and let you to perform tasks within files. Use plugins to customize your experience, or create more efficient workflows.
Figma's Plugin API → supports both read and write functions. This lets you view and modify existing layers and objects, as well as create new ones.
View plugins
Every plugin has a page where you can view information about the plugin, such as the name, creator, instructions for use, and any version history.
Developers can also personalize their plugin with an icon and cover art. Figma will use the icon to identify the plugin within the Community and in the Editor.
Learn how to find and install plugins →