Guide to the Figma Community
Who can use this feature
You need a Figma account to use plugins and widgets or duplicate Community files
You need a Community profile to follow profiles or add comments
The Figma Community is a space where people, teams, and organizations can publish files, plugins, and widgets. Join the Community to discover resources and support other creators. 
Our vision is to make design accessible to all, and the Community is one part of that vision. Help us build an inclusive space where people from around the world can share and discover creative work.
View the Figma Community Guidelines →
Explore the Figma Community
You can find resources by browsing through feature categories, top tags, and rotating resource collections curated by Figma. You can also search for specific resources and creators by name, tags, or profile handle (for example, @learn). Enter your search term in the Search field at the top of the screen and press Enter.
Filter search results by Files + templates, Plugins, Widgets, or Creators to view results by resource type. The count next to each option lets you know how many results there are for each resource. You can further narrow down the results using the additional filter options.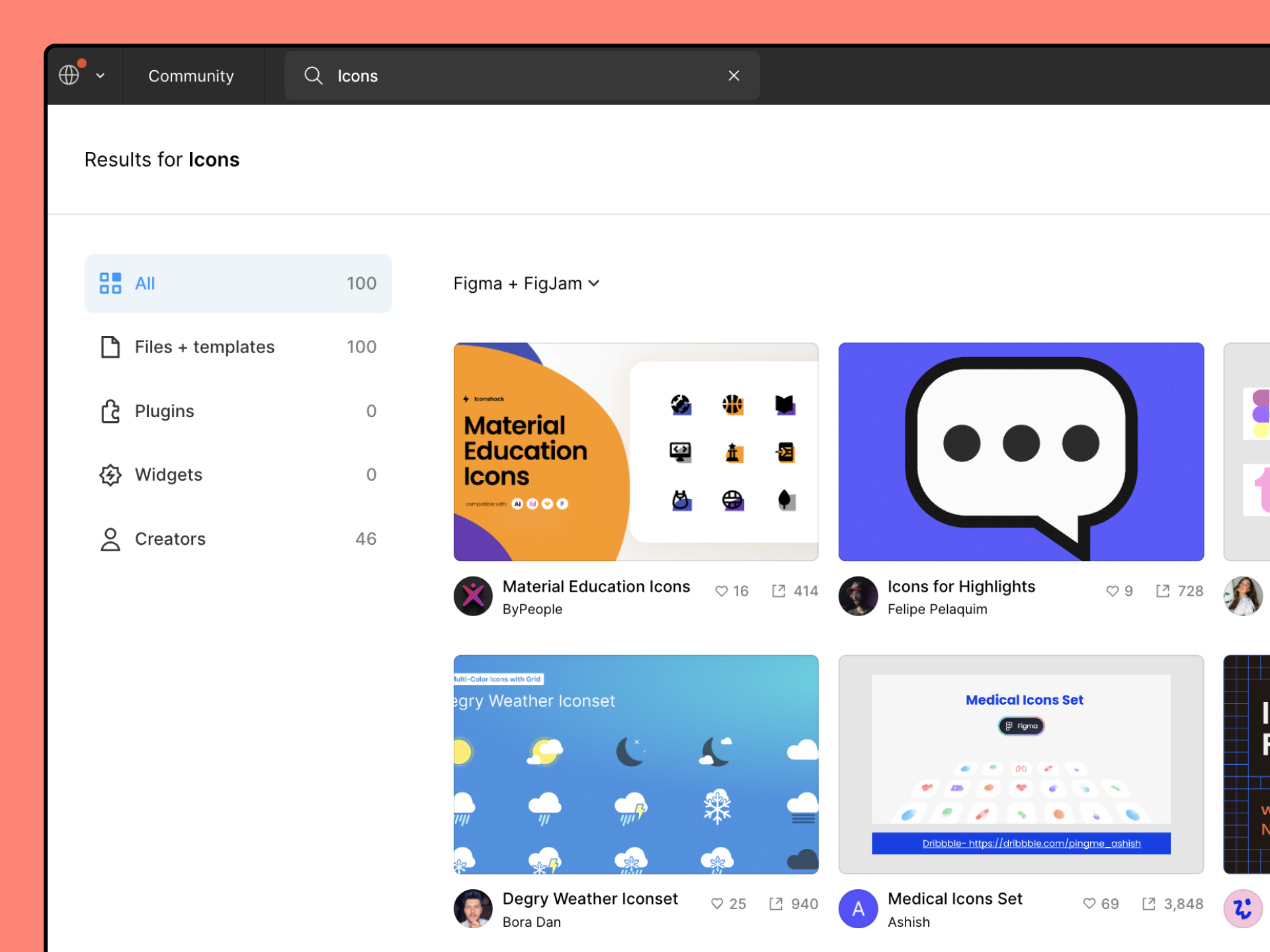 Note: Team and organization admins can also browse the Community as an admin. This allows you to manage resources on the team or organization's profile, as well as manage plugins across the organization. Access Community as an admin →
Community resource types
You can find files, plugins, and widgets on the Figma Community.
Community Files
Community files are snapshots of Figma or FigJam files that have been published to the Community. Anyone with a Figma account can inspect, duplicate, and remix Community files.
Explore FigJam and Figma design files, interact with prototypes, and view relevant information from the file page.
Learn more about Community files:
Plugins
Plugins are third-party scripts or applications that extend the functionality of Figma or FigJam. Use plugins to customize your experience or create more efficient workflows in Figma design or FigJam files. Anyone with can edit access can run a plugin in a file. Plugins are only visible to the person who ran it and cannot be interacted with by other users in the same file.
Creators can choose to include a playground file when publishing a plugin. Playground files provide additional context on how and when to use the plugin.
Learn more about plugins:
Widgets
Widgets are custom objects you can add to the Figma editor or FigJam board. Use widgets to level up your collaboration sessions with different tools, data from external applications. Anyone with can edit access can add a widget to a file or interact with widgets added by other users. Unlike plugins which are only visible to individuals, widgets are objects that everyone in the file can see.
Creators can choose to include a playground file when publishing a widget. Playground files provide additional context on how and when to use the widget.
Learn more about widgets:
Resource Community pages
Once you've found a resource that interests you, click on the listing to view its Community page. The Community page is where you can read the resource's description, like and save resources, view comments left by the creator or other Community members, and get the creator's contact information for support with using the resource.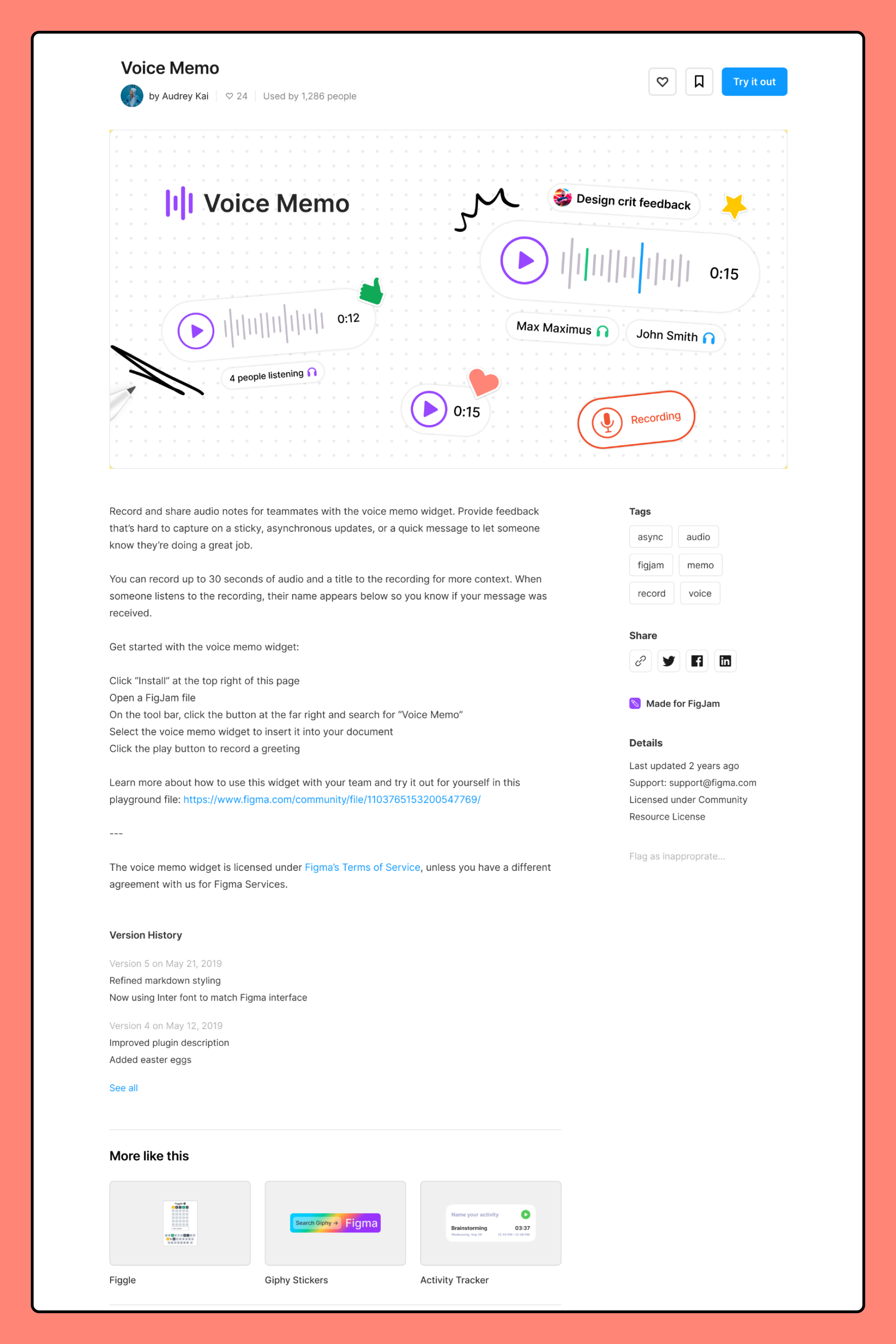 Usage metrics
When viewing a resource's Community page, you may notice two numbers next to the creator's name. The number next to the heart icon indicates how many users have liked the resource. The other number indicates how many people have used the plugin or widget, or duplicated the file.
Note: On paid resources, this metric includes the total number of people who have previewed or purchased the resource.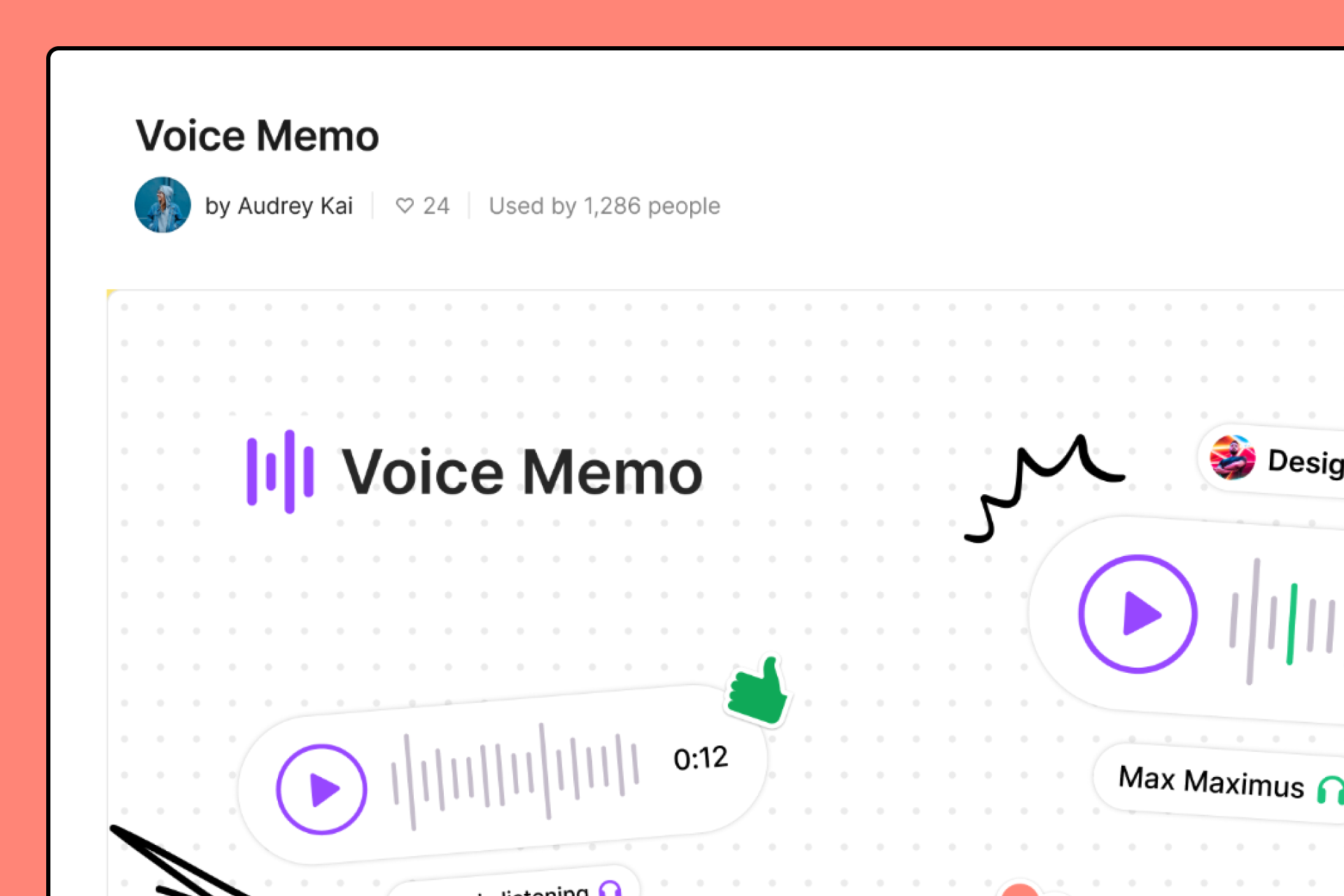 Community profiles
Community profiles showcase contributions to the Figma community. You'll need a Community profile to follow other creators, view your saved resources on Community, or leave comments and reviews.
You can create Community profiles for individuals, teams, or organizations. Create profiles for each of your accounts or use one profile across all of your Figma accounts.
Learn more about Community profiles: