Guide to the Figma Community
Before you begin
You need a Figma account to use plugins and widgets or duplicate Community files.
You need a Community profile to follow profiles, like resources, or add comments.
The Figma Community is a space where people, teams, and organizations can publish files, plugins, and widgets. Join the Community to discover resources and support other creators.
Our vision is to make design accessible to all, and the Community is one part of that vision. Help us build an inclusive space where people from around the world can share and discover creative work.
View Figma Community Guidelines →
Explore the Community
There are a few ways to access resources in the Community:
Search
You can search for files, plugins, widgets, and creators by name, tags, or profile handle (for example, @figma).
Select Files + templates, Widgets, Plugins, or Creators to view results for each resource type. The count next to each heading lets you know how many results there are for each resource. Sort results by currently trending, most popular, recently added, or by price.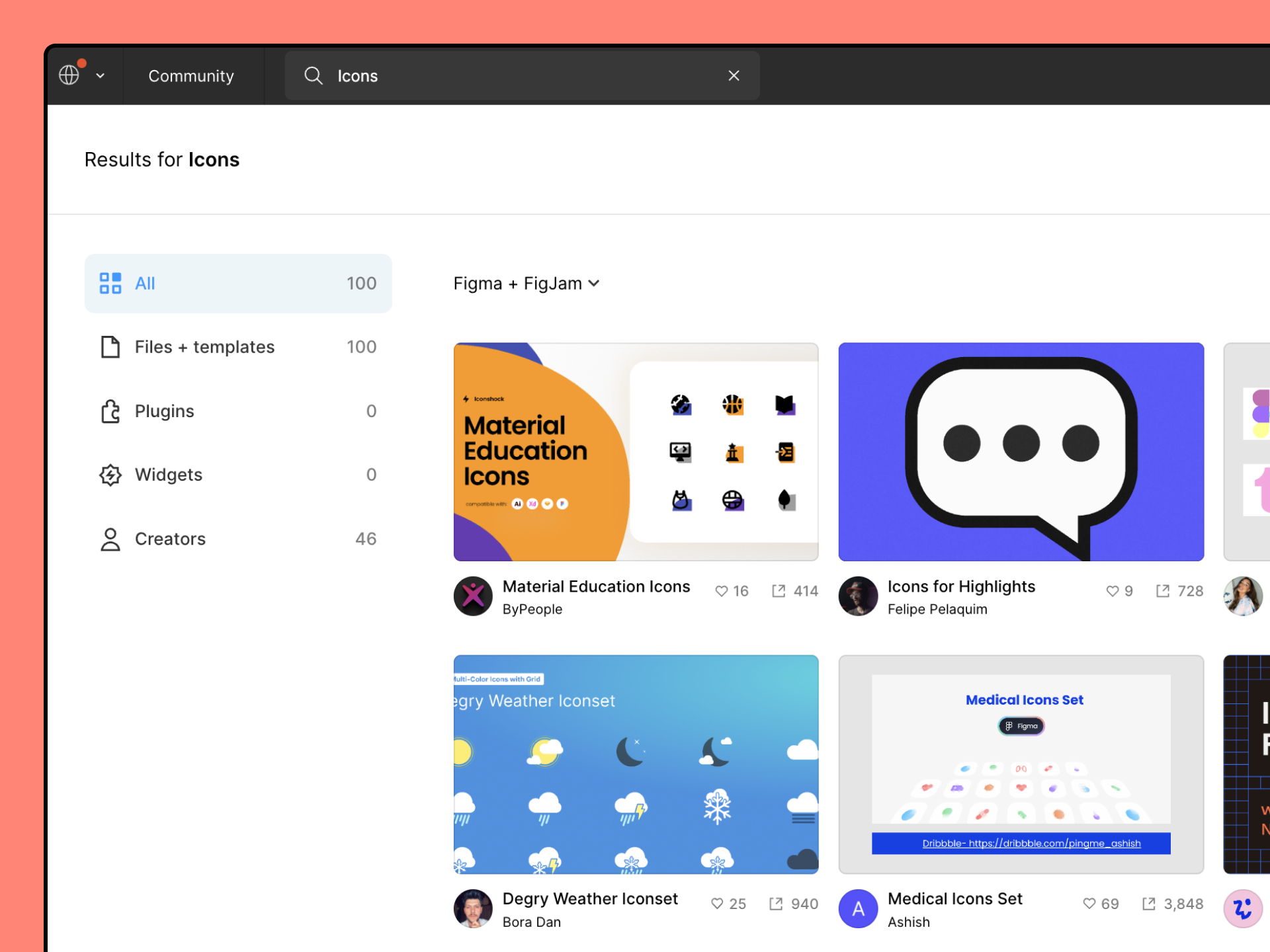 Explore
Browse through featured categories and top tags to view related resources available for Figma design, FigJam, or both editors. Sort results by currently trending, most popular, recently added, free or paid, or by creators you're following.
You can also explore collections curated by Figma. These rotating collections contain some of our favorite design files, plugins, widgets, and creators from the Figma Community.
Note: If you are an admin of a team or organization with a Community profile, you can browse the Community as an admin.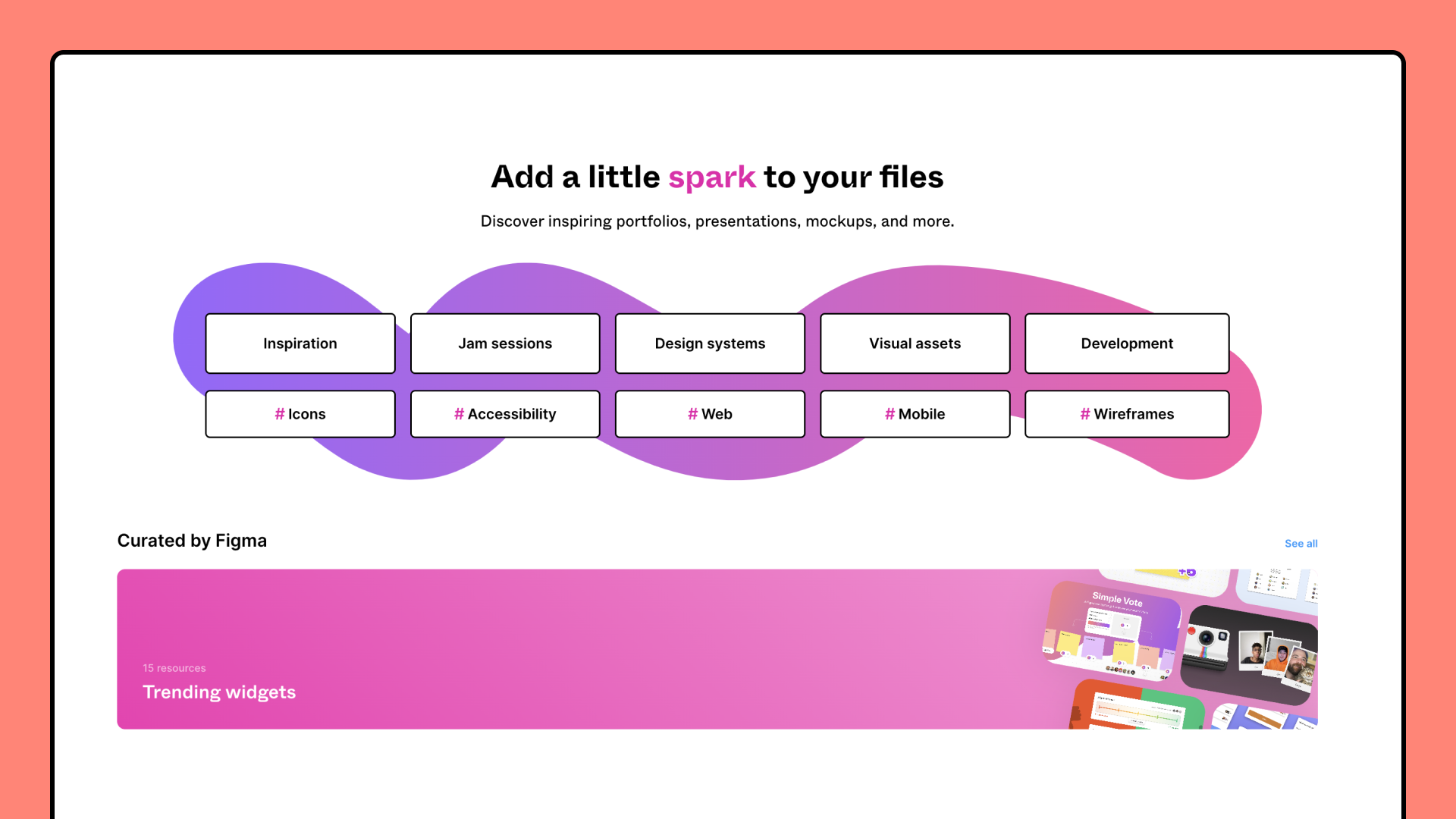 View
Select a file ↓ , plugin ↓, or widget ↓ card to view the listing, or click on a creator's profile ↓ to view their contributions to the Community.
Note: If you're using the Figma desktop app, you can move between pages in the Community using the and buttons at the top of the window.
Select to open the account switcher and switch to another organization or account.
Purchase
You can purchase resources directly from the Community. Learn more about purchasing resources →
Community profiles
Community profiles showcase contributions to the Figma community. You'll need a Community profile to like resources, follow other creators, or add comments.
You can create Community profiles for individuals, teams, or organizations. Create profiles for each of your accounts or use one profile across all of your Figma accounts.
Files, plugins, and widgets can have multiple creators listed, allowing you to recognize other contributors. Creators can choose which resources they're listed as a creator on.
Manage your Community profile and settings →
Note: Team and organization admins can also browse the Community as an admin. This allows you to manage resources on the team/organization's profile, as well as manage plugins across the organization. Access Community as an admin →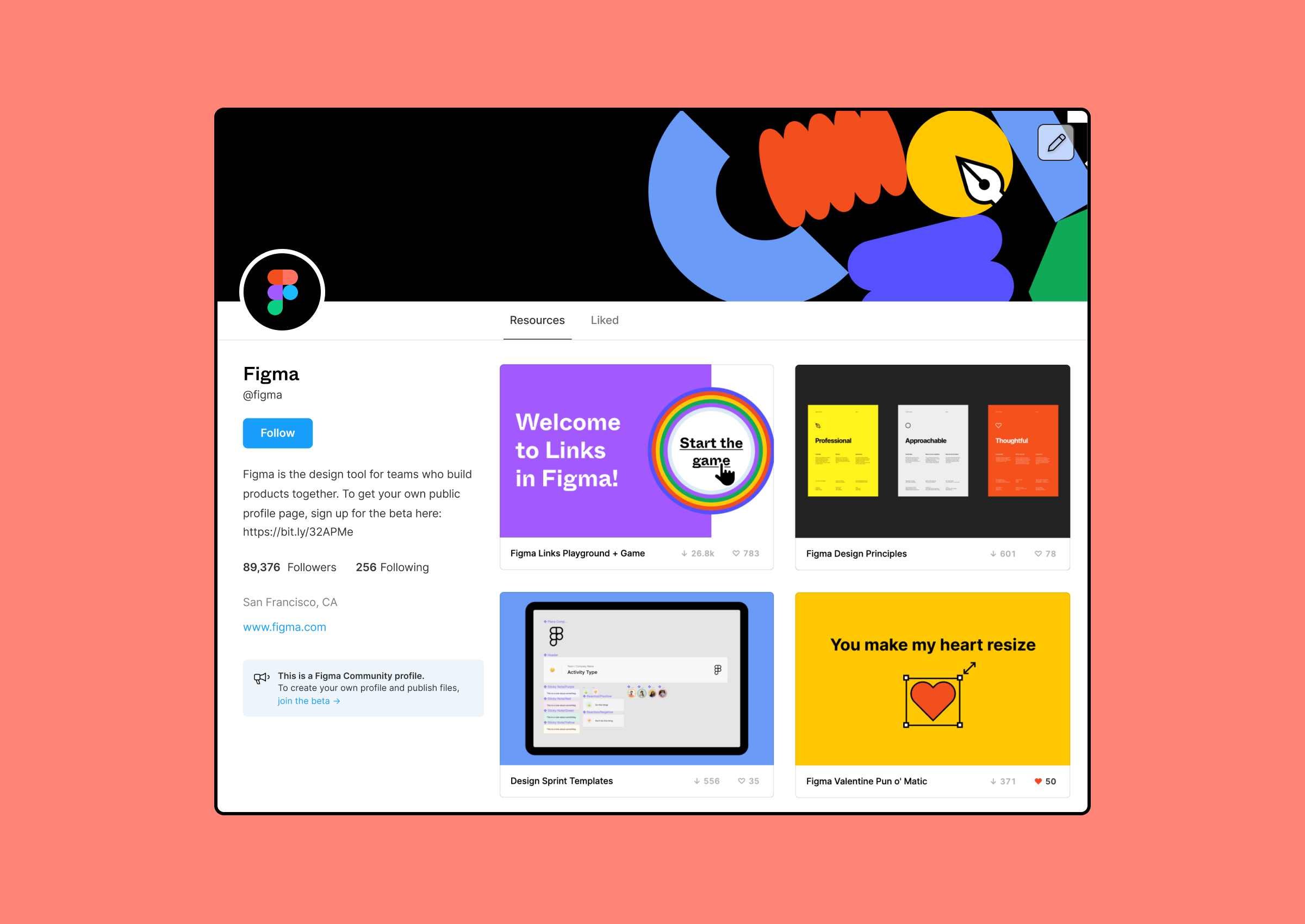 Community files
Community files are snapshots of FigJam or Figma design files that creators have published to the Community. Anyone with a Figma account can inspect, duplicate, and remix Community files.
Explore FigJam and Figma design files, interact with prototypes, and view relevant information from the file page. Click Get a copy to add a copy of the file to your drafts.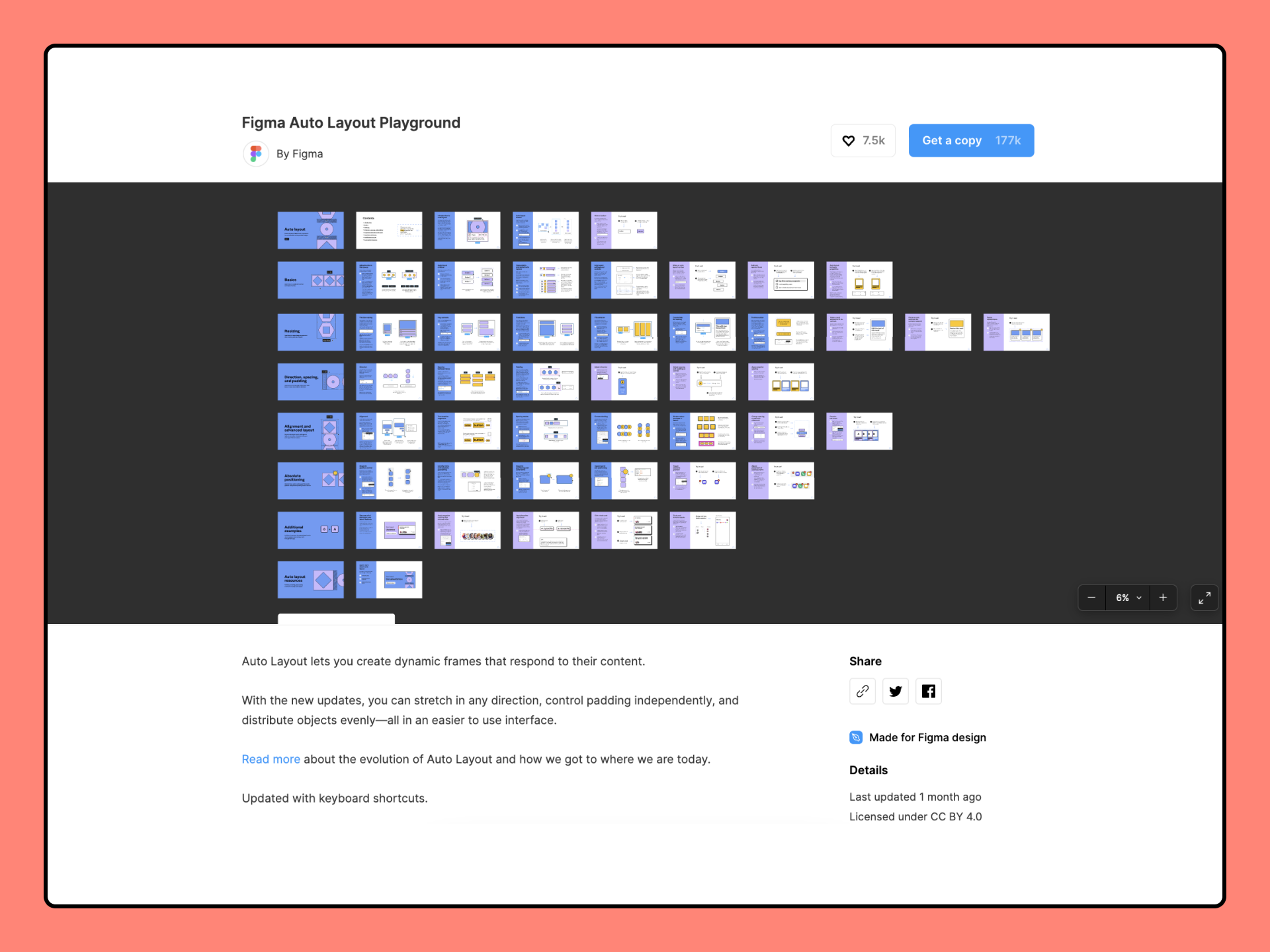 Remixes
Figma encourages sharing and iterating on Community files. If you've duplicated a Community file and made it your own, you can also publish this file to the Community. Figma considers these files a remix. When you publish a remix, Figma will:
Add an attribution to the file page to show the original file and creators
Add the file to the

Remixes

section of the original file page
Create a remix page when there are more than three remixes of a file
If there are more than three remixes of a file, click See all to view all remixes on a dedicated page. If you do not want remixes to display on a Community file you've shared, click Hide section.
Plugins
Plugins are third-party applications that let you perform tasks within Figma design and FigJam files. Use plugins to customize your experience, or create more efficient workflows. View information about each plugin on the plugin's page, including any instructions for use, and any version history.
Plugin developers can create and publish plugins to the Figma Community. Make plugins for the Figma Community →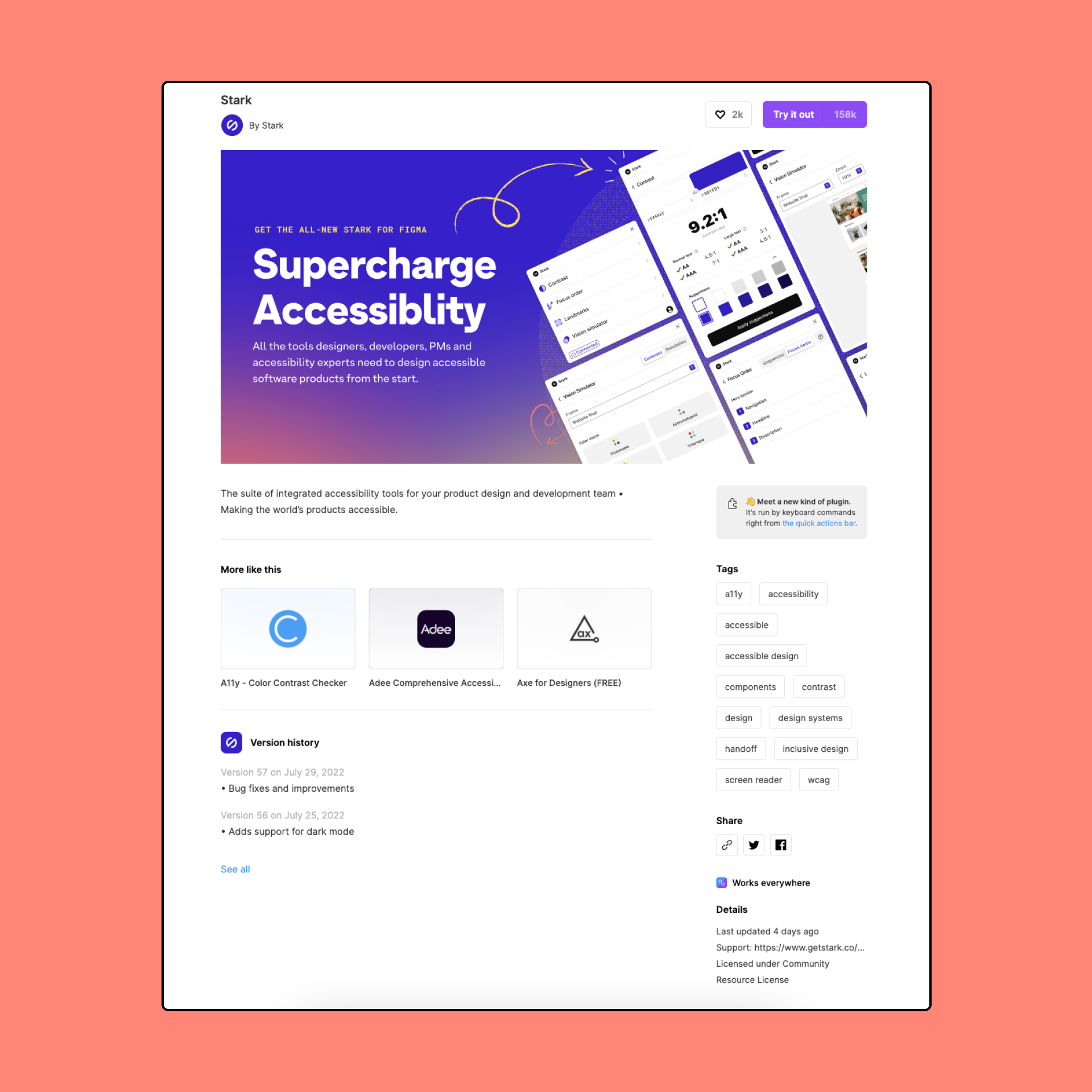 Widgets
Widgets are custom objects that you can add to the Figma editor or FigJam board for everyone to see and interact with. They allow you to level up your sessions with new tools, data from external applications, or new ways to play.
You can add as many widgets as you want and reposition them like any other object. Use widgets to add functionality to your file, such as:
Import CSVs to create tables, or to transform the data into interactive visualizations.
Place polls and voting counters to gather insight from your company on a product idea.
Build a project timeline with other teammates in a calendar widget.
Create pre-styled mind maps and organization charts quickly.
Take a break and play Connect Four or chess with a teammate.
To build a widget, you can use Figma's widget API, iFrame, or browser APIs. When you're ready to share your widget, publish it to the Community for others to use. If you've made improvements, bug fixes, or other changes to your widget, you can publish updates to your widget, and users will receive these updates. Build widgets and share them with the Community →
Usage Metrics
When browsing through Community files, plugins, or widgets, you may notice a number next to the Try it out button (for plugins and widgets) and the Get a copy button (for files). This number indicates the number of unique users who have used a plugin or widget or duplicated a file.
Follows, likes, and comments
Follow creators to stay in the loop, then view resources from creators you follow in the For you feed. Like files, plugins, and widgets to show your support. Follows and likes →
Add comments to provide encouragement, ask for feedback, and build meaningful relationships with other creators. Comments in Community →
Playground files
Playground files supplement widgets and plugins to provide context on when and how to use the plugin or widget. They are especially helpful for showing how plugins or widgets are used on specific layers.
For example, a spell check plugin might include a playground file with misspelled text. A user can duplicate the playground file and try the plugin on the misspelled text.
Open a resource's page and click Try it out. If a playground file is available, the file will be duplicated and saved to your drafts.