The FigJam for iPad app allows you view and edit FigJam boards on the go. Use the FigJam app to:
Draw: Sketch, take notes, highlight, and annotate with precision using the Apple Pencil
Brain storm: Collect and organize photos, links, quotes, and ideas
Diagram: Build out flows and wireframes with shapes and connectors
Decorate: Add flair to boards with shapes, washi tape, stickers, and stamps
Try something new: Explore hundreds of templates for planning and personal projects in the Figma Community
Note
You can't join audio calls in FigJam boards while using the FigJam app.
Download the FigJam app
You can download the FigJam app from the App Store on iPads running iPadOS 15 or later. Download the FigJam for iPad app →
Browse and create boards
You can find existing FigJam boards in the following ways:
Browse the Recents tab to view boards you recently opened
Open the left sidebar and tap Drafts to view boards in your drafts or tap Starred to view boards you've starred
Use the Search tab to find a specific file by name
Tap on a file to open and edit it.
To create a new FigJam board:
Open the FigJam app.
Tap New board in the upper-right corner.
After the new board is created, you can choose to add a template or start adding objects yourself to customize the board. Learn more about FigJam templates →
Navigate around the board
Move around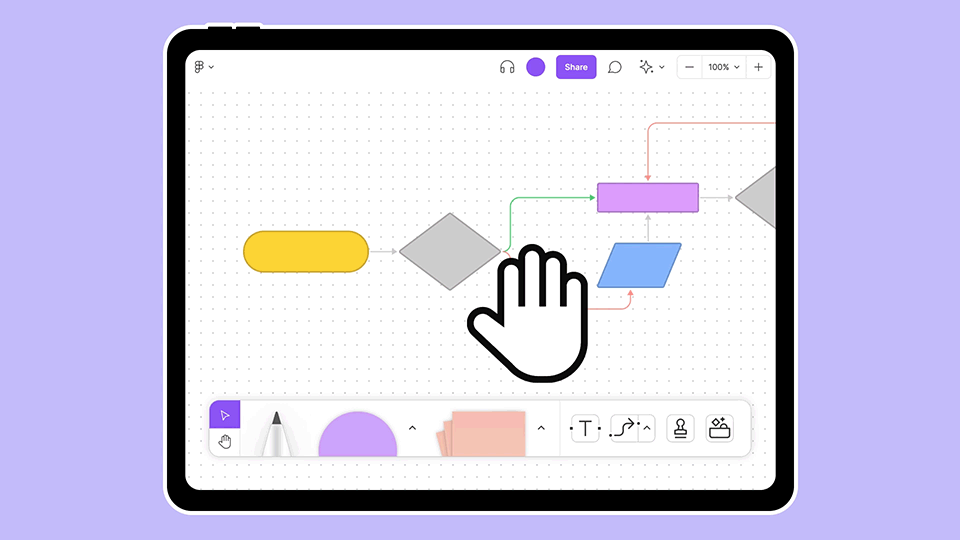 When you first open a FigJam file in the mobile app, the Hand tool is selected by default. This lets you pan and move around your board by dragging one finger. When using the Select tool, use two fingers to move around your board.
Zoom in and out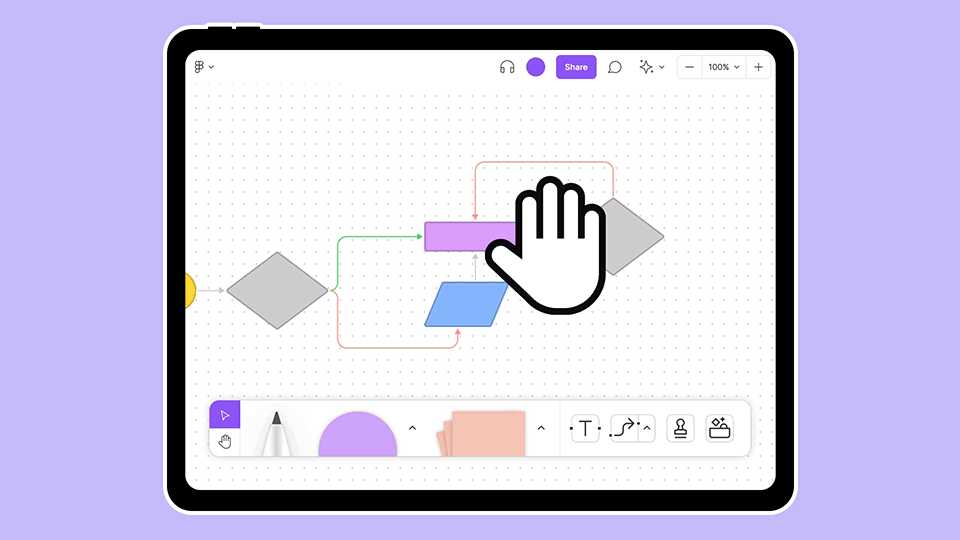 To zoom in and out, pinch your screen using two fingers.
Select, group, and lock objects
Select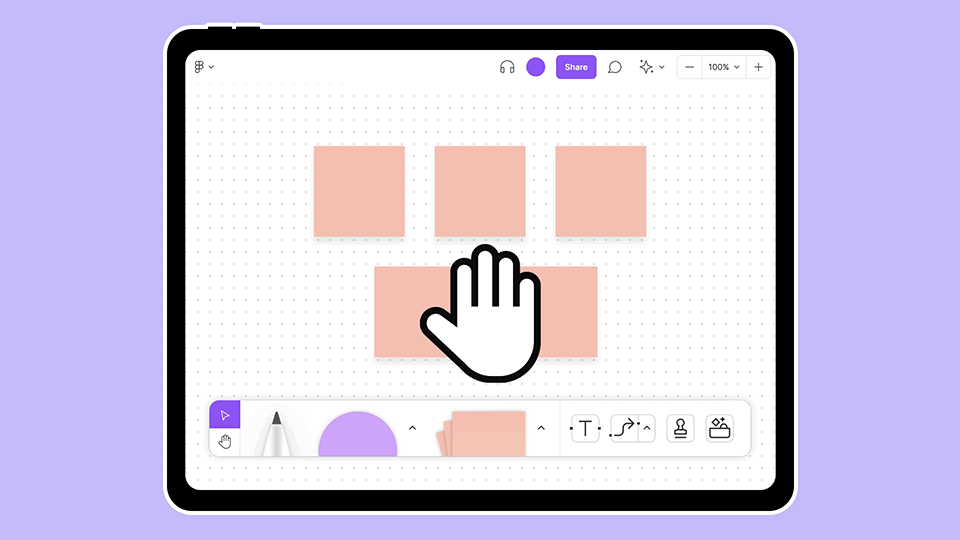 Use the Select tool to select objects on your board:
Tap Select in the toolbar.
Tap an object to select it or tap and drag over multiple objects to select them.
When selecting single objects with text, tap once more to enter edit mode.
Once selected, the object's toolbar is displayed.
Learn more about selecting objects in FigJam →
Group
To group two or more items:
Select the objects you want to group.
Tap the three dot menu in the toolbar and select Group selection.
To ungroup objects in a group, tap the three dot menu and select Ungroup.
Learn more about groups in FigJam →
Lock and unlock
Any objects placed on your FigJam board can be locked. Lock objects to prevent them from being moved, edited, or deleted.
Select one or more objects.
Tap the three dot menu and select Lock/Unlock.
To unlock an object or grouping, tap .
Undo and redo
Tap to undo, or to redo an action.
You can also use gestures on the screen:
| | |
| --- | --- |
| Undo | Redo |
| Two-finger tap | Three-finger tap |
| Three-finger swipe left | Three-finger swipe right |
Draw and highlight
Use the Marker and Highlight tools to doodle on your board and bring attention to text and other objects.
To draw your next masterpiece:
Tap the drawing tools in the toolbar and select the Marker or Highlighter tool.
Pick a color and stroke weight. You can always change this after you create your doodle.
Tap and drag on the board to doodle. You can use your finger or an Apple Pencil.
Tip
You can disable draw with finger to prevent marks from accidentally being added to the board while moving around. To do this, tap the three dot menu in the top toolbar and deselect Draw with finger.
Learn more about drawing in FigJam →
Use shapes, stickies, and text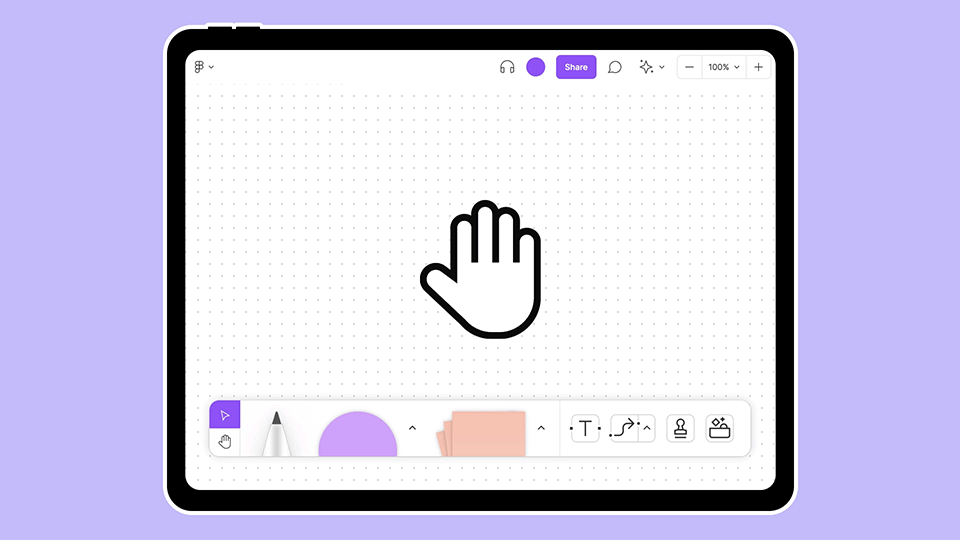 Shapes and stickies
There are two ways to add shapes and stickies to your board:
Tap and drag a shape or sticky to your board.
Tap the shape or sticky in your toolbar and tap the area of your board where you want to place it.
Once on the board, the shape or sticky will be in edit mode with the keyboard active ready for you to type.
Learn more about shapes in FigJam →
Learn more about sticky notes in FigJam →
Text
Create text
Tap in the bottom toolbar.
Tap the area on the board where you want your text.
Start typing.
Copy text
Select the text object.
Tap and hold the text.
Tap Copy.
Note
It's not currently possible to copy text in a shape or sticky note, only text in a text object.
Paste text
Copy text from your board or another app.
Tap and hold a sticky, shape, or text object in edit mode. An object is in edit mode when the keyboard is activated.
Tap Paste.
You can also create a new text object by pasting the text in a free space on your board.
Learn more about text in FigJam →
Add images
Add images to your board from your iPad's camera roll, files, or by taking a photo.
Tap in the toolbar.
Tap Add image.
Select the source of your image:

Photo library
Take photo
Choose files
Learn more about using images in FigJam →
Collaborative tools
FigJam's collaborative tools are its heart and soul, and they're available on iPad.
Stamp
To add your stamp of approval to a teammate's great idea:
Tap the Stamp tool in the toolbar.
Select a stamp.
Tap the object or area of the screen you want to stamp.
To disable the stamp tool, tap again.
Emote
To show your excitement in real time:
Tap in the toolbar.
Tap in the wheel.
Select an emotion.
Tap and drag across the board.
High five
High five your team without getting your hands dirty.
With your iPad mounted on a Magic Keyboard, shake your cursor using the trackpad.
Once your cursor turns into hand, move it close to another cursor.
High five away.
Note
High fives are only supported when using a Magic Keyboard.
Learn more about high fives →
Cursor chat
Cursor chat allows you to type live, temporary messages to others in your FigJam file.
With your iPad mounted on a Magic Keyboard, press / or tap in the emote wheel to activate cursor chat. Once you've entered cursor chat mode, an empty speech bubble appears next to your cursor.
Your chat bubble is anchored to your cursor and follows you around the board. You can pan around and pinch-to-zoom the board without exiting cursor chat.
Note
Cursor chat is only supported when using a Magic Keyboard.
Learn more about sending messages with cursor chat →
Add comments
Comment in a FigJam file by long-pressing any area of the board, then selecting Add a comment from the menu.
Tap the three dot menu next to a comment to share it, mark it as unread, or add a reaction to it. You can also delete and edit comments you made.
Tap the checkmark to resolve a comment you added.
To hide comments from your board, tap the three dot menu in the upper right corner and select Turn off commenting.
Tip
Long-press a comment's text to add a reaction.
Follow and spotlight
Follow another collaborator in a file, or use spotlight to allow everyone in a file to follow you simultaneously.
Follow someone in a file
To follow someone in a file, tap their avatar in the toolbar. Figma will show a border around your board, in the color of the person's avatar. You will see a confirmation at the top of the screen that you are following them.
You can still use emotes ↑ and cursor chat ↑ while following someone.
To stop following, you can interact with your screen in the following ways:
Pan around or zoom in or out
Tap an object on the board
Select a tool from the toolbar
Place a new object on the board
Use spotlight
To spotlight yourself in a FigJam file from your iPad:
Tap your avatar in the toolbar.
Click Spotlight.
To stop spotlighting yourself, tap Stop at the top-center of your canvas or board.
When a collaborator asks everyone in the file to follow them using spotlight, you can ignore their request and follow them at a later time while they're in spotlight. Otherwise, you'll be placed in follow mode and be shown the view of the person in the spotlight. The avatar for the person in the spotlight will have a dashed border.
Set a timer
Track time and manage working sessions with the timer in FigJam, whether you're working solo or in a group setting.
To start a timer:
Tap the three dot menu in the top toolbar and select Show timer.
Enter the minutes and seconds.
Tap Play to start the timer.
Learn more about using the timer →