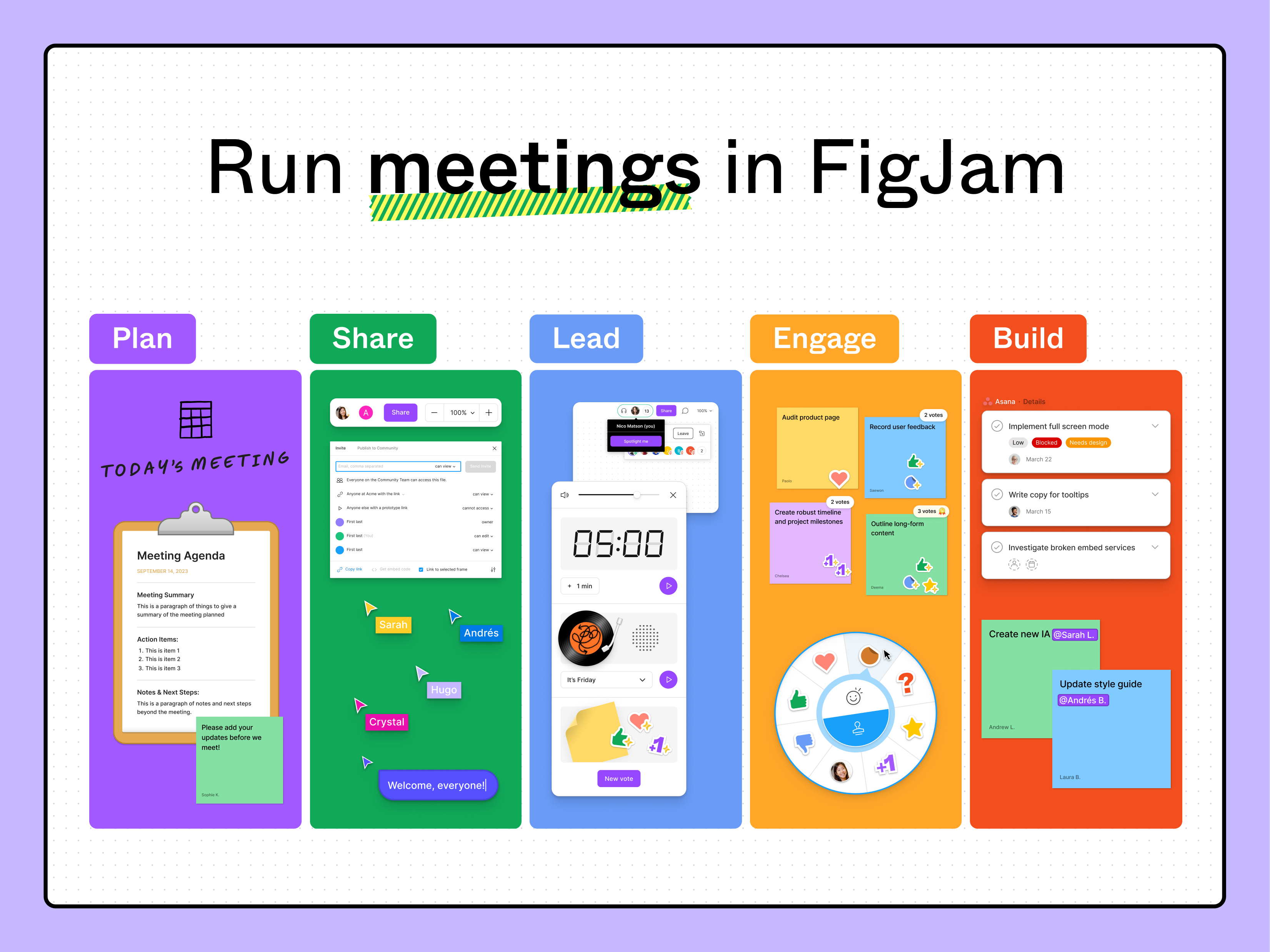 FigJam is a great place to host engaging, collaborative, and productive team meetings and exercises. In this project, we'll give you some tips for planning and running fun and effective meetings in FigJam.
Plan your meeting
Research shows meetings can be an invaluable use of your team's time and attention or a costly waste of it. Before asking your team to spend time away from their work to attend a meeting, there are a few things to ask yourself:
Does this need to be a meeting? The age-old question "Could this have been an email?" still applies today. Consider if you can create a FigJam board to collect your team's input as pre-work, then use a meeting to discuss the results.
Will gathering input ahead of time lead to a richer conversation? If it has to be a meeting, sometimes it's best to share a FigJam file with your team ahead of the meeting to get a head start on collecting everyone's input, then using your time together to go over learnings.
What type of meeting or exercise are you running? FigJam templates get you from an empty board to ready for a meeting quickly. Choose from templates like team syncs, retros, customer journey maps, diagramming, and more templates from the Figma Community. You can also build your own meeting board to fit your team's needs and save it as a template for future use.
Is there room for fun? Consider adding a section for a fun roll call using the Photobooth widget, a 30-second drawing competition, or an icebreaker to get the creative juices flowing and everyone in good spirits.
Who is your audience? If you're putting together a team meeting, you can create a file in your team space with a project for future recurring meeting files. If you're working with people from outside your team, try an open session ↓
Does your board need to be accessible? When it comes to creating an inclusive environment in your FigJam boards, it's important to think beyond the more obvious limitations your peers may be working with. Learn how to create accessible FigJam boards →
Share the file with collaborators
Once you have a board ready, it's time to invite collaborators.
The Share settings let you configure who can access the file and what they can do in the file. To get started with sharing, click the Share button in the top toolbar.
Set permissions
To make sure everyone can join and interact with your board, make sure your file has the right permissions! Use the Share settings to configure file permissions before sending out invitations. The following permissions are available:
Can edit: Gives the user edit access to the file. This means that the user can edit, move, rename, share, or delete the file. Can view: Gives view only access to the file. They can also use collaborative features in Figma and FigJam files like comments, cursor chat, audio chat, and emotes.
A person's role determines if they can edit files, while their permissions determine which files and projects they can edit.
Learn more about setting permissions for invites →
Start an open session
If you're on a paid plan and need to invite people outside your team or folks who don't have a Figma account, you can create an open session. Open sessions let you temporarily invite anyone to view or edit, and interact with your FigJam files for a 24-hour period.
Click Share in the top toolbar to open the share modal.
Confirm the link sharing settings for the file. You can create public links, password-protected links, and on organization plans, organization-wide links.
In the Open session section, click Start.
Click Copy link to add the file link to your clipboard. You can share the file link with anyone you want to join the session.
People can join the file based on the file's link sharing settings.
Learn more about open sessions →
Invite via email
To send invitations to files or prototypes:
Click Share in the toolbar.
Enter the collaborator's email in the Email field. To invite multiple people, separate each email address with a comma.
Click Send invite to send an email invitation to their address. If they're already using Figma, they'll get an in-app notification as well.
Share the file link
After configuring the access and permission settings, you can share the file via direct link.
Each file has a unique URL. Copy the link from your browser window, right-click to link to a selected section or object, or copy it from the Share modal in the toolbar and send it to collaborators.
Tip:
You can also link directly to specific objects by selecting the object, right-clicking, and selecting Copy link.
Add the file to your calendar invite
Get everyone on the same page—er, board 😉, before your meeting starts by linking to the FigJam file in your calendar invite and sharing the meeting agenda. You can also let people know if there's work to be done in the file ahead of the meeting time.
Attach FigJam files to your Google Calendar events. Figma for Chrome extension →
Bring FigJam to your Microsoft Teams channels and meetings. Figma and Microsoft Teams →
Lead your team around the board
Give your internet bandwidth a hand and consolidate all your meeting tools by hosting an audio call in the same file your team is working in. Figma provides crisp audio calls right in your file, which along with spotlight, means no need for extra meeting apps or sharing screens.
Start an audio call
To start or join a conversation, click in the toolbar. A conversation is active when a green outline appears around the and avatars.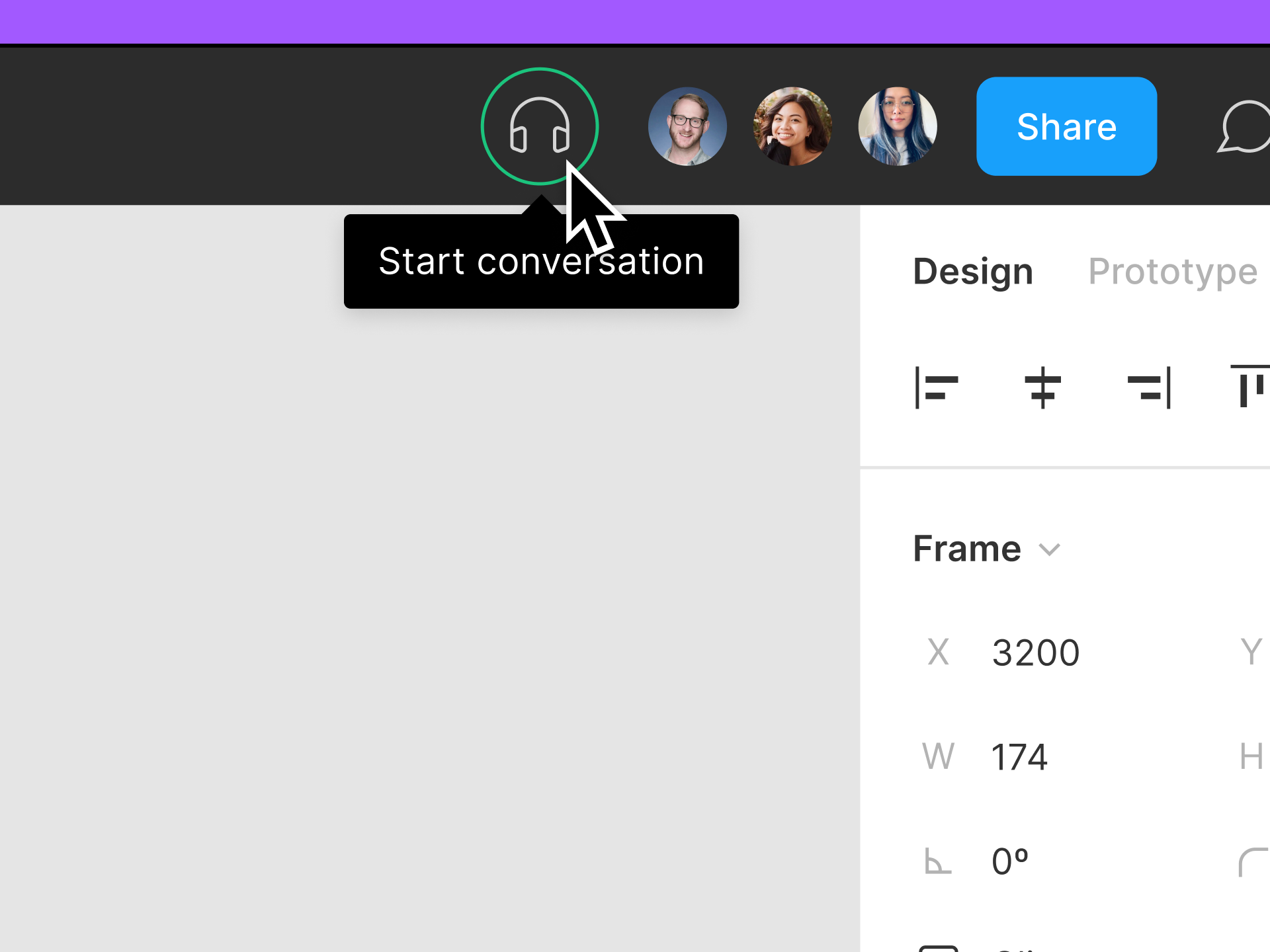 To join an active conversation, click Join.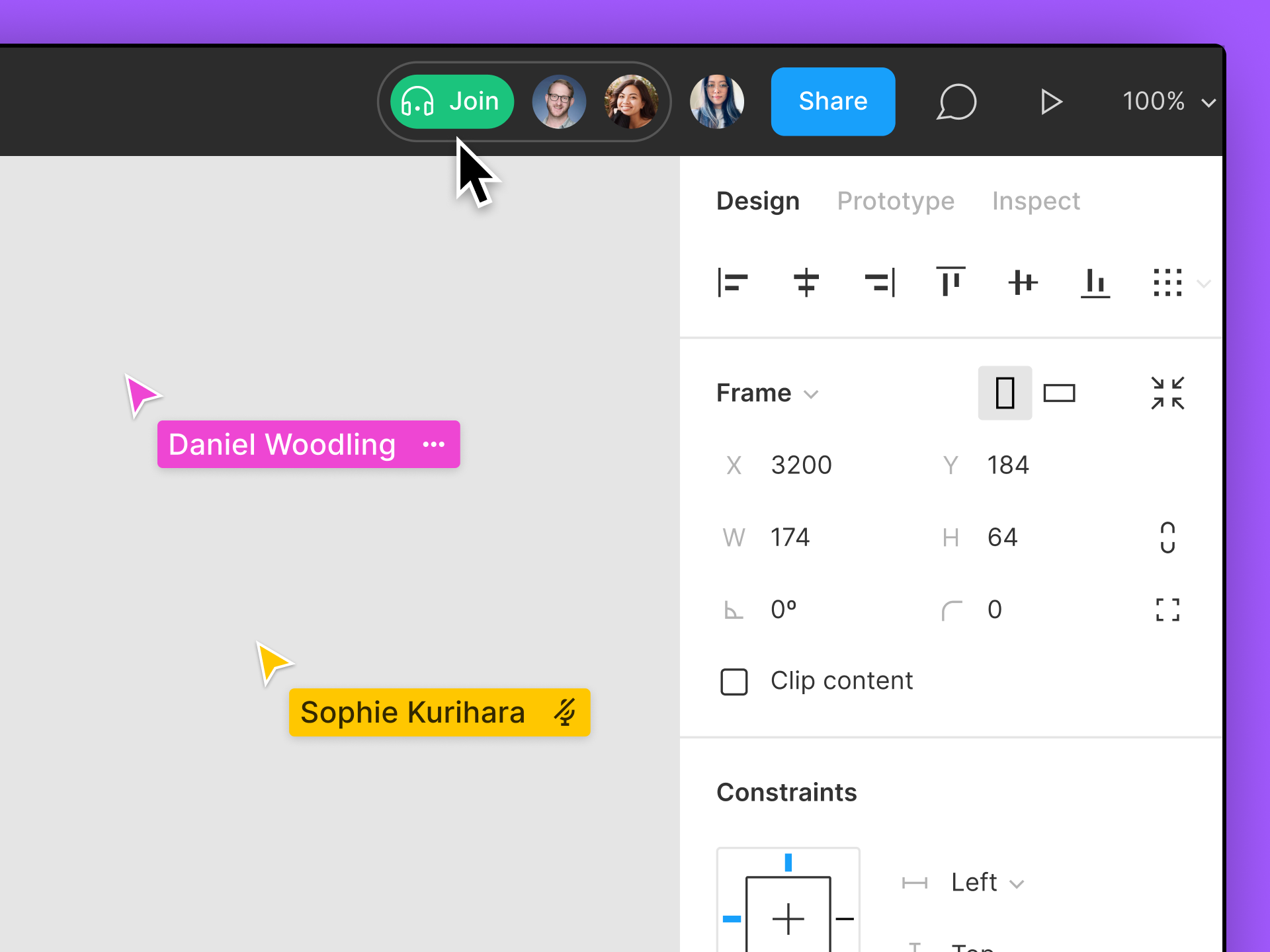 Figma will confirm that you've successfully started or joined a conversation with a green "Connected" label in your audio controls.
Learn how to set up and use audio calls →
Spotlight yourself
Spotlight lets you gather collaborators in a file to follow your view of the FigJam board. Spotlight yourself to:
Facilitate workshops, meetings, and team exercises in FigJam
Guide your audience through your board
Request everyone in a file follow you around the board
Gather all collaborators in one part of your board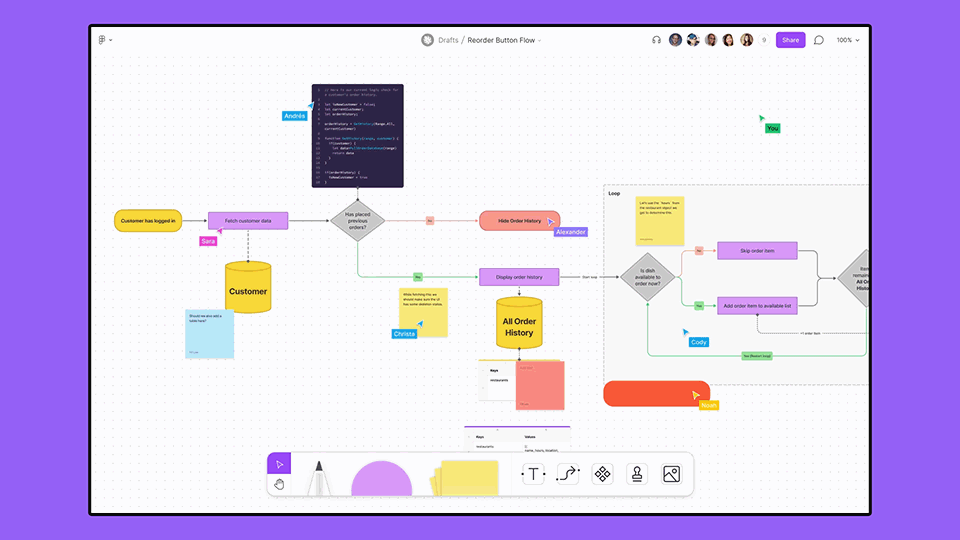 Hover over your avatar in the top toolbar of a FigJam or Figma design file.
Click Spotlight me.
At this point, everyone currently viewing the file will be notified you'd like them to follow you. They have a few seconds to ignore your request before being shown your view of the file.
Once you're in the spotlight, you'll see how many people in the file are following you and your avatar will have a dashed border.
Co-presenters can take the spotlight at any time. When someone else in the file hovers over their avatar and clicks Spotlight me, everyone in the file is notified that someone else is asking to be followed.
Tip:
To show someone else's view while keeping the spotlight, presenters can click on another collaborator's avatar to follow them around the board or canvas while keeping the spotlight on themselves.
Learn more about using spotlight in FigJam →
Organize your file with sections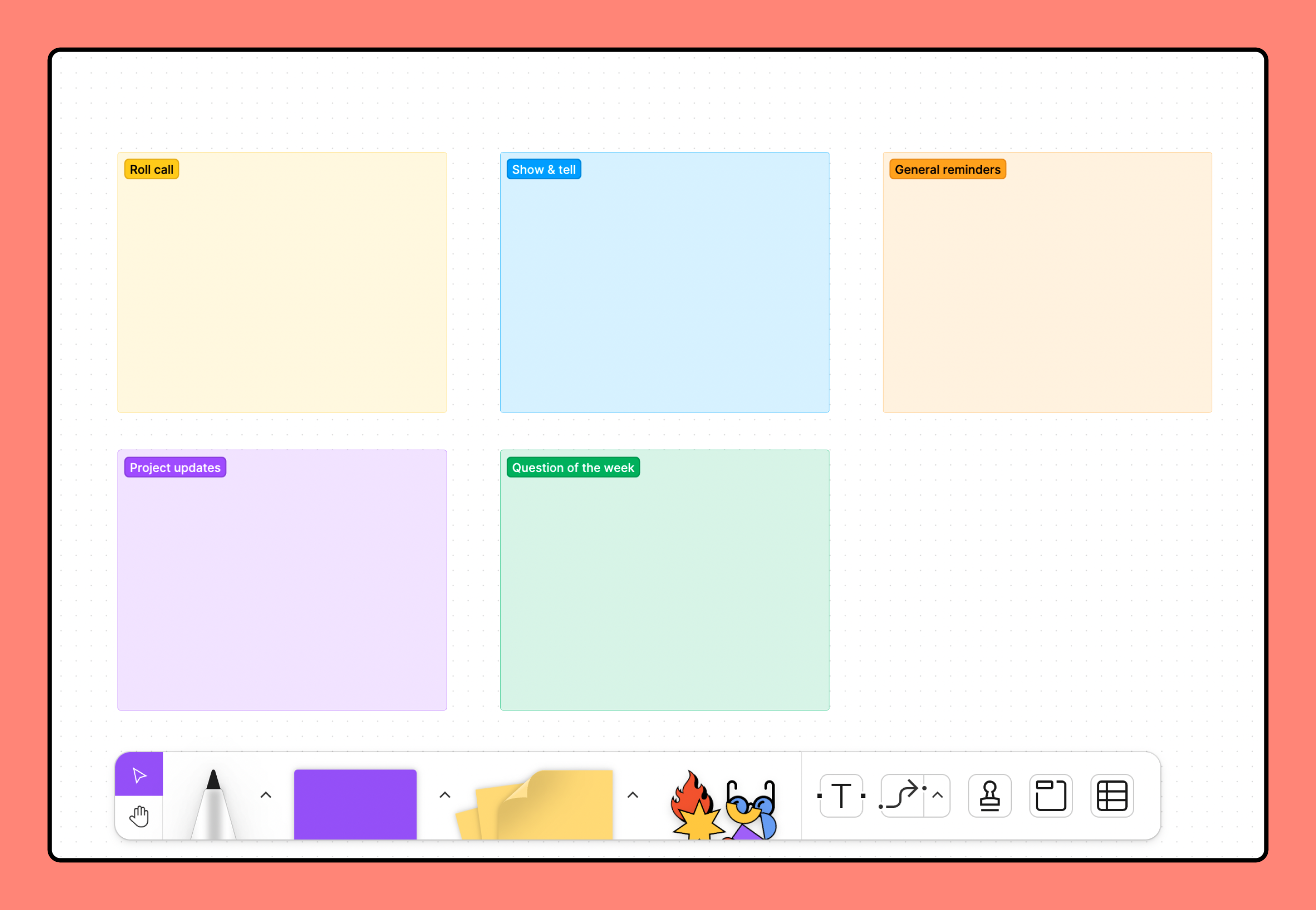 Organize your board with labeled sections to group related objects or guide workshop participants through activities. Sections let you:
Cluster objects together without having to group them
Contain objects that can be moved together around the board
Hide sections of the board that can be revealed when needed
Link collaborators to a specific section of the board
Learn how to add sections to a meeting board →
Keep participants engaged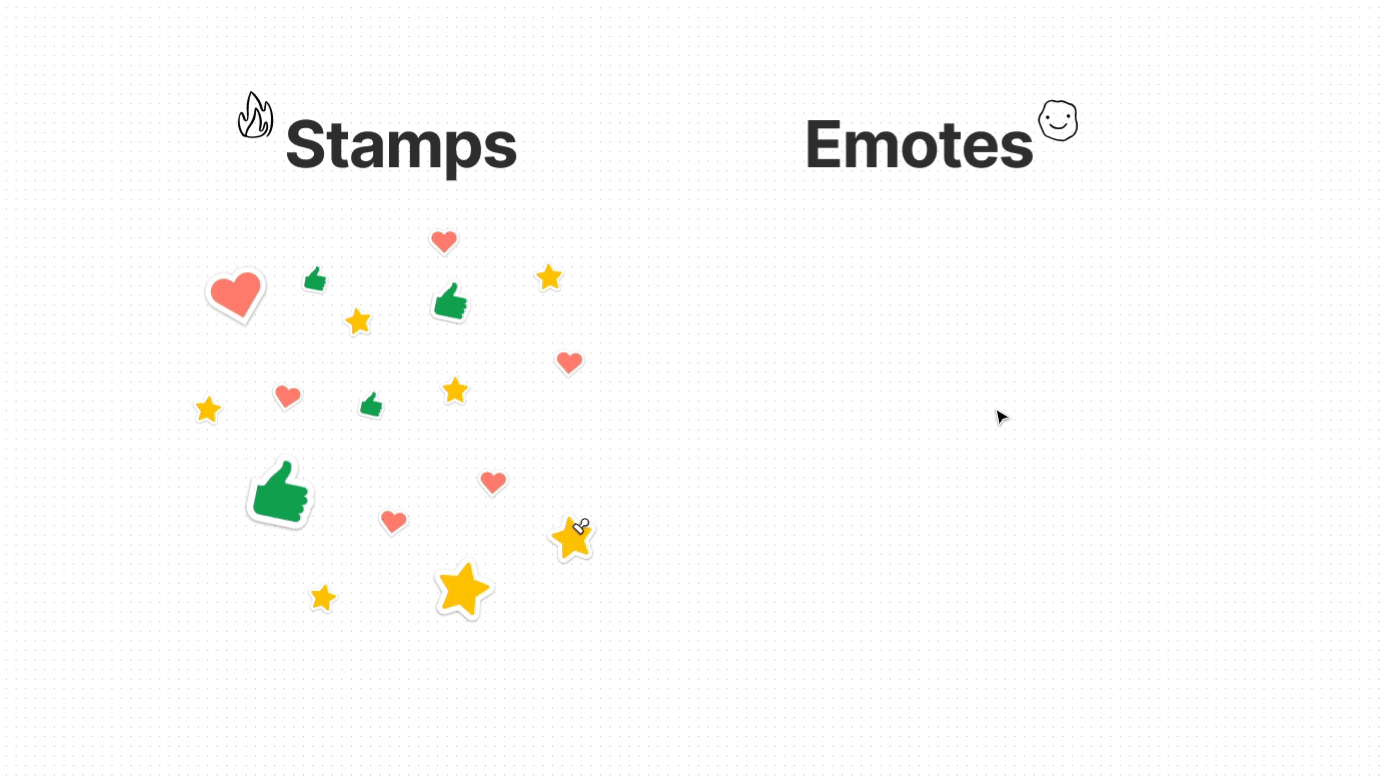 Nobody likes being part of boring meetings. If any of the meeting participants are new to FigJam, you can give them a quick rundown of FigJam's collaborative features:
Set a timer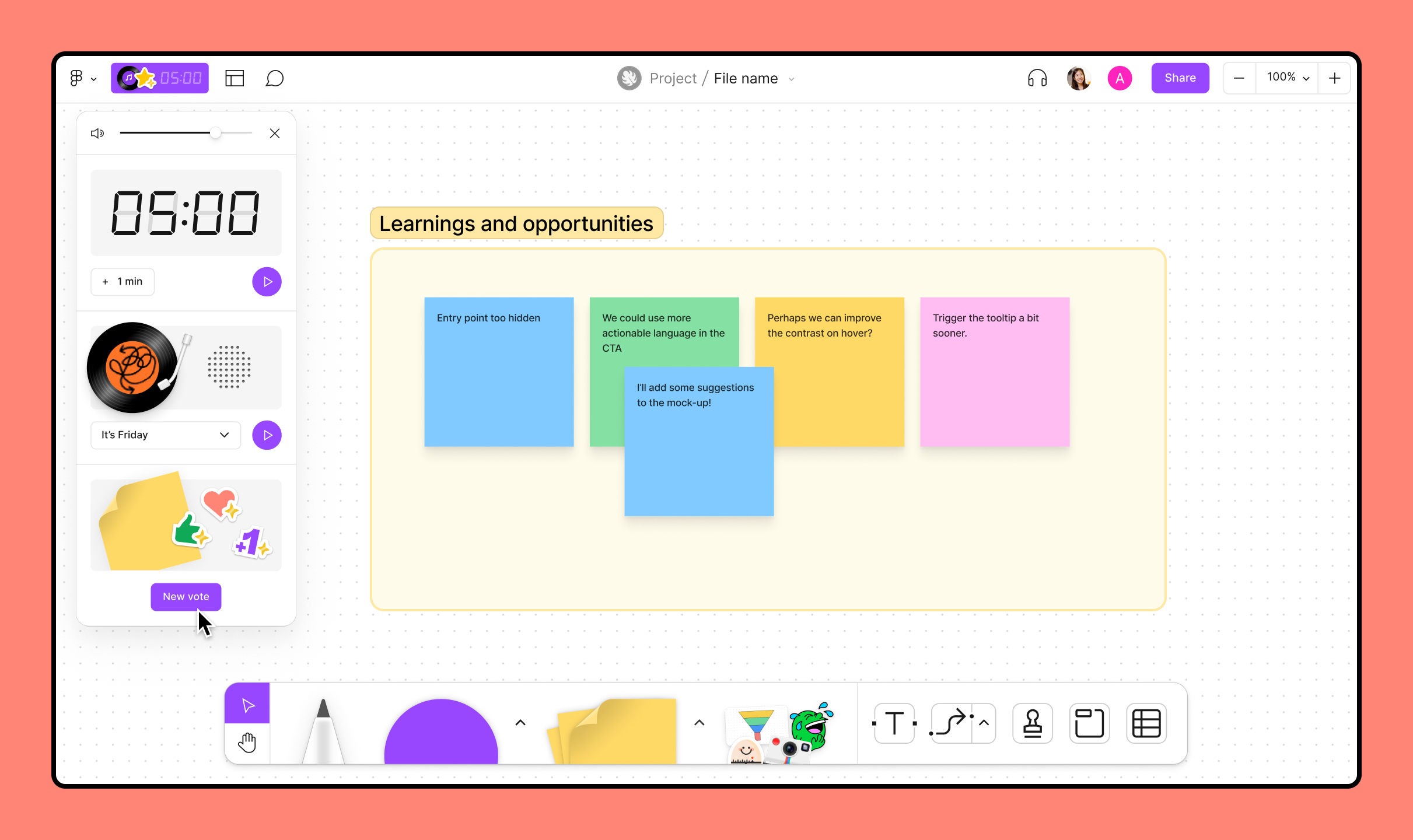 Use the timer to stay on track time during working sessions and team exercises.
To access the timer, click Timer, voting, and music in the upper left corner of your FigJam file and select Timer from the dropdown. Once the timer is started, you can click to hide the timer and keep it running in the toolbar. To reopen the timer, click the countdown in the toolbar.
When time is up, everyone in the file will see the timer shake and announce 00:00, even if they have closed the panel.
To add time to the clock:
Type to enter the minutes and seconds
Press ↑/↓ arrows to adjust the time by a minute
Press ⇧ Shift↑/↓ to adjust the time by 5 minute intervals
You can also adjust the seconds field by 1 or 5 seconds using these shortcuts.
Once you're ready, press Return/Enter or click to start the countdown.
Learn more about using the timer in FigJam →
Play music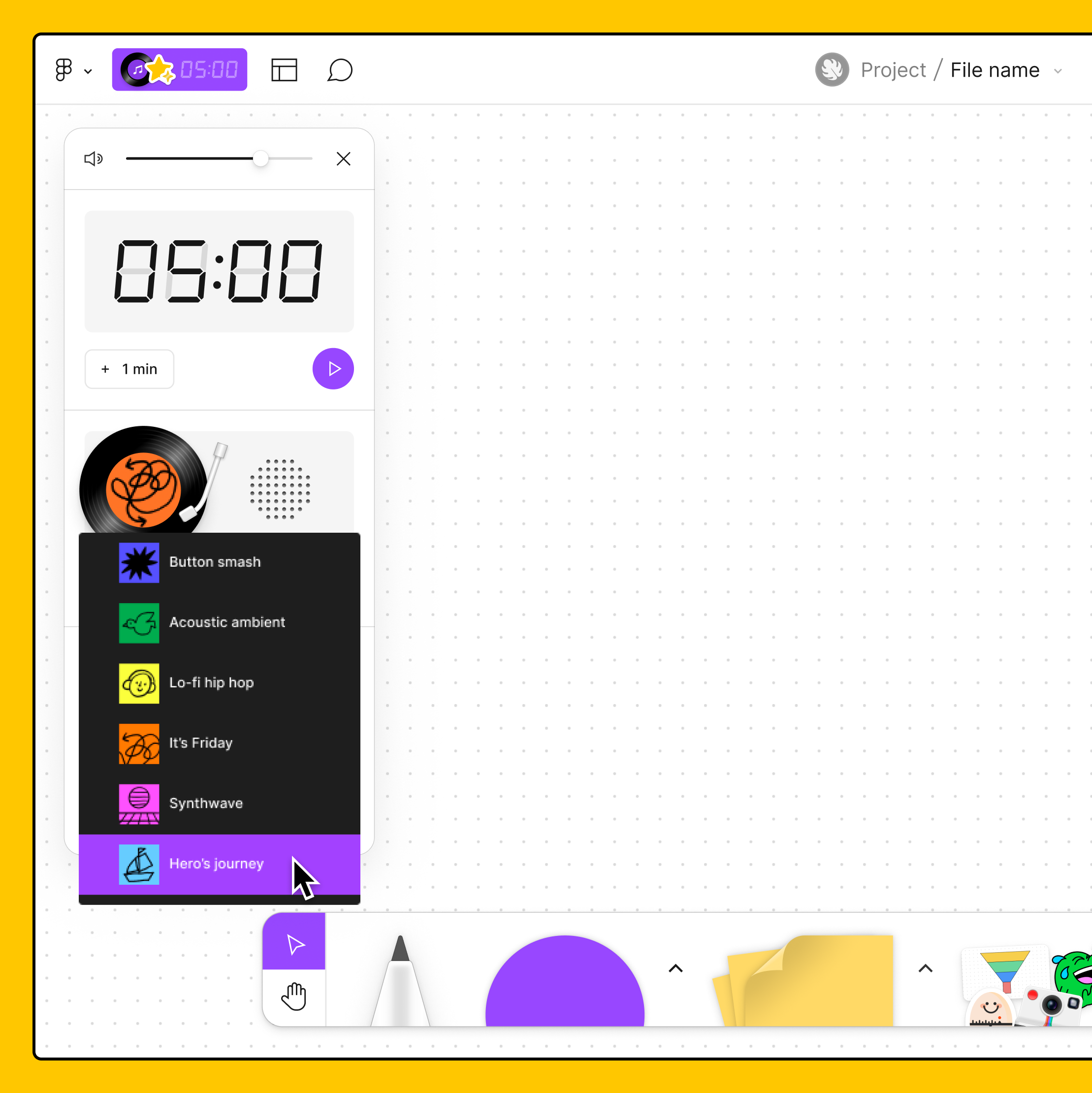 Now that you have the timer running, set the stage with background music. You can match the vibe of your meeting with a variety of music options sure to spark debate amongst the team. Click the Timer, voting, and music icon in the top toolbar, then click and choose from the selection of preset tracks. The same music track plays for everyone in the file but users control their own music volume and can mute it for themselves.
Learn more about music in FigJam →
Start a voting session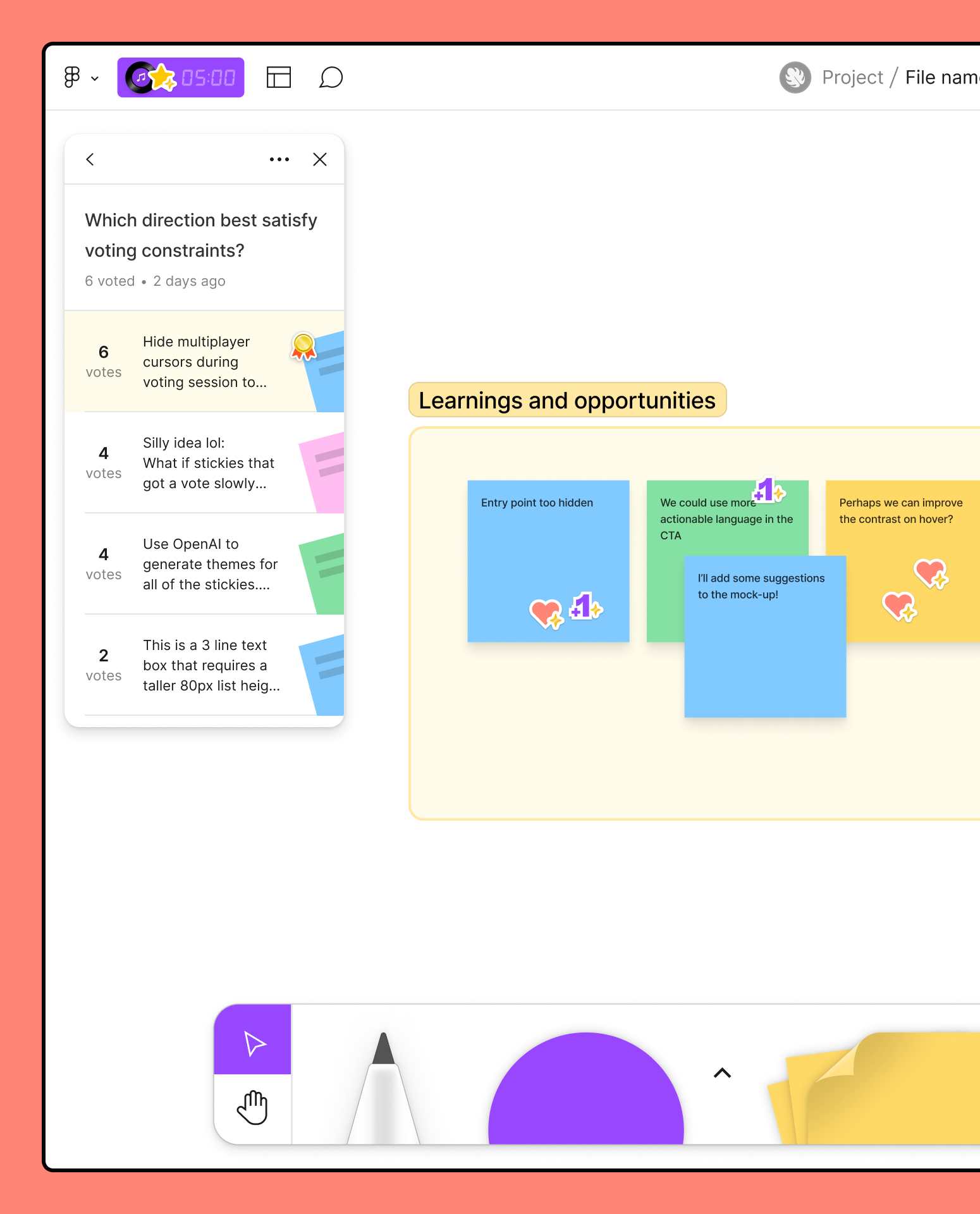 Hold a vote in FigJam to narrow down a board full of ideas and reach decisions faster. Each participant's choices are hidden while they vote, then the responses and final tally are revealed to all when the voting session ends.
To start a voting session:
Click the Timer, voting, and music icon in the top toolbar.
Enter a prompt for the voting. For example, "Pick your 3 favorite ideas."
Use the + / - icons to set how many votes each participant can cast.
Click Start.
At this point, anyone in the file can cast their vote using the stamp tool. Participants can see their own votes to help keep track of their picks, while their collaborator's votes are kept hidden until the session ends.
Meeting closing tasks
Summarize your work
Clean up the file by grouping and organizing stickies into themed sections like learnings, notes, and action items. Once grouped, you can export sections, assign tasks, and share links to your findings.
Learn more about sections in FigJam →
Create actionable tasks
Great work doesn't end with the meeting and ideas need to be put into action. To keep the good energy and momentum going, you can create and assign action items on the board with stickies and your favorite task management tool.
Mention collaborators
Create quick action items by mentioning team members in a sticky, shape, or text field. Those mentioned are notified according to their notification preferences.
Press the @ key and start typing the person's name or email. Figma will suggest collaborators based on your history.
Click on the person's name in the list. If the person you tag isn't in the file, they'll be invited to view the file or request access.
Figma sends an email to the person you tagged with a preview of the FigJam board and the text they were mentioned in. If they have in-app notifications enabled, they'll also receive a notification in Figma.
Learn more about mentions in FigJam →
Task widgets
Turn all the great ideas your team just had into action items with task management widgets like Asana, Coda, and Jira.
Click the stack of recent items in the toolbar, click More.
In the Widgets tab, search for the task management app of your choice.
Insert the widget and follow the instructions for creating or importing tasks.
Learn more about widgets in FigJam →
Export stickies
FigJam lets you export your entire board as an image or your sticky notes and tables to CSV files.
Watch meetings in action