In this guide, we'll cover the basics of working in FigJam. You can come back to this guide any time you need a refresher. Want to learn more about the difference between design files and FigJam files? Check out our What is Figma guide.
What are FigJam files?
FigJam files are online whiteboards packed with tools for exploration and discovery. People often use FigJam for collaborative activities like meetings and brainstorms, as well as async activities like diagramming, planning, and research. They're a great space to think through problems, organize your ideas, and get on the same page.
There are objects—like text, shapes, images, and sticky notes—that allow you to visually represent ideas. There are also tools—like the timer, voting sessions, templates, and widgets— that make working together more productive (and fun!).
FigJam files in the file browser
You can identify FigJam files in the file browser by the icon on the file card.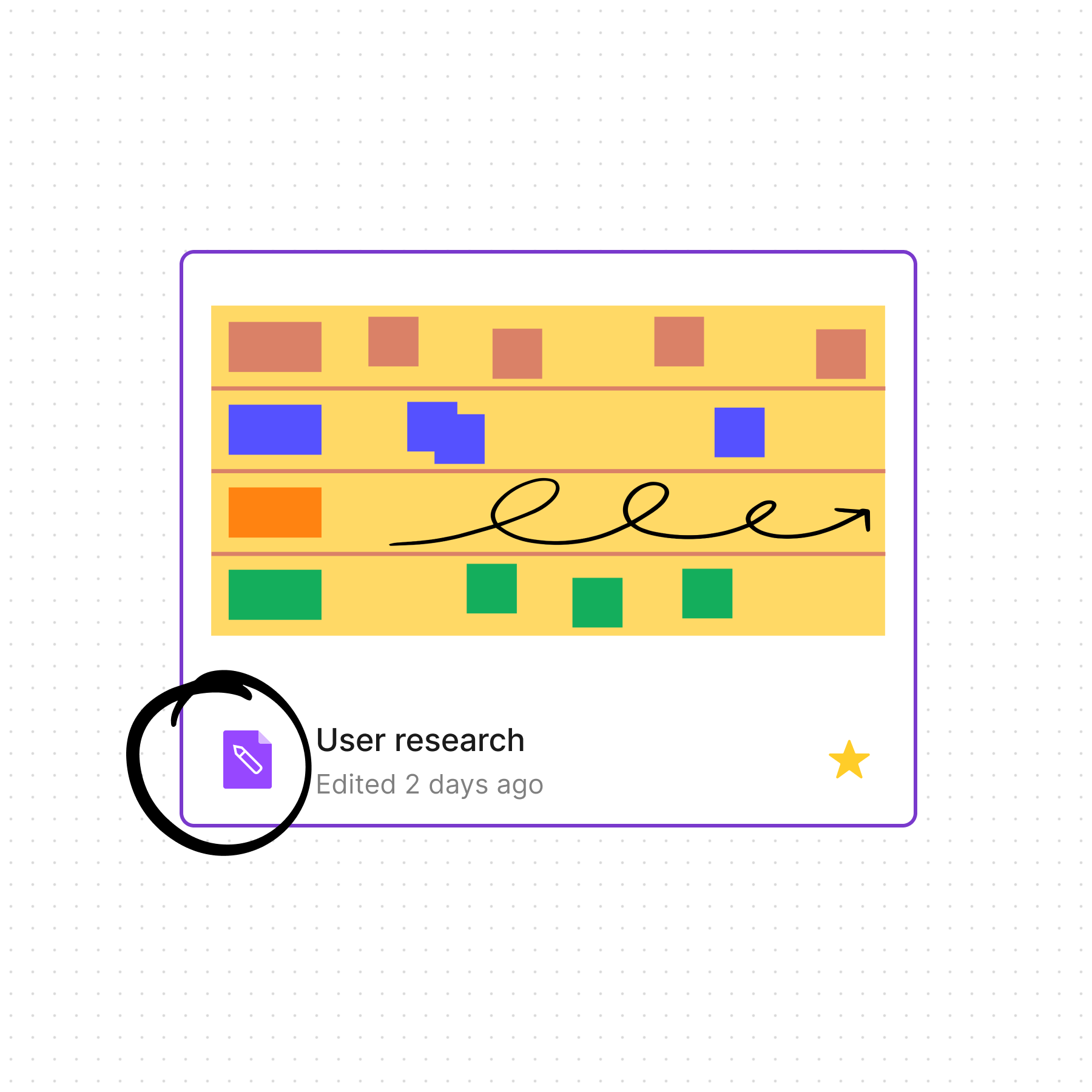 Find your way around
FigJam files have three distinct regions: the board, the file toolbar, and the main tools and objects bar. We've simplified the layout so you can get to know what lives in each location.
Board
The board is the working area of your FigJam files. It's where you'll add all your objects—like stickies, shapes, and widgets. FigJam boards have a white background with a subtle dot grid, like the grid from your favorite bullet journal. You have one infinite board to explore your ideas. To see more of the board, you can pan and zoom.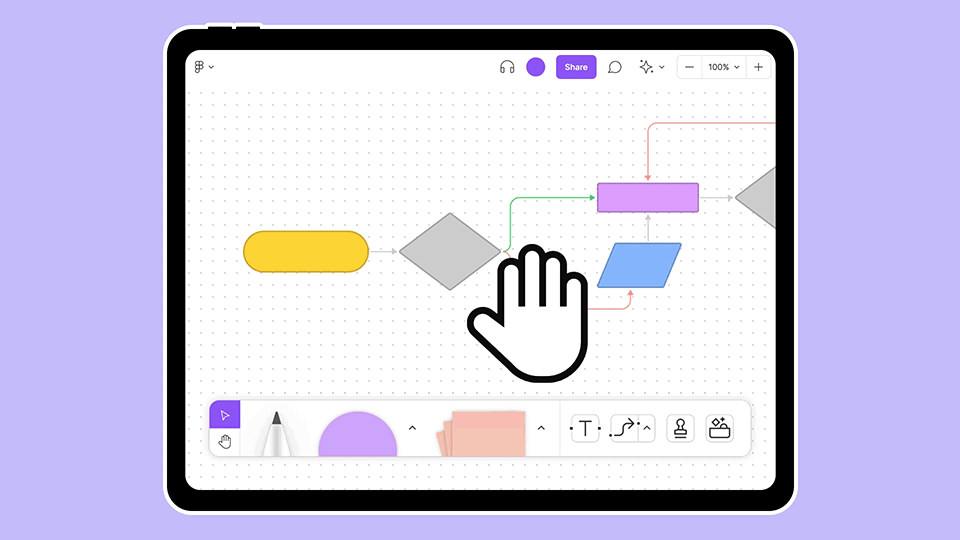 Pan to move around
Pan to move around and explore what else is on the board.
Mouse: Hold down Space, then click and drag to move around the canvas.
Trackpad: With two fingers, slide in any direction to pan the canvas. Figma will use your computer's default scroll direction settings.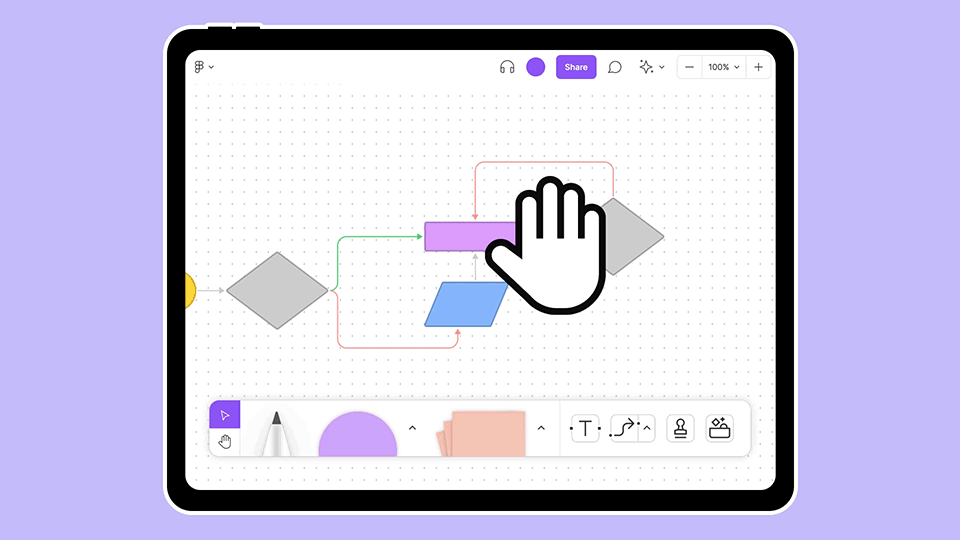 Zoom in and out
Zoom in to take a closer look, or zoom out to see the bigger picture. View the current zoom level in the top-right corner of the screen.
Mouse: Hold down ⌘ Command / Ctrl spacebar and scroll down to zoom in and up to zoom out.
Trackpad: Pinch two fingers together to zoom out or stretch two fingers apart to zoom in.
File toolbar
The top toolbar is where you'll find your file settings and tools for collaborating. There are three groups: meeting tools, file settings, and view options.

Tools
On the left, you'll find the Timer with music, Voting, Templates and Comments.
Actions
In the middle, the project / file name and any file-level settings.
Collaboration and view
On the right, the Audio icon, Share button, and your view options.
Tools and objects
The main toolbar — which we call the delightful toolbar — holds all of your FigJam tools and objects. There are four groupings in the toolbar: navigation, tools, resources, and other tools.

Navigation
Switch between the Hand tool to explore the file or the Move tool to move or make changes to an object.
Objects
Choose a drawing tool—marker, highlighter, washi tape, or eraser—then draw anywhere on the board.
Click the shape or sticky object to select the tool, then click a spot to add. Or drag shapes and stickies straight onto the board.
More tools
In the toolbar you'll see a selection of the tools and resources you've recently used.
Click to find templates for activities, or use sticker packs and component libraries from the Community.
Or access more tools, like the timer, face stamps, and code blocks; or import media or links with live previews.
Tools
Access tools for creating Text, Sections, and Tables.
Make Connections between objects on the board.
Open the stamp wheel and toggle between permanent Stamps and temporary Emotes.
Working on FigJam boards
Objects
There are a variety of objects you can add to your FigJam boards. You can place these objects on your board to create mood boards and diagrams, structure your boards for meetings, or plan and organize any aspect of your work or life.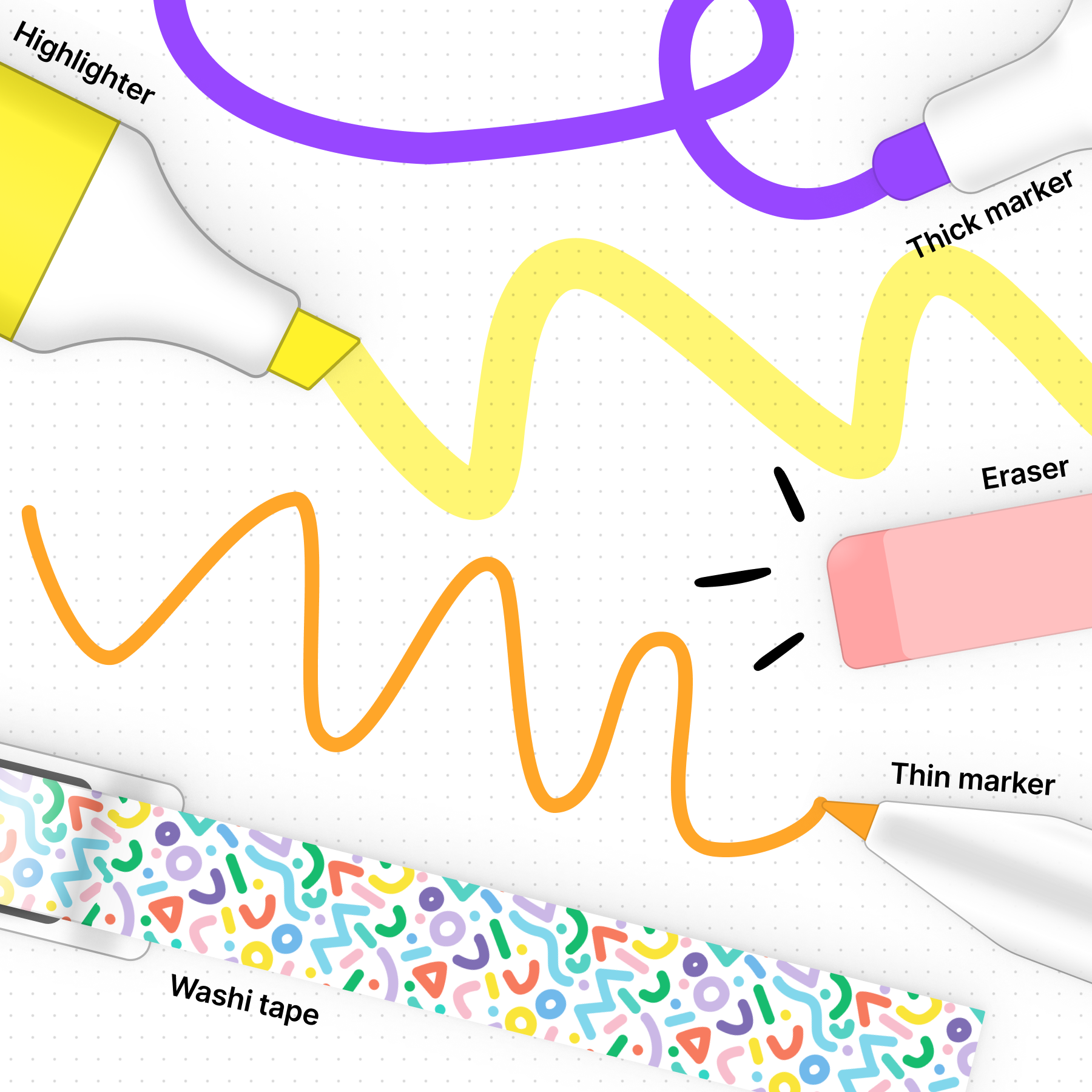 Drawing tools
Drawing tools are a fun way to add doodles to the board, call attention to something important, or make abstract connections. Choose from a collection of drawing tools to express yourself more freely:
Marker
Highlighter
Washi tape
Eraser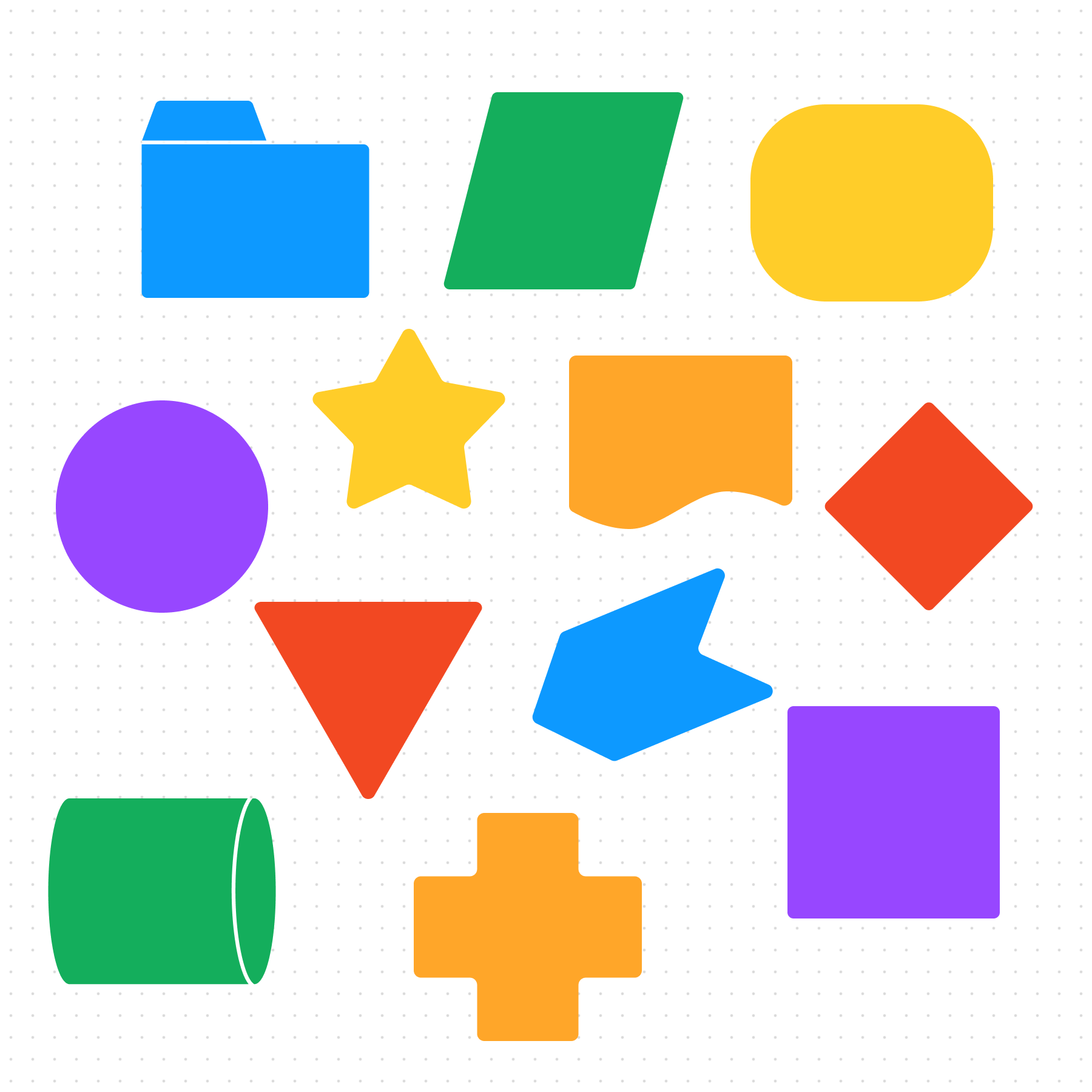 Shapes (with text)
Shapes are great for building out detailed flows and diagrams. Click the arrow to select from twelve shapes and represent different assets or actions. Add text within a shape to capture your ideas, then use connectors to connect them.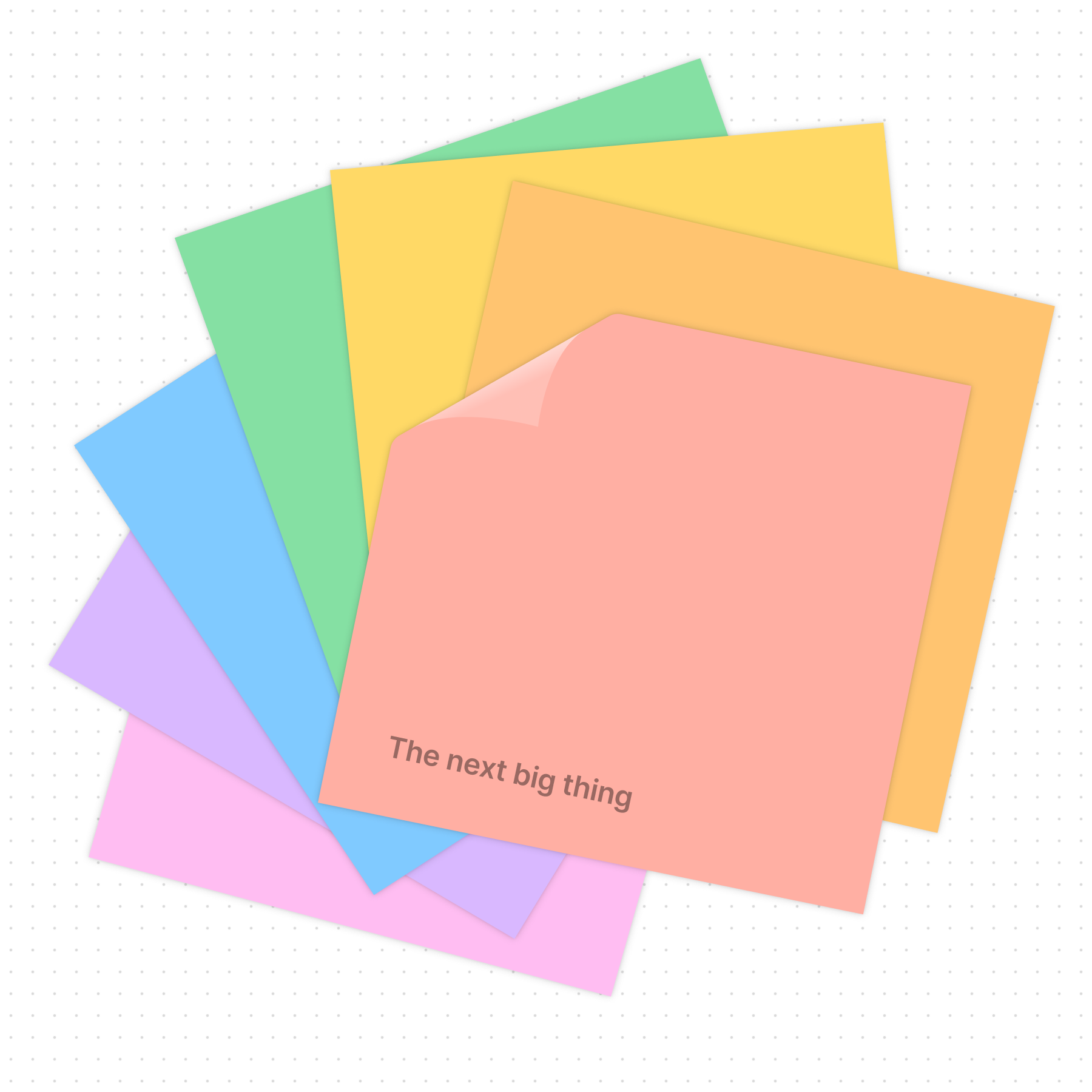 Sticky notes
Stickies are the virtual equivalent to the sticky notes we all know and love. Capture your thoughts in stickies and move them around the board to organize your ideas. Unlike their paper counterparts, they grow vertically, giving you more space to explore your ideas.
Connectors
Create paths between shapes and stickies, illustrate order, or annotate something on your board. Use the Connector tool to draw straight lines or elbow connectors between objects.
Text
Text is a crucial element while brainstorming and communicating information to others. Use the Text tool to create titles and headings, add blocks of body text, or quickly jot down ideas. You can add hyperlinks to text, or @mention other people.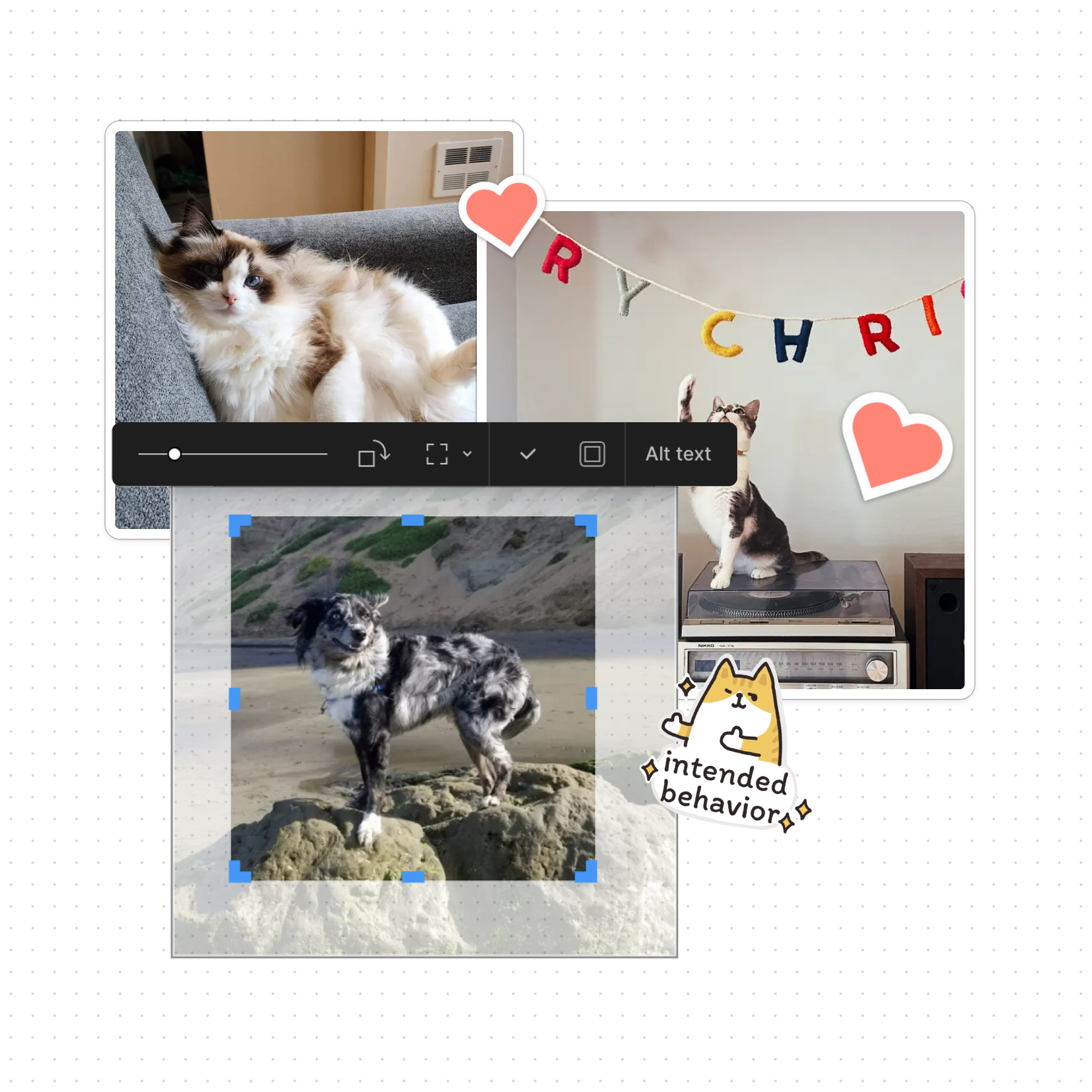 Images
Bring in screenshots or assets, share your weekend pics, or add your favorite memes and GIFs to your boards. Copy and paste, or drag and drop, to add an image to the board. You can crop the image, give it a border, and even add some alt text.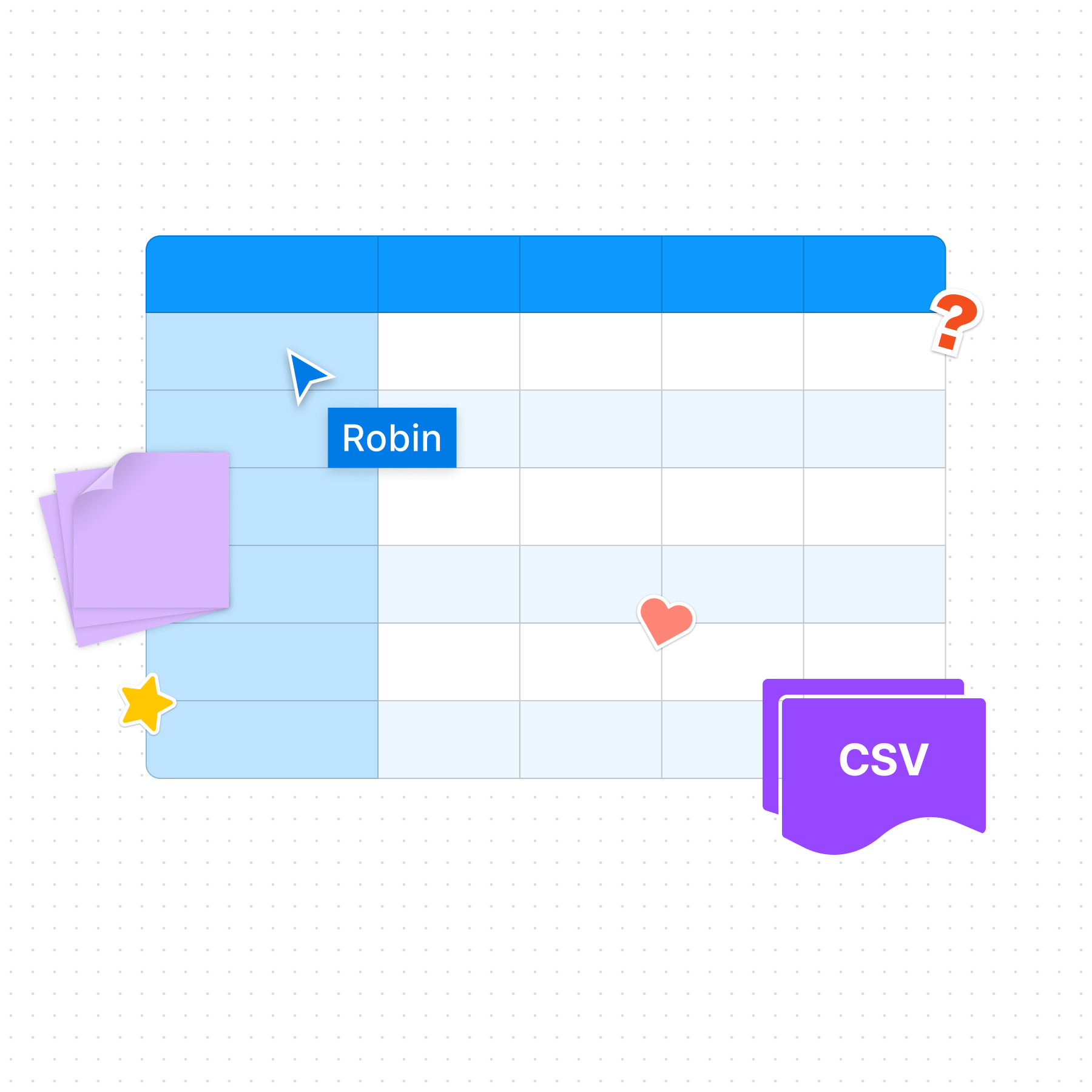 Tables
Tables help you organize, synthesize, and structure information on your FigJam boards.
Bring in data from spreadsheets
Organize items in an easy-to-read format
Track project status and milestones
Prioritize ideas in adjustable rows and columns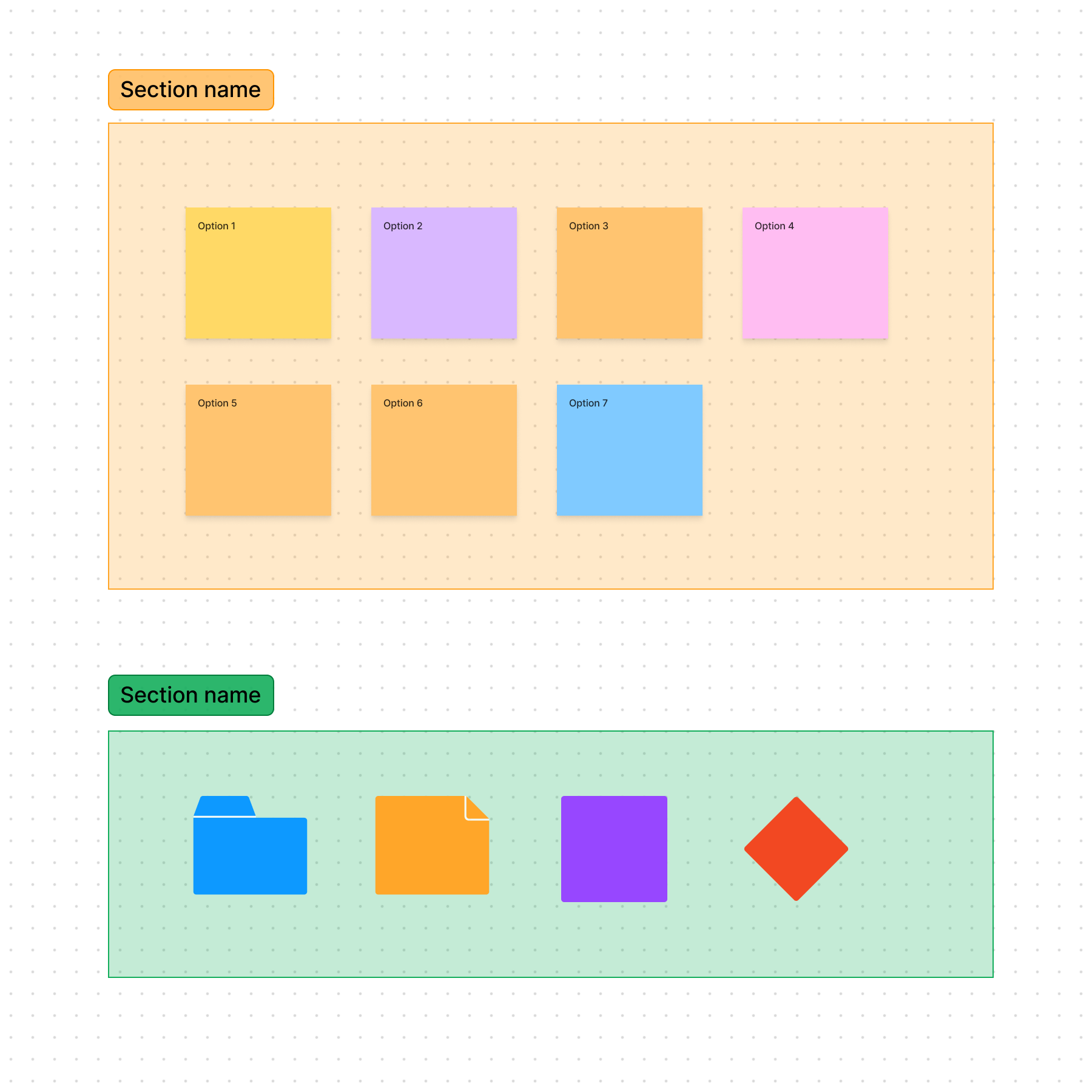 Sections
Organize your board with labeled sections to group related objects or guide workshop participants through activities.
Cluster objects together without having to group them
Contain objects that can be moved together around the board
Hide sections of the board that can be revealed when needed
Link collaborators to a specific section of the board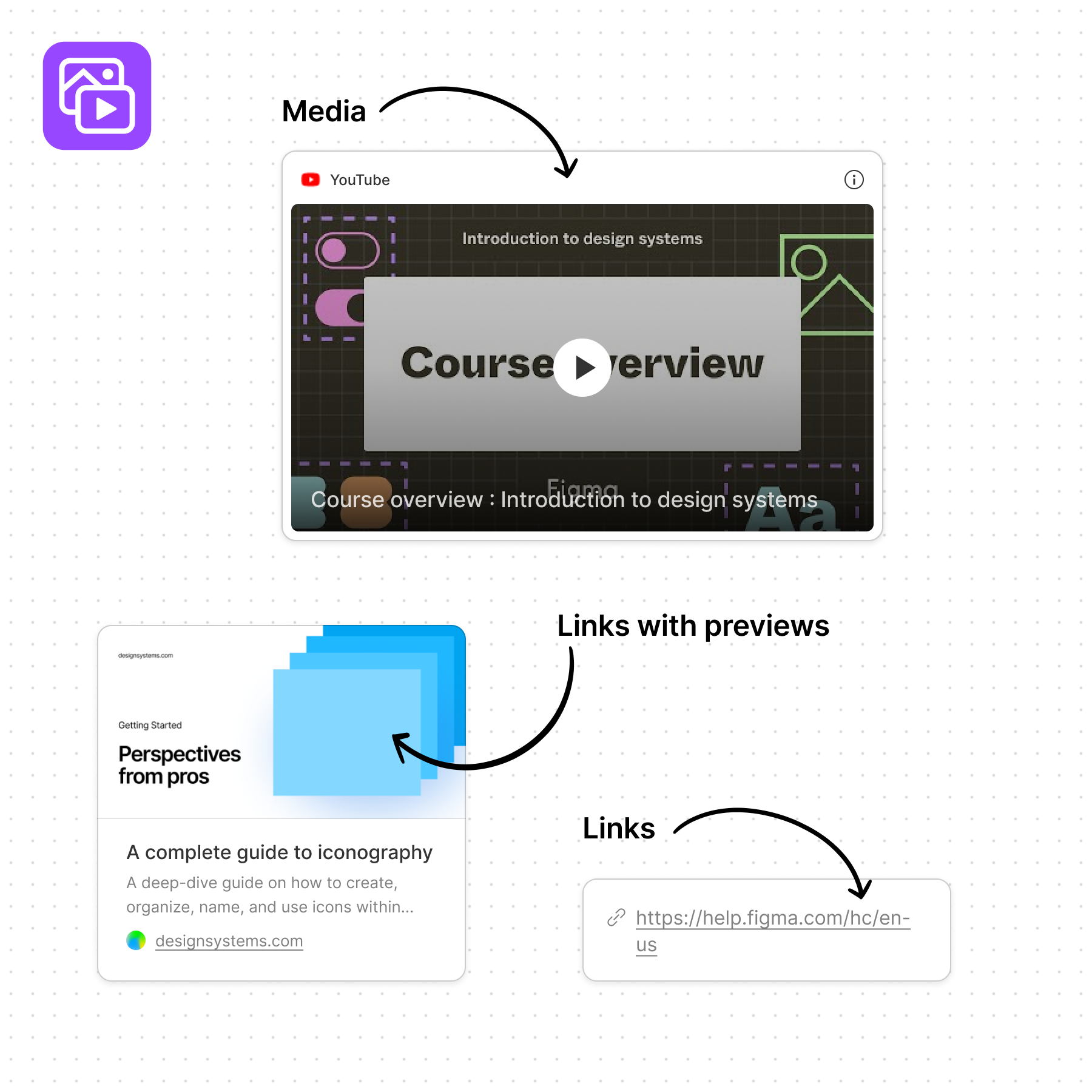 Links
Paste links to rich media from other websites—like videos, articles, or documents—and FigJam will turn them into live previews.
Add links to music streaming services to play tunes while you jam
Include videos to share with your team workshops or trainings
Collect and share media for moodboard inspiration
Provide context into team meetings and brainstorms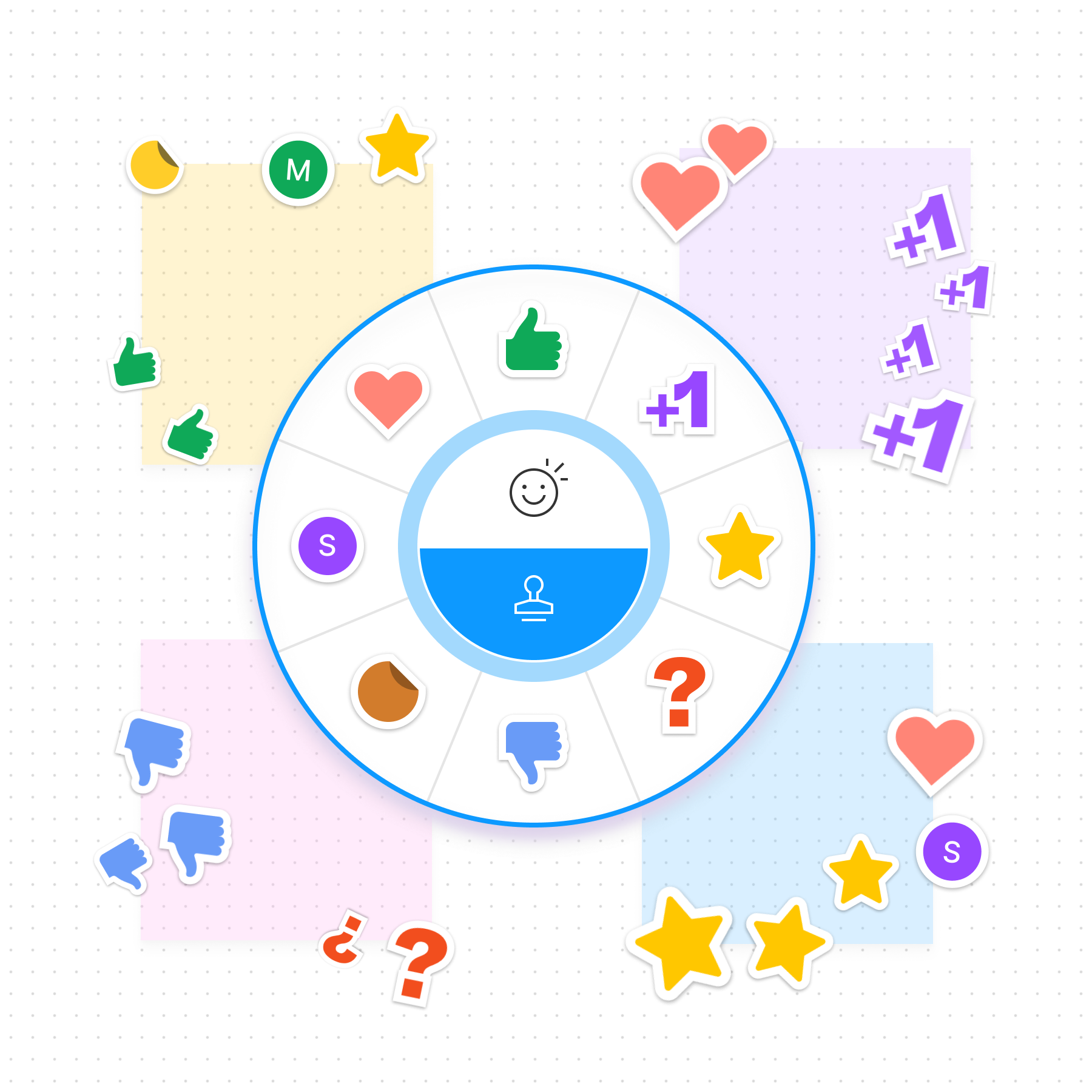 Stamps
Add your thoughts and opinions, or express your support with stamps. Press E and make sure you have Stamp selected. Select from the wheel and add your stamp of approval or other more permanent sentiments to the board.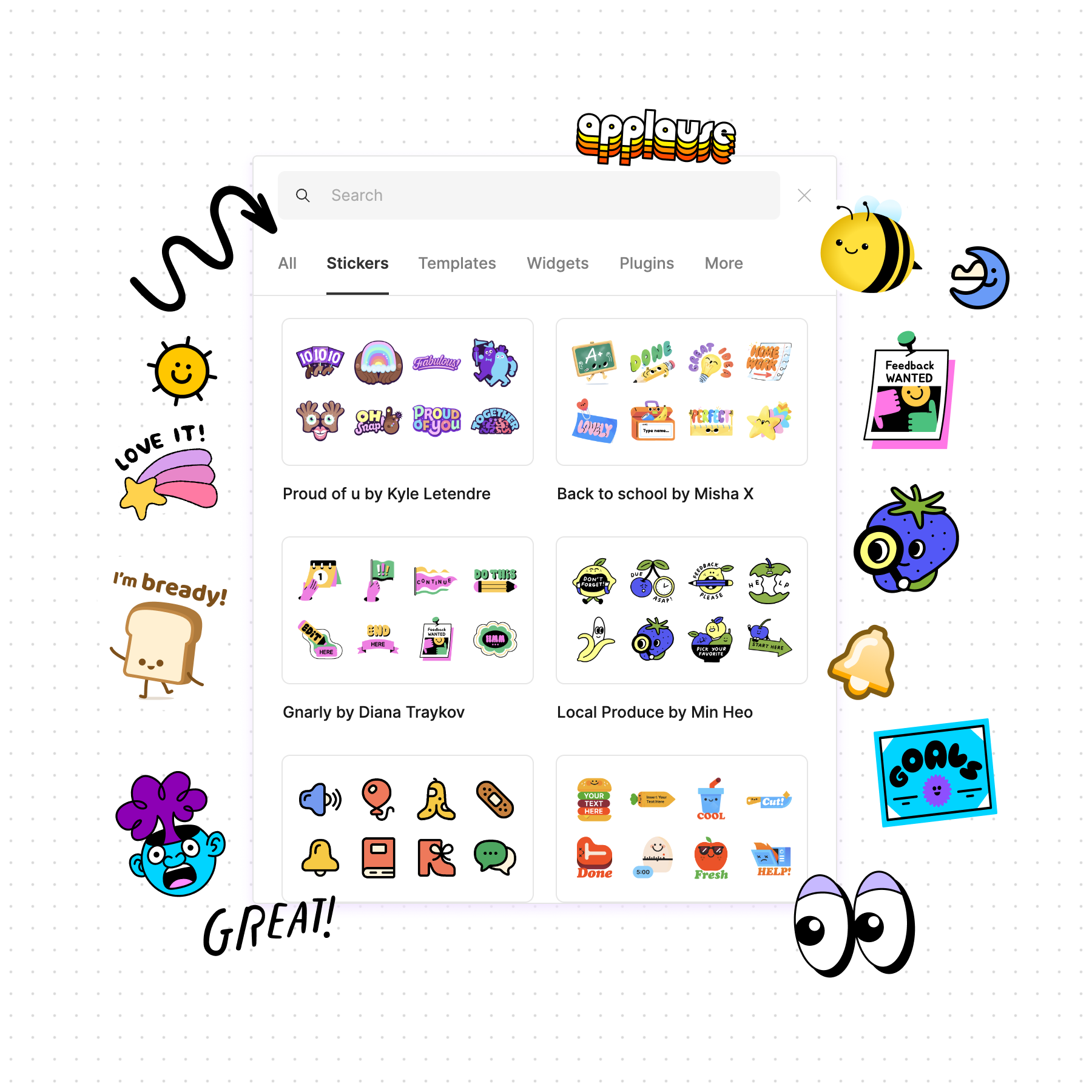 Stickers and libraries
You can use components created in Figma design in your FigJam boards. Bring in components from your shared libraries, use assets from a wireframe kit from the Community, or add stickers to your boards.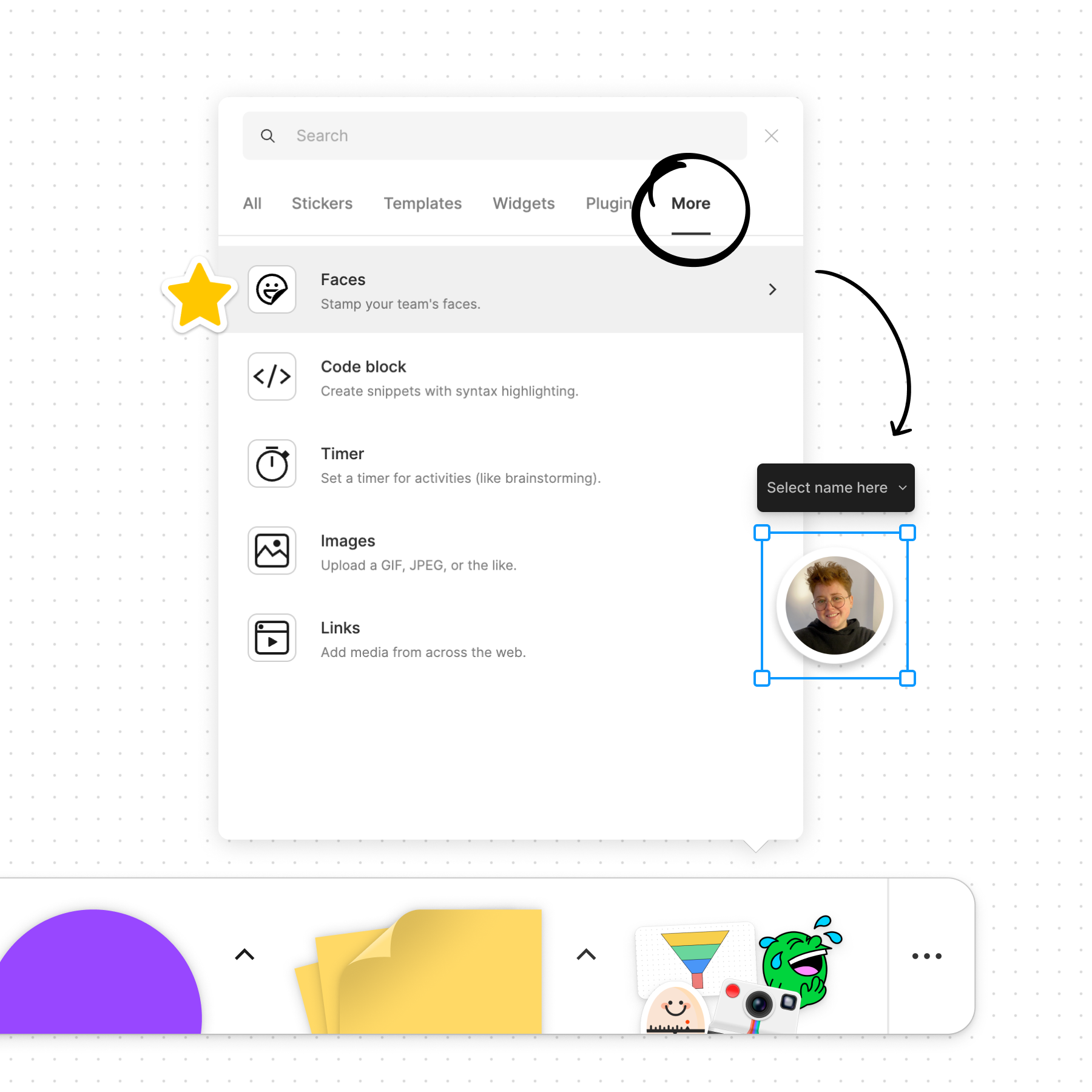 Faces
If you're part of a Figma organization, you can use team face stamps to attribute and assign objects on your board to collaborators.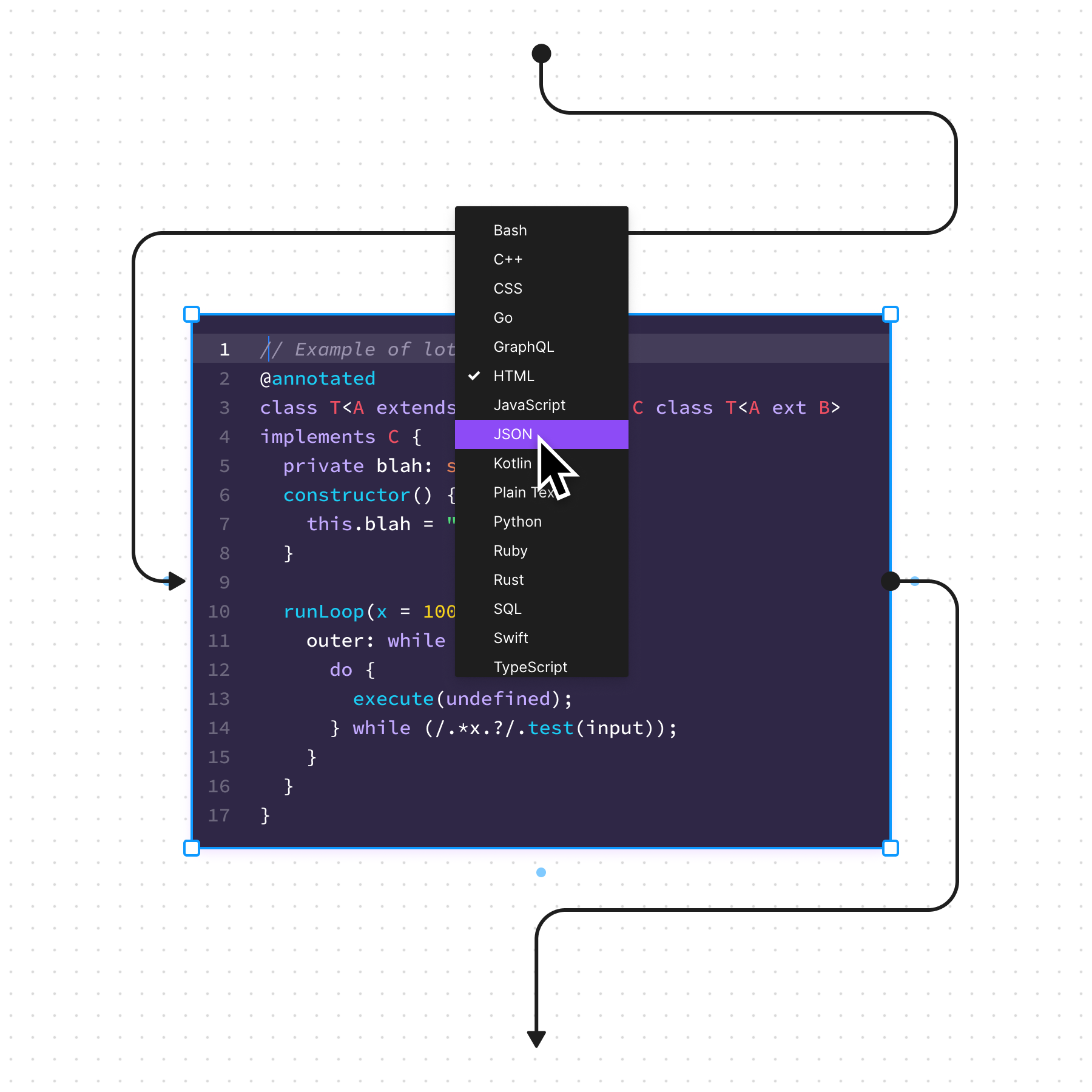 Code blocks
Code blocks allow you to add snippets of formatted code to your board. Place them alongside other objects on the board to add context, technical data, or further information. Choose from fifteen supported languages and get the right syntax highlighting for your code.

Widgets
Widgets are custom objects you can add to FigJams board. You can then think of them as extra tools or mini applications that give you new ways to work together.
Access other tools and applications in FigJam
Manage projects with Asana and Jira widgets
Do a roll call with the Photobooth widget
Play games and do activities together
Meeting tools
FigJam comes packed with tools for running meetings and making working together more productive and fun.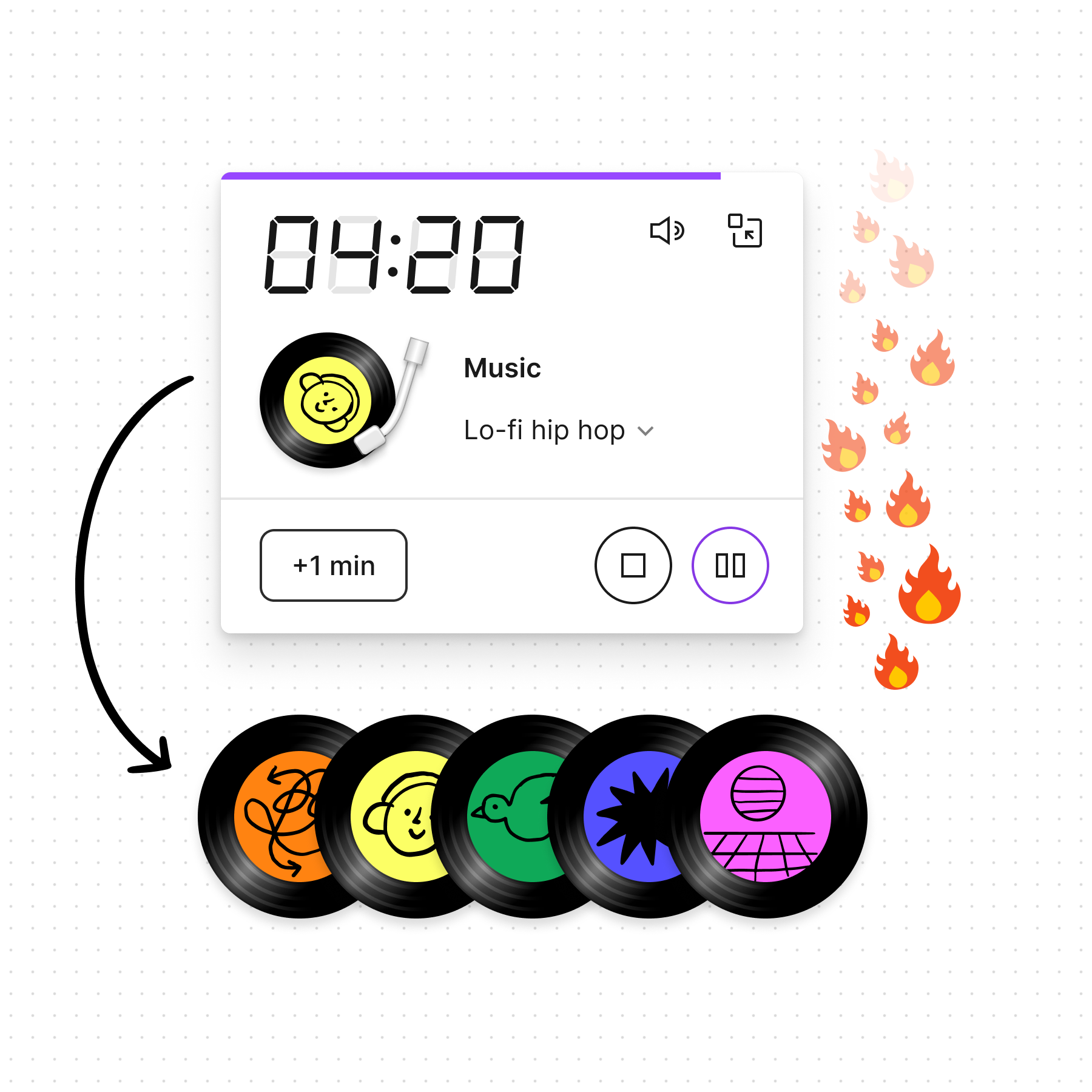 Timer (with music!)
Track time and manage working sessions with the timer. The timer is great for keeping you on task, whether you're working solo or in a group setting.
Select from a playlist of custom music tracks to get you in the zone (and avoid any dreaded awkward silence).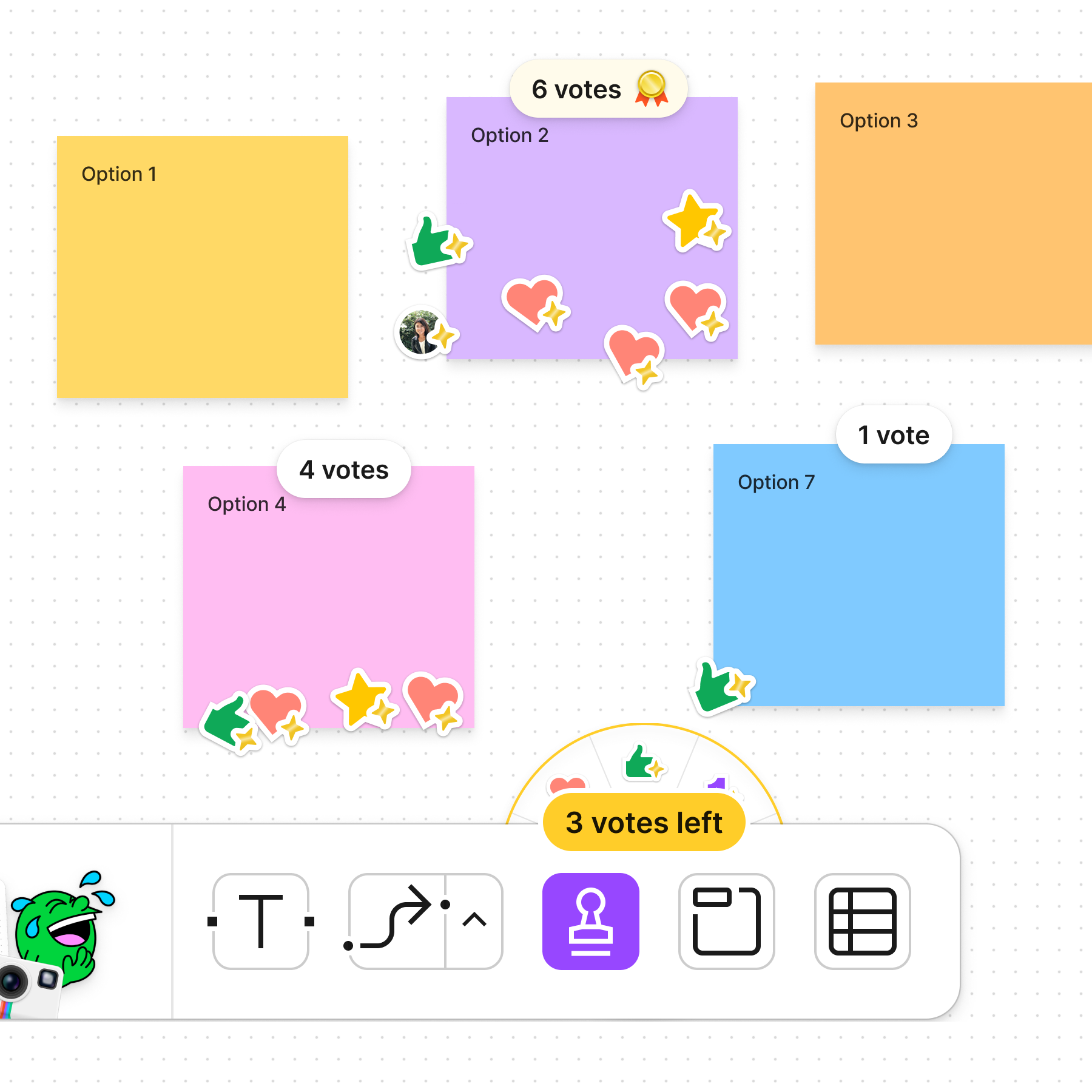 Voting
Hold a vote in FigJam to narrow down a board full of ideas and reach decisions faster. Each participant's choices are hidden until the voting session ends and the results are tallied.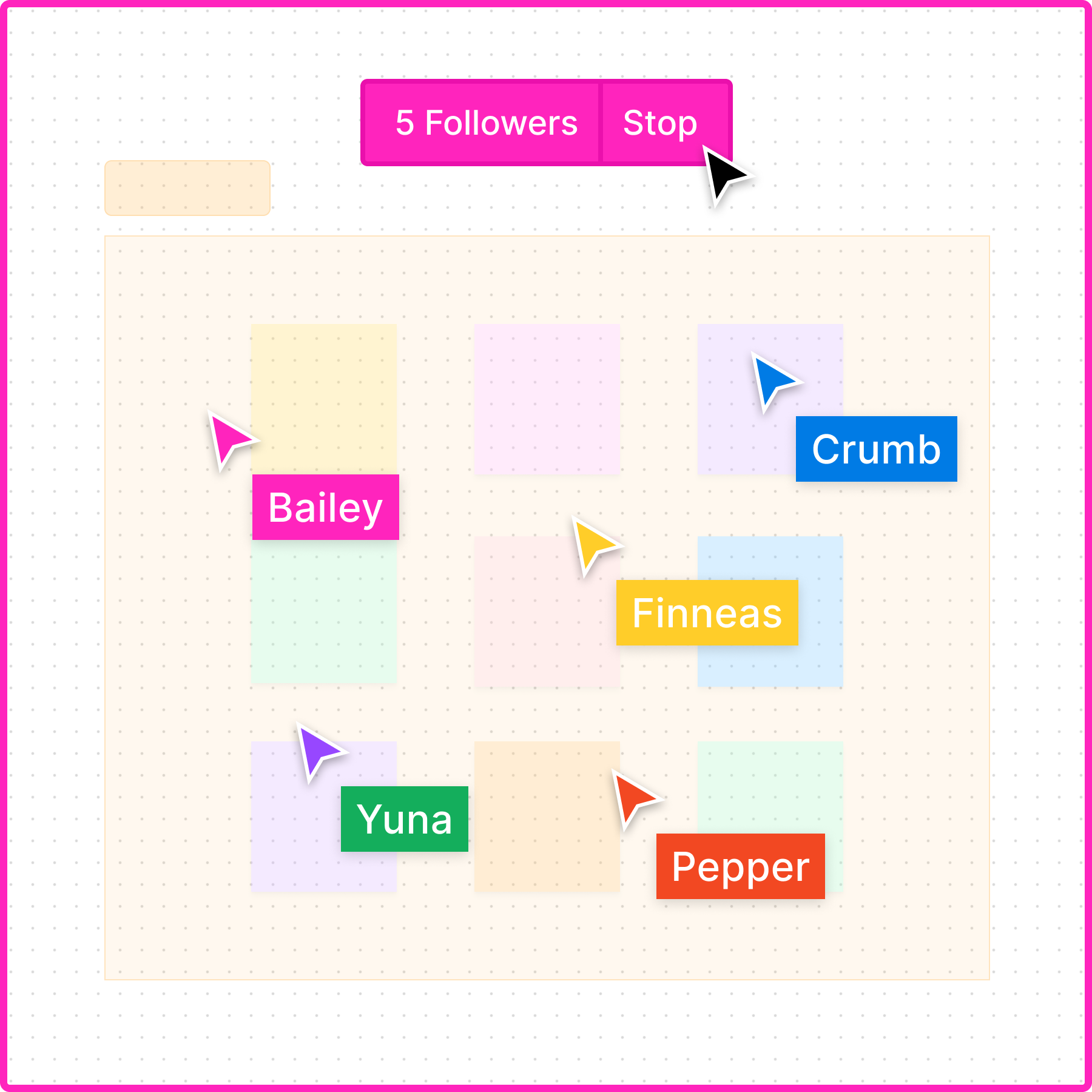 Spotlight
Spotlight allows others to follow you as you move around the board. It's great for facilitating meetings or taking people on a tour, or anytime you don't want to leave anyone behind.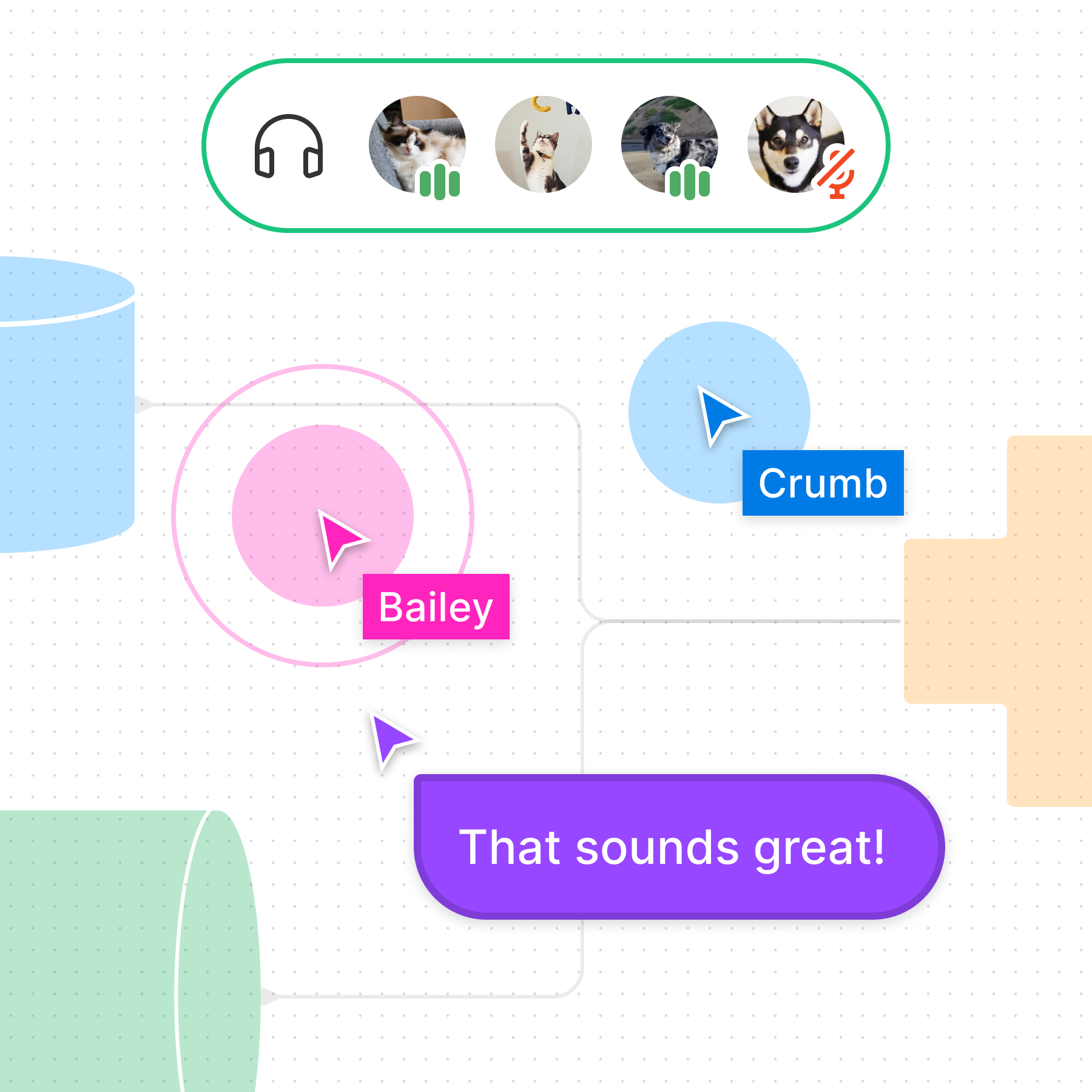 Audio
Use audio to have live conversations with other collaborators directly in your Figma and FigJam files. Use audio to get on the same page with others:
Structured meetings or spontaneous conversations
Quickly explain or present ideas for feedback
Work together as a group without the need for another conferencing tool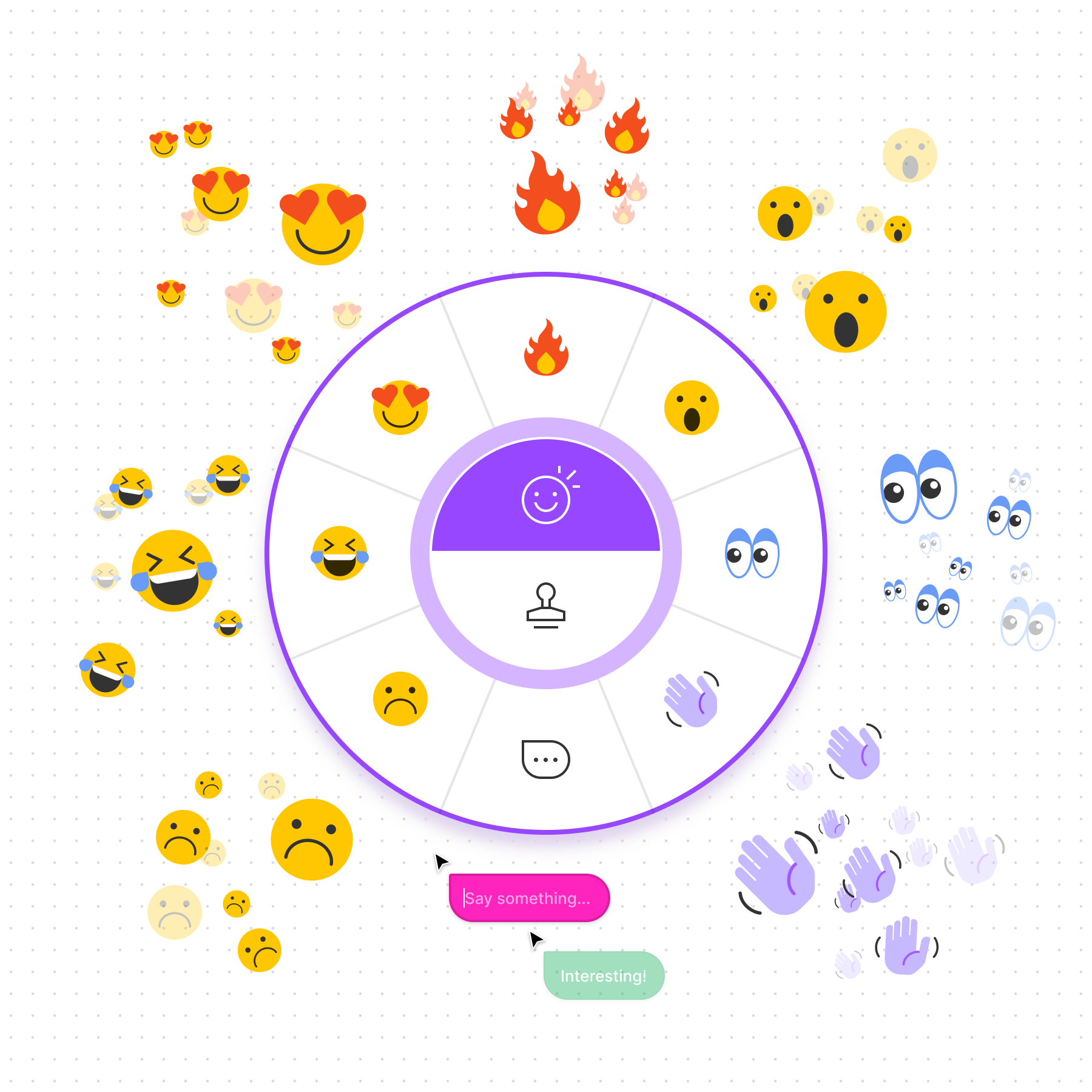 Emotes
Quickly express your thoughts and feelings with emotes. Press E and make sure you have Emote selected. Select from the wheel and click and hold over the board to express your reactions in the moment.
High fives
High fives are a fun way to celebrate achievements, greet others, or capture someone's attention in a file. Press and hold the H key, wave your cursor around, then bring your cursor next to someone else's.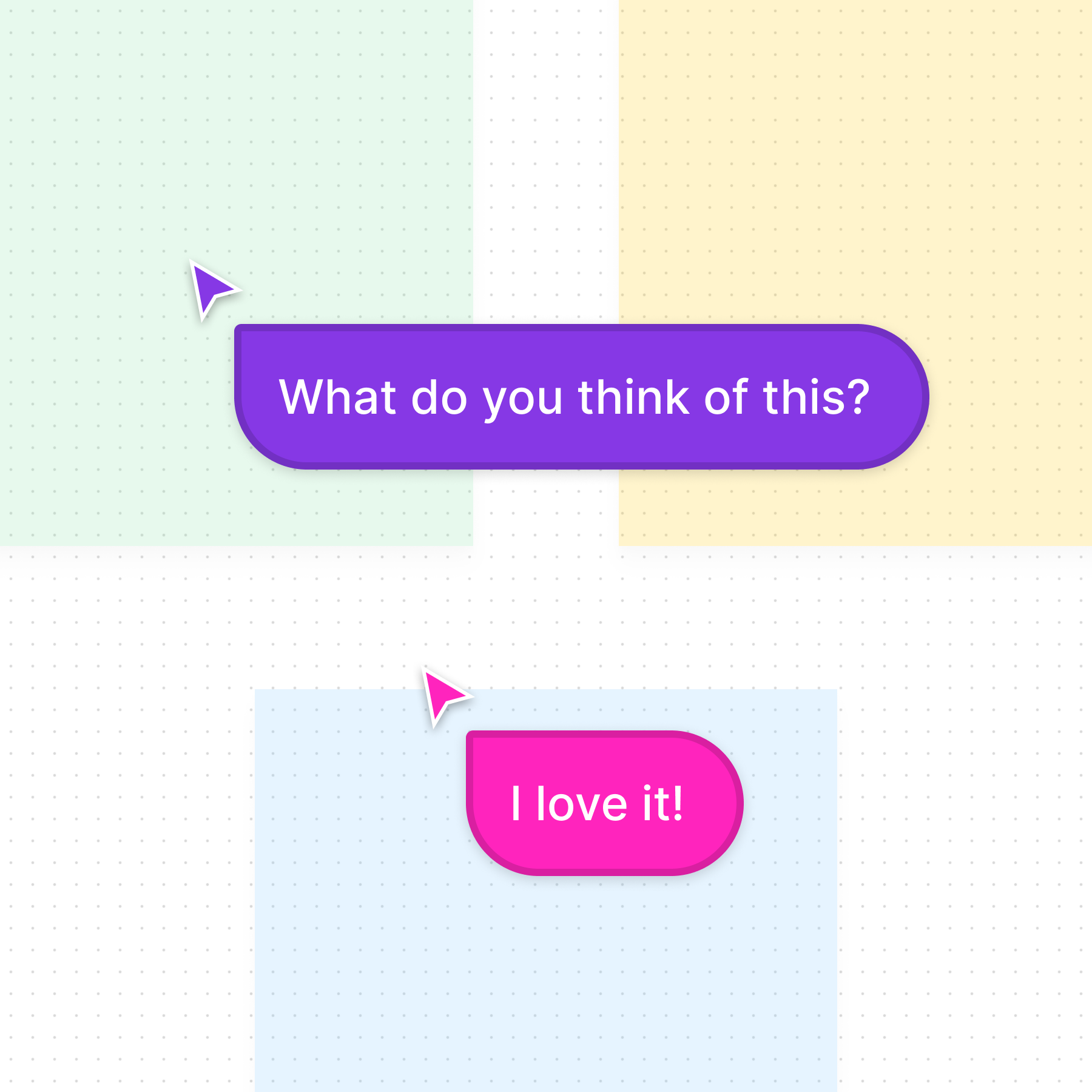 Cursor chat
Cursor chat allows you to type live, temporary messages to others in your FigJam file. Cursor chat is great for quick communication and interactions. Press / to enter cursor chat and type a message. Then Esc to exit.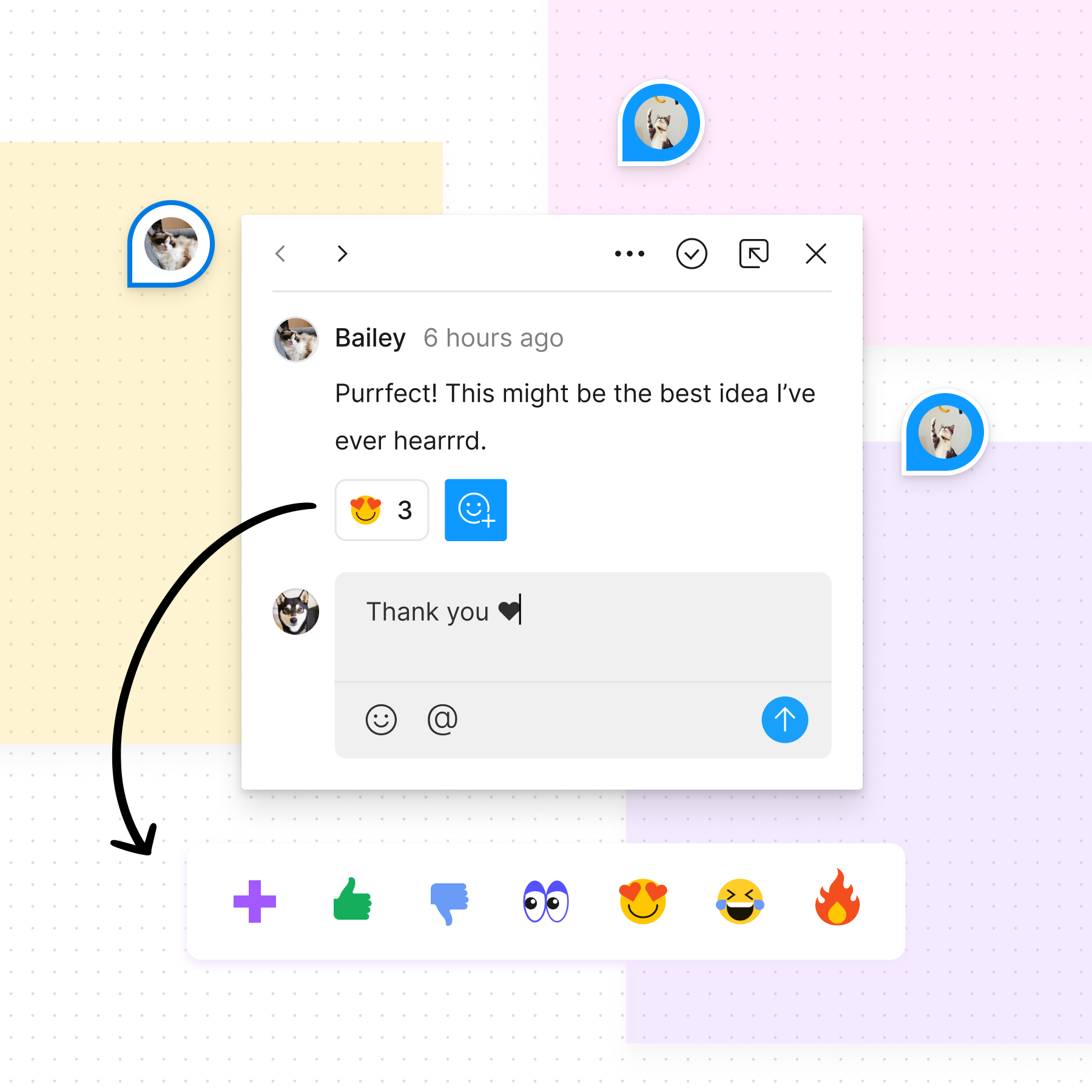 Comments
Use comments to give feedback, ask questions, or leave notes throughout the board. Click to enter comment mode. Then, click somewhere on the board to pin your comment and start typing.
You can @mention collaborators, as well as add emoji to your messages. Adding to a thread? You can reply to the thread or add a quick emoji reaction.
Permissions in files
Your permissions will determine what actions you can take and whether you can make changes to files. We're not going to do a deep-dive into Figma's permissions model here. But there's one concept to understand: the difference between an editor and a viewer.
Editors can add, move, edit, or delete objects on the board. They can also start timers, add music, run voting sessions, and use Community resources like stickers, libraries, and widgets.
Viewers can view existing objects on the board, but can't edit or add objects. They can still contribute through comments and take part in multiplayer experiences like cursor chat, emotes, and high-fives.
Explore actions viewers can take
How to check your permissions
The quickest way to see whether you can edit a file is to check the toolbar. If you can select tools and objects in the toolbar, you have edit access to the file.
If you see View only next to the file name, or the tools in the toolbar are inactive, you can only view the file.
You may be able to request access to edit the file. Click Ask to edit button to send a request to any editors on the file.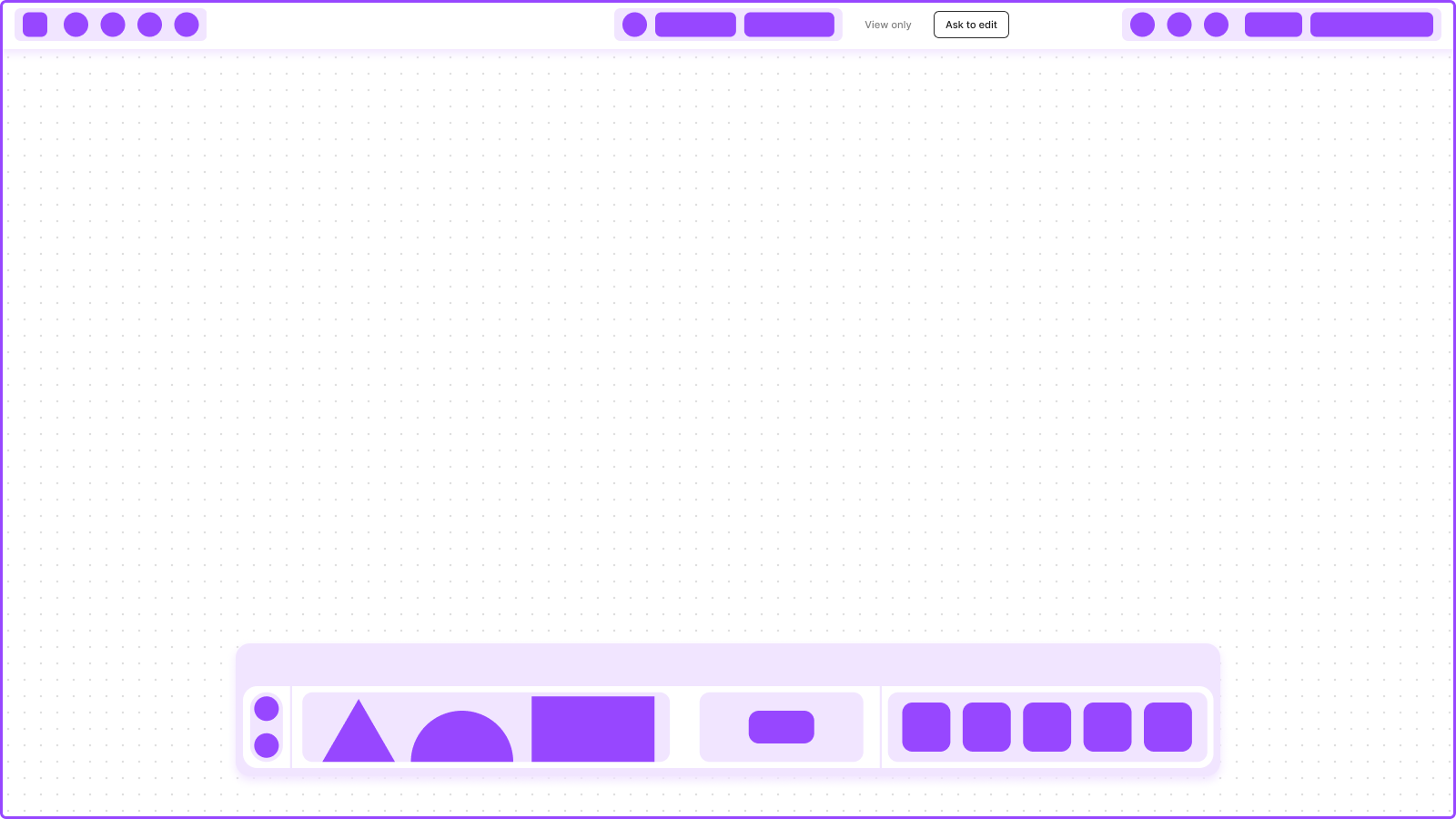 Are you running a workshop or want temporary edit access to a file?
Start an open session to give anyone editing access to your FigJam file for up to 24 hours. They're great for hosting meetings, running workshops, or getting feedback—without worrying about access and permissions.
Ready to start creating?
These quick starter projects are the perfect way to kick-start your learning journey: