Access shared resources in an organization
Before you start
Who can use this feature
Any organization member can access resources shared across the entire organization. Guests of the organization can only access resources you invite them to.
Organizations go beyond the team setup you may be used to in a Professional or Starter team. Create unlimited teams in an organization and access them all from the organization in the file browser. Any team you create will have access to all the features of a Professional team, plus some extras.
In addition to that space, members have a personal space for any teams outside the organization. Everything in the organization space is owned by the organization. This includes files from every team in the organization, as well as files in individual's drafts.
In this article, we'll cover accessing shared resources including files, libraries, fonts, and plugins.
Note: Everyone in an organization has both an account type and a role. These control what resources a person can access in the organization and how they can interact with them.
Figma includes anyone with an editor role in the organization's billing. Learn more about members in an organization →
Share files
Sharing files in an organization is different than sharing files from a Starter, Education or Professional team. Organizations support seamless collaboration between members, so there are a few ways members can get access to files:
A member invites them to the file
They are a member of the team or project
They open a link to an organization file (link sharing)
Caution: If you invite someone as an editor, who doesn't already have an editor role in the organization, Figma will upgrade them to paid status and include them in the organization's billing.
Note: If you invite someone who's email address doesn't match any of the organization's domains, they will be a guest of the organization. Guests can only access the files, projects, and teams to which you invite them.
Invite collaborators to files
Invite a collaborator to a file in your organization to give them an explicit role on the file. You can view everyone who has a role on the file in the share modal.
Click the Share button from the toolbar in the file.
Enter the member's email in the Invite someone.. field.
Choose what permission to give them

Can edit: Invite them to the file as an Editor. This requires a paid seat in an Organization.
Can view: Invite them to the file as a Viewer.

Click Send invite to confirm. They will need to accept the invite to edit the file.
Invite members to teams
When you are a member of a team, you can access to any files and projects within a team. View the team's access from the file's share modal:
Figma won't give members an explicit role on a file, unless someone invites them to the file. Learn how to invite members to teams →
Share links to files
Every file and prototype in Figma has a unique URL. For example: http://www.figma.com/file/ABCDEFGHIJKL/file-name
You can use this link to share designs and prototypes with members of your organization. This includes organization members who aren't invited to that specific file or team
Use link sharing settings to define who can open the file, and whether they have view or edit access. The default settings are Anyone at Organization with link and can view. Learn more about sharing links in an organization →
Inherited permissions versus explicit roles: If a user gets access to an organization file via a link, they will be able to access the file based on the file's link sharing settings (Can view or Can edit).
Like members who can access files via team-level permissions, this is an inherited permission and doesn't give them an explicit role on that file. ;
This means that members listed in the share modal won't include everyone who has access to, or interacted with, the file.
Libraries
Styles and components live in the files you created them in. To access and reuse these in other files, you can publish them to a library. This allows you to maintain a consistent brand and style, at scale.
Members of an organization can choose to publish files to a specific team or share it across the entire organization. Learn how to share libraries in an organization →
Choose which libraries you want to make available to the organization.
Organization admins can choose which libraries are available to members in organization files.
Guests can only access libraries you invite them to.
Admins can also remove libraries to hide or remove them for organization members.
Fonts
Figma gives you access to an extensive catalog of Google Web Fonts. If you would like to use extra fonts in your Figma designs, you can use local fonts on your computer.
If you're using the Figma Desktop app, any local fonts will already be available to you. You can find these alongside the Google Web Fonts in the font picker.
If you're using Figma in the browser, you will need to install the Figma Font Helper application. This allows you to access any fonts you have stored locally on your computer when using Figma in the browser.
Figma Organizations can also upload and share custom fonts in the organization. This allows members to share fonts in a specific team, or across the entire organization.
Only organization admins can upload fonts to the entire organization.
Only team admins can upload fonts to a specific team.
Learn more about uploading fonts to an organization →
Plugins
In an Organization, you have both an Organization and Personal space. Figma links any plugins you install to your entire account.
Organization members can access both public and private plugins in an Organization. This allows other members of the Organization to use internal plugins, as well as access plugins from the Figma Community.
View private organization plugins
To find and install plugins that are private to your organization:
Open the Figma file browser and click the organization name in the left sidebar.
Select the Plugins header at the top of the page to view any plugins that are private to your organization.
Click the ↓ Install button to add the plugin to your account.
Make plugins
If you are a member of an organization you can choose to publish plugins privately or publicly. When you publish your plugin, you can choose to share the plugin privately or publicly.
Private plugins are only available to members of the organization, while public plugins are available for everyone.
Private
Organizations will often have their own systems and tools they have developed. They can include private information or data that members can't share outside the organization.
Any member of an organization can make and share a private plugin.
To publish plugins privately:
Set the Publish to setting to Organization name to create a private plugin.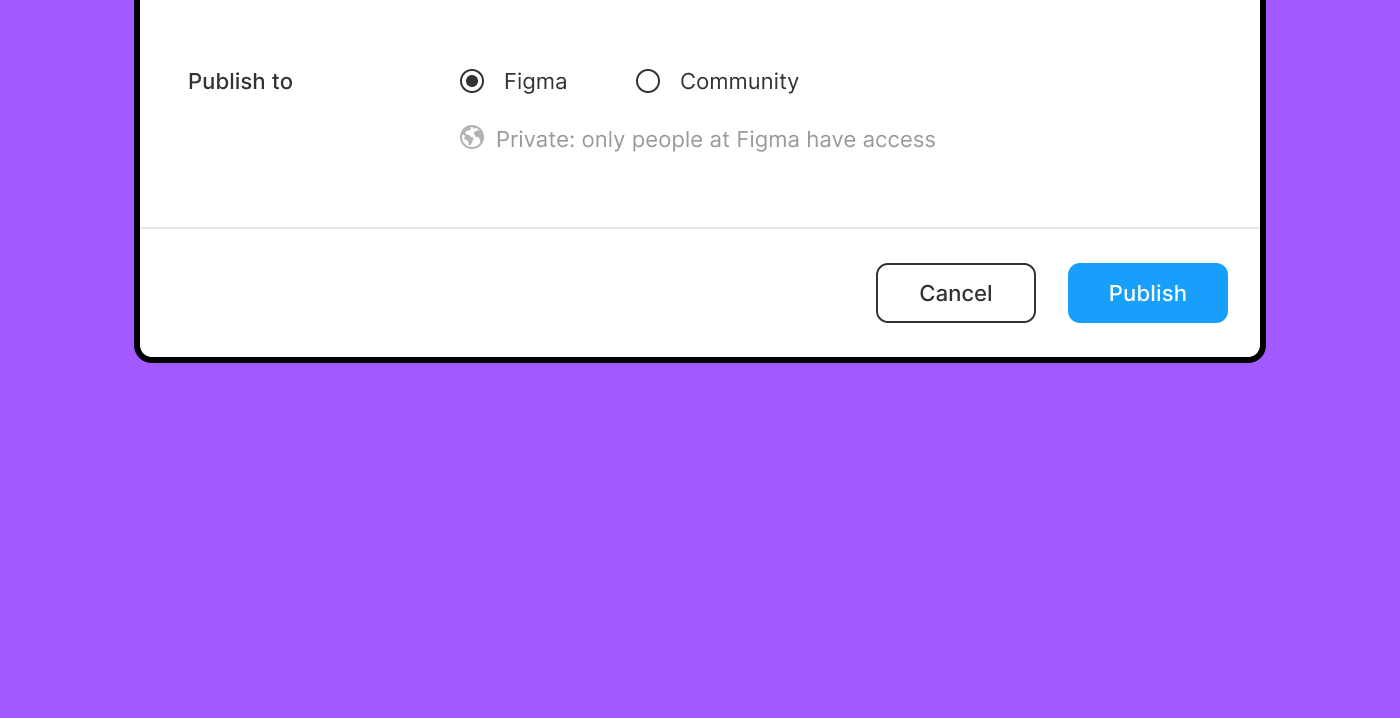 Note: When a member shares a plugin with the organization, Figma lists that member as the plugin's creator. They can choose to add other contributors as creators too. Figma will only attribute the plugin to the organization if or when it's published to the organization's community profile.
Public
Community profiles showcase files and plugins shared with the Figma Community. Figma supports Community profiles for creators, teams, and organizations.
If you are an admin of a team or organization, you can publish plugins to those profiles as well as your own.
To publish plugins publicly:
Set the Publish to setting to Community to create a public plugin.
Set the Creator to Organization name to publish to the plugin to the organization's profile. You can then list any other contributors, as long as they have an existing Community profile.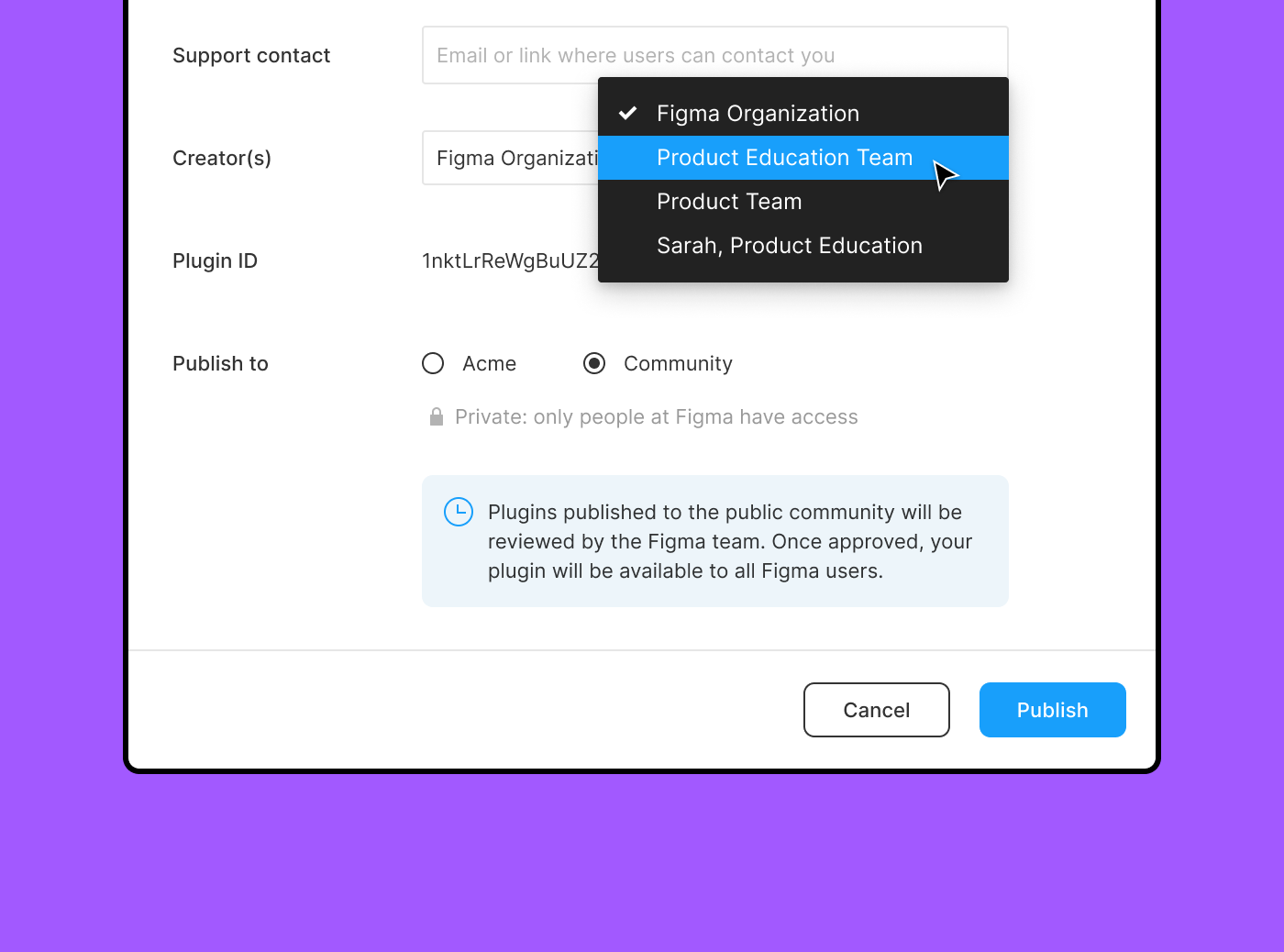 Note: If you have a Figma account under a company email, your organization will have ownership over the contents of your Figma account. If you want to retain ownership of the plugin, we recommend creating a profile under a personal Figma account. Learn who can publish files and plugins →