Professional plan permissions
On the Professional plan, you can share assets at four different levels: team, projects, files, and prototypes.
As this is a paid plan, you also have access to these extra sharing settings:
Read our Guide to sharing and permissions for more information on how sharing works in Figma.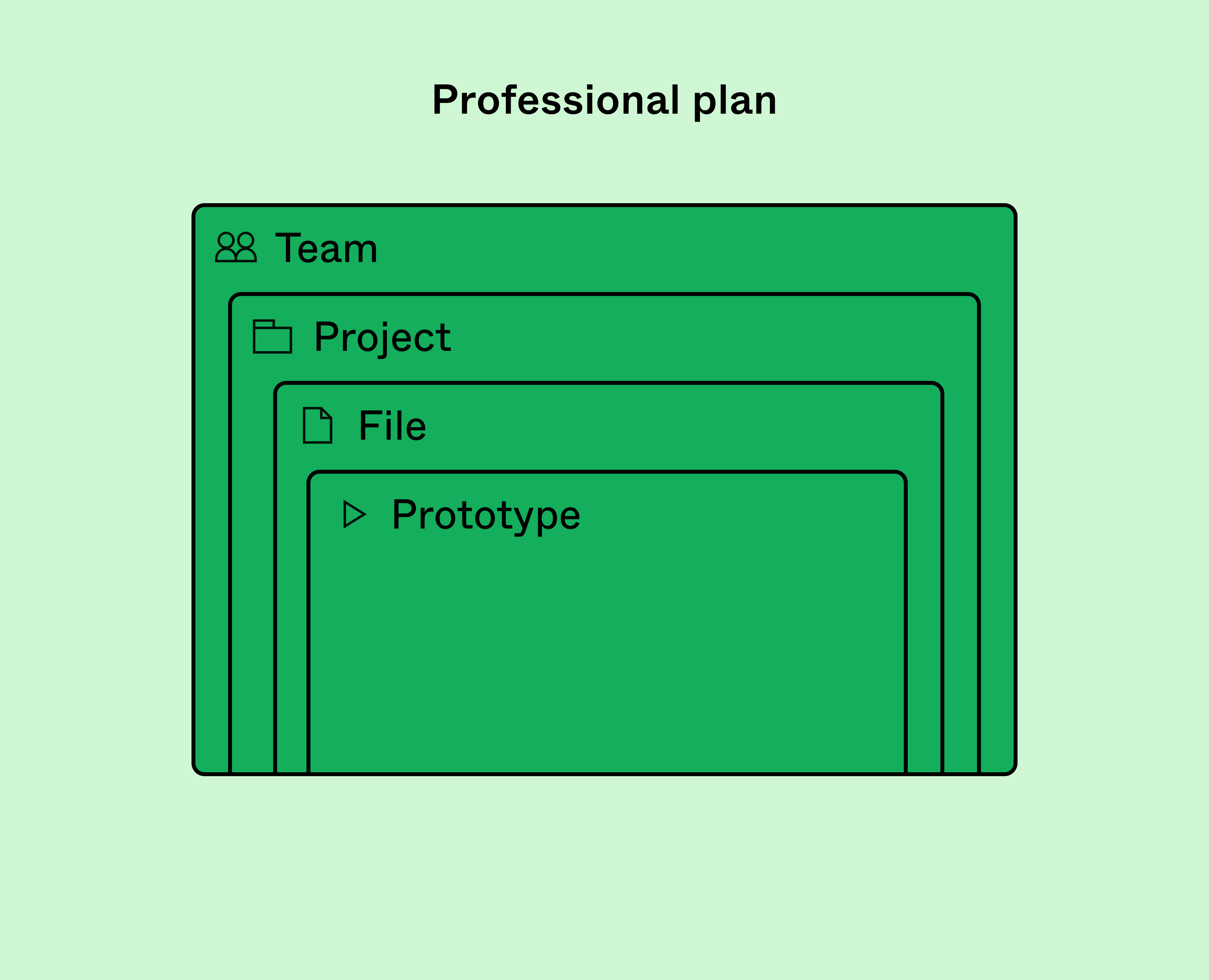 Teams
On the Professional plan, a person's team permissions and their Figma design and FigJam roles determine how they can contribute to the team.
Their team permissions determine what team-level actions a member can take. For example: the ability to move or delete team files, or invite others to the team. All teams support the same permissions: can view, can edit, and admin. Explore team permissions →
Whether someone can edit files depends on their Figma design or FigJam role. A person's role is set at a team level. There are three roles: viewer, viewer-restricted, and editor. Explore roles →
Team actions
Permissions table with a list of common team-level actions and tasks in Figma. Icons indicate if someone with that permission can ✓ or can't ✕ perform that task.
| | | | |
| --- | --- | --- | --- |
| Action | Can view | Can edit | Team admin |
| | With can view permissions only | ✓ | ✓ |
| | With can view permissions only | ✓ | ✓ |
| | ✕ | ✓ | ✓ |
| | ✕ | ✓ | ✓ |
| | ✕ | ✓ | ✓ |
| | ✕ | ✓ | ✓ |
| | ✕ | ✓ | ✓ |
| | ✕ | ✓ | ✓ |
| | ✕ | ✓ | ✓ |
| | ✕ | ✕ | ✓ |
| | ✕ | ✕ | ✓ |
Projects
Every project has a team access setting. This controls the default access team members can have on that project. The default team access for all projects is can edit.
On the Professional plan, you can create view-only or invite-only projects by changing a project's team access. Only the project owner can update the project's team access setting.
Can view: Team members can only view files in this project, even if they have can edit permissions on the team. The project owner can allow team members and external collaborators to edit the project by inviting them to the project with can edit permissions.
Can edit (default): The default permission for team projects. Members can access projects based on their team-level permissions and their FigJam or Figma design role.
Invite-only: team members don't have access to private projects. Team members can only access invite-only projects if they are invited to them. Invite-only projects are useful for projects that need a smaller group of collaborators, or for confidential products or features. For example: team members that manage a team's design system.
Team files
On the Professional plan, access to team files is based on a person's team permissions. Whether they can actually edit the file depends on their design or FigJam role.
Prototype permissions: On paid plans, you can invite someone to a prototype without giving them access to the entire file. You can do this by giving the person Can view prototypes onlypermissions. This is the default permission if you share from presentation view.
Restrict viewer actions: By default, anyone with can view access to the file will be able to copy and share the file and its contents. You can restrict viewers from copying, sharing, or exporting from the file.
Link sharing settings: Files in a team also have link sharing permissions. This controls the default access for anyone outside the team who accesses the file from a link. On the Professional plan, you have the following link sharing settings:
Access

Can edit

Can view

Can view prototypes

Anyone with the link: anyone inside or outside your team can access the file if they have the link.

✕

✓
✓

Anyone with the link and password: people without a role on the file can access the file using the link and password.

✓

✓
✓

Only people invited to this file: only team members and people you explicitly invite to the file can access it.

Access based on user's permissions
Drafts
Everyone has access to draft files, which are separate from their team files and projects.
On the Professional plan, people can invite collaborators to files in their drafts with can view or can edit permissions.