Guide to organization administration
Before you start
Who can use this feature
Only organization admins can access and adjust an organization's Admin settings
Figma Organization gives you greater control over shared resources, including plugins, fonts, and organization-wide libraries.
In this article we'll give you an overview of the admin settings in an organization. We'll explore how to adjust members, view teams, monitor activity, manage billing, and other organization settings.
Organization admins can access the organization's Admin settings from the left sidebar in the file browser.
Read on to find out more about each page and some links to further documentation, or watch the video below for a quick overview of each page.
Tip! Make sure you are in the organization space. Use the organization selector to switch between your organization spaces and any external teams.
Dashboard
The Dashboard lets organization admins see an overview of the organization, including:
Organization name and logo
Total number of teams in the organization
Total number of members (including admins and guests) in the organization
Billing summary including any upcoming invoices and true-ups. The alert lets you know when your invoice is due.
Summary of any new members in your organization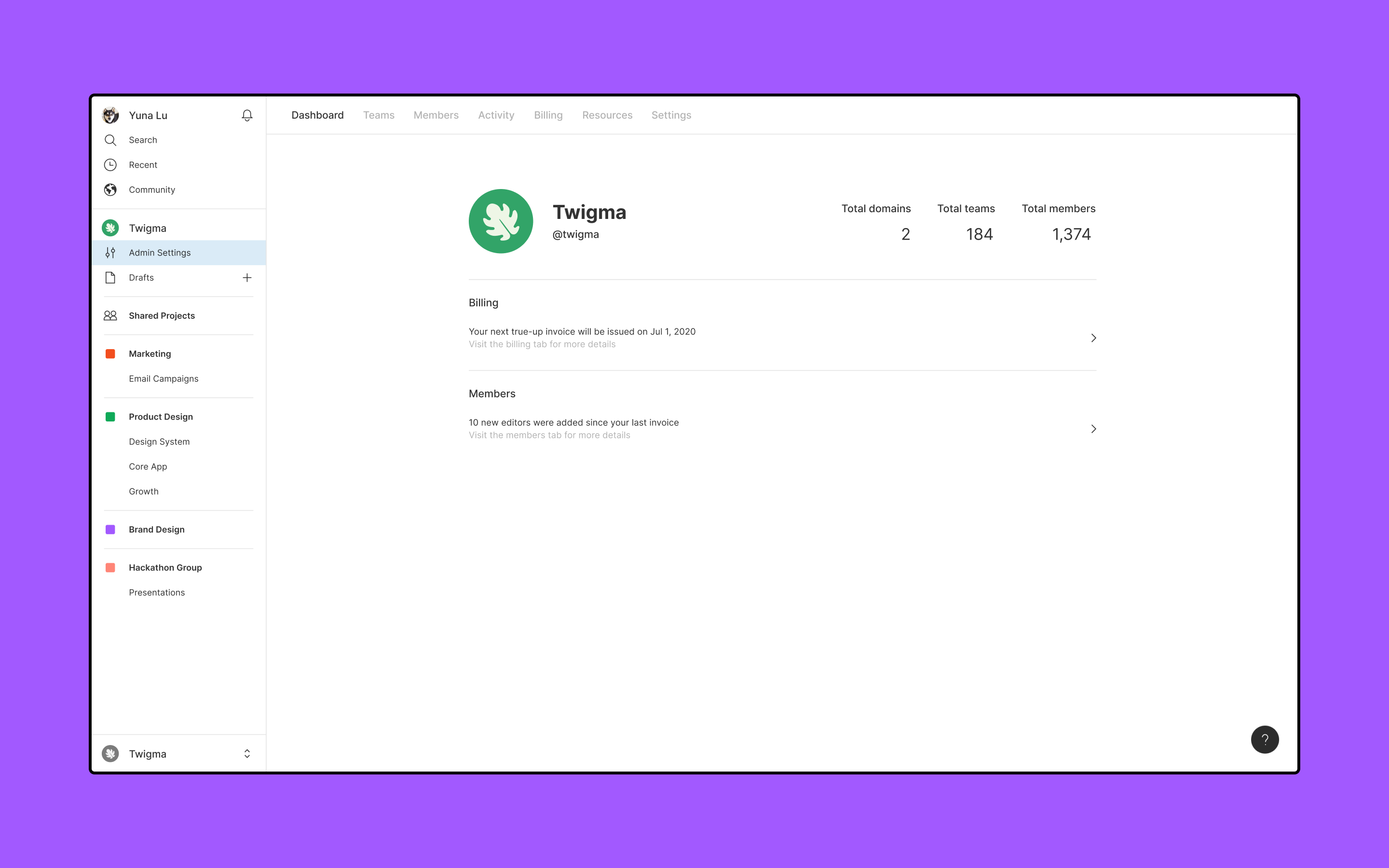 Want to change the image for the organization? Hover over the current image until the appears. Click to select another image from your computer.
Teams
Create as many teams as you need in an organization. Define how members can find and join teams by setting their Org access; choose from open, closed, or secret teams.
Organization admins don't have access to every team in the organization by default. You will need to be an admin of that specific team to manage that team. Learn more about managing teams in an organization →
From the Teams page an organization admins can:
View a list of open and closed teams in the organization. Admins can only see secret teams they are a member of.
Claim ownership of any teams in the organization that no longer have an owner. This allows admins to assign new owners or redistribute files and projects.
Members
Organization admins can manage members and guests in the organization from the Members tab.
Search for members
Filter members by role and account type
Change a member's role or permissions in the organization
Grant members admin access
View and manage new editors for true-ups
View recent activity for members and guests
See what resources guests have access to
Remove members from the organization
Export a CSV of all member and guest data
Learn more about managing members and guests →
Activity
Activity logs give organization admins a record of how members and guests are using and editing files and resources in the organization.
Organization admins can use activity to:
See who is accessing, copying and sharing files in the organization.
Decide who should have edit access and be included in the organization's billing.
Track members creating, joining, leaving, and deleting teams.
Track changes made to team, file, and project permissions.
Monitor changes made to the organization by other admins.
Identify and prevent misuse of organization resources.
Admins can export a record of all activity by date, member, event type, and team. Learn more about tracked events and activity logs →
Billing
Figma bills organizations on an annual subscription. Every quarter, Figma runs a true-up to allow organizations to purchase extra editor seats.
From the Billing tab an organization admin can:
View past and upcoming invoices.
Adjust the billing contact for the organization.
View new editors to the organization and manage quarterly true-ups.
Learn more about billing and true-ups →
Resources
Figma Organizations allow you to easily share resources within your organization. Organization admins can view and manage these resources from the Resources page.
Use the tabs to switch between Libraries, Fonts, and Plugins.
Libraries
Libraries are Figma files that contain the styles and components for a brand, project, or company. In an organization, you can choose to share libraries in a specific team or across the entire organization.
Choose default libraries
Admins can choose which libraries to make available to members of the organization. Guests will only have access to libraries you explicitly invite them to.
When you enable a library, you can:
Access components from the Assets panel of files in the organization.
Access styles in the Style picker for any relevant properties.
Choose default libraries from the Resource page in the organization's Admin settings:
Select the Libraries tab.

Click to toggle a library on. Click to toggle a library off.

Figma will prompt you to share the file with the organization. Select Change privacy and enable to allow members to access the library.

Figma will make the library available in any organization files.
Tip! Members of organizations also get access to design system analytics. These analytics allow you to track how members of your organization are using components in files. Learn more about design system analytics →
Fonts
Figma gives you access to an extensive catalog of Google Web Fonts. You can also use the desktop app or the Figma Font Helper to access local fonts alongside Figma's default fonts.
Figma organizations can upload and share custom fonts in the organization. This removes the need to share, install, or update fonts for individual users, and allows Chromebook and Linux users to access custom fonts.
Share fonts in a specific team, or across the entire organization:
Organization admins can upload fonts and share them with the entire organization.
Team admins can upload fonts to a specific team.
You can only upload fonts in .TTF and .OTF format, it's not possible to upload web fonts. Learn more about sharing fonts in an organization →
Plugins
Plugins are third-party scripts or applications that extend the functionality of an application. Figma plugins run in the editor and let you to perform tasks within files.
In a Figma Organization, you have access to extra features that control how members use and share plugins.
Create private plugins for internal use.
Turn on the plugin approve list to control which public plugins members can use within the organization space. Add and remove plugins from the approve list.
Install or uninstall plugins for everyone in the organization.
Learn more about managing plugins in an organization →
Settings
Control privacy and security of your organization, including domains, authentication, and resource restrictions.
Organization profile
Only organization admins can make changes to the organization's profile in the Figma Community. Learn more about the Figma Community →
Domains
View which domains are connected to your organization, this determines who can join your organization as a member. Learn more about domains and domain capture →
Click the Contact Support option to ask the Figma Support team to add a new domain to your organization.
Login and provisioning
Other
Tip! If you have SCIM set up, you can also select which metadata to record for organization members. Click Member metadata and choose from Cost center, organization, division, or department. Figma will include this data in the Members tab.
User data
Click to submit a request to Delete user data in the organization.
Click to submit a request to Delete the entire organization.